For this post, I have put together a collection of the best high sleeper beds currently available. Browse all my guides on children beds.
Our Top Picks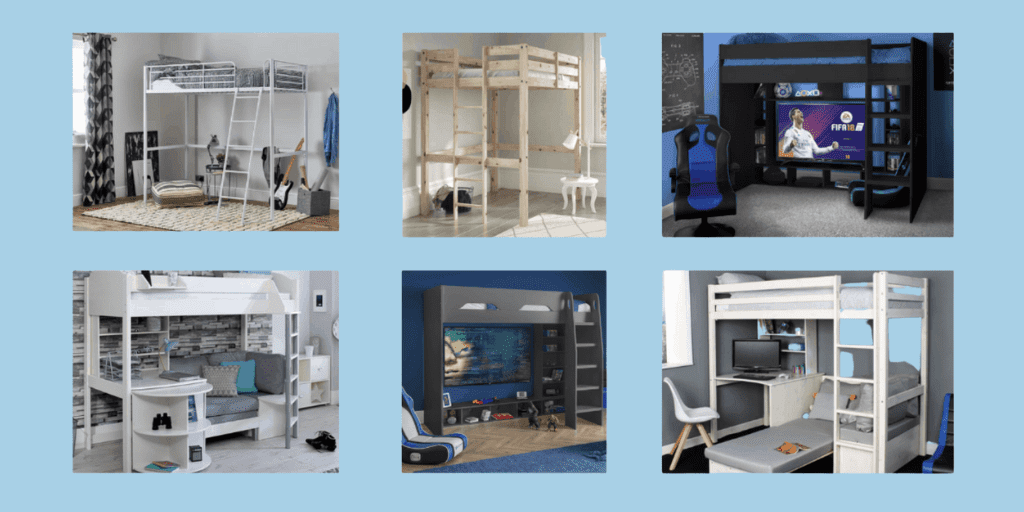 High Sleeper Beds are an excellent option for maximising space in your child's bedroom.
How We Selected
This type of bed features an elevated bed frame so that there is room to use the floor and wall space underneath the bed.
Many high sleeper beds come with integrated storage underneath the bed including wardrobes, desks, shelving or futons. It really depends on which type would best suit your child.
I've scoured the internet, to save you the time and search for the best high sleeper beds available. All of my recommendations have excellent buyers reviews.
High sleeper beds are not recommended for children under the age of 6 years.
You may also be interested to see my top recommendations for cabin beds with slides, teepee beds or best mattresses for kids.
So here's my pick of the 8 best high sleeper beds. Enjoy!
High Sleeper Bed With Wardrobe & Desk (Furniture By JDM)
This high sleeper comes as a one unit and contains top single bed (mattress not included), storage for clothing (rail inside), shelves, drawers and desk.
Available with left or right hand stairs option.
Pros: Ideal option for smaller rooms, integrated wardrobe and desk.
Cons: Tricky to assemble.
Colours available; Craft-white/Graphite (as shown in image) and Craft-gold/ Craft-white.
Recommended mattress size: 80cm x 200cm Max thickness; 10cm.
Consumer Score: Excellent customer feedback – 64% of buyers gave it 5 stars.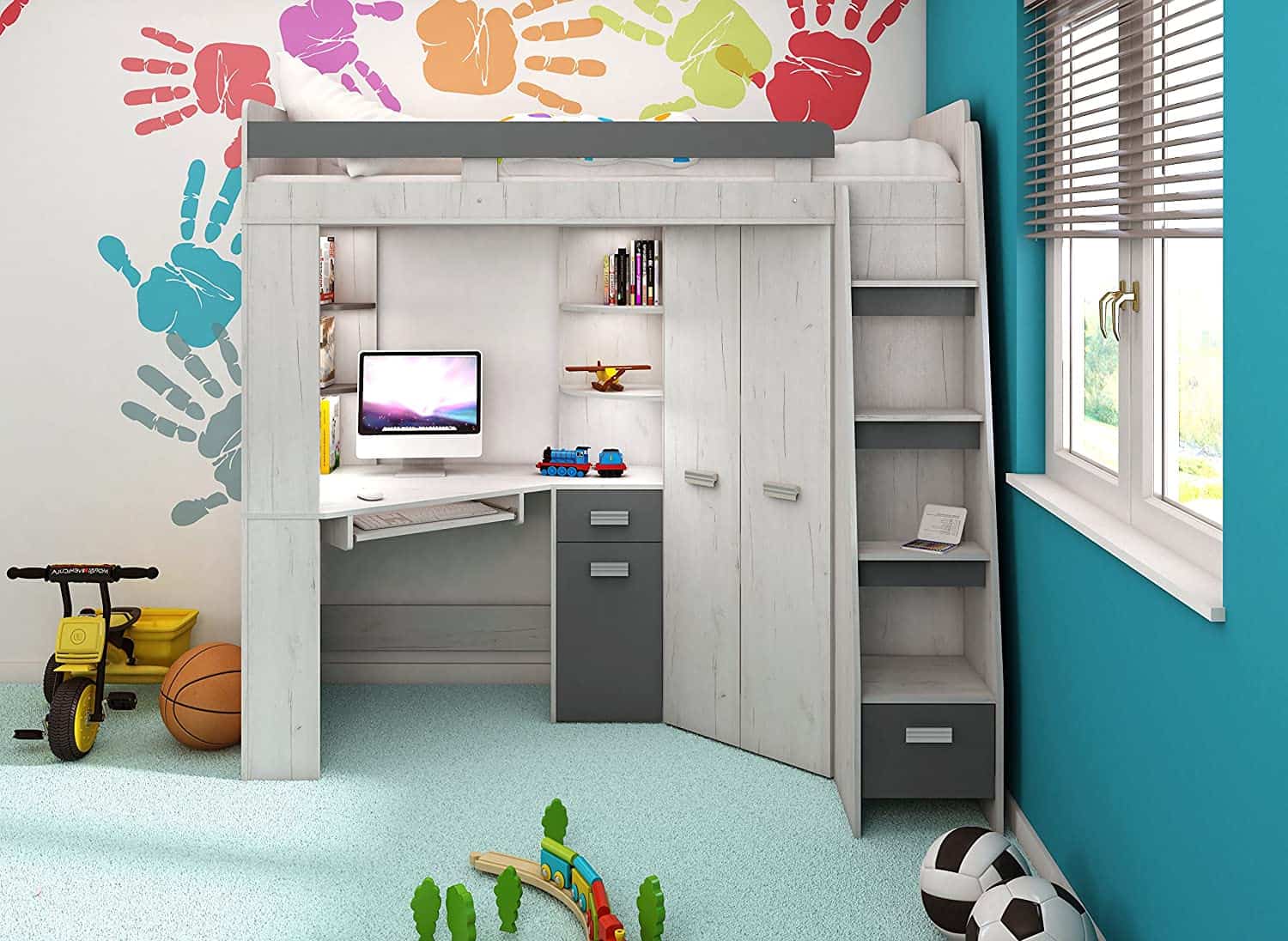 Strictly Beds and Bunks – Celeste High Sleeper Loft Bunk Bed
Discount - Save £18.10
Available in Scandinavian solid natural pine.
High quality bed and very sturdy.
Would work well in an older child or even an adults bedroom.
The base has been tested to take a weight of 17 stone.
Pros: The ladder has extra thick flat "easy on the feet" ladder rungs and can be placed on the left or right of the bed, affordable.
Cons: No added extras, just the bed frame and ladder.
Consumer Score: Great customer feedback – 68% of buyers gave it 5 stars.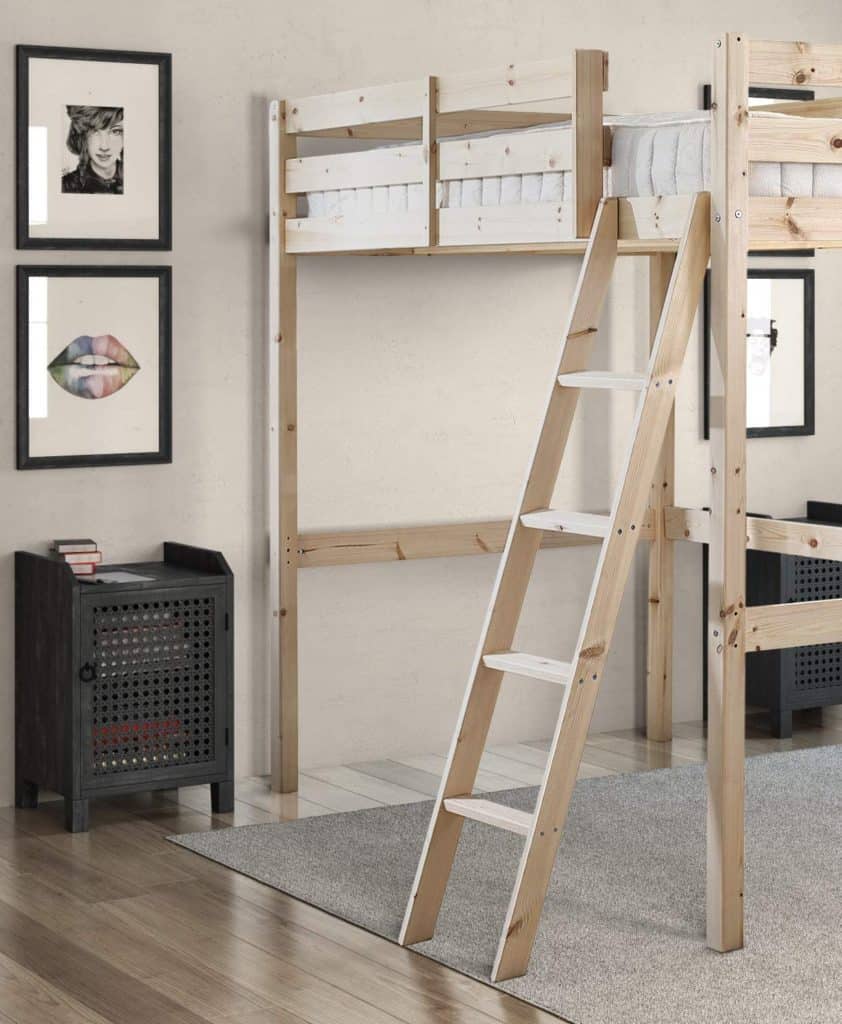 Argos Home Riley High Sleeper Metal Bed Frame – White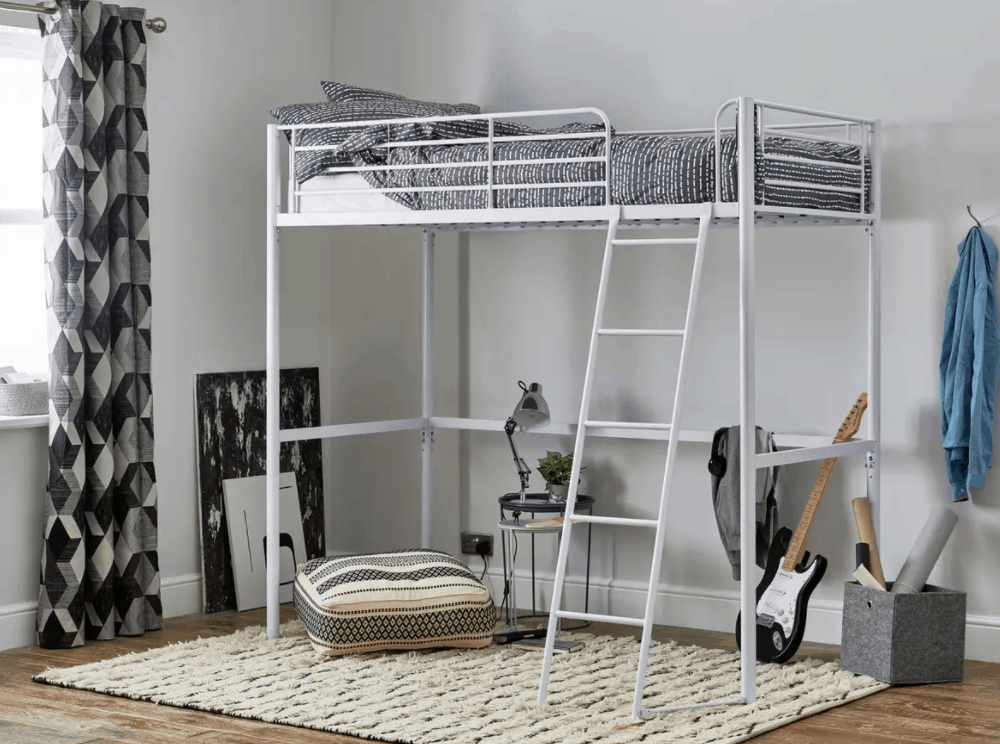 Metal High Sleeper with a clearance of 148cm so great for making space in your child's bedroom.
Extremely solid construction.
Mattress not included.
Pros: Finished in clean white, it has a modern style with high sides for safety.
Cons: Ladder is in a fixed position.
Consumer Score: Excellent reviews with average 4.5/5* ratings based on 158 customer reviews.
Argos Home Gaming High Sleeper Bed – Black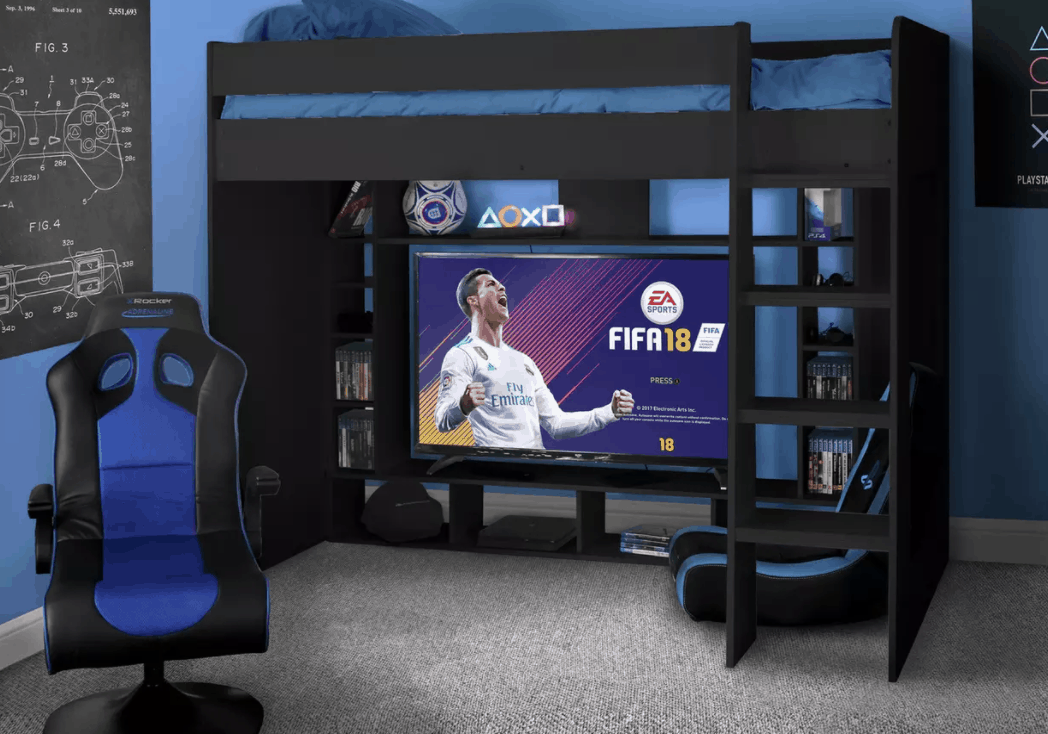 This high sleeper has built-in space for a 55 inch TV, storage for games and multiple consoles, and space to store up to two gaming rocker chairs.
Ideal for a young gaming expert.
Black bed with a wood effect frame is sturdy and durable.
Mattress not included.
Pros: Durable, cool design.
Cons: Tricky to assemble.
Consumer Score: Excellent reviews with average 4.3/5* ratings.
Check out our related article for more Gaming Beds.
Just Kids High Sleeper Small Double Bed (Wayfair)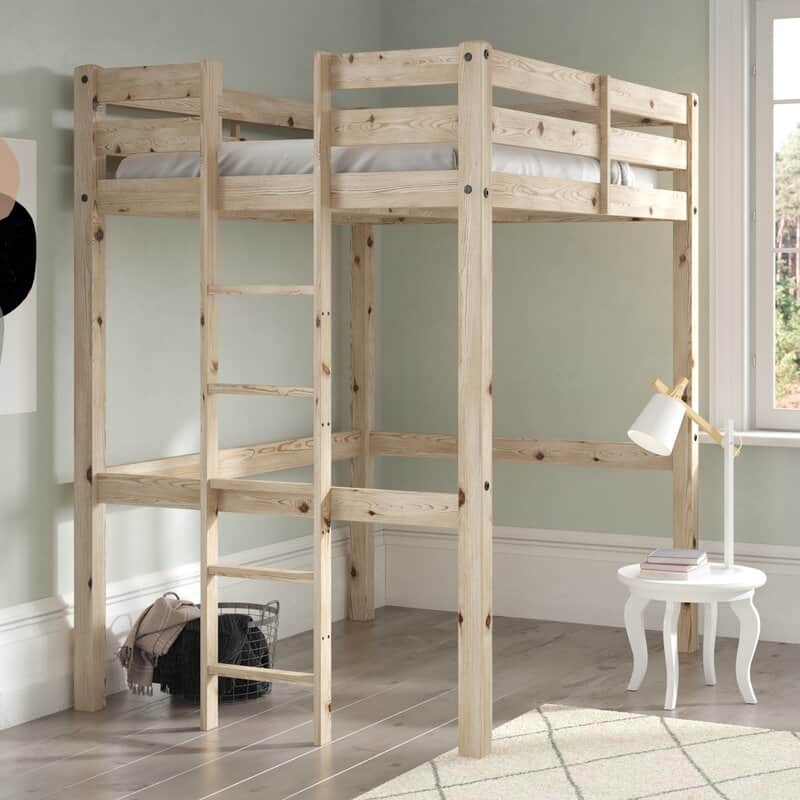 Solid and sturdy bed, made from solid Scandinavian pine with a natural pine finish.
Minimal look but does everything right when it comes to practicality and durability.
Excellent value for money.
You can choose from a number of sizes to suit your needs and the layout of your child's room: Small single, single, small double or double.
Manufactured in England.
Pros: Built-in ladder can be positioned left or right, has the added benefit of being able to securely sleep small adults.
Cons: Confusing assembly instructions.
Consumer Score: Parents rate this bed very highly, scoring 4.3 from 496 reviews on Wayfair.
Nina High Sleeper Bed with Shelf, Desk & Futon (Wayfair)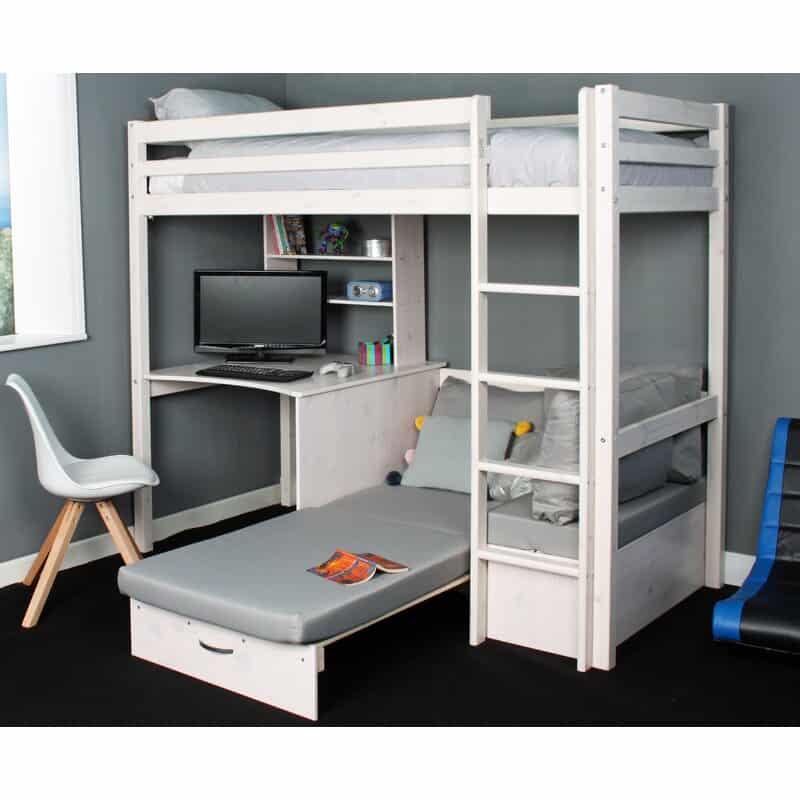 Solid wood single high sleeper bed with desk and sofa area.
The chair pulls out to provide a convenient overnight guest bed – ideal for all ages.
Pros: Futon foam mattress and corner seat cushion are included.
Cons: Very expensive.
Perfect option for sleepovers.
Modern look, natural grain wood with a white wash finish.
Consumer Score: With excellent 4.6* ratings from Wayfair.
Noah Kids High Sleeper Bed in White (Cuckooland)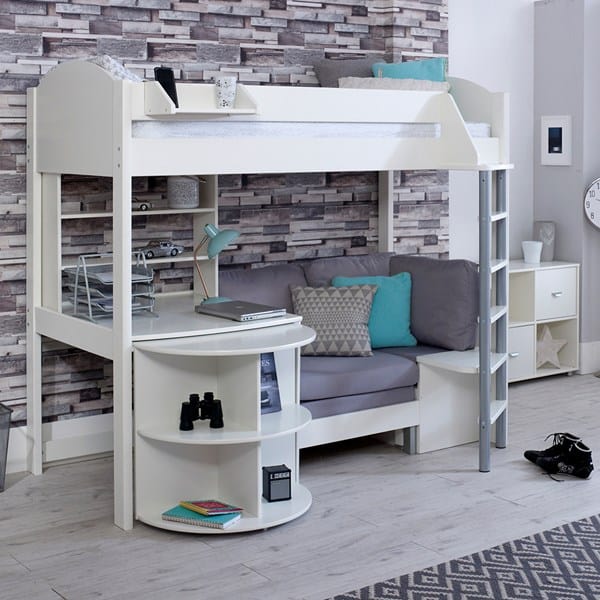 Kids High Sleeper Bed made from pine.
One of the best selling High Sleeper Beds on the market being sold at Cuckooland.
Painted white (with optional ladder steps, head end panel and foot end panel in either white, lilac or blue).
Pros: With a handy extendable desk and sofa area, ladder can be positioned on either the left or the right hand side of the bed.
Cons: Expensive.
With optional extras/ Mattress sold separately.
Consumer Score: Excellent buyers reviews with 4.5/5 star average ratings.
Galaxy Grey Wooden Gaming High Sleeper Frame (Happy Beds)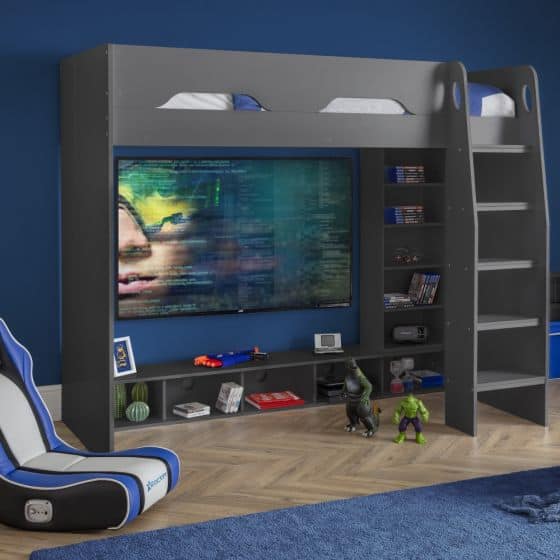 High sleeper gaming bed with room for a 65inch TV.
Modern structure of storage shelves, activity space and sleeping solution.
The ladder is fixed onto the right hand side of the bed.
Built from highly resistant wood and finished in a durable lacquer.
Available in grey or white.
Ideal for a gaming fan.
Pros: Storage space perfectly designed to accommodate consoles and DVDs.
Cons: None to mention.
Consumer Score: Excellent reviews on Happy Beds website.
Check out our related article for more Gaming Beds.
What To Consider When Buying A High Sleeper Bed
Safety
There are a number of things to consider when buying a high sleeper bed. As you or your child are going to be sleeping high off the floor, you need to make sure there is no way of you falling out.
Height of mattress, safety railings, and age of child (high sleepers are unsuitable for children under 6 years of age) all need to be checked and considered.
Durability
You will want a bed which is sturdy, durable and will stand the test of time.
Because of the height of a high sleeper bed, you want to make sure it is assembled well so that it doesn't wobble.
Space Underneath
High sleeper beds are high enough off the ground to accommodate items underneath such as wardrobes, shelving, bookcases, desks, drawers and more.
Think about how you want to utilise the space underneath your high sleeper bed. If you are wanting to save space then a high sleeper bed is a great option.
FAQ's High Sleeper Beds
What age is suitable for a high sleeper bed?
Manufacturers recommend high sleeper beds for children of the age of 6 years old and over.
Can adults sleep in high sleeper beds?
Yes, some high sleeper beds come in single or doubles and are suitable for adults. Check weight limits before purchasing.
How much space do you need above a high sleeper bed?
You should have at least 33 inches of space between the top of the mattress and your ceiling.
Cheap High Sleeper Beds & Today's Bestsellers
Final Thoughts
My personal favourite is the Cutler High Sleeper Bed with Shelf and Desk from Wayfair because it looks great, is made of solid wood and has excellent customer reviews.
This high sleeper incorporates a full size single bed, desk, storage space and seat with futon mattress, which can be pulled out for extra sleeping space so it is ideal for older kids and teenagers who have friends over for sleepovers and also need a place to study and chill-out in their bedroom.
I hope this list of the best high sleeper beds was helpful.
If you think I left out one that is important or have a suggestion for a future article, let me know in the comments below.
Nicola
Last Updated: May 2022
Updated Image.
Added 'How We Selected.'
Added Pros/Cons on all products.
Updated Consumer Scores.
Updated Links.
Added 'Things To Consider'.
Added FAQ's.
Added Final Thought.
Kids Beds Guides
---