For this post, I have put together a collection of the of the best nursery furniture sets currently available.
Looking for more best buys? See my guide to kids room furniture or top baby things to buy.
Our Top Picks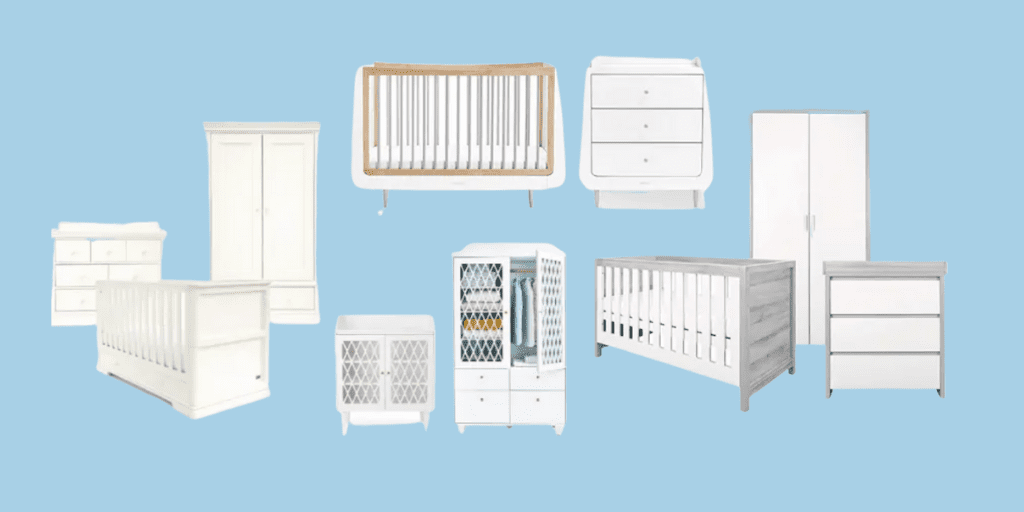 Planning a nursery for a new baby is an exciting project and the choices of furniture are endless.
A nursery furniture set is always a great option, so that you get the matching cot, wardrobe and dresser together.
Some cots even turn into cot beds as your child grows, so that you can use the same furniture for a good few years.
If you are looking for something for a new baby to sleep in right from the start, check out our article on the best Moses baskets.
You may also want to invest in a set of blackout curtains, see my pick of the best nursery curtains.
Also see my pick of the best children wardrobes if you're considering individual furniture items.
So here is my list of the the best nursery furniture sets.
SnuzKot Skandi 2 pc. Furniture Set
Discount - Save £179.00
This set includes baby to toddler cot bed and changing unit which converts from changer to dresser.
This stylish and practical nursery furniture set grows with your child from birth up to ten years.
Cot converts to a stylish toddler bed for use up to four years old and can then extend to a junior bed (kit available separately).
Three mattress base height settings.
Made using natural beech wood, without the use of MDF or veneer.
The changing unit features a useful changing area with a removable frame, ideal for when baby becomes a toddler and they need a standalone dresser.
Tutti Bambini Modena Nursery Furniture Set
Cot bed is suitable from birth up to approximately 6 years and it converts into a toddler bed and sofa bed.

With a three position bed base.

Removable chest top changer which includes three spacious full length drawers.

Wardrobe has two adjustable shelves, slow closing doors and one full length hanging.

Grey Ash and White Finish MDF.
Cam Cam Copenhagen Harlequin Furniture Set
This set includes convertible cot bed, wardrobe and changing table.
The beautiful Cam Cam Copenhagen Harlequin furniture range doesn't look like kids furniture. The criss-cross pattern on the doors adds a stylish touch.
The bed is easily transformed from a newborn's crib to a toddler's bed when removing the side panel.
The wardrobe is practical with four drawers, four shelves and a clothes rack for hangers.
The changing table comes with two adjustable shelves. It has a long life span, and can easily transform into a regular cupboard/sideboard that can be used anywhere in your home.
Obaby Stamford Sleigh Cot Bed 3 Piece Nursery Set in Warm Grey
Set includes sleigh cot bed, changing unit and wardrobe.
The cot bed has fixed sides which can be removed to create a timeless day bed providing you with extra use for years to come.
There is a matching under drawer which slides neatly under the cot bed and offers parents that much needed extra storage.
Changing Unit provides three generous drawers and a full-length cupboard with an adjustable shelf.
Double wardrobe consists of three adjustable shelves, three drawers, a full-length cupboard and two hanging rails.
Recessed handles on all furniture for ease of use.
Cheap Nursery Furniture Sets & Today's Bestsellers
What To Consider When Buying Nursery Furniture
Quality
Quality is really important. You need to consider the finishes of the furniture, especially the cot, to ensure the materials aren't toxic to your baby.
Most nursery furniture is made from solid wood to ensure it is durable and long lasting.
Furniture Life Span
A lot of nursery furniture sets are cleverly designed to grow with your child.
Most sets these days include a cot bed, which changes from cot to junior bed and some even to adult bed, so they will last for many years.
Also look for changers which can be used as chest of drawers or bookshelves once the changing part is no longer needed.
A lot of wardrobes in nursery furniture sets are full size so can be used for years to come.
Colourway
Look for a nursery set which will create a calm atmosphere for your baby. Most sets come in neutral tones such as white, wooden or grey.
These work well with any colours you choose to add once baby has arrived.
Budget
There are nursery furniture sets to suit all budgets.
Although they are pricey, you can invest in one which will last for years and sometimes buying the set rather than individual pieces of furniture can save you money in the long run.
Look out for added extras which you will need.
Most nursery furniture sets don't include a mattress, so you may need to purchase one separately.
Final Thoughts
My preferred pick for best overall nursery furniture is the Cam Cam Copenhagen Harlequin Furniture Set because it is so stylish and unique.
I especially like the pattern on the doors which creates a beautiful way to display your child's clothing and toys.
I hope this list of the best nursery furniture was helpful.
If you think I left any out that should be included or have a suggestion for a future article, let me know in the comments below.
Nicola
Silver Cross Notting Hill Nursery Furniture Set (currently unavailable)
This set includes baby to toddler cot bed, chest of drawers with integrated changer top and wardrobe.
Modern design with a white high-gloss finish and stylish brushed steel handles.
Cot converts quickly and easily into a toddler bed that is suitable up to approximately 4 years of age.
Soft close doors and drawers.
Chest of drawers features an integrated changer top surround so that you can use it safely with a changing mat.
The full size wardrobe features plenty of storage space with large interior shelf, two hanging rails and a deep drawer.
Rated 4.6/5 based on 237 customer reviews.
Mamas and Papas Oxford Furniture Collection (currently unavailable)
Set includes cot which changes to a toddler/day bed, dresser/changer and wardrobe.
The Mamas & Papas white cot converts into a day and toddler bed.

Adjust the base to two height positions for easy accessibility.

Store bedding and other essentials in the soft-close, under-bed drawer.

Dresser with integrated changing top. The top drawer has two internal dividers and the middle drawer has one.

Full-size wardrobe has two hanging rails and an adjustable shelf.
East Coast Nursery Fontana 3 Piece Nursery Furniture Set
(currently unavailable)
This set features a cot bed, dresser and wardrobe.
Distinctive washed-wood effect nursery furniture set from Argos.
The cot bed has a classic shape, with solid ends and slightly rounded corners; it converts easily to a toddler bed.
The dresser has an integral changing area and three deep drawers.
The wardrobe provides plenty of storage space with a full-width hanging rail and two internal shelves.
Boori Eton Nursery Furniture Set, Pebble Grey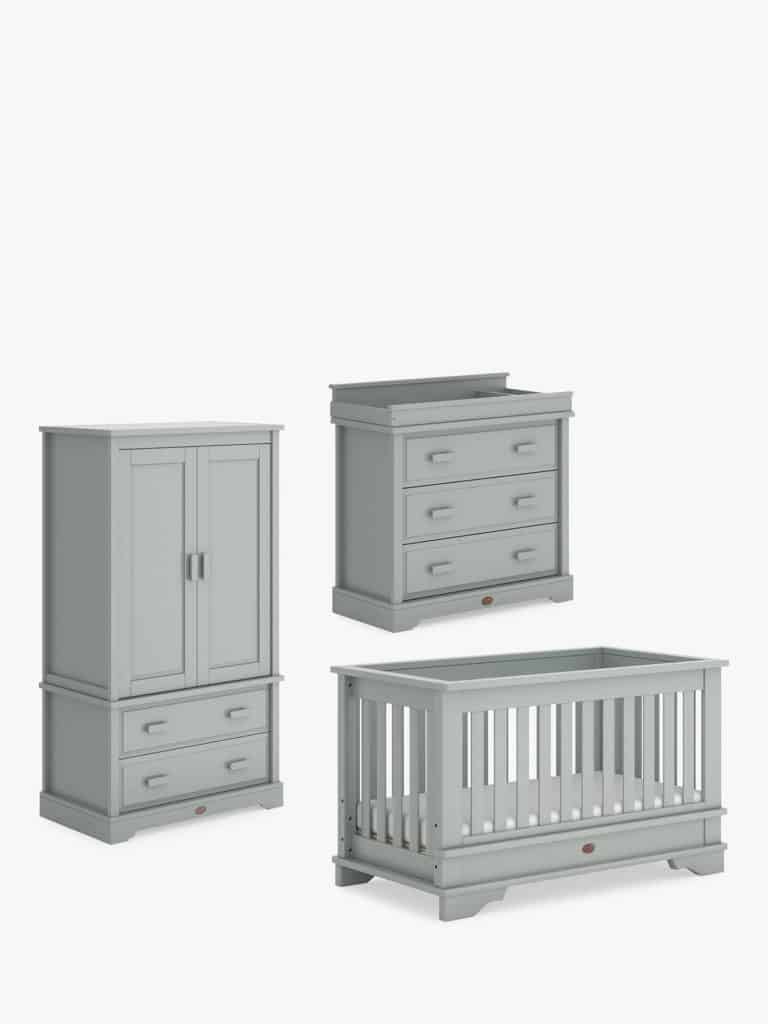 This set includes cot bed, wardrobe and dresser.
Timeless design from John Lewis in pebble grey for a stylish look.
The cot bed has two base heights for ease of access and to keep baby safe.
It also converts to a full-size double bed, ideal for when your little one has outgrown the junior bed. The conversion kit is sold separately.
Full-size wardrobe provides both hanging and drawer storage.
Dresser has fully extendable storage drawers. The chest features dovetail joints and a changing station.

After the baby is grown, it can be converted to a bookcase with the bookcase hutch extension that's sold separately.