For this post, I have put together a collection of the best nursery curtains currently available. Also see my guide to nursery bedroom furniture or my newborn checklist.
Our Top Picks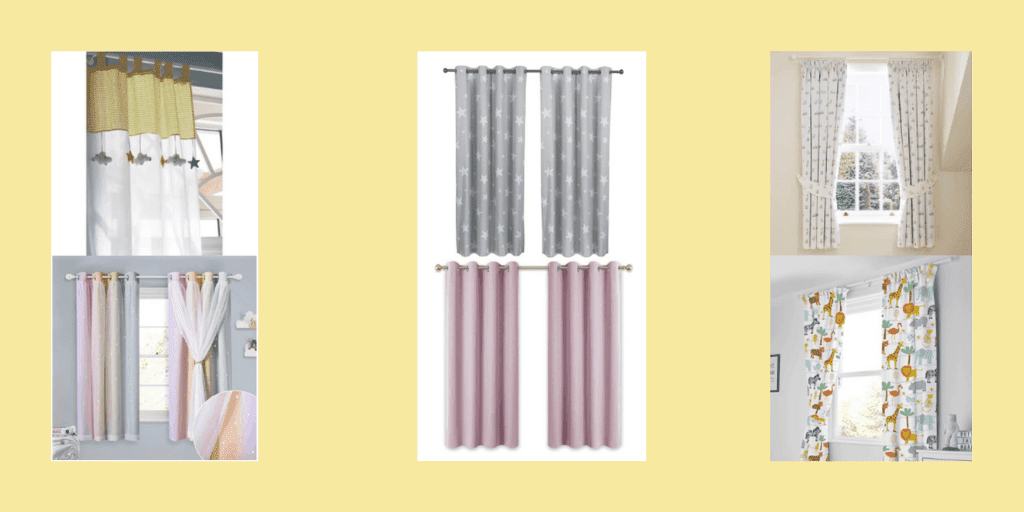 ---
If you are looking for nursery curtains for your little ones room, there is no shortage of choice.
How We Selected
We have searched the internet looking for nursery curtains with excellent buyers feedback and 4-5/5 star reviews.
We've also spoken to parents with babies to find out what they look for when it comes to buying curtains for their baby's bedroom.
From simple to chic and pretty but practical you will need a pair of curtains which will block out daylight so your baby can sleep peacefully at any time of the day or night.
Looking for the perfect nursery furniture for a new baby?
Check out the best cot bed, dresser and wardrobe sets in our buyer's guide to the best nursery furniture sets. Or see my top recommendations for children's wardrobe sets.
Always keep curtain or blind cords tied up out of reach, see NHS website.
So here is my list of the the best nursery curtains.
Deconovo Diamond Foil Printed Thermal Insulated Curtains
Thermal insulated blackout curtains for kids.
100 percent polyester thermal curtains, which block out the light.
These thermal curtains reduce noise from outside.
With special crafted foil print diamond patterns.
Curtains available in 14 different colours including pink, blue and grey.
Pros: They block sunlight and UV rays to darken your room. The thermal property will help keep light out and cool homes during hot summers and save on heating costs by keeping the cold out during the winter months.
Cons: Could be thicker.
Consumer Score: Parents love these nursery curtains – 82% of buyers gave them 5 stars.
Nicetown Kids Blackout Curtains
Discount - Save £5.85
Blackout thermal curtains with die-cut stars for nursery or kids room.
Blackout curtains with star cut out pattern which creates a whimsical light pattern in room.
These curtains are ideal for a baby girls bedroom.
Pros: Rainbow colours with white voile overlay which makes these curtains extra luxurious and 'magical'.
Cons: None to mention.
Consumer Score: Parents love these nursery curtains – 87% of buyers gave them 5 stars.
Pony Dance Kids Bedroom Curtains
Discount - Save £5.55
Pink thermal blackout curtains for nursery or child's bedroom.
100% polyester ready made curtains in a variety of sizes.
They can block out 60-75% sunlight and UV rays with no lining thanks to the triple weave technology.
Noise reducing for privacy and undisturbed sleep.
Pros: The thermal property help to retain the warmth in winter and keep the room cool in the summer. Fade-resistant material protects your indoor furniture from direct exposure to the sun.
Cons: Not completely blackout.
Consumer Score: Parents love these nursery curtains – 75% of buyers gave them 5 stars.
Sherwood Kids Star Blockout Curtains
Discount - Save £6.00
Grey thermal curtains with white star print.
100% Polyester thermal curtains with star print on one side and coated on the reverse to block out light.
The curtains keep rooms cool in summer and saving heat in winter.
Pros: Noise reducing, these curtains can block out 80% light and prevent 100% UV ray from coming into bedroom.
Cons: Not completely blackout.
Consumer Score: Parents love these nursery curtains – 74% of buyers gave them 5 stars.
Bloomsbury Mill Safari Adventure – Jungle Animals Curtains
Vibrant Safari Adventure fully lined printed curtains.
Fully lined curtains which are crafted from a cotton-blend (52% polyester, 48% cotton) with pencil pleats and tie backs included.
Featuring animals such as lions flamingos and elephants.
Available in a variety of prints including hearts, unicorns, tractors and more.
Measurements; 66" x 72" Drop (168cm x 183cm).
Pros: Nice designs.
Cons: Not blackout curtains.
Consumer Score: Parents love these nursery curtains – 70% of buyers gave them 5 stars.
Amazon Basics Thermo-Insulating Blackout Curtains
Blue blackout curtains which come in a range of colours.
Blackout curtain which block out sunlight and harmful UV rays.
Reduces outside noise.
Create energy-saving insulating barrier against heat and cold, keeping room cooler in the summer and warmer in the winter.
2 panels made of innovative triple-weave fabric.
Measures 167.5 x 137 cm (w x l). Other sizes available.
Pros: Good value.
Cons: Not a huge selection of colours.
Consumer Score: Parents like these nursery curtains – 64% of buyers gave them 5 stars.
Disney Winnie the Pooh Blackout Pencil Pleat Kids Curtains
Disney Winnie the Pooh blackout curtains.
100% cotton face Disney Winnie the Pooh curtains.
They have a traditional pencil pleat header and come with tie-backs.
Pros: They are blackout lined to keep out unwanted sunlight.
Cons: A little more pricey than some.
These curtains are available to buy from Dunelm.
Consumer Score: Excellent 4.6/5 star reviews.
Gaston White and Yellow CurtainSin
Cotton Tab-top single curtain with fabric stars and clouds detailing.
Single curtain in white and yellow 100% cotton fabric.
Decorated with a band featuring a mustard yellow print, stars and clouds, this tab top curtain will delicately dress the windows while allowing the light through into the room.
Fabric stars and clouds, sewn on with ties.
Pros: Cute detailing.
Cons: Not blackout.
Available to buy from Maisons Du Monde.
Cheap Nursery Curtains & Today's Bestsellers
What to consider when buying nursery curtains
Are they thermal?
Thermal curtains are ideal for reducing the amount of outside noise that comes through the window into the bedroom.
They also keep room cooler in summer and warmer in winter. Ideal for a baby's nursery.
Do they block out light?
Babies sleep at all times of the day. If you want to keep their nursery dark in the daytime or on those summer evenings, it's worth investing in blackout curtains which will aid you in settling your baby at any time of the day.
Are they safe?
Curtains with cords, beading and embellishments should be avoided as these could potentially be a choking hazard to a young child.
It's also best to keep nursery curtains short and simple rather than long, so they are more out of reach from children.
Will they match the room decor?
The curtains you choose all depends on individual taste, but if you opt for curtains which are neutral in style and colour you may be able to use them for longer than say ones which have bold animal print on.
FAQ's Nursery Curtains
Are curtains necessary for nursery?
Blackout curtains are essential for a nursery as darkness promotes sleep and they will essentially help your little one off to sleep, especially in the summer months when it is light in the evenings.
How do I make curtains safe for my baby?
Don't have tie up or tassel cords and make sure that the cot is placed away from the curtains and out of reach.
Final Thoughts
My overall top pick are the Nicetown Kids Blackout Curtains as they are whimsical and have a white voile overlay which makes them extra luxurious and 'magical'.
I hope this list of the best nursery curtains was helpful.
If you think I left any out that should be included or have a suggestion for a future article, let me know in the comments below.
Nicola
Last Updated: May 2022
Added 'How We Selected.'
Updated Image.
Added Pros/Cons on all products.
Added FAQ's.
Added Final Thought.
Kids Beds Guides
---
Children's Bedroom Furniture