For this post, I have put together a collection of the best kids sofas currently available. See my guide to the latest kids bedroom furniture.
Our Top Picks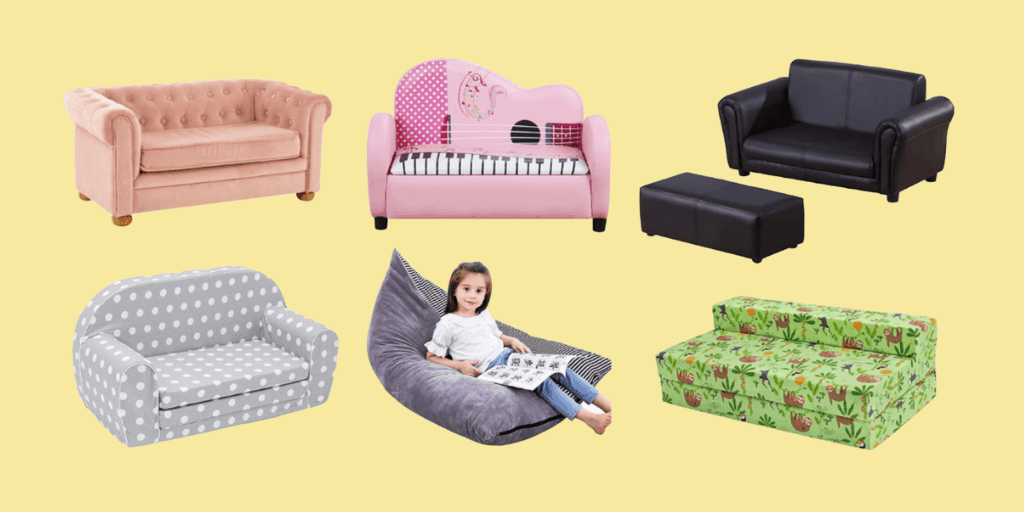 Looking for a sofa in kiddie size?
How We Selected
We've searched the internet, to save you the time and find you the best sofas for kids.
From wipe clean options to mini versions of adult sofas, we've chosen products to suit all tastes and budgets.
All of our recommendations have great feedback from buyers and 4/5 star ratings.
See my top pick for the best kids armchairs. I have written buying guides for all kinds of children furniture including bean bags, table and chairs and dressing tables.
So here is my list of the the best kids sofas. Enjoy!
Homcom Kids Piano Shaped Sofa
Discount - Save £6.00
Unique 2 seater piano shaped sofa for kids from 3-6 years of age.
The wooden frame makes the sofa sturdy but it it still lightweight enough for you to move easily.
Dimensions 75cm(W) x 38cm(D) x 50cm(H).
Pros: The storage space hidden under the seat will make extra space for books or toys, the soft seat is easy to wipe clean and padded with thick sponge for comfort.
Cons: Some buyers mention the seat is rather slippy.
Consumer Score: Positive reviews of this kids sofa 83% of buyers give this 5 stars.
MuseHouse Childrens Sofa Bed
Discount - Save £7.00
Foam filled lightweight kids sofa.
Dimensions 80 x 42 x 46 cm.
Pros: Soft and squishy and can be moved around easily by the child, cover is removable and machine washable.
Cons: It's rather small in size.
Consumer Score: Very good reviews of this kids sofa 67% of buyers give this 5 stars.
Stuffed Animal Bean Bag Sofa
Although this is not officially a sofa, I've included it as it is a great idea if you are limited for space but want something your kids can relax on.
Simply fill the sofa bag with stuffed toys.
Made of superior super-soft velvet, which combines comfortability and durability.
With a back support, it allows you not only to sit down but also to lean against too.
Available in 6 different designs.
Pros: Can be stuffed with soft toys and teddy bears, pillows, blankets, towels, or any other soft things at home which can be stored away and used as filling for the bean bag sofa.
Cons: Only suitable for one child to sit on.
Consumer Score: Well reviewed sofa bean bag by customers 68% of buyers give this 5 stars.
Homcom 2 Seater Kids Sofa with Footstool (Black)
Discount - Save £28.00
2-piece set includes 1 kid black sofa and 1 matching footstool, perfect for 2 kids age 3 to 7 years old.
Designed like a mini version of an adult sofa which kids will love.
Constructed from a strong wooden frame, this kid sofa can hold up 60kg.
Also available in white.
Pros: Covered with PVC material, it is wear-resistant and easy to wipe clean.
Cons: Quite small.
Consumer Score: Highly rated kids sofa 71% of buyers give this 5 stars.
Ready Steady Bed Kids Children Folding Z Bed Mattress Sofa
Comfortable folding Z Bed which folds into a sofa which is ideal for kids rooms.
It has been designed to last and is made with a durable water resistant and fire retardant polyester and also double stitched for extended life.
Available in 10 different bright and colourful kids prints including rainforest and monsters.
Dimensions as kids' sofa: Width 120cm, Depth 68cm, Height 40cm, Seating Height 25cm. As kids bed: Width 120cm, Length 160cm, Height 12cm. 
Pros: Ideal to use for kids sleepovers as well as for somewhere to lounge.
Cons: No proper back rest.
Consumer Score: Positive customer reviews 61% of buyers give this 5 stars.
Haru Small Sofa Bed, Marshmallow Grey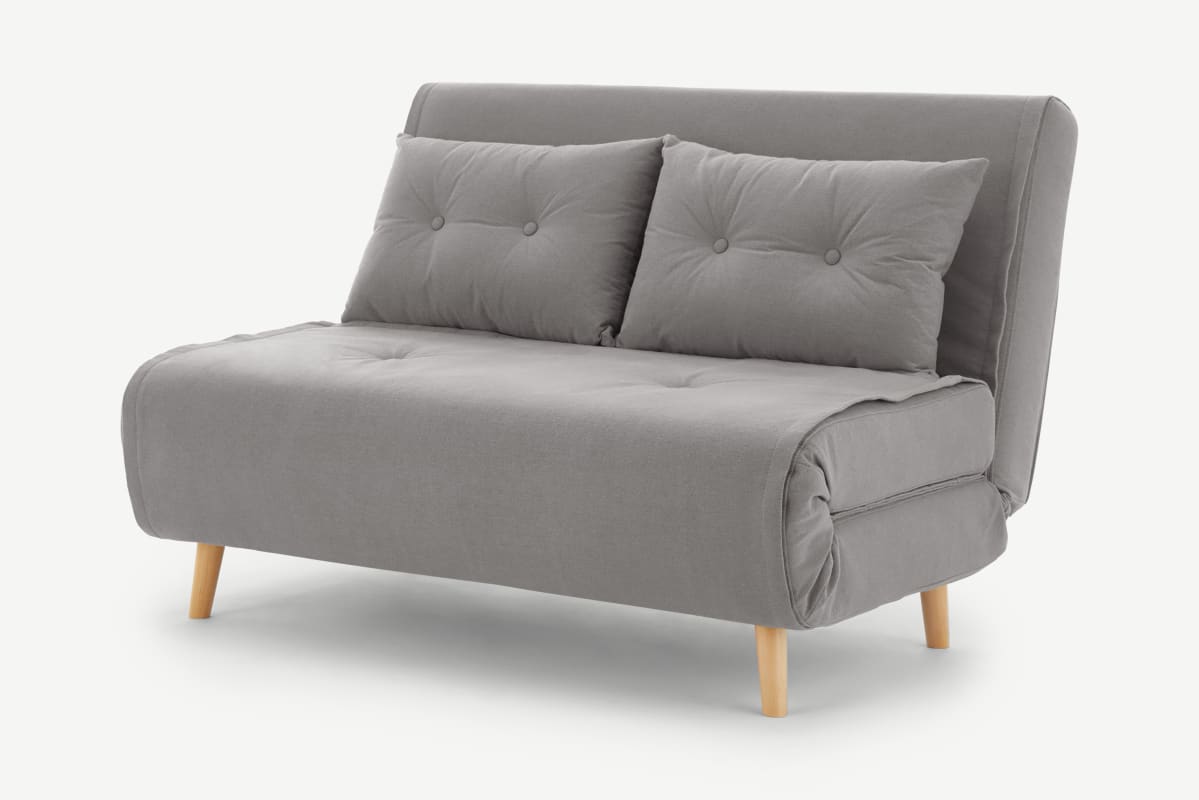 Small sofa bed which is ideal for an older kids room.
This sofa bed from Made.com is not specifically for kids but it is small and would work well in an older kids bedroom, especially if they have lots of sleepovers with their friends.
Available in various colours.
Seat dimensions (HWD) 42 x 120 x 52 cm.
Mattress dimensions (LWD) 182 x 120 x 26 cm.
Pros: Retro-inspired design with buttoned detailing makes it as stylish as it is practical, easy click-clack design which changes it from sofa to bed quickly and effortlessly.
Cons: Pricey.
Consumer Score: Excellent customer ratings with buyers giving it an average 4.6/5*.
Retailer: Made.com
What To Consider When Buying A Kids Sofa
Budget
If you are buying a sofa for your kids, no doubt it will only be suitable for them to sit on for a couple of years, so think about how much you spend before you purchase.
Style
There are so many types of kids sofas available. You can opt for mini versions of adult sofas, brightly coloured sofa beds, beanbags or more.
Age Range
Think about the age of your child before you buy! Will the sofa last them a while or will you need to size up in the not too distant future.
Also, if you have little ones make sure it is safe and close to the ground so there are no tears if they fall off it.
Maintenance
Look for wipe-clean options, sofas that are hard-wearing and durable and won't scuff or look scruffy.
Kids Sofa Sale & Today's Bestsellers
Final Thoughts
My overall top pick is the Homcom Kids Piano Shaped Sofa as it has a quirky piano shape and print, which kids will love, plus it doubles up as storage, which is great for space saving in your kids bedroom or playroom.
I hope this list of the best kids sofas was helpful.
If you think I left out one that is important or have a suggestion for a future article, let me know in the comments below.
Nicola
Last Updated: May 2022
Added 'How We Selected.'
Updated Image.
Added links.
Added Pros/Cons on all products.
Updated consumer scores.
Added 'Things To Consider'.
Added Alternative Retailer.
Added Final Thought.
Moved OOS.
Kids Beds Guides
---
Children's Bedroom Furniture
Paw Patrol 2 in 1 Inflatable Flip Out Mini Sofa (currently unavailable)
Discount - Save £0.84
Good reviews of this kids sofa 63% of 532 customers give this 5 stars.
Two-in-one sofa and lounger in popular Paw Patrol kids' design.
It has a removable machine washable cover which is easy to keep clean.
The blow up sofa inflates in minutes and deflates for compact storage.
Great size for toddlers (h)26cm, (w)68cm, (l)105cm.
Helton Estelle Children's Sofa (Wayfair) (currently unavailable)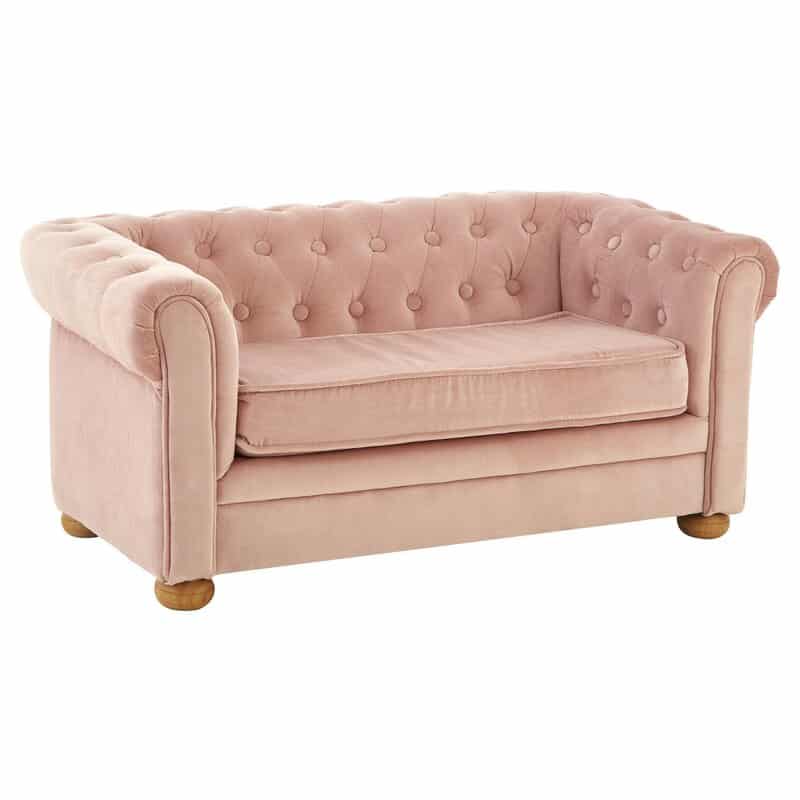 Chesterfield style kids sofa.
Pink kids 2 seater sofa upholstered with tactile velvet.
With a single seating cushion which has a smooth design that contrasts with the quilted arms and backrest.
Button tufted detail which gives it a chesterfield accent.
With 5* customer reviews at Wayfair.
Dimensions 37cm H x 83cm W x 45cm D.