For this post, I have put together a collection of the of the best children's wardrobes currently available. Looking for more ideas for you child's bedroom? See my guide to the best kids bedroom furniture.
Our Top Pick
My preferred pick for best overall kids wardrobe is the Argos Home Bodie Wardrobe because it is simple but stylish and affordable. It would also work as your child grows up as it doesn't look too childish.
Show Today's Top Deals
These are today's top deals and bestsellers for children's wardrobes.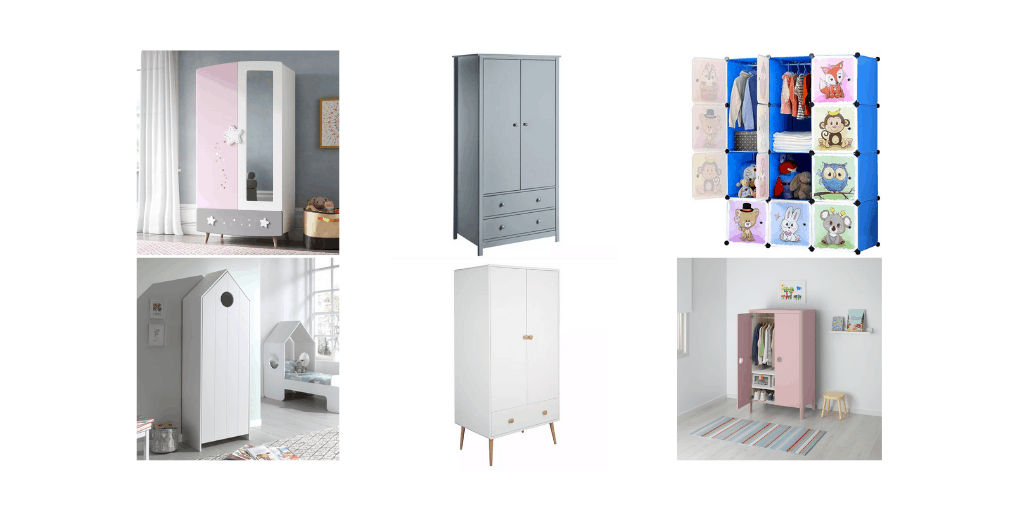 ---
Selecting the perfect kids wardrobe comes down to personal taste, budget and size, but we've selected our favourite picks, which have good customer feedback and we think are the best on the market at the moment.
Also see the best reviewed children bookcases and kids desks.
If you are looking for a nursery furniture set which includes a wardrobe, check out my buying guide to the best nursery furniture sets.
So here is my list of the the best children's wardrobes.
Brian & Dany Portable Wardrobe
Discount - Save £13.03
Lightweight kids portable wardrobe which can be adapted to suit your needs.
Portable kids wardrobe.
2 hanging sections and 8 storage cubes offers you plenty of storage space.
Lightweight panels with steel frame means the wardrobe is light but durable, so safe for kids.
Cubes can be used separately, or be stacked and combined to meet your various needs.
Cute pictures on the doors, make this an eye catching wardrobe which kids will love.
Excellent 4.2/5 star rating based on 897 customer reviews.
Steens Kids Solid Pine Low Wardrobe
Solid pine wooden wardrobe which is specifically designed with kids in mind.
Solid pine kids wardrobe which is lower than a standard wardrobe so kids can easily reach their clothes.
With a large storage drawer, hanging rail and 2 shelves.
Natural lacquer finish.
Allegro 2 Door Wardrobe (Wayfair) 
Pink, white and grey wardrobe with a mirror panel on door from Wayfair.
With screen print stars and silver glitter stars which would suit a princess or fairytale themed room.
Adjustable interior shelves included.
Argos Home Bodie Wardrobe
Scandi-inspired 2 door 1 drawer wardrobe on legs.
Finished in white with pine stained handles and tapered legs from Argos.
It has a sturdy rail for hanging clothes, and a good sized drawer ideal for storing folded clothes and linens.
Neutral look for any room.
Made of MDF.
Casami Beach House Cupboard (Cuckooland)
Beach hut style cupboard, which can be used as a kids wardrobe.
Complete with a roof and panelled door featuring a cut out porthole style window at the top.
With three shelves, clothes can be stored folded.
Available in a range of pastel colours; Satin White, Pastel Pink, Cool Grey & Mint Green.
You can buy multiple cupboards and place them alongside each other for more storage space and a seaside vibe at Cuckooland.
Argos Home Brooklyn Grey Wardrobe
Classic grey tall wardrobe with 2 doors and 2 drawers.
Not just a kids wardrobe, but grey is a popular colour for kids bedrooms so have included this option.
Made from solid pine and MDF with a smooth painted finish.
A timeless and sturdy choice for a kids' bedroom from Argos.
With smart metal handles and easy to wipe clean.
With a wide rail for hanging clothes, and the drawers at the bottom open easily on smooth metal runners.
Busunge Wardrobe in Light Pink (Ikea)
Low pink kids wardrobe.
You can adjust the height of the clothes rail and shelves as your child grows.
Built-in damper makes the doors close slowly, silently and softly.
The cutout handles have a transparent plastic base, so they keep out dust and dirt but still give a glimpse of what's inside.
2 adjustable shelves and 1 clothes rail are included.
Pink wardrobe from Ikea.
Miami Fresh High Sleeper Bed with Desk, Wardrobe and Shelves
High sleeper bed with desk, wardrobe and shelves in grey.
Limited for space in your child's bedroom? I've included this high sleeper bed with integrated wardrobe and desk, which would be great for an older child or teenager.
It includes a 2 door wardrobe with internal hanging rail.
With a desk and lots of shelving for books, toys and games.
The door fronts, desk top and ladder are finished in a contrasting grey shade.
Today's Top Deals & Bestsellers
What To Consider When Buying A Children's Wardrobe
Colour
Neutral colours like white, grey or pine are easy to find and are more versatile as you can pass down to younger siblings regardless of sex.
Themed, brightly coloured or pink wardrobes are a bit more unique but it really depends on your preference.
Budget
Do you want to buy something cheap which you can replace in a few years or would you rather buy a wardrobe which will last your child into their teens?
There are plenty of options available, from affordable, portable wardrobes to luxury wooden wardrobes with mirrors. 
Style
This will be down to personal taste.
Your child may want to choose their own wardrobe or you may want something which fits with your homes current decor and style, whether it be more traditional or modern and sleek.
Material
Kids wardrobes come is a variety of materials from durable, hard wearing wood to polypropylene and steel.
There is no right or wrong, but just make sure the wardrobe is fitted correctly in the room and if its heavy make sure it is fixed to the wall so it can't be pulled over.
Size
This will depend on the size of the room.
If you need more storage space you may want to consider buying a children's wardrobe that has storage drawers or more than one hanging rail.
I hope this list of the best children's wardrobes was helpful.
If you think I left any out that should be included or have a suggestion for a future article, let me know in the comments below.
Nicola