For this post, I have put together a collection of the best kid's desks currently available. Looking for more ideas? See my guide to all kids furniture. Also see my top recommendations for armchair for kids and table and chair sets.
Our Top Pick
A personal choice, but my favourite is the Junior Pop-up Desk from The Paper Hive Company, because I love that it is 100% recyclable and is so easy to build and pack away in under 20 seconds.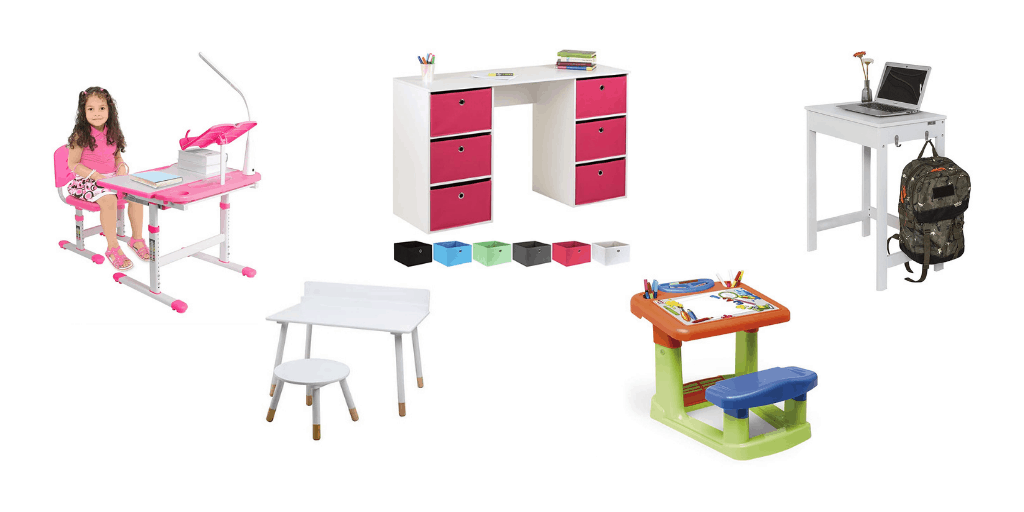 If you want to create a space for your kids to get creative with art and crafts or to sit and do their homework, then a desk is the perfect solution.
Once you know the space you have available look around for something that will fit into that space nicely.
Also choose an age appropriate desk and think about what they are going to use the desk for i.e. art with lots of supplies will require a larger desktop than say one which will just be used for a computer.
Related: Looking for a place to keep their toys? See my best buys for toy storage boxes.
Here are our top picks!
Ejoyous Ergonomic Children's Study Desk Chair Set
Kids desk and chair set with adjustable height
With large pull out drawers in desk for storing books and paper.
The angle of the desktop and book stand is adjustable, so ideal for art and reading. Can be changed to suit the child.
With an inbuilt Eyes Protective Lamp with 3 brightness level offers good illumination for writing and reading.
Suitable for kids from 3 to 15 years, so you can keep it for years.
Buyer's like the easy assembly.
SoBuy® Computer Desk
A small width desk so ideal for those with limited space in their room for a desk.
With 1 drawer and 2 hooks on the right hand side, offering storage space and somewhere to hang the schoolbags.
This desk is good choice for older children and teenagers.
Can be used as a computer workstation, even for adults.
Simple design would look good in any room in the house.
Premier Housewares Children's Desk And Chair Set
Discount - Save £25.80
Traditional style desk and chair set.
The desk has a storage compartment that is under the hinged lid allowing the child to keep their books, crayons, colouring pens and pencils close to hand.
Slightly angled, the desk provides a more comfortable feel for the child.
Ideal for kids 3-8 years old.
This desk is blue, but it's also available in pink or white.
Chicos My Adjustable Desk
This would make a great first desk for a pre-schooler.
The drawing desk has a height adjustment option meaning that your desk will grow as your child does. Suitable from 36 months-5 years of age.
Bright colours of the desk will be inviting for little ones.
Hiding under the worktop is a large space for holding drawing equipment.
Hartleys Kids White Storage Desk & 6 Easy Grasp Box Drawers
A white storage desk which includes six collapsible fabric storage boxes with easy grasp metal ring handle.
Great desk if you need the extra storage space.
Storage boxes come in a choice of colours; blue, black, white, grey, pink and mint.
Ideal for crafts, homework, playing and reading.
Ikea Micke, Desk, White
Keep cords and cables out of sight but close at hand with the cable outlet at the back of this desk.
Simple design which would look nice in any room and the back is finished.
Drawer stops prevent the drawers from being pulled out too far.
You can extend your work surface by combining desks and drawer units from the same range.
Buyer's like the easy assembly.
Junior Pop-up Desk (The Paper Hive Company)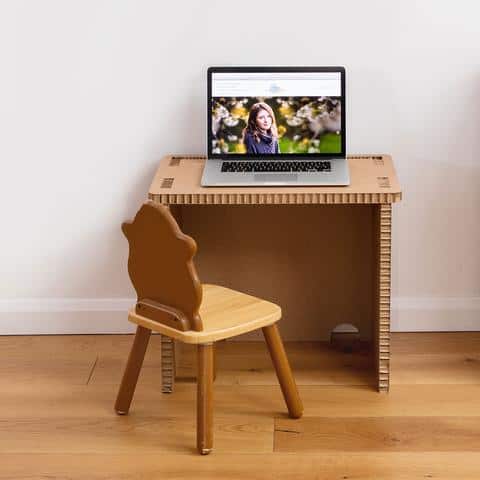 Ingenious lightweight pop up desk made from honeycomb-paper board, ideal for children up to 8 years old.
Desk is 100% recyclable so you don't have to worry about adding to landfill.
It's easy to build and pack away in under 20 seconds.
It flat packs to just 10cm thick for easy storage. Ideal for people with limited space for a desk.
With pre-cut hole for power leads and cables.
Supplied undecorated so kids can put their own personal stamp on it if they want to.
Rounded corners for comfort.
Kids White Desk and Stool (Dunelm)
Kids white desk and stool with strong natural wood legs.
With extra book storage on the table top.
Comes with a one year guarantee.
Matching furniture available.
Buyer's like the high quality.
FunDesks Cardboard Desk
If you're looking for something that is small and fun then check out these FunDesks.
They are a pop-up desk made from 100% recycled cardboard. Although they sound flimsy they are are proving very popular, and sturdy!
Why? They can be put up in minutes, with no tools, are eco friendly and there are loads of fun designs to choose from.
No products found.
---
Kids Beds Guides
Children's Bedroom Furniture