For this post, I have put together a collection of the best toy storage solutions currently available. For more storage ideas see my guide to all types of kids furniture.
Our Top Picks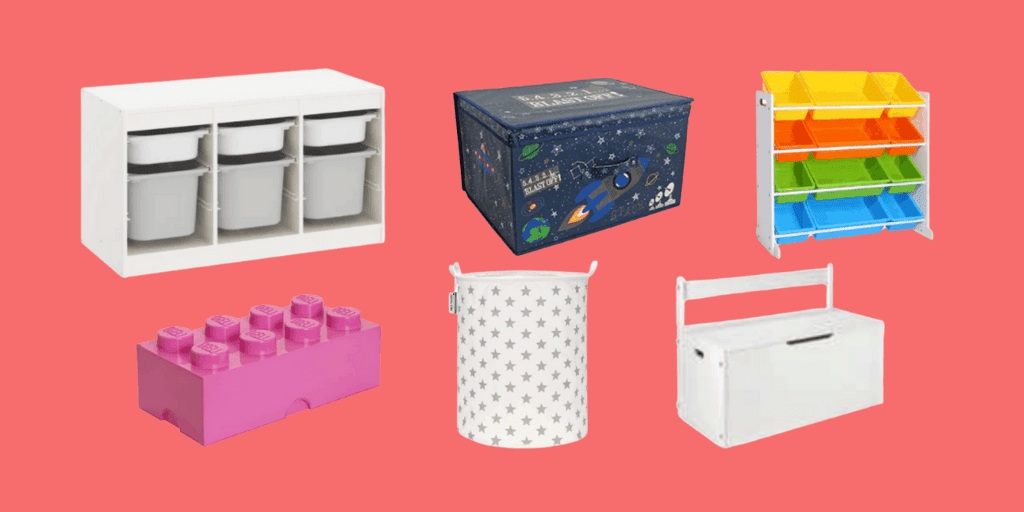 ---
Keep kids' toys tidy and organised with a storage organiser.
How We Selected
There are plenty of ways you can organise their toys in playrooms or their bedrooms.
From storage units, to storage boxes or storage baskets to hanging toy storage, there's something for everyone.
I've selected the best toy storage solutions based on buyers feedback and good reviews. All of my suggestions have 4-5/5 star ratings.
If you're limited for space, see my guide to the best under bed storage or if you need somewhere to display their books check out our article on the best children's bookcases.
Another option for a fun storage solution are bean bags for kids. Many of these can hold toys and also make for a comfy seat in their room.
So here is my list of the the best toy storage.
LEGO Storage Brick
Giant LEGO block storage box.
Iconic LEGO design.
Looks like a giant building block.
Available in different sizes (1, 2, 4 and 8 knobs)
Pros: You can make a feature of your storage boxes and buy more than one so you can stack like real LEGO bricks.
Cons: The small holes at the bottom of the box can trap small pieces of Lego, so some buyers have resorted to covering them up with tape.
Available in various bright colours.
Consumer Score: Customers love this storage box – 84% of buyers gave it 5 stars.
Shop all LEGO on Amazon.
SONGMICS Children's Toy Storage Unit
Toy display stand unit with removable brightly coloured plastic boxes.
Storage unit with 12 PP boxes in 2 sizes and 4 colours for an engaging way to display and organise toys.
Easy to assemble and keep clean.
PP bins are removable for effortless care.
Kids can learn to retrieve and put away their books, toys and games by themselves.
Pros: The open boxes make it easy to find what you're looking for.
Cons: The items in the boxes will all be on show.
Consumer Score: Customers love this storage unit – 78% of buyers gave it 5 stars.
Shop all SONGMICS on Amazon.
Large Collapsible Jumbo Storage Box
Space themed folding storage chest for kids.
Perfect for storing toys, games, books or clothes.
Made from non-woven fabric covered board this box.
Wipes clean with a damp cloth.
Lightweight and easy to use and move around.
Pros: Collapsible design which can be assembled in minutes, folds flat for space saving when not in use.
Cons: Not as durable as some options.
Consumer Score: Customers love this storage box – 75% of buyers gave it 5 stars.
Sea Team Storage Basket
Laundry hamper style collapsible storage basket.
100% Ramie Cotton Fabric + Waterproof PE Coating Lining.
Lightweight and equipped with handles.
Ideal for storing soft toys.
Silver star print which will look great in a kids bedroom.
Pros: Stylish, sturdy, collapsible and reusable.
Cons: You will have to rummage through things in the basket to find what you're looking for.
Consumer Score: Customers love this storage basket – 76% of buyers gave it 5 stars.
Haus Projekt Kids TeePee with Fairy Lights
Children's play tent which can double up as a space to hideaway and store their toys.
Comes complete with string lights, cotton bunting, waterproof base and carry bag.
Lightweight 100% natural cotton canvas and pine.
With built in storage compartment for books and toys.
Pros: With curtains and window for ventilation and to allow adults to supervise from outside the teepee.
Cons: If you store toys in here, you may find they all get thrown out when the kids want to play in the tent.
Consumer Score: Customers love this teepee – 79% of buyers gave it 5 stars.
Clippasafe Corner Toy Hammock
Toy Hammock to hold all those soft toys and teddy bears in place!
Easily make use of the walls with this toy hammock.
An immediate, cost-effective idea.
Pros: Ideal for space saving solutions.
Cons: You can't overload, only really suitable for soft toys.
Supplied complete with brass securing hooks.
Consumer Score: Customers love this toy hammock – 65% of buyers gave it 5 stars.
Munchkin Super Scoop Bath Toy Organiser
Discount - Save £1.45
Store all those bath toys neatly in the bathroom with this organiser.
Push lock suction cup which securely mounts to tiles.
Mesh fabric increases air flow so toys dry quickly, reducing mildew risk.
Pros: Extra-large mouth makes grabbing multiple toys quickly and easily out of the bathwater.
Cons: It's quite small.
An ideal way to store toys while they dry.
Consumer Score: Customers love this bath toy organiser – 76% of buyers gave it 5 stars.
TROFAST Storage combination with boxes (Ikea)
Storage combination unit with boxes, white/grey.
Sturdy wooden frames and lightweight plastic boxes that your child can easily slide out, carry and put back again.
The frame has several grooves, so you can place boxes and shelves where you want them.
Pros: Low storage makes it easier for children to reach and organise their things.
Cons: You will need to assemble yourself.
Neutral colours.
Available to buy from Ikea.
Consumer Score: Excellent average customer ratings of 4.9/5.
Argos Home Scandinavia White Extra Large Toy Box
Solid pine toy box with a handy backrest so it doubles up as a bench.
Easy to assemble, it comes ready-painted with a white finish.
Made from solid wood.
Pros: Large storage capacity, durable, doubles up as a seat.
Cons: Fiddly to assemble.
Ideal for filling with toys, books and clothes.
Available to buy from Argos.
Consumer Score: Great average customer ratings of 4.7/5.
What To Consider When Buying Toy Storage
What Are You Storing?
It's a good idea to have a look at the toys your kids own so you get an idea of how many storage units/ boxes you will need.
Durability
If you are looking for storage solutions which will stand the test of time, wooden units with plastic drawers or sturdy toy boxes are a great option.
If you are looking for an affordable and instant storage solution or you want to keep your toys organised by type, then storage baskets and shelving units are good.
Easy Cleaning
Choosing storage units that can easily be wiped down or machine washed can help you save time when it comes to cleaning.
FAQ's Toy Storage
How do you sort and store toys?
– Put similarly themed toys together.
– Kids will want to play with what they see, so put toys on shelves or in open boxes so they can easily reach them, rather than in toy boxes.
– If you have lots of toys, think about rotating them so that you change what your child plays with every couple of months. They will probably forget about a toy and be delighted when it reappears.
How do you store lots of toys?
It's nice to have some toys on display, but it also makes sense to store the rest away neatly so it doesn't feel too cluttered.

Think about using the space underneath your child's bed or alternatively you may want to use cupboard space.

If neither of these options are available there are lots of storage baskets available which could be used on their own or with shelving, just so you don't have toys all over the floor.
How can you store toys in your living room?
If you want your little one to have easy access to their toys in the living room, but you also don't want them becoming a focal point, a good place to store them is in an ottoman or storage bench.

You can then quickly store the toys away at the end of play, leaving your living room looking decluttered.
Cheap Toy Storage & Today's Bestsellers
Final Thoughts
My preferred pick for best overall toy storage is the TROFAST Storage combination with boxes from Ikea, because it has plenty of room to store toys. Boxes can be easily glided in and out on runners. Low storage which is ideal for kids.
I hope this list of the best toy storage solutions was helpful.
If you think I left any out that should be included or have a suggestion for a future article, let me know in the comments below.
Nicola
Last Updated: May 2022
Added 'How We Selected.'
Updated Image.
Updated Links.
Added Pros/Cons on all products.
Added 'Things To Consider'.
Added FAQ's.
Added Alternative Retailer.
Added Final Thought.
Moved OOS.
Kids Beds Guides
---
Children's Bedroom Furniture
SLÄKT Storage seat (Ikea) (currently unavailable)
Storage seat on wheels which can be stored under bed.
Storage box which doubles up as a seat.
Can be easily wheeled under bed. See more under bed storage solutions.
Ideal for space saving storage solution.
Available to buy from Ikea.