For this post, I have put together a collection of the best kids rugs currently available. Get loads more ideas for childrens bedroom furniture.
Our Top Pick
This really depends on the age and preference of your child but to fire their imagination my top pick is the space rug because it's a short pile cut easy to clean, receives excellent reviews from parents, is available in many sizes and is super soft.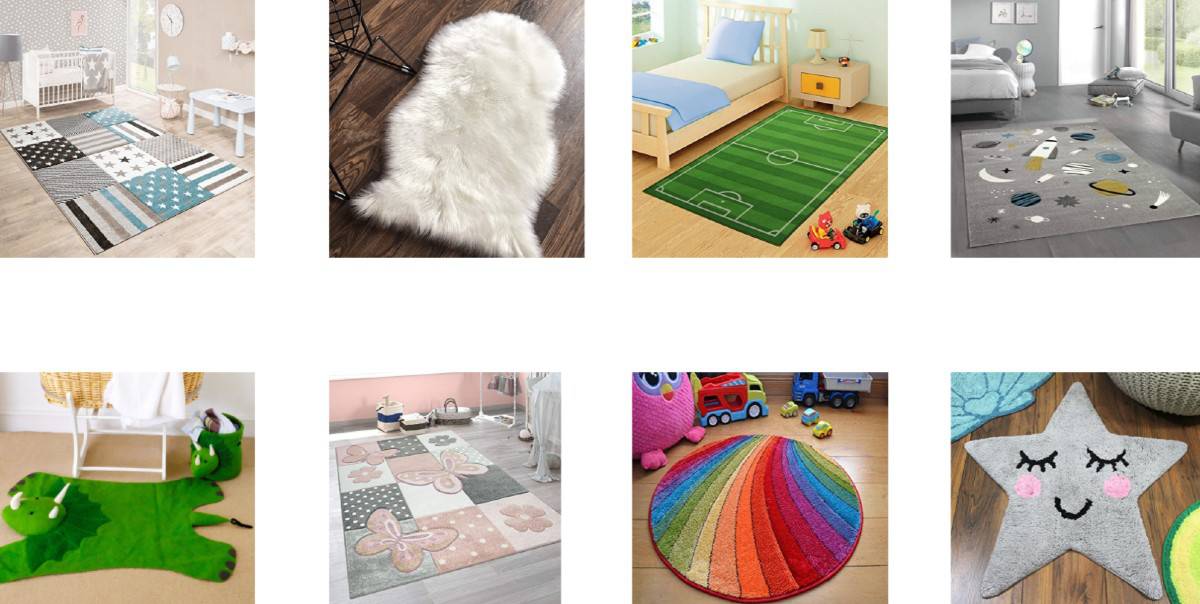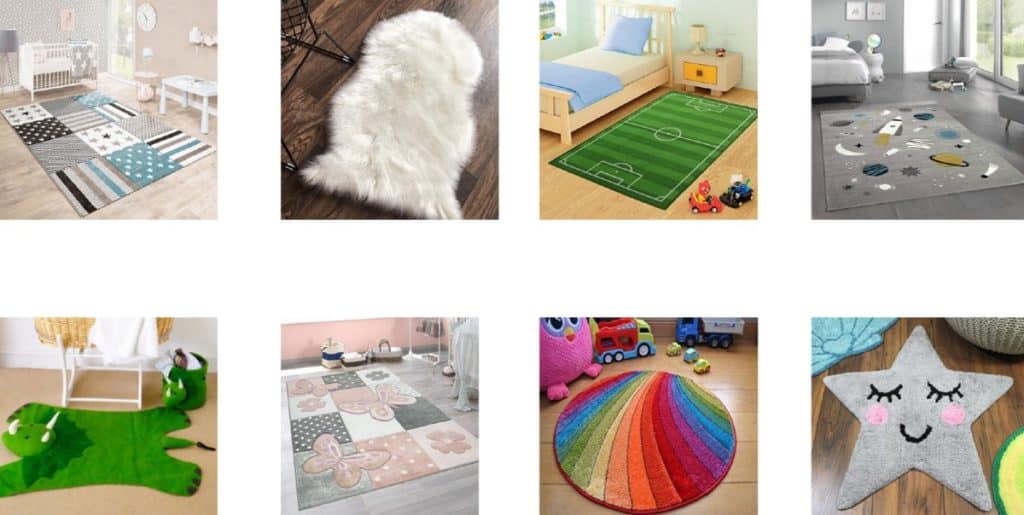 I've written over a dozen buying guides curating the best of bedroom furniture for children – see my top tips on toy storage, kids dressing tables and bean bags for children.
So here is my list of the the best kids rugs. Enjoy!
Contour Cut Star Pattern Beige Cream Pastel Colours (Best For Nursery)
Bestselling rug with exceptional ratings. 84% of parents gave this 5 out of 5 stars from over 334 purchases.
Short pile rug suitable for playroom or nursery.
Hardwearing but has a soft, cosy feel.
Features soft pastel colours and motifs of polka dots, moon and star.
Available in 3 sizes: 80×150 cm, 120×170 cm and 160×230 cm. 120×170 is one featured here.
Faux lambskin sheepskin rug (Cumay)
Discount - Save £0.40
Bestselling rug with 80% of buyers giving this 4 stars or above.
Available in white or grey.
Suitable for child's room – soft and cozy spot for the kids to play.
Also one as they grow – stylish addition to a teenage setup.
Machine wash friendly.
Football Field Rug / Mat (FunkyBuys)
Bestselling football rug scores very highly with parents. 77% of buyers give this a max 5 out of 5 stars.
Perfect addition for any football mad children.
Available in two sizes: 100cm x 165cm (pictured) or 80cm x 120cm.
Good fun mat with water repellent backing
Funky Buys make these rugs/mats in a variety of designs including: Blue roads, bright blocks, Dinosaurs, farm life, green town, pink hopscotch, planet galaxy and village/city road.
Space Learning rug with spaceship stars and planets (Merinos)
Perfect to fire their imagination and bringing space adventure comes to life.
Short pile carpet with 3D contour cut
Fantastic reviews – 86% of parents gave this a maximum 5 out of 5 stars.
Good thickness, easy to clean and soft feel.
Available in three sizes: 80×150 cm (featured), 120 cm Round and 200 x 290 cm.
Mountain Motif Moon Stars In Pastel Blue Grey (Paco Home Store)
Soft pastel colours and mountains and stars motif perfect for a nursery.
Superbly reviewed by parents with 83% of parents giving this 5 out of 5 stars.
Buyers love the thickness and comfort.
Available in a range of 8 sizes and shapes (round, square and rectangular)
Felt Triceratops Dinosaur Rug (Joules)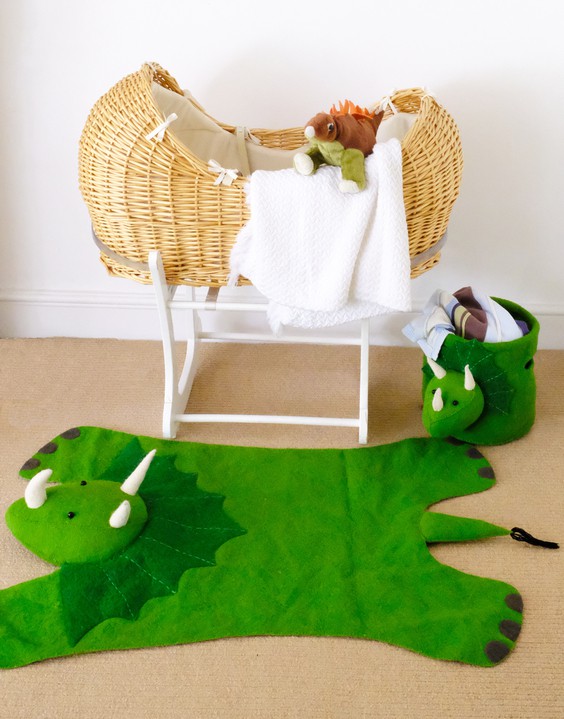 Plushie style head and tail provide a three-dimensional appeal that other rugs do not have.
Very bright bold green colour will appeal to any dinosaur fan.
Main material is wool, secondary is Polyester.
Wipe clean only
Flowers & Butterflies Pastel Rug (Paco Home Store)
Great reviews on this rug with the vast majority of buyers giving it 5 out of 5.
Fluffy, soft and snug fabric.
Made from durable polypropylene, the play rugs are hard-wearing and easy to clean, making them the ideal play area
Available in 8 different sizes.
Rainbow Circle Thick Childrens Colourful Rug
Super bright colours and a thick soft pile.
Smaller rug measuring 80cm x 80cm at its widest points.
Stain resistant and non-shedding pile
Star Shaped Kids Rug (Just Contempo)
Small rug perfect for kids' bedrooms, nurseries or playrooms.
Dimensions 70 x 67 cm
Rug with closed eyes smiley face in grey colour.
100 percent cotton, this rug is soft and cosy.
75% of parents give this rug 4 stars or more.
Also available in avocado design.
Ethan Grey Rug (Isabelle & Max)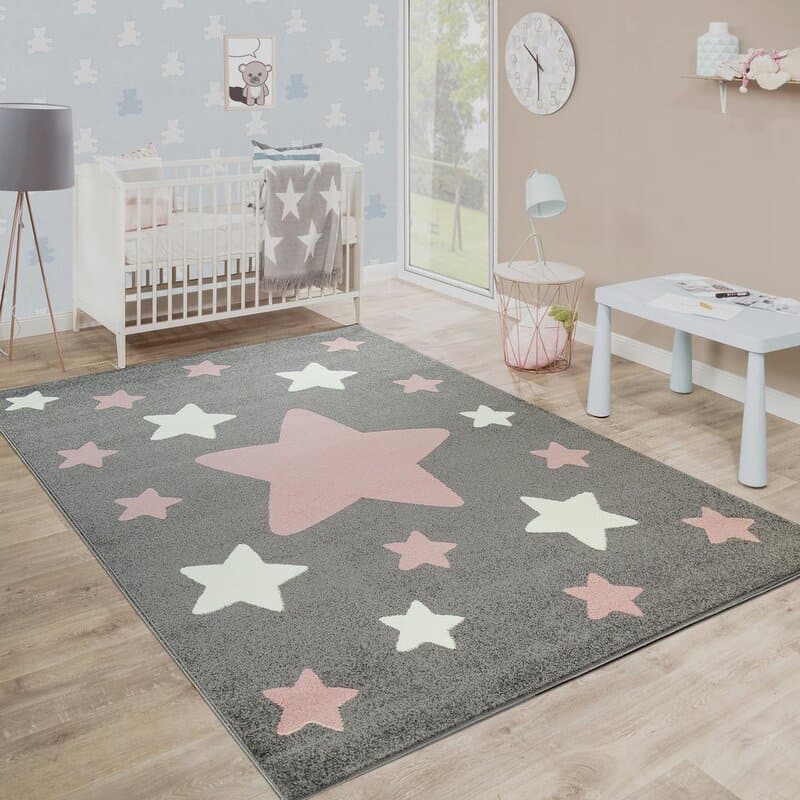 Available in grey, dark pink or blue and in four sizes.
Parents rate this rug highly, scoring 4.9 from 56 reviews.
Buyers love it for its value for money, vibrant colours and quality.
I hope this list of the best kids rugs was helpful.
If you think I left out one that is important or have a suggestion for a future article, let me know in the comments below.
Dominic
Kids Beds Guides
---
Children's Bedroom Furniture