For this post, I have put together a collection of the best kids' dressing tables currently available. See my ultimate guide to childrens bedroom furniture.
Our Top Picks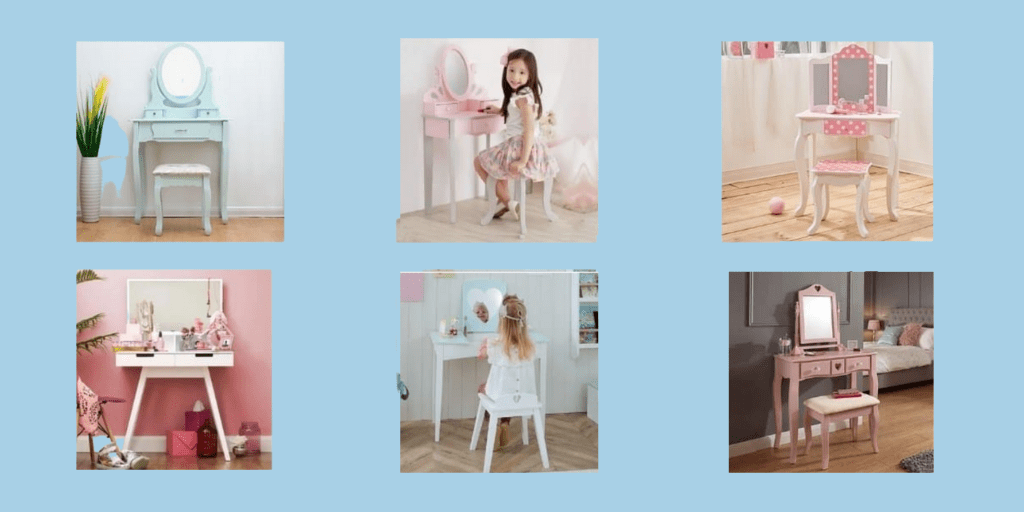 Having a dressing table is great fun for your little one for any role playing and practising her make-up skills.
How We Selected
If you're looking for fantastic furniture for your child's room we've curated 100s including nursery furniture and kids desks.
I've picked out a selection of different designs from very classic styles to modern vibes. Many come with an array of drawers and most include a matching stool.
Make sure you check any dimensions so you know they are a good fit for both your child and the intended room. I've tried to pick a range of budgets as well to suit.
So here is my list of the the best dressing tables for kids.
KidKraft 76123 Princess Wooden Vanity Stool with Mirror
Three-panelled mirror vanity with a gliding storage drawer.
Rich pink tones with gold finishes and crown flourishes.
Sturdy wood construction with step-by-step assembly instructions.
Pros: Buyers love the high quality and simple construction instructions.
Cons: Drawer is a little bit on the small side.
Consumer Score: Brilliant reviews scoring 4.7 out of 5.
Teamson Kids Fashion Prints Vanity
Available in pink/white, pink/gold or white/gold.
White with pink polka dots vanity with a mirror and matching stool.
Includes three surrounding mirrors and 1 drawer space.
Sturdy dressing table made from high quality wood.
Pros: Highly reviewed with buyers loving the design and build quality.
Cons: Some buyers mention chipped paint but overall mostly positive feedback.
Consumer Score: From Great reviews the average score is 4.6 out of 5.
Kadence Dressing Table Set with Mirror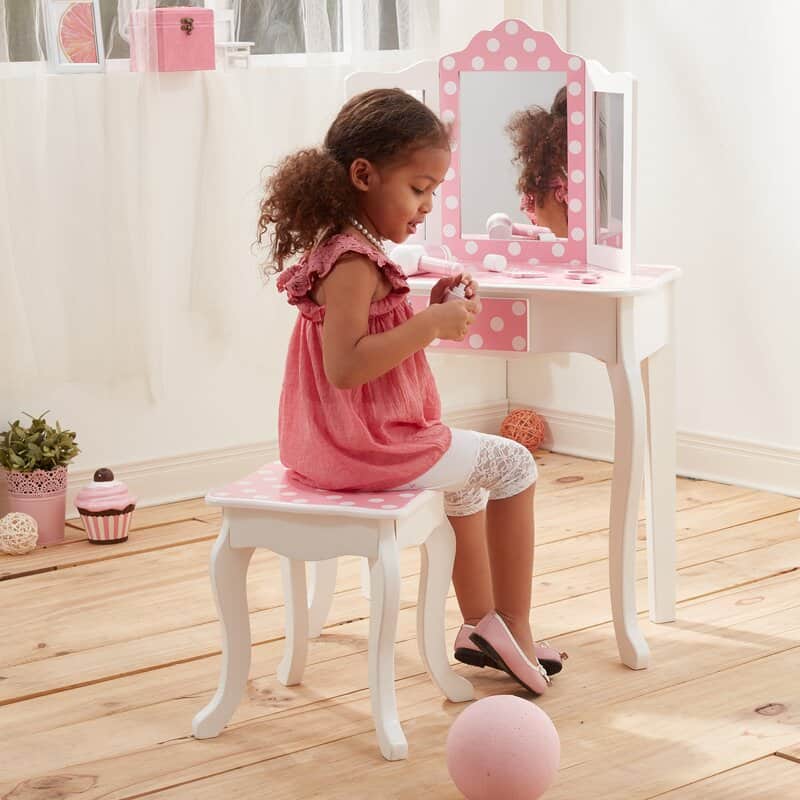 Available in many other colour combinations (pink/black, white/light pink (shown above), white/pink, white/turquoise, white/dark pink.)
Pros: Easy to assemble.
Cons: Pricey.
Consumer Score: Harriet Bee brand this set is extremely popular and a bestseller with over 1000 reviews averaging 4.6/5.
The set includes a mirror, table with storage drawer and stool.
Pink and White Vintage Dressing Table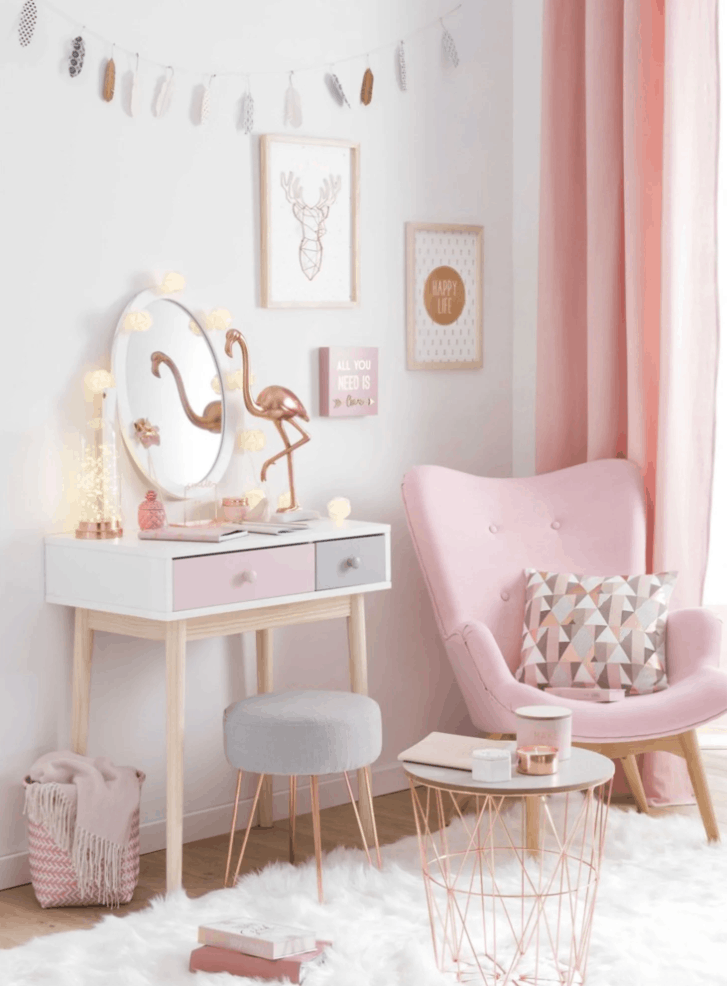 From the BLUSH range this is a stunning modern styled dressing table.
Note the stool is not included with this item.
The legs are made of pine with a lightly bleached finish.
The desk itself is varnished in white with a matte finish.
The drawers are a fibreboard and varnished in a pink and grey, matte finish.
Pros: Good storage, cool retro design.
Cons: Expensive.
Sweetheart Dressing Table & Stool Set, Pink Hearts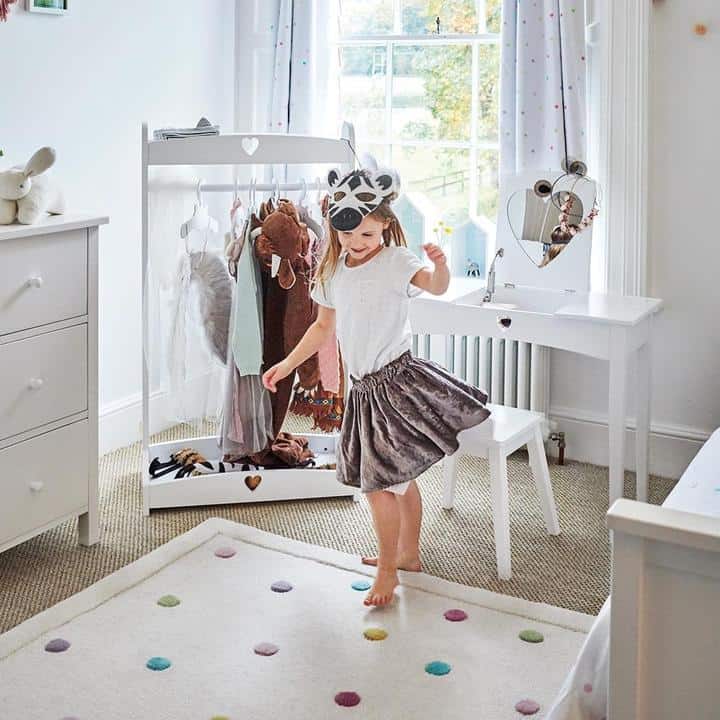 Stunning dressing table with a lift up mirror. It features a safety hinge and the mirror is made of acrylic safety glass for added safety.
The smooth surface has a pattern of printed pink hearts on top. It's also available above in Aqua Polka Dot.
Pros: The set is made from thick MDF and wood and is sturdily constructed.
Cons: None to mention.
Parents love the simple assembly and superb quality.
Heart Dressing Table Set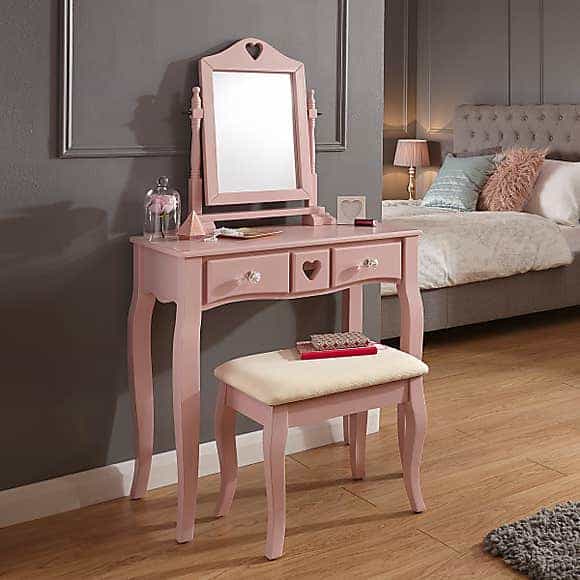 This stylish set is composed of a dressing table, adjustable mirror and a matching padded stool.
It's made from a combination of solid pine and MDF.
The stool is a cream fabric covered seat pad.
Pros: Features two large drawers with lovely hand crafted love heart shaped crystal handles.
Cons: Expensive.
Consumer Score: Fantastic reviews at 4.6/5 with parents loving the excellent quality and that it's simple to construct.
Achenbach Dressing Table Set with Mirror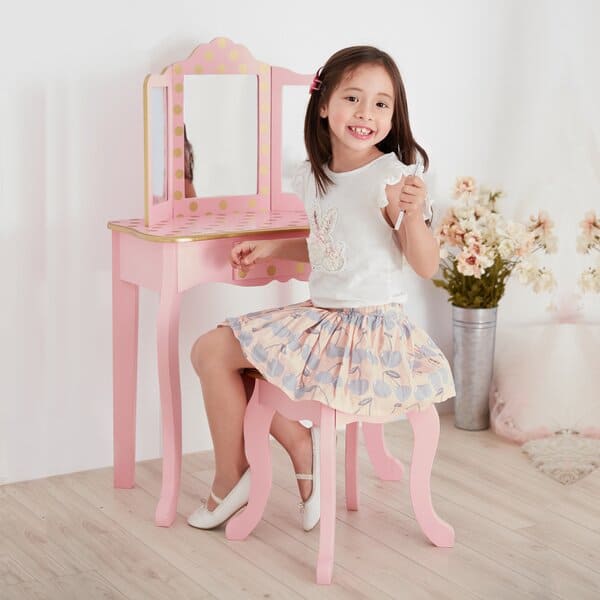 Available in white & gold / pink & gold
Composed of manufactured wood and lacquered finish featuring gold edges and polka dots.
The table stands on Queen Anne style legs with a drawer and three framed mirrors.
Matching stool is included.
Pros: Parents love this set with fantastic quality and their children loving the beautiful design.
Cons: A few buyers mention scratches but overall more positive feedback.
Consumer Score: Great reviews at 4.6/5.
What To Consider When Buying A Dressing Table For Your Child
Durability
You want to make sure the dressing table is sturdy and strong enough for your child to sit up to.
Style
Do you choose contemporary and chic or classical and pretty? There are plenty of different types of dressing tables to choose from.
Storage
If you are looking for practicality too, dressing tables which come with storage solutions such as drawers, shelves or cupboard space are also handy.
FAQ's Kids' Dressing Tables
Cheap Kids' Dressing Tables & Today's Bestsellers
Final Thoughts
These are all excellent sturdy beautiful sets but my personal favourite is the Heart Dressing Table Set from Dunelm. I love the classic design and the little touches such as the attention to detail on the drawer handles. It's also got a comfy stool and is fantastic build quality.
I hope this list of the best kids' dressing tables was helpful.
If you think I left out a really good one or have a suggestion for a future article, please let me know in the comments below.
Nicola.
Last Updated: May 2022
Added 'How We Selected.'
Added Pros/Cons on all products.
Added 'Things To Consider'.
Added FAQ's.
Added Final Thought.
Moved OOS.
Kids Beds Guides
---
Children's Bedroom Furniture
CherryTree Furniture DUCK EGG Dressing Table (currently unavailable)
Beautiful Duck Egg coloured dressing table set with a jacquard cushioned stool.
Features large oval mirror, three storage drawers of varying size and elegant curved legs.
High quality MDF, easy to wipe clean.
Flat pack and easy to assemble.
Buyers love the robust and hard wearing nature.
Outstanding reviews scoring an average of 4.5 out of 5 from 568 ratings.
Hartleys White Modern Dressing Table & Mirror (currently unavailable)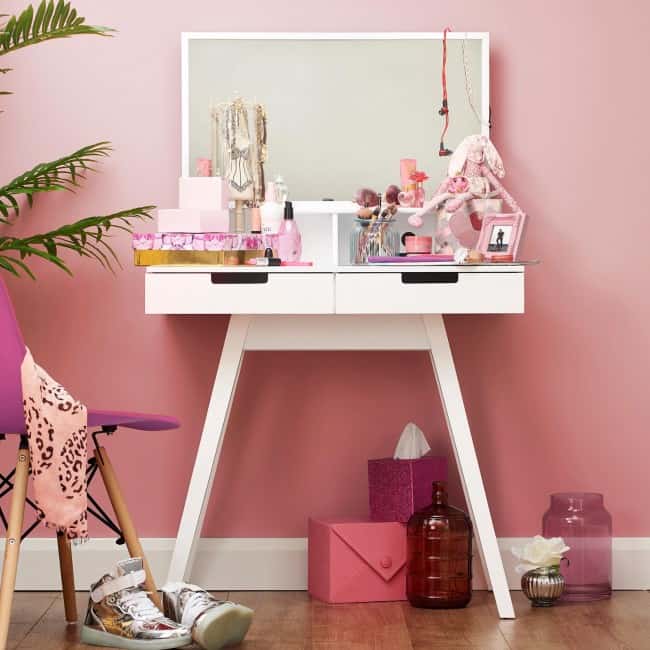 Contemporary, modern look with smooth tabletop and large mirror.
2 storage drawers with stoppers to prevent drawers from falling out.
2 cable tidy holes to keep straighteners/hair dryer neat and safe.
Mirror can be hung separately.
Can also be used as a writing desk.
Sweetheart Dressing Table & Stool Set, Aqua Polka Dot (currently unavailable)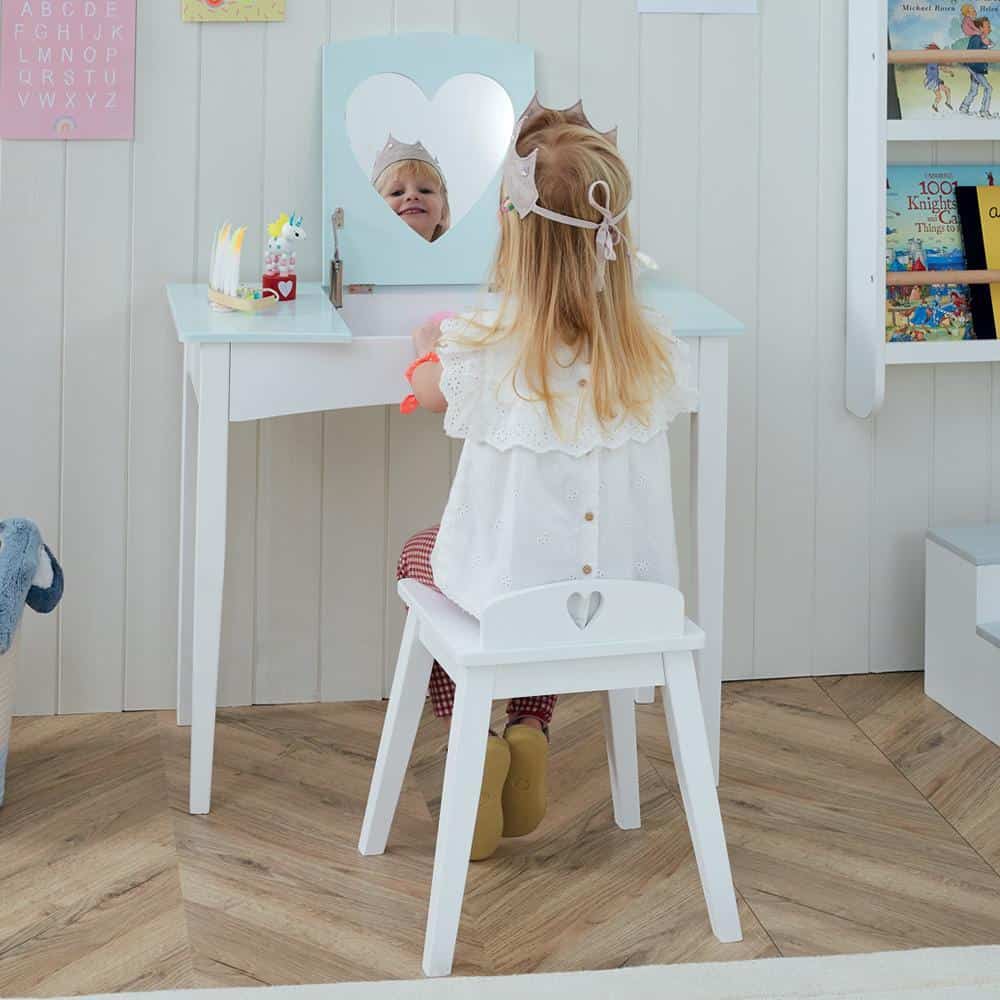 Gorgeous table with the aqua surface dotted with pretty polka dots and the rest is painted in bright white.
Also available in pink hearts below.
Parents love that the set is simple to put together but is extremely well constructed.
Teamson Kids Princess Rapunzel Vanity & Stool Set (currently unavailable)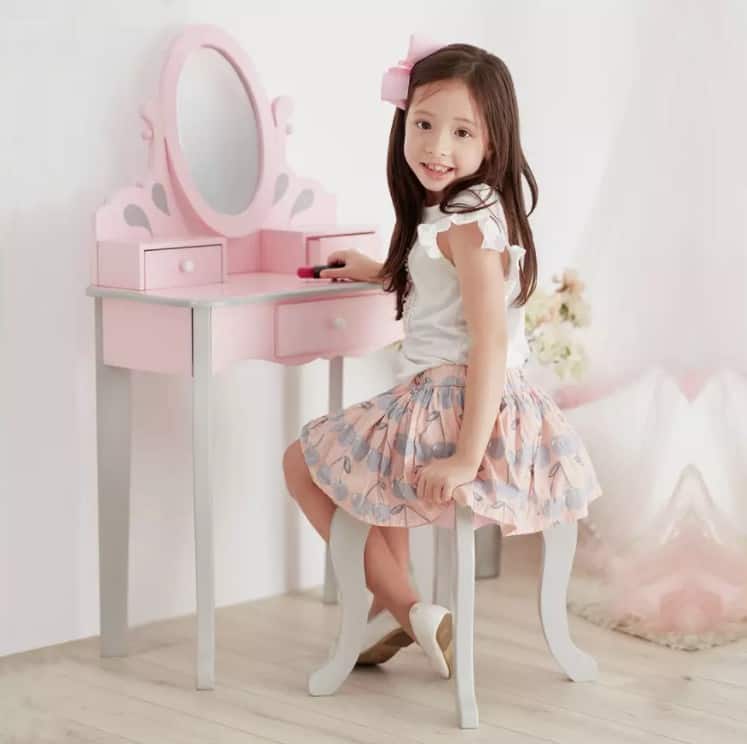 Beautiful dressing table set with three drawers
The oval mirror is made from unbreakable Plexiglas for safety.
The angle of the swivel mirror can be easily adjusted.
Sturdy stool supplied.
Charlotte Dressing Table & Stool Set (currently unavailable)
Gorgeous dressing table with a sturdy matching stool.
There's two smooth drawers and a triple mirror.
Made out of thick MDF and finished with a tough coating and Bright White finish.
Safe mirror set and the middle one can be tilted.