For this post, I have put together a collection of the best storage boxes for LEGO currently available. See my guide to 100s of kids bedroom ideas.
Our Top Picks
Show Today's Top Deals
These are today's top deals and bestsellers for Lego storage box.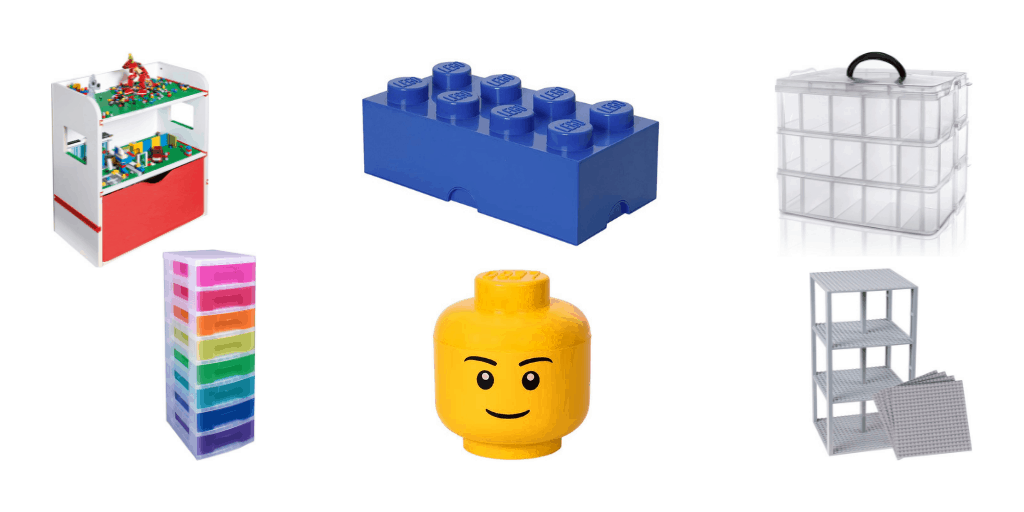 ---
Keep all of those Lego pieces in one place with a handy Lego storage box.
Here are our picks of the best Lego storage solutions from boxes to sorters and bags to storage drawers.
All of our recommended products have excellent customer reviews and 4-5/5 star ratings.
For more storage recommendations see my guide to toy storage units – or the best underbed storage.
So here is my list of the the best Lego storage boxes.
LEGO Storage Brick
With these cool storage bricks you can create a super-sized LEGO building experience, or just buy the one brick depending on how much you have to store.
Lid includes 8 real LEGO studs that connect to other storage bricks.
Dimension: 25 x 50 x 18 cm.
Available in 15 colours.
Excellent reviews. From 2,180 ratings 82% of buyers gave this 5/5 stars.
---
Room Copenhagen Lego Storage Head
Based on the LEGO heads, this storage container will look cool on a LEGO fans bedroom shelf.
Available in 7 different faces and S/M/L sized containers.
It can also be stacked on the LEGO storage brick.
Great reviews. From 1,410 ratings 82% of buyers gave this 5/5 stars.
---
Kurtzy 3 Tier Stackable Storage Box
When fully assembled there is 30 compartments to this stackable transparent storage box.
It's ideal for keeping your Lego organised by parts or colours, plus you can see into it so its easy to find the pieces you're looking for.
24×16.5x185cm LxWxH.
The handle makes it easily portable.
Very good. From 1,770 ratings 78% of buyers gave this 4-5 stars.
---
Sumbabo Toy Storage Mat Bag
Anyone who has Lego in their home has probably felt the pain of treading on that rogue brick on the living room floor, which is why this lego bag mat is such a clever invention.
It can be used as a play mat which kids can sit on and play with all of their Lego and then it can easily be packed away by pulling the drawstring so the mat becomes a bag.
31.8 x 26.7 x 1.5 cm.
Good reviews. From 165 ratings 70% of buyers gave this 5/5 stars.
---
Room 2 Build Kids Toy Storage Unit by HelloHome
This toy storage box with shelves that have incorporated building plates, is perfect for kids to display their Lego brick creations.
It features carry handles with building strips, two slide-in slots for building bricks and a large storage drawer, where the remaining Lego can be stored away.
30 x 55.5 x 59.5 cm.
Excellent reviews. From 319 ratings 89% of buyers gave this 5/5 stars.
---
Strictly Briks Stackable Base Plates
Mix and match these stackable baseplates and use them to store your child's wonderful Lego creations.
Compatible with all major brands.
Available in 18 colours.
Really good reviews. From 3,251 ratings 74% of buyers gave this 5/5 stars.
---
Really Useful Drawer Tower
This drawer tower looks really colourful and bright and would be a great large storage space for storing lots of Lego pieces.
The coloured drawers could be used to colour co-ordinate the Lego pieces.
Contains seven 8 litre drawers and includes castors for easy transportation.
42 x 30 x 92.5 cm.
Fabulous reviews. From 1,483 ratings 87% of buyers gave this 5/5 stars.
---
Hardcastle Free Standing Storage Bin
A 20 piece storage bin kit which can be wall mounted or freestanding.
It makes a great place to store all those Lego pieces in sight so they are easily accessible.
Stand: W: 53cm X H: 38cm – Bins: W: 10cm X D: 16cm X H: 7.5cm.
Good reviews. From 109 ratings 72% of buyers gave this 4-5 stars.g
---
Today's Top Deals & Bestsellers
---
FAQ's Lego Storage
What is the best way to store Lego?
For younger kids an easily accessible storage bin, box or play mat bag are ideal as you can keep all of the pieces together and tidy up quickly and efficiently. For older kids who want to display their Lego creations, stackable base plates are ideal and for Lego enthusiasts who have plenty of pieces and want some sort of organisation a drawer tower or storage box with lots of compartments are great options.
Is it better to sort Lego by size or colour?
Lego builders recommend sorting Lego pieces by category rather than by colour. So bricks, plates and other parts could be split into separate containers to keep organised.
I hope this list of the best Lego storage boxes was helpful.
If you think I left any out that should be included or have a suggestion for a future article, let me know in the comments below.
Nicola
---
Kids Beds Guides
Children's Bedroom Furniture