For this post, I have put together a collection of the best children's bookcases currently available. See my guide to 100s of kids bedroom ideas or the 100 best children's books.
Show Today's Top Deals
These are today's top deals and bestsellers for children's bookcases.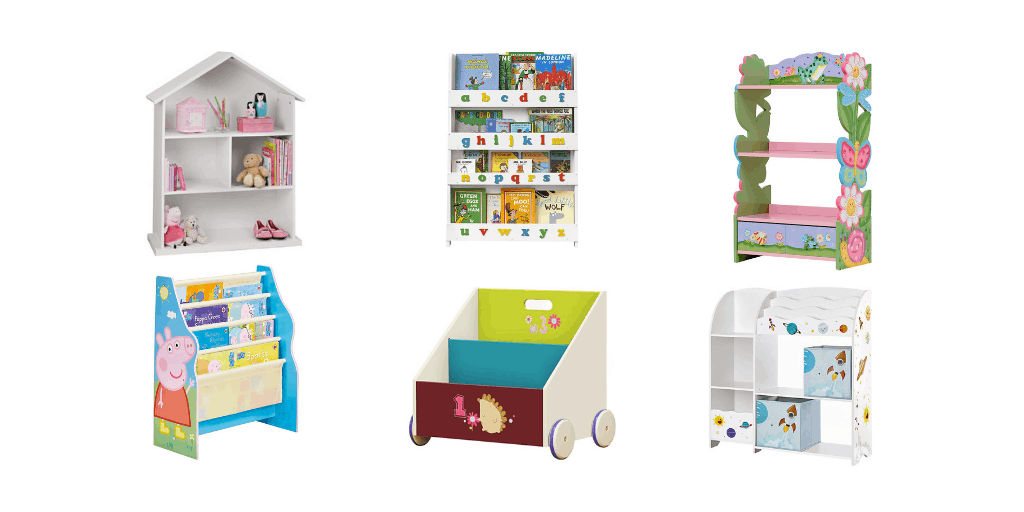 ---
What better way to create a reading corner in your child's bedroom than by adding a bookcase. Children will love being able to pick and display their books in their very own bookcase…and there are plenty to choose from!
If you are looking for somewhere that the kids can sit and read or get creative, check out our article on the best kids table and chairs.
For more storage recommendations see my guide to toy storage units – or the best bean bags for kids that can double up as comfy chairs and also hold soft toys.
So here is my list of the the best children's bookcases.
LIVIVO ® Children's Colourful Sling Storage Bookshelf
Discount - Save £2.04
A sling bookcase which is ideal for kids age 3+.
Wide sling style bookcase in which books can be displayed by front cover, making it easy for kids to find their favourite.
Made of sturdy natural wood laminated MDF frame and strong nylon fabric pockets.
Suitable for a range of books of varying size and thickness.
Parents love this bookcase 71% of 1,141 buyers gave it 5 stars.
Fantasy Fields – Magic Garden themed Pink Book Case
Discount - Save £22.48
Hand painted and hand carved wooden bookcase with storage drawers.
Pretty Fantasy Fields Magic Garden themed bookcase.
Teach your kids colour and character recognition.
Holds up to 50+ books.
Parents love this bookcase 86% of 560 buyers gave it 5 stars.
KidKraft Primary and Natural Sort It and Store It Organiser
Discount - Save £27.39
A modern organiser shelf for kids with multiple storage bins.
This unit includes 12 plastic storage bins to help easily organise and store all your child's books, toys and craft supplies.
Plastic bins are interchangeable allowing you to customise by colour and size.
Unit is made of sturdy wood.
Parents love this bookcase 60% of 285 buyers gave it 5 stars.
Labebe Wooden Bookcase with Casters
Hand-painted bookcase on casters which is suitable for children aged 1 to 5 years.
The bookshelf has three different height compartments, suitable for storing different sizes of books.
The back has more hidden storage space.
The bookcase has rubber wheels, which are friction-resistant and a handle so children can walk around the playroom with their favourite books.
With a cute hedgehog and floral design.
Parents like this bookcase 79% of 200 buyers gave it 5 stars.
Peppa Pig Kids Sling Bookcase
Peppa Pig sling style bookcase.
Perfect bookcase for toddlers who love Peppa Pig.
Featuring 4 fabric sling compartments.
Made using high grade MDF and polyester fabric.
Fill it with your kids favourite books.
Parents love this bookcase 81% of 211 buyers gave it 5 stars.
Homfa Children Wall Bookcase
No products found.
White 4 tiered wall bookcase for kids.
Children bookcase with 4 tiers that can store at least 25 books.
Easy to organise books and save space.
Simple and elegant look which will work with most home decor.
Unique design means it can be mounted on the wall.
Made of high-quality MDF, so durable and easy to wipe clean.
Parents love this bookshelf

No products found.

.
SONGMICS Toy and Book Organiser for Kids
Large toys and book organiser unit for kids.
With 3 spacious slots for books, 3 cubes and a large compartment for stuffed toys, 2 fabric drawers for extra storage from Songmics.
Unit has rounded corners to protect your kids from bumping and bruising.
With space rockets and asteroids theme to spark their imagination.
Tidy Books® Childrens Wooden ABC Bookcase
Discount - Save £26.00
Alphabet wooden kids bookcase
Alphabet bookcase with front facing shelves from Tidy Books.

Fixes safely to the wall.

Holds up to 85 picture books of all shapes & sizes.

The panels keep books in place, and the closed back means books can't slip.

Space saving as fits behind a door.

Eco-friendly, handmade wooden bookcase.
Ikea Flisat Book Display

Low book display.
Low book display from Ikea ideal to hold a selection of your children's books.
Freestanding.
Easy for your kids to reach their books.
Great value for money.
Wooden book display which would look great in any kids bedroom or playroom.
Argos Home Mia White Dolls House Bookcase
Stylish bookcase which doubles as a dolls house.
Ideal for storing books or displaying some of their toys.
As well as a display unit, its delightful design doubles as a dolls house.
Matches the rest of the Mia home range at Argos.
Today's Top Deals & Bestsellers
What To Consider When Buying A Children's Bookcase
Size
Choose a bookcase which will suit the size of your child's bedroom. You don't want anything which will overpower the rest of the room. You will want it to look inviting for your child. Smaller children like to be able to reach in and have a look themselves, so think about lower bookcases too.
Durability
You're going to want something which is sturdy and durable for little hands. Wood or high quality combinations of wood and fabric/plastic are ideal.
Age of Child
Some bookcases are made for toddlers and may seem too babyish to older kids. If your child has built up a bigger collection of books you may want something which can hold plenty of books and look more like an adult bookcase.
I hope this list of the best children's bookcases was helpful.
If you think I left any out that should be included or have a suggestion for a future article, let me know in the comments below.
Nicola
Kids Beds Guides
---
Children's Bedroom Furniture