For this post, I have put together a collection of the best underbed storage solutions. For more ideas see my guide to kids room furniture.
Our Top Picks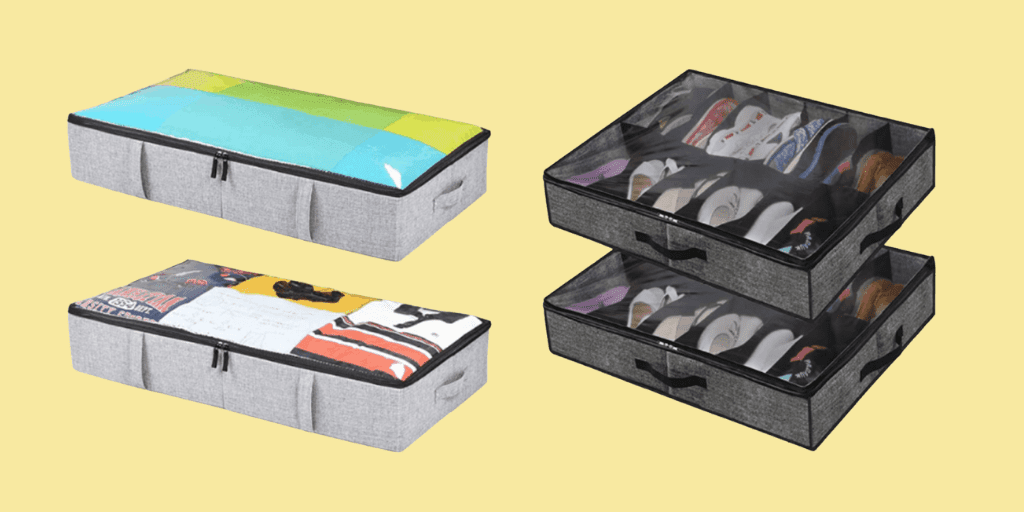 Need more storage space at home?
Why not maximise the space under your bed with some storage boxes? The otherwise wasted space can become a great place for storing winter/ summer wardrobe, shoes, toys and more.
How We Selected
We've scoured the market looking for underbed storage which had excellent buyers feedback and 4-5/5 star ratings.
From boxes on wheels to vacuum pack storage bags there is something here to suit all budgets.
See my buying guide to lots more children storage solutions including toy storage, kids wardrobes and children bookcases.
Let's get going!
StorageLAB Underbed Storage Containers
Storage containers with sturdy construction which can handle all types of storage needs.
Pros: With firm sides and bottom, keep their shape without being filled up, durable handles so you can pull them out from under the bed without straining.
Cons: Material will wear and tear more quickly than plastic.
Each holds 60 litres.
Consumer Score: Excellent reviews with 84% of buyers giving it 5 stars out of 5.
Dokehom Large Under Bed Clothes Storage Bag
Foldable under bed storage bag with strong handles.
Perfect storage for clothes, beddings, pillows, blanket, toys and more.
Pros: With three side zipper design for ease of use, washable, moisture, waterproof and dust-resistant.
Cons: When zipped up you can't see what's inside them.
Consumer Score: Good reviews with 69% of buyers giving it 5 stars out of 5.
Spacesaver Premium Vacuum Storage Bags
6 x Jumbo bags which can fit 4 pillows or 1 queen size bedding set per bag!
Store away your duvet, bed sheets, towels, blankets, and more.
The unique Double-Zip Seal and the Triple-Seal Turbo Valve are designed to get every ounce of air out of the bag in the suction process, using your hoover.
Pros: Gives you maximum space when limited, free travel pump included and you can use these in your suitcase to space save too.
Cons: You won't be able to easily get things out of them once vacuum sealed.
Consumer Score: Very good reviews with 71% of buyers giving it 5 stars out of 5.
Homyfort Underbed Shoe Storage Bag with Clear Lid
This Shoe under bed organiser can store up to 24 pairs of shoes with ease.
Foldable to save space when not in use.
Heavy duty, durable fabric.
Pros: With transparent window which allows you to see what shoes are inside at glance, has 2 sturdy handles on front and side make it convenient to pull out from under the bed.
Cons: More likely to wear and tear than plastic.
Consumer Score: Good reviews with 66% of buyers giving it 5 stars out of 5.
Iris Set of 2 Under Bed Storage Boxes with Wheels
Discount - Save £2.60
Boxes on 4 wheels so they can easily be pushed and pulled from under bed.
Pros: Stackable for more space, firm buckles with easy click-system, clear and transparent plastic so you can see what's inside.
Cons: Price seems expensive.
Consumer Score: Good reviews with 59% of buyers giving it 5 stars out of 5.
Arpan Resin Woven Under Bed Storage Box
Discount - Save £2.50
White woven storage baskets which will add a feature to any room.
Beautifully made resin woven storage boxes with lids.
Perfect for storing clothes, toys, books, magazines, and more.
Pros: They look nice.
Cons: Some buyers mention they are a 'bit flimsy.'
Consumer Score: Fab reviews with 68% of buyers giving it 5 stars out of 5.
Wilko Modular 32L Under bed Storage Box with Lid
32 litre under bed storage box which is ideal for for storing clothes or bedding.
Fully stackable, allowing you to create storage solutions to suit your space.
Pros: Clip lid and built-in side handles make it easy to carry, made from a durable plastic which is transparent so you're easily able to view the contents.
Cons: Not that attractive.
Consumer Score: Excellent 4.6/5 star ratings.
Argos Home Kaycie Set of 2 Under Bed Drawers
Made from natural pine.
Durable under-bed drawers, perfect for storing folded clothes and toys.
Painted in a classic clean white finish.
The drawers are designed to fit Argos Kaycie single beds, but will also fit most modern singles with a floor clearance of at least 24cm.
Pros: Can be placed next to each-other on one side of the bed, or back-to-back so that there's a drawer on each side, with round wooden handles and easy-glide wheels.
Cons: Will be heavy to carry.
Consumer Score: Good reviews with 4.2/5 star ratings.
White Paper Rope Underbed Storage (Dunelm)
Crafted from woven white paper rope with a wooden frame.
Underbed storage box which features a lift top lid with metal hinges and a neat removable fabric lining.
Available in a choice of sizes.
Pros: Will add a pretty touch to any bedroom as well as a storage solution.
Cons: Not much depth to it.
Consumer Score: Good reviews. 4.7/5 star ratings.
Yorkie Grey Fabric Ottoman Bed (Happybeds)
We've included this storage bed as it's an alternative solution to separate under bed storage.
Large spacious underbed storage area, with wooden base. It is ideal for storing bedding, duvets and more.
High quality fabric upholstery used throughout.
Deep buttoned high headboard and wooden feet.
Platform ventilated base which makes base more stable and stops dust from getting in the storage area.
Pros: Good amount of storage space, which is hidden.
Cons: You will need to lift the mattress base to see inside.
Consumer Score: Excellent reviews. 4.9/5 star ratings.
Also see our guide to the best High Sleeper Beds to make room for space underneath them!
How To Utilise The Space Under Your Bed For Storage
Firstly measure the space so you know how much room you have to play with.
When choosing your storage solutions, consider the following;-
If you are planning on accessing the items frequently, look for storage boxes on wheels for ease of use.
Clear containers are really helpful so you can see what's inside without having to pull the whole box out first.
If you don't want to spend money you could even use repurposed drawers, shoe boxes, empty cardboard boxes.
If you want to store your summer/ winter wardrobe underneath your bed a great idea can be to use plastic vacuum bags, as not only are they cheap, they can fit a huge amount of clothes in and once you have sucked all of the air out of them with your hoover, you are left with a small package which will fit nicely underneath your bed.
FAQ's Underbed Storage Solutions
What can you store under your bed?
Things like out of season clothing, bedding, shoes, luggage, gift wrap, towels and handbags can all be tucked away under your bed. Keeping everything in organised storage containers or bags, can help to reduce things getting dusty and keep it looking neat and tidy.
What can you store under children's beds?
Toys, puzzles, books, out of season clothing, arts and crafts bits.
Cheap Underbed Storage & Today's Bestsellers
Final Thoughts
My personal favourites are the Argos Home Kaycie Set of 2 Under Bed Drawers because they can blend in and look like part of the bed, can slide in and out easily and are ideal for storing toys under kids beds.
I hope this guide on underbed storage was helpful.
If you think I left any out that should be included or have a suggestion for a future article, let me know in the comments below.
Nicola
Last Updated: April 2022
Added 'How We Selected.'
Added Top Picks.
Updated Image.
Added internal links.
Added Pros/Cons on all products.
Added Consumer Scores.
Added How Too.
Added FAQs.
Added Final Thought.
Moved OOS.
Kids Beds Guides
---
Children's Bedroom Furniture
Uoune Clothes Storage Bags with Zips (Currently Unavailable)
Storage bags with plenty of space to store clothes and bedding.
With a see through panel so that you can see what you have inside without having to unzip the bag.
Slide opening zips make it easy to pack or get things out.
A reinforced handle is featured so you can easily pull out from under the bed.
This space saver bag is foldable so can be stored away when not in use.
Excellent 4.5/5 star rating based on 357 customer reviews.