For this post, I have put together a collection of the best kids garden furniture currently available. Get my top recommendations for the best 'grown up' garden furniture.
Our Top Picks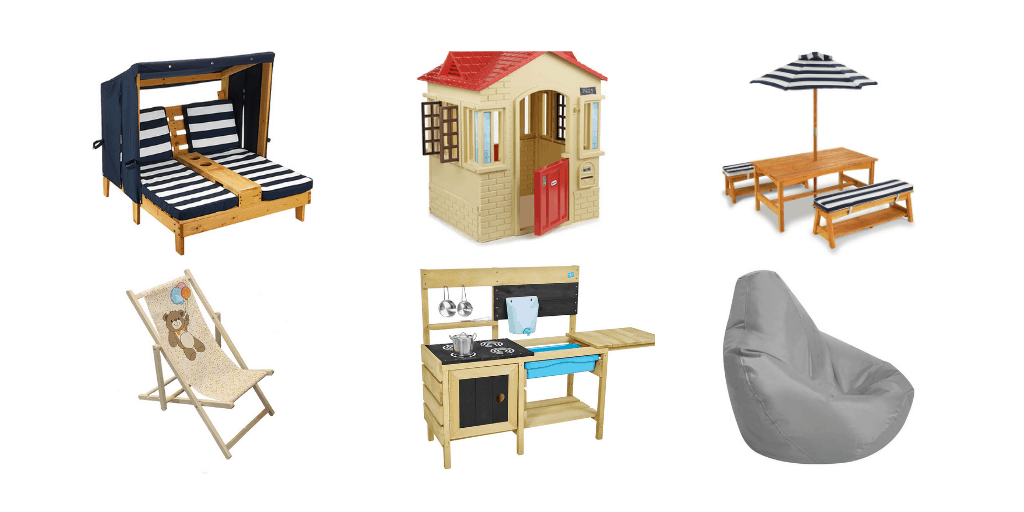 ---
Giving your kids their own outdoor space will encourage them to play and relax outside, whilst giving you your own space to relax too.
We've selected some of the best kids garden furniture to keep them occupied outdoors. From garden benches to sandpits and beanbags to playhouses, there's something in our review to suit kids of all ages.
All of our recommended products have excellent customer reviews with 4-5/5 star ratings.
There are plenty of benefits of outdoor play for kids, from encouraging a healthy lifestyle to helping them sleep better at night. For the full list of benefits see NCT website.
Also take a look at our buyer's guides on the best outdoor toys and outdoor beanbags.
So here is my list of the best kids garden furniture.
KidKraft Kids Garden Furniture Set
A lovely premium table and bench set which comes with an adjustable umbrella and padded cushions, all in kid size.
The wooden picnic table and benched are made of weather-resistant wood with a beautiful stained finish and durable canvas accessories.
Comes with step-by-step assembly instructions.
Available in Navy/White or Oatmeal/White.
Seats 4-6 kids.
Dimensions: 107.06 x 57.79 x 48.26 cm; 21.18 Kilograms
Age Range: 3 years and up
Positive reviews. From 442 ratings 71% of buyers gave this 5/5 stars.
Homcom Kids Bistro Patio Set
The cute ladybird design bistro set for kids is ideal for 2 kids.
The metal construction has oxford cloth umbrella and seating.
It can easily be folded and packed in the car when travelling.
Dimensions: Chair: 39L x 38W x 52Hcm. Table: 50L x 50W x 46Hcm
Age Range: 3-5 years old
Good reviews. From 35 ratings 71% of buyers gave this 5/5 stars.
Kids Club Children's Parasol Chair
If you're in the garden or going away in hot weather then this chair is perfect for keeping your child shaded from the sun or protected from a rain shower.
The folding chair comes with attached parasol/ umbrella.
Light and easy to carry.
Folds for easy storage and ideal for the garden or beach!
Fair reviews. From 49 ratings 54% of buyers gave this 5/5 stars.
Kids Outdoor Table & Chairs (Liberty House Toys)
The height-adjustable table can be adjusted so that it can be used from the ages of 1-8 years old.
Suitable for indoor and outdoor use.
Made of lightweight Polypropylene which can be moved around easily.
Durable material.
With anti-slip feet.
The table has two storage drawers which are great to hold pens, paper and small toys.
Parents love this table and chairs set 78% of 106 buyers gave it 5 stars.
Taleekeu Wooden Swing
Large curved swing.
It can be hung on beams or branches.
Made of high-quality and durable beech wood.
Seat size: 50CMx25CM.
The rope diameter is 1.3CM, the buckle design is flexible, and it can be adjusted up and down 150CM–250CM.
Great for the whole family.
vidaXL Kids Swing Seat
This swing seat is ideal for children to relax in the garden
It has a heavy-duty steel frame so it's durable and sturdy for the kids.
The sunshade canopy will protect your little ones from the sun.
Assembly is simple.
Available in green frog or red ladybird design.
Very good reviews. From 170 ratings 75% of buyers gave this 5/5 stars.
KidKraft Pirate Sandboat
Pirate ship shaped sand pit with shade canopy for kids who love a pirate theme.
The sandbox offers hidden storage, seating, a spinning steering wheel and a high-hoisted pirate flag.
Large enough for multiple children to play (measuring at 199.39 x 112.4 x 151.13cm).
Includes a mesh cover that snaps over the sandbox when not in use. Includes a clear plastic liner that goes underneath the sand.
It comes with detailed step-by-step assembly instructions.
Made of weather-resistant wood.
Customers recommend this sand pit – 85% of 365 buyers gave it 4/5 stars or more..
Smoby Kid Bench
Designed for children from 18 months +
Very stable and suitable for indoors and outdoor use.
Can easily accommodate 2 children.
Modern design.
Anti-UV treated,so will keep its colour.
Dimensions 62.5 x 33.5 x 26.4 cm
Available in blue, green and red.
Very good reviews. From 83 ratings 80% of buyers gave this 5/5 stars.
Teddy Wooden Folding Deck Chair
Cute unisex deck chair for kids.
Choose either a Shark, Pirate or Teddy Bear theme.
Made from 100% hardwearing polyester.
The seat position has three level of adjustments and the chair can be folded so ideal for storage or travel.
Frame made of natural beech wood.
Recommended for children 3 to 7 years Max weight : 35 kg.
Excellent reviews so far. From 9 ratings 100% of buyers gave this 5/5 stars.
Greenstell Kids Pod Hammock
This hanging pod for kids comes with pot cushion and all hanging kits.
Could be hung from a branch of a tree, on a balcony, terrace, living room, children's room, kids bedroom.
Soft and comfortable so kids can snuggle up and read a book and relax in their own little space.
Available in green, rose, light blue, navy blue and beige.
Brilliant reviews. From 581 ratings 78% of buyers gave this 5/5 stars.
Simpahome Children's Plastic Sand & Water Mixing Play Tray Table
No products found.
A functional play table ideal for messy play.
Height adjustable to 3 different heights.
Easy to set up and taking apart.
A great multipurpose table which has a lip so that glitter, sand, water and soil can be added without spilling over the edge.
Can be used indoors or outdoors.
Tray Size: 70cm x 70cm, Stand Height: 45cm/55cm/65cm.
Choose from 10 colours including red, black, pink, green and more.

No products found.

. From 258 ratings 73% of buyers gave this 5/5 stars.
Kids Bean Bag (Bean Bag Bazaar)
Bestselling bean bag with over 1,195 reviews with 86% 4 stars or above.
Some reviews talk about factory smell but many parents advise to leave outside for 2-3 days and it's gone.
Available to order in 1 or 2 packs.
Loads of kid friendly colours.
Made in water resistant fabric that's easy to wipe clean.
Dimensions 69cm x 59cm
Not just for outdoors – can be used for gaming, reading or lazing about.
TP Toys Wooden Deluxe Mud Kitchen
This mud kitchen features an oven with door and removable splash tub, a starter set of stainless steel pans and mixing whisk.
Supplied with a refillable water butt and tap, perfect for mud mixing and sand.
The slide over wood cover creates extra cooking zone when extended and a generous black painted hob area with room for up to 4 hobs.
Big blackboard space to record favourite recipes and a roomy under shelf to store pots, pans and mud pies.
Very good reviews. From 232 ratings 79% of buyers gave this 5/5 stars.
KidKraft Wooden Double Chaise Lounge
Little ones can lounge outside in style with this chaise lounge with cup holders.
There is a three-sided canopy for shade.
Room for two friends to chill together.
The high-quality, weather-resistant construction is durable.
Dimensions 92.7 x 85.1 x 89.5 centimetres.
Suitable for ages 3 years and up.
Fab reviews. From 405 ratings 80% of buyers gave this 5/5 stars.
Plum Wooden Sand and Picnic Table
Dimensions: 105 x 89 x 49 cm; 12 Kilograms
Age Range: 18 months and up
This wooden picnic bench also has a removable top to reveal space for a sandpit.
Great for keeping kids entertained outside.
Made from premium FSC certified timber with rounded corners for added safety, so it's durable.
Fits 4 children seated.
Good reviews. From 95 ratings 80% of buyers gave this 5/5 stars.
Also see the best sand and water tables here.
Backyard Discovery Victorian Inn Wooden Playhouse
Victorian-style wooden playhouse with front porch, serving station and bench.
Includes accessories including telephone, plastic cutting board, mounted sink, burner, fruit and vegetable basket with velcro food.
Pretty finishing touches include white plastic flower pot holders and bay window.
Playhouse constructed of cedar wood which is durable and weather resistant.
Great reviews. From 104 ratings 70% of buyers gave this 5/5 stars.
Little Tikes Cape Cottage Playhouse
An ideal playhouse for those who love role-play.
With working doors, windows, and shutters your kids will have plenty of fun pretending to live there.
Lightweight design so easy to move, transport, or store as well.
Can be used indoors or outdoors.
Suitable from age 2+ years.
Dimensions: Weight(kg): 25.82; Height(cm): 120, Width(cm): 122, Depth(cm): 93
Very good reviews. From 1,285 ratings 79% of buyers gave this 5/5 stars.
LAVIEVERT Teepee
This teepee is made from 100% cotton canvas and environmentally friendly.
With high-quality wooden legs and long lasting, insect and mould repellent.
The play tent offers plenty of room for children to play with friends.
Tent door and window can be opened and closed.
Both stitched side pockets under the window are designed for the storage of children's books, snacks, etc.
Very good reviews. From 402 ratings 77% of buyers gave this 5/5 stars.
Charles Taylor Little Fellas Redwood Childrens Companion Seat (Primrose)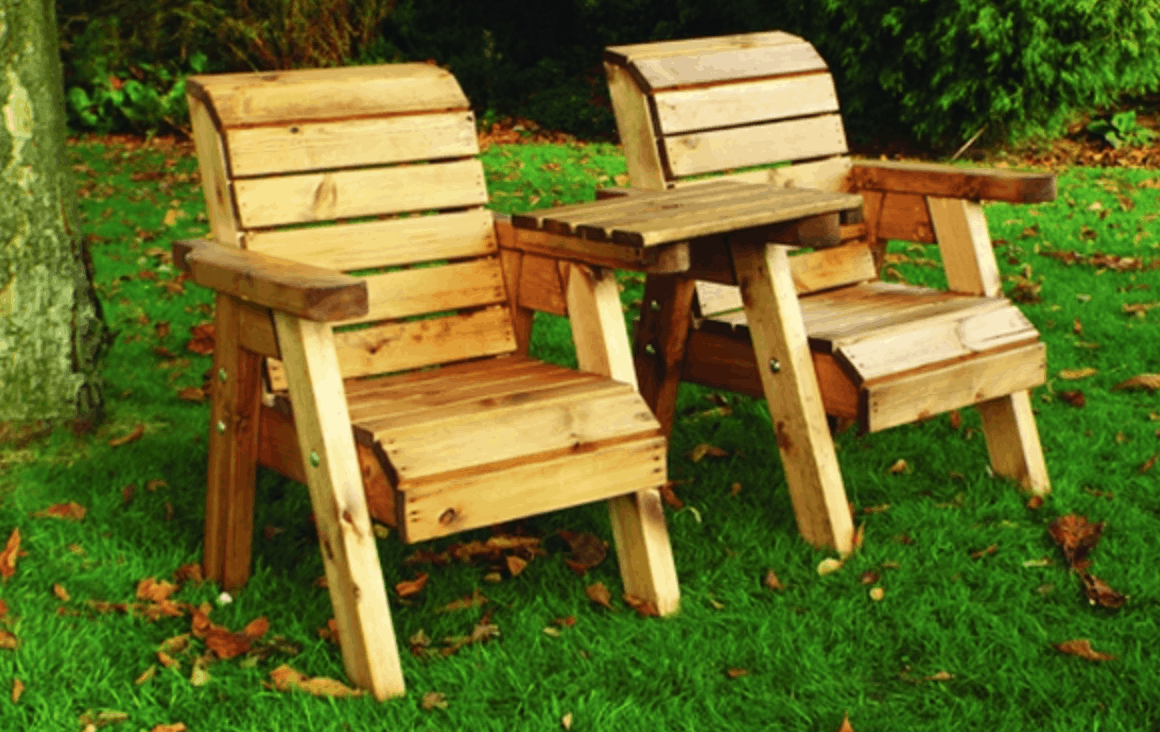 A scaled down version of a garden companion chair.
Durable and long-lasting.
Traditional handcrafted garden furniture made in the UK and delivered fully treated and assembled.
Scandinavian Redwood.
Height: 77cm/ Width: 133cm/ Depth: 60cm.
Available to buy from Primrose.
Child's Mushroom Table And Seat Set (NOTHS)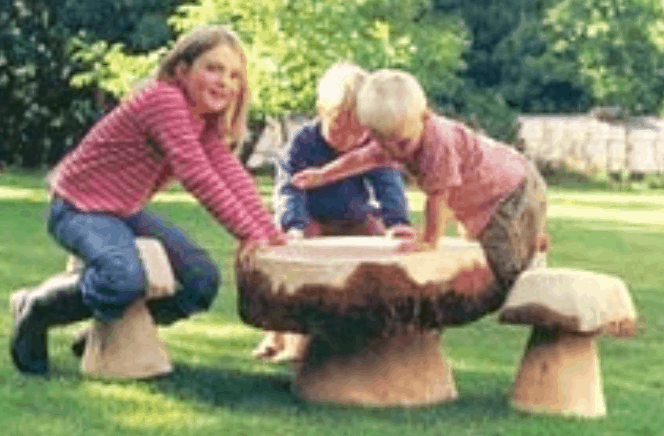 Quirky and unique natural wooden table and seat set for children.
Set made up of a table and three small carved wooden mushroom seats.
The table has an extra wide base so small children can't tip it over if they should climb over it.
Each piece is hand carved from a single piece of solid wood.
Height 17 inches (43cm)/ Width 22 inches (56cm)
Available to buy from Not On The High Street.
Today's Top Deals & Bestsellers
---
If you think I left any out that should be included or have a suggestion for a future article, let me know in the comments below.
Nicola