For this post, I have put together a collection of the best sun loungers currently available. See all my top picks for the best garden furniture.
Our Top Pick
The Outsunny Patio Sun Lounger is the perfect portable and reclining chair for laying in the sun. With a padded pillow and a foldaway design, this is the perfect sun lounger if you are limited for space and want something you can store away easily.
Show Today's Top Deals
These are today's top deals and bestsellers for sun loungers.

---
A sun lounger is a great piece of garden furniture for the warm weather. If lockdown has inspired you to spend more time in the garden, then a sun lounger is a purchase you won't regret.
Or take a look at the best rattan sun loungers and best rattan corner sofas.
So here is my list of the the best sun loungers.
Best Sun Loungers
Backyard Furniture Marbella Rattan Wicker Sun Lounger
This is a contemporary sun lounger made using high quality artificial rattan.
It features five different adjustable settings, so you can customise your sunbathing experience.
It comes with thick, comfortable cushions which are also removable, with the covers being machine washable for added convenience.
Sun lounger comes with a free custom-fitted furniture cover which is weatherproof.
Ideal for luxury lounging.
88% of buyers give it 4-5 stars from 53 ratings.
---
Plant Theatre Reclining Hardwood Steamer Chair
Reclining hardwood steamer chair with foldable and removable foot rest.
Stained, oiled and gently rubbed down by hand.
With three reclining positions
The good thing about this chair is the foot rest can be removed to convert from lounger to a 'Deck Chair'.
No assembly required, unfold straight from the box.
Made from sustainable sources.
Please note; The steamer cushion is especially made to fit the chairs and is available to buy separately.
Durable and hardwearing.
88% of buyers give it 4-5 stars from 163 ratings.
---
Songmics Sun Lounger
Portable and foldable sun lounger which can be used at home or easily transported to the beach.
With an adjustable sunshade to keep your face out of the sun.
The backrest with 5 adjustment positions allows you to choose the perfect position.
Easy to fold and assemble. Can be stored away easily when not in use.
Available in Black/ Grey & White/ Light Grey/ Smoke Grey.
83% of buyers give it 4-5 stars from 576 ratings.
---
TecTake Rattan day bed
Steel and iron base provides a strong, solid and durable base.
Adjustable to six positions.
Wheels at one end makes it easy to move the lounger into (or out of) the sun.
Thick and comfortable cushions are splash proof and include velcro to minimise slippage.
Take approximately 30 minutes each to assemble.
Available in black or brown.
89% of buyers give it 4-5 stars from 509 ratings.
---
Outsunny Patio Sun Lounger
Portable sun lounger which can be folded easily and transported from garden to beach.
It's lightweight and easy to carry.
5 positions adjustable backrest will give user great flexibility and comfort.
With a detachable pillow for comfort.
Available in Cream or Black.
75% of buyers give it 4-5 stars from 100 ratings.
---
Adjustable Bamboo Sun Lounger
This quality bamboo sun bed will give your garden a tropical vibe.
With 3 adjustable positions it combines style and functionality.
Made of solid bamboo, the sun bed is designed to be used outdoors year round.
Durable and strong yet lightweight.
79% of buyers give it 4-5 stars from 44 ratings.
---
Outsunny Double Sun Lounger
Discount - Save £89.00
This luxury wooden double hammock lounger is perfect for two people.
Made of high quality Russian larch wood frame, which is durable and stable.
The quick-drying fabric is woven for durability.
The waterproof canopy will keep you shaded whilst relaxing in the warm weather.
64% of buyers give it 4-5 stars from 16 ratings.
---
Argos Home Metal Foldable Sun Lounger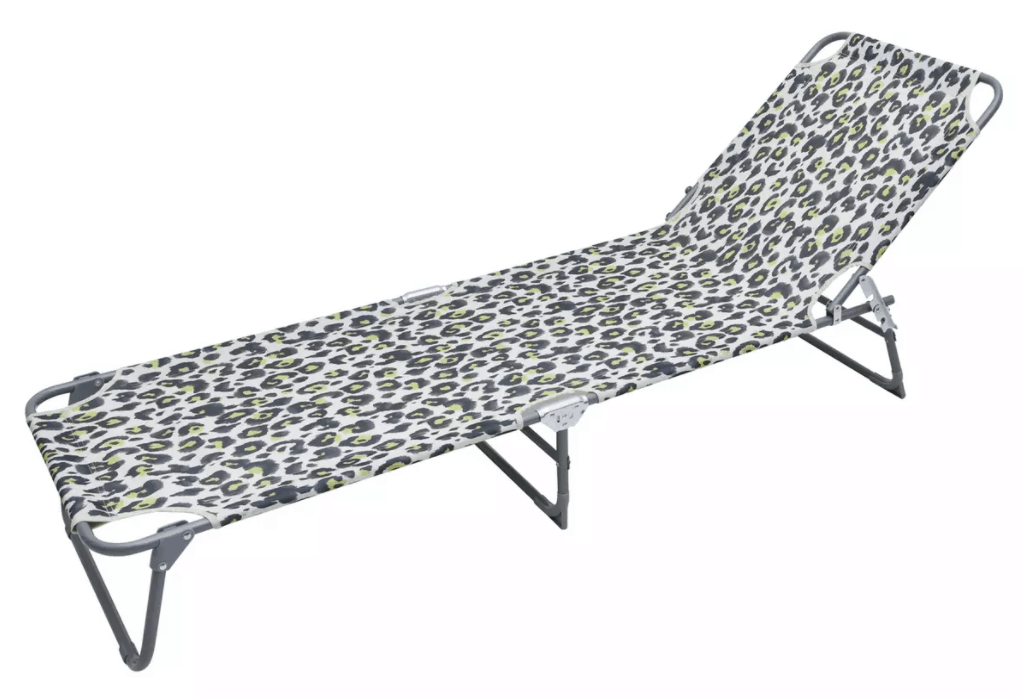 A funky leopard print sun lounger which will brighten up any garden.
With 5 recline settings.
You can fold it up easily and store it away, ready for the next hot spell.
Great value for money.
63% of customers recommended this product.
Barkhamsted Reclining Sun Lounger Set With Cushions and Table (Wayfair)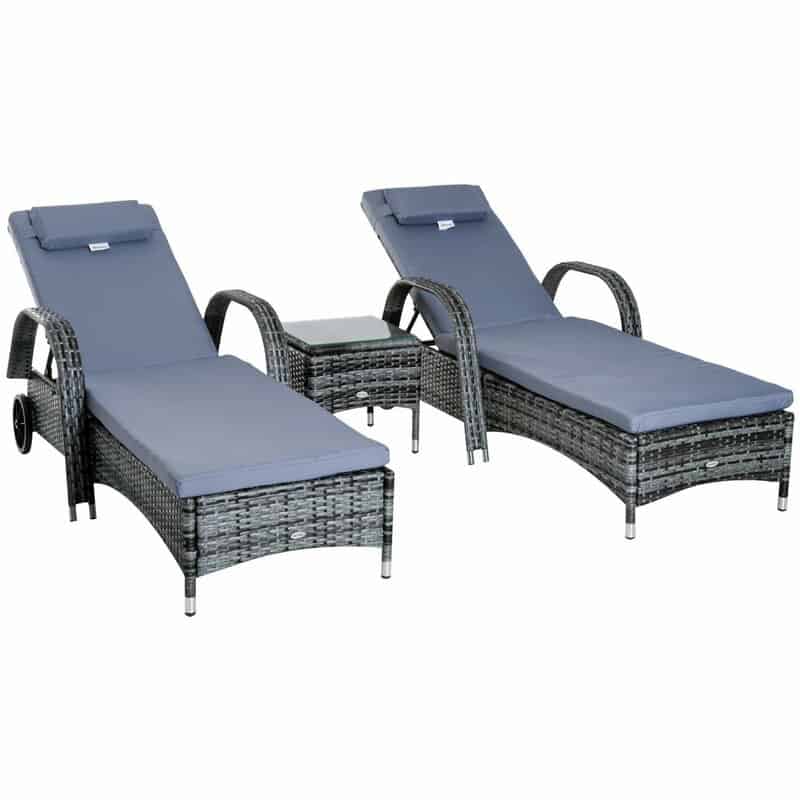 This set comes complete with 2 loungers, 1 side table, and cushions.
The seat has 5 adjustable positions to give maximum relaxation and comfort.
The cushion covers are removable and washable.
The table has 5mm thick tempered glass, suitable for placing your drinks and books on while you sit back and relax.
Comes with 2 seat cushions and pillows.
It can be laid fully flat. Note; the backrest cannot fold forwards to store so this set is good for a big garden with plenty of space to keep it out.
With average 4.6/5 star ratings based on 563 customer reviews.
Today's Top Deals & Bestsellers
I hope this list of the best sun loungers was helpful.
If you think I left any out that should be included or have a suggestion for a future article, let me know in the comments below.
Nicola
Garden Furniture Guides
Browse our top picks and in-depth buying guides for your next garden furniture piece.