For this post, I have put together a collection of the best rattan sun loungers currently available. Also see my best buys for all kinds of garden rattan furniture.
Top Picks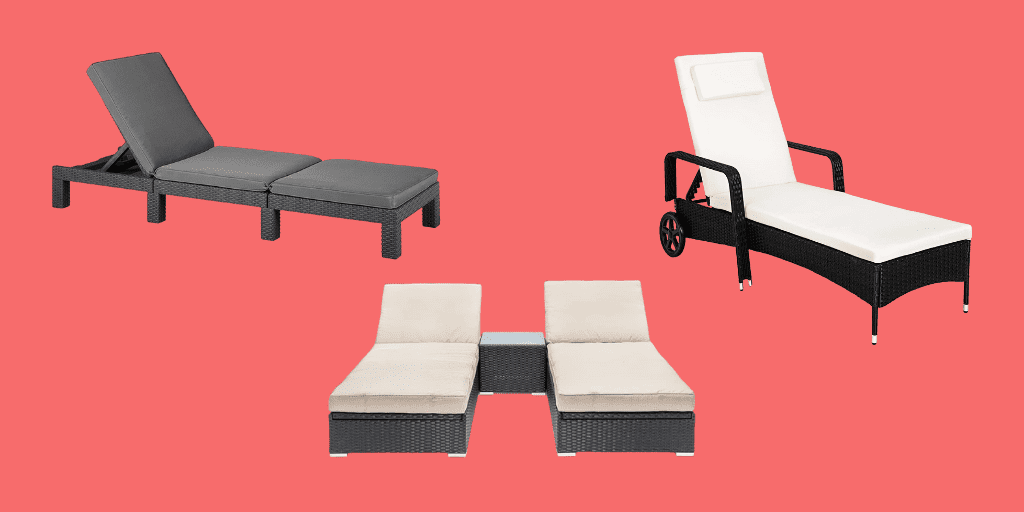 Looking for a high quality sun lounger that is easy to use so you can recline in style and comfort all day long?
How We Selected
In this article I'll show you the best rattan sun loungers. I've searched the market looking for the best ones, to save you the time and effort.
All of my recommendations have excellent buyers feedback and 4-5/5 star ratings.
Also see my top picks of rattan chairs, rattan daybeds and rattan egg chairs.
Let's get started!
Allibert Daytona Sunlounger
Discount - Save £13.05
Extremely well reviewed and budget friendly option.
4 Position adjustable back.
Available in grey, brown and cappuccino colour.
Comes with 3 year guarantee.
Pros: Supplied cushion covers have straps both ends and fit tightly, offering full protection in rain, assembles together easily in 15 minutes.
Cons: No arm rests.
Consumer Score: A popular choice with 70% of buyers giving these 5 stars out of 5.
TecTake Rattan Sun Lounger
Steel and iron base provides a strong, solid and durable base.
Adjustable to six positions.
Wheels at one end makes it easy to move the lounger into (or out of) the sun.
Thick and comfortable cushions are splash proof and include velcro to minimise slippage.
Take approximately 30 minutes each to assemble.
Available in black or brown.
Pros: Adjustable to six positions, arm rests, on wheels to make it east to move.
Cons: Cushions could be thicker.
Consumer Score: Good reviews with 69% of buyers giving these 5 stars out of 5.
Marbella Sun Lounger Set
Luxurious looking pair of sun loungers supplied with a good sized table for drinks.
Sturdy base made of aluminium.
Silver coloured feet protect the rattan bases from wear and tear.
Cushions can be neatly stored in the base when not in use.
No assembly required.
No wheels but they are still easy to move.
Both the seller's customer service and the quality of the sun loungers come highly recommended.
Pros: Cushions are a thick 10 cm and comfy, made from a durable splash proof material, comes with a table.
Cons: Expensive, but worth the money.
Consumer Score: Excellent choice with 77% of buyers giving these 5 stars out of 5.
Miami Rattan Sun Lounger Set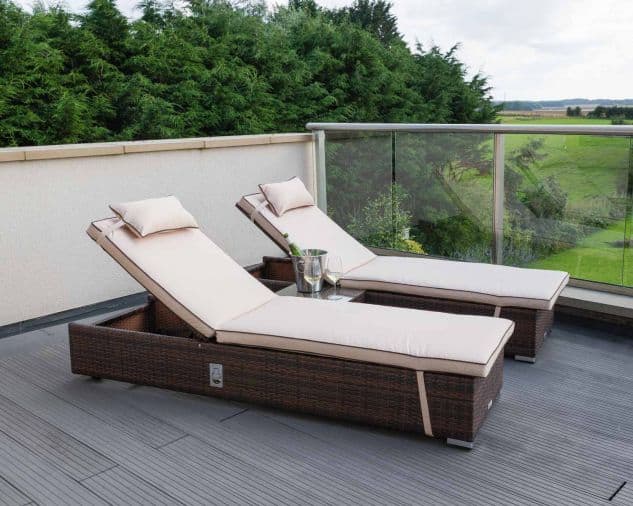 Top choice for couples.
This one includes a tempered glass-topped side table for your drinks. Supplied with hard-wearing covers so you can slip these on when not in use, safe in the knowledge your set is fully protected when the rain comes. Set includes:
2x Miami Sun Loungers in Chocolate and Cream.
1x Small Square Tempered Glass Coffee Table in Chocolate.
FREE Outdoor Covers.
Pros: Includes a table, luxury, stylish.
Cons: Expensive.
Consumer Score: 5/5 star ratings.
What To Consider When Buying a Sun Lounger
The key elements to weigh up are:
Assembly – are you happy to assemble the sun lounger yourself? There are options to buy a sun lounger that already comes pre-assembled.
Dimensions – check that there is enough room in your garden to place the lounger – and also to maneouvre it around.
Height – check the height of the sun lounger so it's easy to get on and off it! Important if you have any back issues.
Fold away – do you require a lounger that you can fold away easily?
Waterproof – to what extent is the lounger waterproof? Will you need to put away the cushion or does it come with covers you can easily and quickly slip on?
What colour would you prefer? The most popular choices are black, grey or brown.
Wheels – some come with wheels to make them easier to move around.
Cushions – Do you want cushions? Check the quality and thickness of them for desired comfort levels.
Single or double sets – you can choose from single or sets of two.
Accompanying table – some of the double sets come supplied with a table for your drinks.
Rattan Sun Lounger Sale & Today's Bestsellers
Final Thoughts
My top pick is the Miami Rattan Sun Lounger Set, for its excellent quality and luxurious look.
If you're looking for a bargain then a great option is the TecTake Rattan Sun Lounger, which comes in various colours.
I hope this guide on rattan sun loungers was helpful.
If you think I left any out that should be included or have a suggestion for a future article, let me know in the comments below.
Nicola
Last Updated: April 2022
Added 'How We Selected.'
Added more links.
Added Pros/Cons on all products.
Added Consumer scores.
Added Alternative Retailer.
Added Final Thought.
Moved OOS.
Rattan Buying Guides & Best Buys
Keter Pacific Rattan Sun Lounger Set (Graphite) (currently unavailable)
Stylish curved design along with the classic wicker look.
You can choose from five different backrest positions.
Foldable design makes it a cinch to easily store away when not in use.
Strong sturdy set of sun loungers that come already assembled.
Option to buy with or without a table.
No cushions supplied with these but they are very comfortable.
You can buy your own choice of cushion as a standard size.
Easy to keep clean and can be hosed down in seconds.