For this post, I have put together a collection of the best rattan day beds currently available. Also see my best buys for all kinds of garden rattan furniture.
Our Top Picks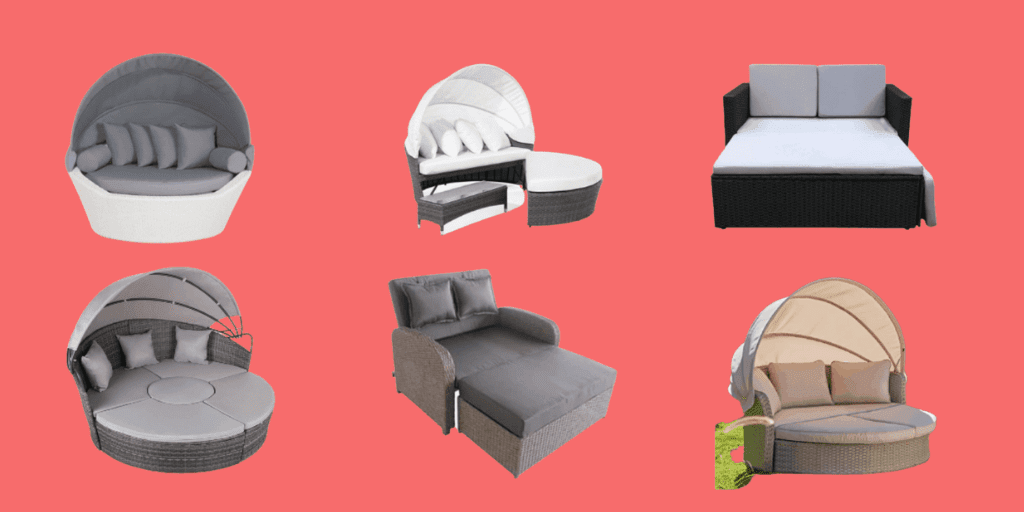 Rattan daybeds are ideal for garden lounging in style. They not only look super stylish and luxurious, but they are perfect for lazing on, while relaxing in the sunshine and usually have space for more than one person.
They sometimes have a sun canopy for when you want that much-needed shade too.
How We Selected
We've scoured the market looking for the best rattan daybeds, which have excellent buyers reviews and 4-5/5 star ratings.
All of our picks will have you grabbing your favourite book and kicking back to relax in style and comfort.
You may also be interested to see my top recommendations for rattan egg chairs, rattan bistro sets, or rattan dining sets.
Lets get going!
Evre Outdoor Rattan Garden Love Bed
Discount - Save £40.00
Two-seater sofa or 'love seat' with ottoman, pillows and cushions.
Made of high quality PE rattan weave material with 5cm thick cushions for comfort.
Square edged armrests for a contemporary look.
Pros: Cushions are waterproof and covers are removable and machine washable.
Cons: Will require assembly.
Consumer Score: Excellent customer feedback – 82% of buyers gave it 4/5 stars or more..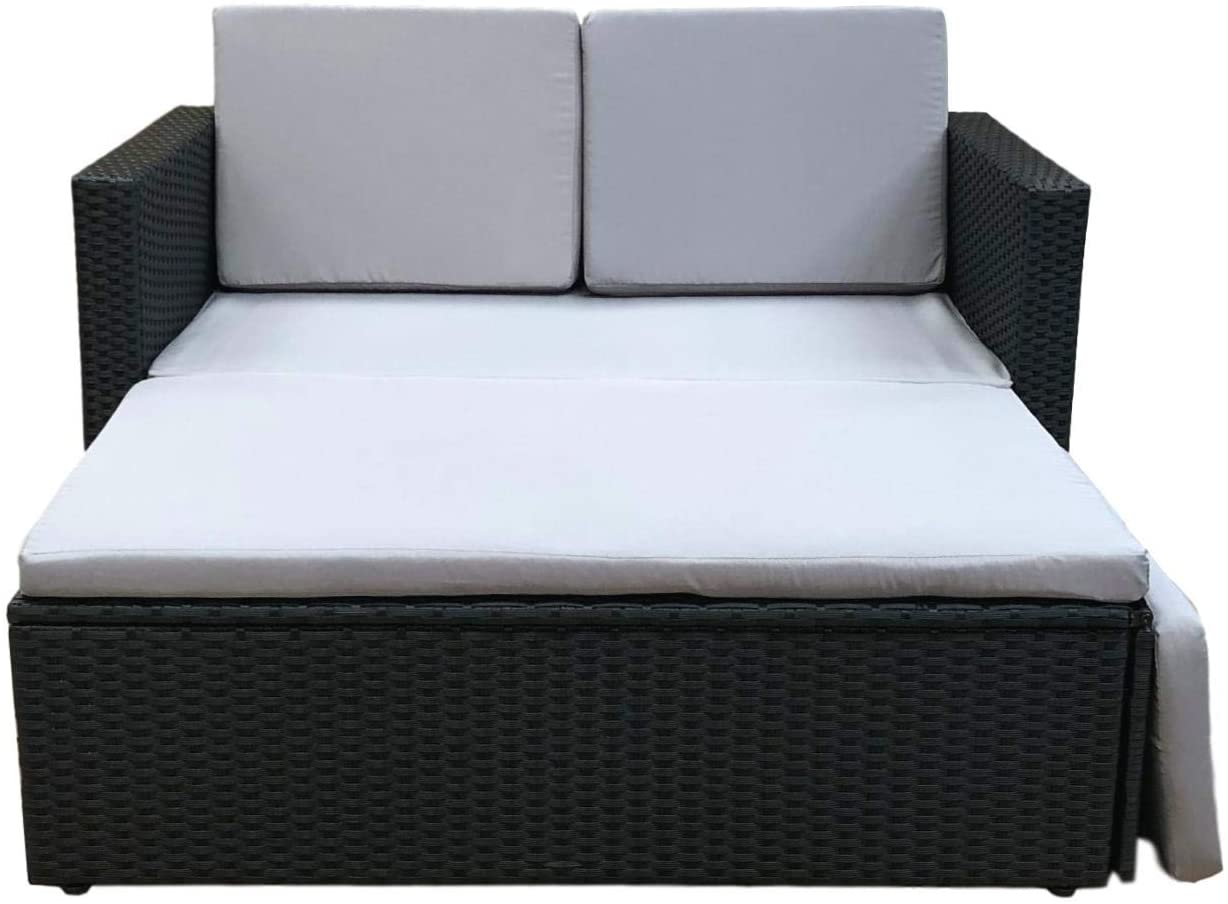 TecTake Rattan Day bed
High-grade aluminium poly-rattan sun island with a sun canopy, which provides protection from sun and wind.
Collapsed sun canopy can be secured with velcro fasteners.
Suited for indoor and outdoor use.
With 100% polyester cushions for comfort.
Pros: Flexibly combine separate stools into one as a comfortable lounging area or spread out for a seating area with coffee table.
Cons: Assembly required.
Great customer feedback so far – 70% of buyers gave it 4/5 stars..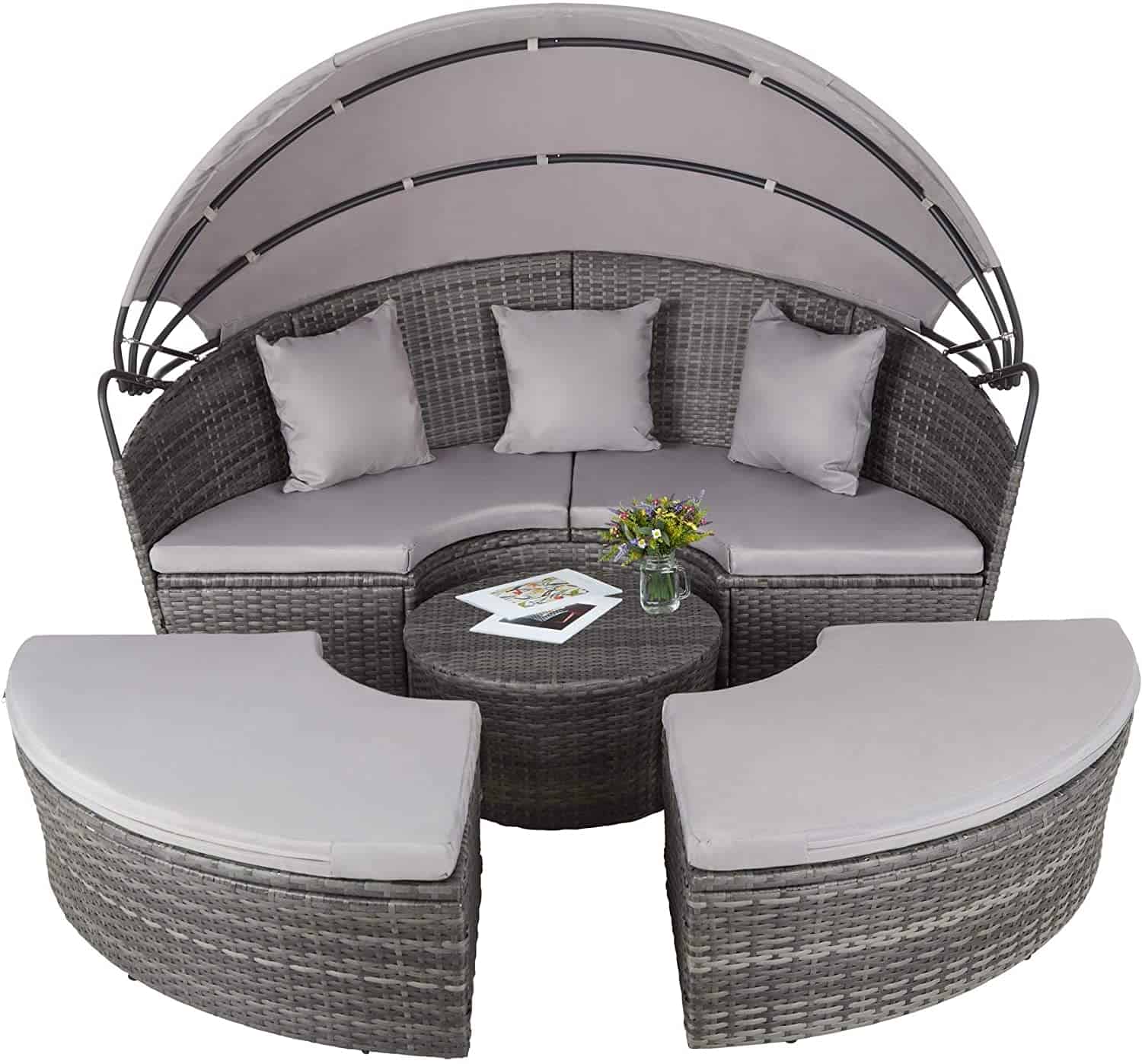 Dakota Fields Wide Garden Daybed with Cushions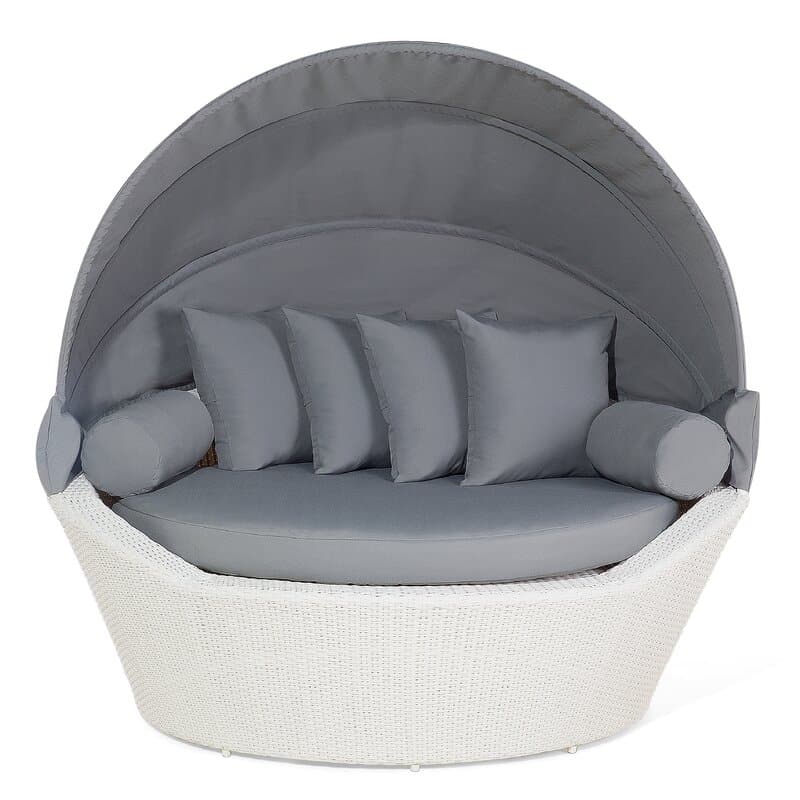 Stylish garden canopy day bed with retractable sun cover.
Made of durable synthetic rattan which will not deteriorate in outdoor elements.
The neutral colour scheme will pair well with both contemporary and traditional decor.
White rattan with grey cushions.
Pros: Comes assembled and ready to use, stylish.
Cons: Pricey.
Consumer Score: With great average 5* ratings based on 20 customer reviews.
Dakota Fields Garden Day bed Set with Cushions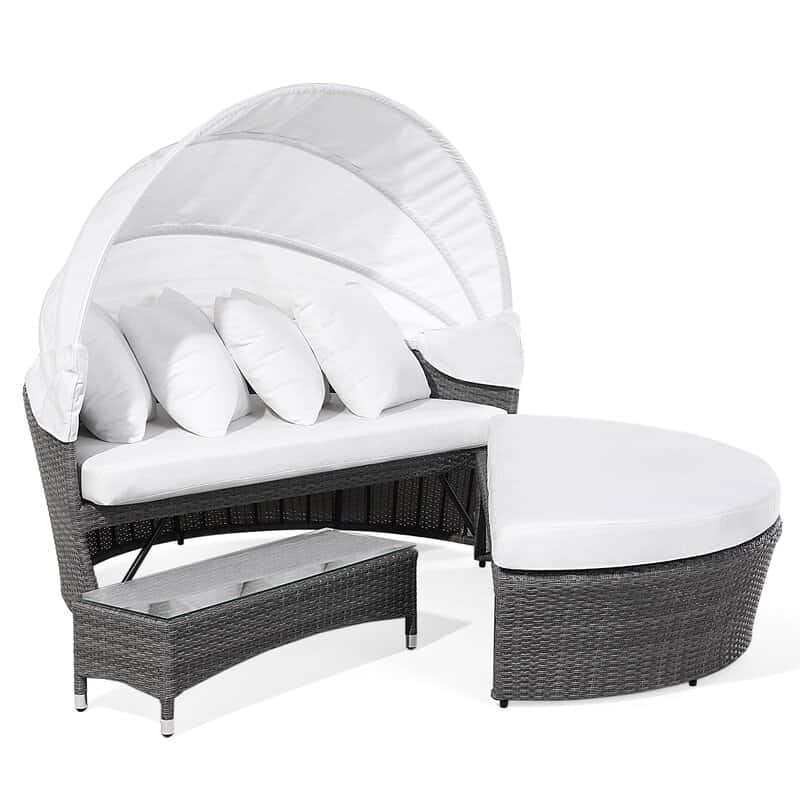 Contemporary spacious and convertible patio canopy bed, with 2-4 seats.
It comes with a functional coffee table with a glass top, which can be stored under the unit.
Practical grey wicker base made of weather resistant polyrattan and off-white cushions for a luxurious look.
Includes 1x Daybed 1x Ottoman 1x Table 4x Back Cushions 2x Seat Cushions.
Pros: Sun canopy can be pushed back for less shade, comes with a functional coffee table.
Cons: Pricey.
Consumer Score: With great 4.6* ratings based on 13 customer reviews.
Looking for a bistro set? See our guide to the best Rattan Bistro Set.
Argos Home Argenta Rattan Effect Day Sofa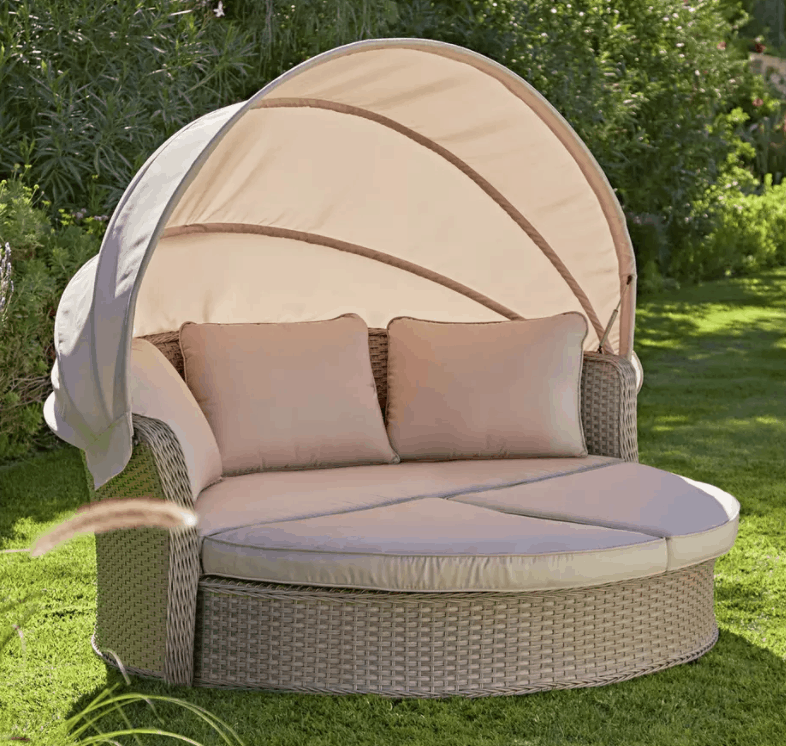 Day bed with large canopy and polyester cushions.
Rattan effect base in blush tones.
Pros: Ready assembled, so can use it straight away, rolls in on itself to quickly change from bed to sofa.
Cons: Cushions not as luxurious as some.
Consumer Score: With great 4.9* ratings based on 37 customer reviews.
Why Buy Rattan Furniture?
Not only can rattan work indoors or outdoors, rattan is a really versatile, quirky and interesting piece of furniture.
Rattan chairs are really comfortable and perfect for relaxing in.
Rattan is stylish and incredibly durable too.
In terms of versatility and durability rattan furniture scores higher than wicker furniture.
Rattan features a solid core and is available in an array of natural colours.
Rattan works great in all rooms of the home but especially in conservatories or summer houses as it has that indoor/ outdoor vibe which works perfectly for making you feel like you are in the garden even when you are indoors.
Rattan is also great for outdoor living.
FAQ's Rattan Furniture
What's the best type of rattan furniture?
PE or HDPE Rattan are made in an eco-friendly way plus they are recyclable, weather-proof and durable.

PVC and PU rattan tend to be cheaper, but aren't as eco-friendly.
What is poly rattan made of?
It is made from a man-made material which is durable and the fibres are woven in the same way as real rattan but are usually coated to make it weatherproof.
Cheap Rattan Daybeds & Today's Bestsellers
Final Thoughts
My personal favourite is the TecTake Rattan Daybed. as it is versatile and can be used as a daybed with canopy, sofa or seating area with coffee table. It is a great socialising space. It also has excellent customer reviews.
I hope this list of the best rattan day beds was helpful.
If you think I left out one that is important or have a suggestion for a future article, let me know in the comments below.
Nicola
Last Updated: April 2022
Added 'How We Selected.'
Updated Image.
Added links/ updated links.
Added Pros/Cons on all products.
Added Consumer Scores.
Added 'Things To Consider'.
Added FAQ's.
Added Final Thought.
Added Bestsellers.
Moved OOS.
Rattan Buying Guides & Best Buys
Greemotion Rattan Double Bali Bed (currently unavailable)
Modern two-person rattan day bed in a popular 'Bali' style.
In high quality rattan, perfect for outdoors and conservatories.
With plush polyester cushions for comfort.
The ottoman can be used as a footrest when sitting upright, or you can recline the backrests for an entire bed space.
When not in use, the ottoman can be stored under the seat for space saving.
Made of water and weatherproof braided rattan set around a solid steel frame for durability.
A comfortable love seat for the garden!
Available in two-tone grey rattan.
Includes 1x Sofa, 1x Ottoman, 2x Head Pillows, 3x Cushions.
Excellent customer feedback – 83% of 133 buyers gave it 4/5 stars or more..