For this post, I have put together a collection of the best rattan dining sets currently available. Also see my best buys for all kinds of garden rattan furniture.
Top Picks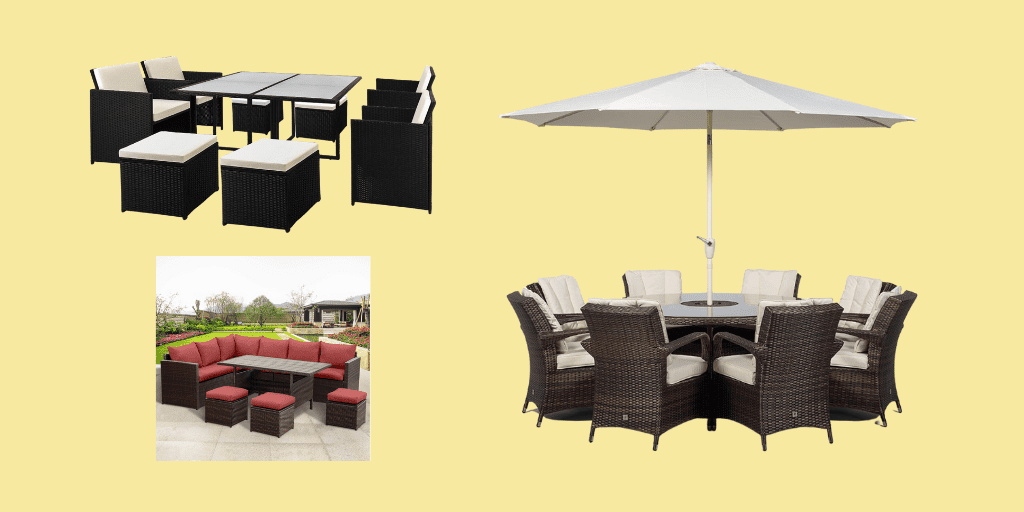 A Rattan Dining Set is an excellent option for al fresco dining in the garden.
They are usually a lot more comfortable than a plastic or wooden patio set and come in a wide range of styles, colours and sizes.
Rattan dining sets are lightweight and can be moved from inside to outside quickly and easily.
Rattan is excellent weather-proof material and is ideal for outdoor use.
How We Selected
We've scoured the market to find the best rattan dining sets to suit all tastes and budgets.
All of our picks have great feedback from buyers.
You may also be interested to see my top recommendations for rattan bistro sets or rattan chairs.
So here's my pick of the best rattan dining sets. Enjoy!
Wisteria Lane Rattan Corner Sofa Dining Set
10 PCS sectional sofa set constructed from high-quality all-weather hand woven PE rattan.
Zippered cushions are filled with thick sponge for optimal comfort and relaxation.
This set includes 2 x Single armrest loveseat, 1 x Corner loveseat, 1 x Table, 3 x Ottoman, 6 x Set cushions, 7 x Back cushions, 1 x Instruction.
Assembly required.
Available in colours; Ivory, Red or Grey.
Pros: Large, comfortable.
Cons: Seat cushions could be thicker.
Consumer Score: Excellent buyers feedback – 81% of buyers gave it 5/5 stars..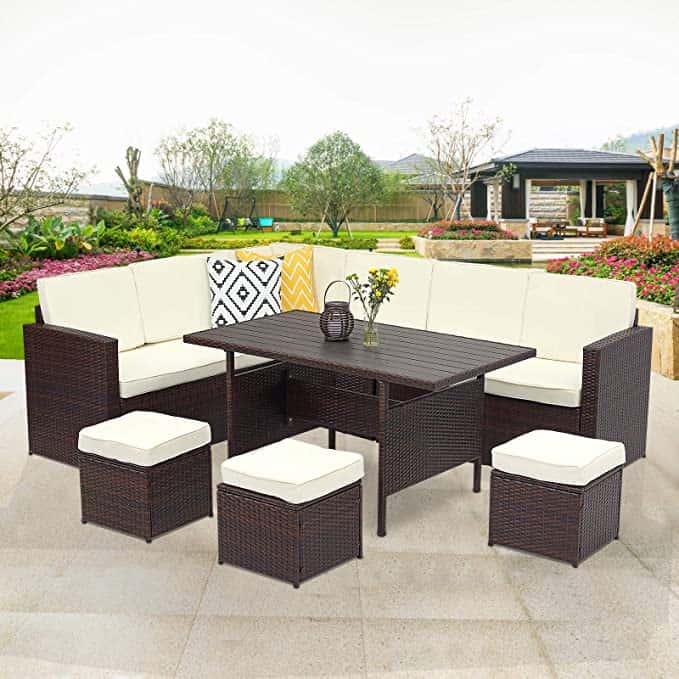 Arizona Large 8 Seater Brown Rattan Dining Set with Ice Bucket
Dining set made of ultra stylish mixed brown rattan weave.
This set includes 155cm round patio dining table, 8 luxury padded dining chairs, 3m parasol and 12kg parasol base.
The dining table has 5mm tempered glass top.
Available in colours; Brown or Grey.
Pros: We love the built in stainless steel ice bucket drinks cooler with cover! It has an integrated parasol holder.
Cons: Pricey.
Consumer Score: Good feedback – 56% of buyers gave it 5/5 stars..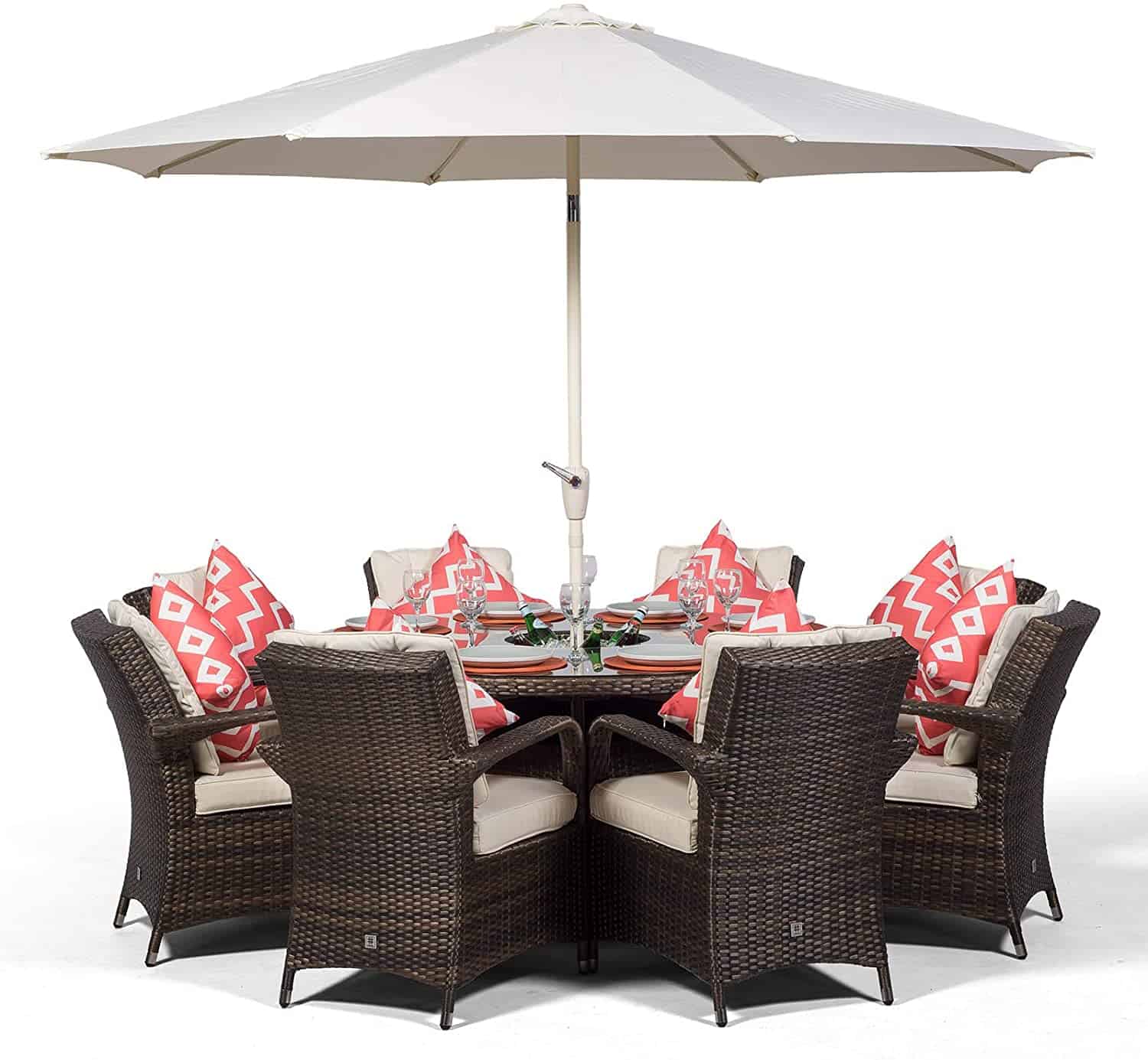 Deuba Poly Rattan Cube Dining Set
Stylish poly rattan table and chairs set.
The cube dining set is weather-resistant, water-repellent, UV-light resistant and dirt-repellent so it will not fade in the sun.
Set includes one glass table, 4 high-back chairs, 4 stools, 12 cushions. Modular set can be set up to suit your needs.
Pros: Space-saving design (cube system) and can be easily stacked away, folding back rests for comfort.
Cons: No parasol hole in table.
Consumer Score: Great customer feedback so far – 78% of buyers gave it 4/5 stars..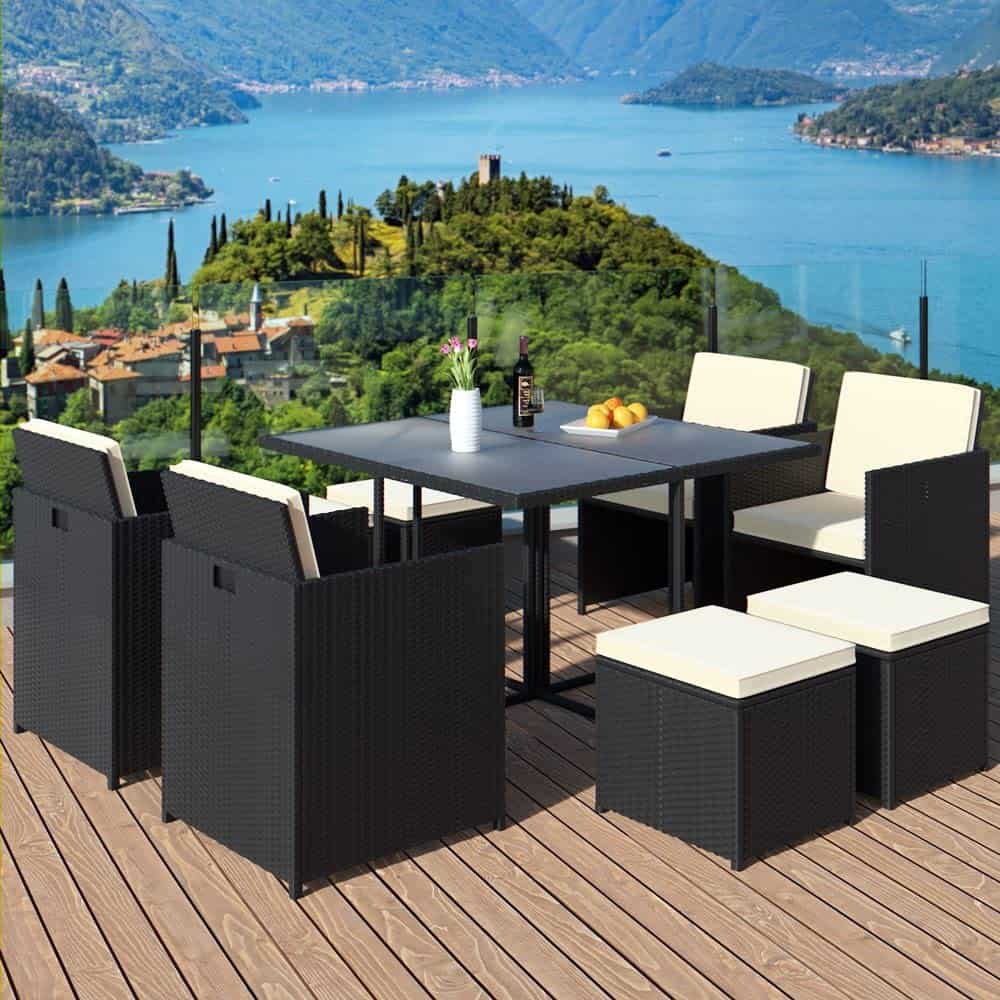 Argos Home Cusco Rattan 4 Seater Dining Set – Brown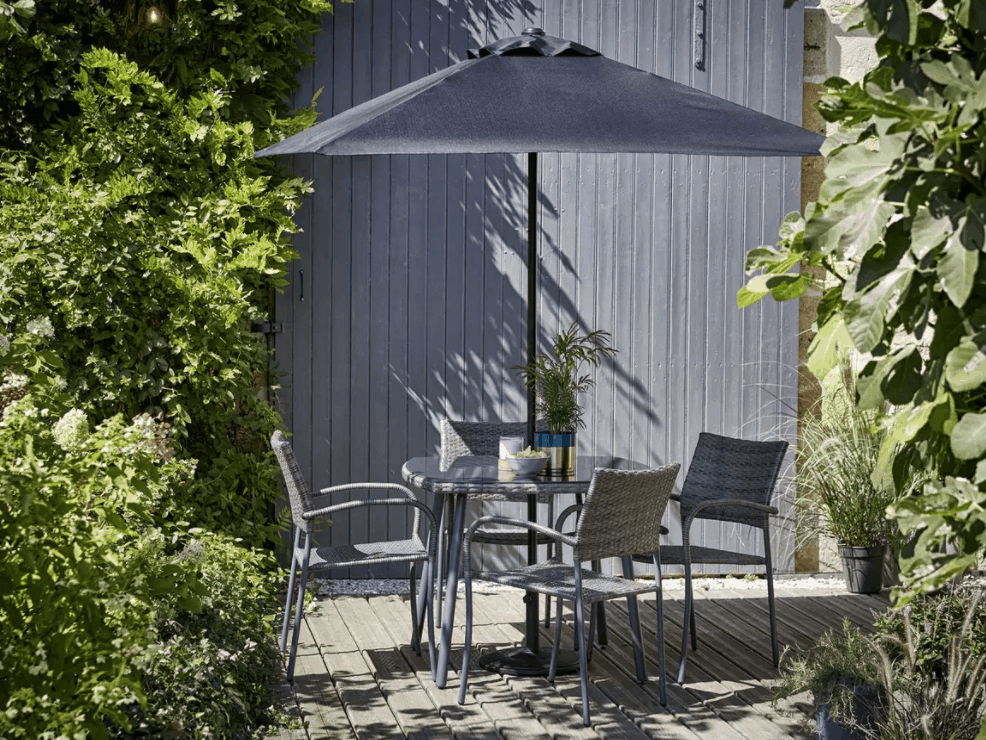 This set comes with the parasol included, four dining chairs with a sleek glass-topped table.
Great budget option.
Table has curved edges for a sophisticated look.
Ideal set for outdoor dining.
Pros: The 4 brown rattan armchairs all stack together and the table legs come off to store away.
Cons: Chairs are very lightweight and can blow over in the wind unless stacked.
Consumer Score: With excellent average 4.5* ratings.
Argos Home Seychelles 6 Seater Rattan Effect Patio Set -Grey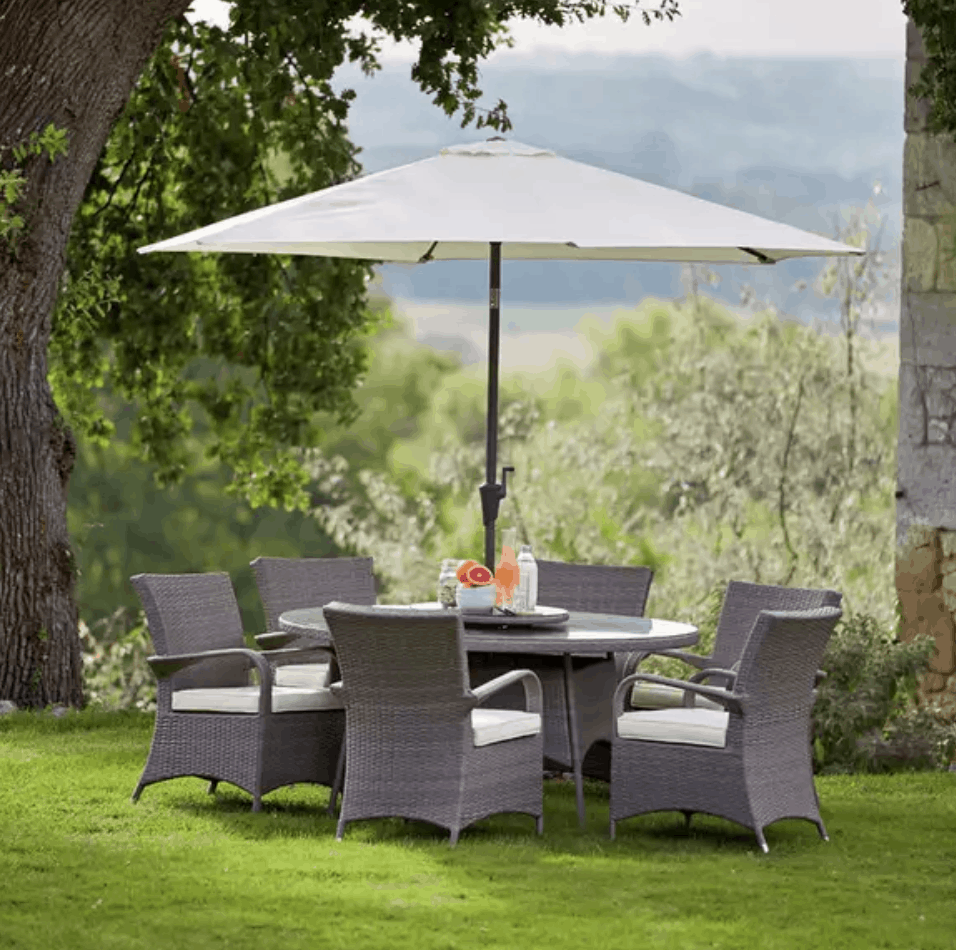 Garden dining set with 6 chairs and a round table.
The 6 chairs feature supportive armrests and cushioned seats.
The parasol which is included will keep you safe from light showers, as well as bright sunshine.
The stylish grey colour is complemented by cream accents.
Pros: The round, glass-topped table features an integrated lazy Susan which can be used to spin your condiments on.
Cons: Tricky to assemble.
Consumer Score: With excellent average 4.7* ratings.
Why Buy Rattan Furniture?
Not only can rattan work indoors or outdoors, rattan is really versatile, quirky and interesting.
Rattan chairs are really comfortable and perfect for relaxing in.
Rattan is stylish and incredibly durable too.
In terms of versatility and durability rattan furniture scores higher than wicker furniture.
Rattan features a solid core and is available in an array of natural colours.
Rattan works great in all rooms of the home but especially in conservatories or summer houses as it has that indoor/ outdoor vibe which works perfectly for making you feel like you are in the garden even when you are indoors.
Rattan is also great for outdoor living.
FAQ's Rattan Furniture
What's the best type of rattan furniture?
PE or HDPE Rattan are made in an eco-friendly way plus they are recyclable, weather-proof and durable.

PVC and PU rattan tend to be cheaper, but aren't as eco-friendly.
What is poly rattan made of?
It is made from a man-made material which is durable and the fibres are woven in the same way as real rattan but are usually coated to make it weatherproof.
Cheap Rattan Dining Sets & Today's Bestsellers
Final Thoughts
My personal favourite is the Argos Home Cusco Rattan 4 Seater Dining Set as it comes with a parasol included, four dining chairs and a stylish glass-topped table, all for an excellent price.
I hope this list of the best rattan dining sets was helpful.
If you think I left out one that is important or have a suggestion for a future article, let me know in the comments below.
Nicola
Last Updated: April 2022
Added 'How We Selected.'
Updated Image.
Added Top Picks.
Added Pros/Cons on all products.
Added Consumer Scores.
Added 'Things To Consider'.
Added FAQ's.
Added Final Thought.
Moved OOS.
Rattan Buying Guides & Best Buys
TecTake Rattan Corner Sofa Dining Set (currently unavailable)
Large rattan corner dining set made from high-quality weave in UV-resistant polyrattan.
Elements can be grouped freely or clipped together how you desire.
With soft and water-repellent cushions which have removable and washable covers.
Glass topped table.
Includes 2 sofas, 1 corner sofa, 2 stools, 3 sofa seat cushions, 2 stool seat cushions, 7 sofa backrest cushions, Table with 2 glass plates, 4 connector clamps, Assembly materials, Assembly instructions.
Available in colours; Black, Grey Beige and Grey.
Great customer feedback – 87% of 121 buyers gave it 4/5 stars..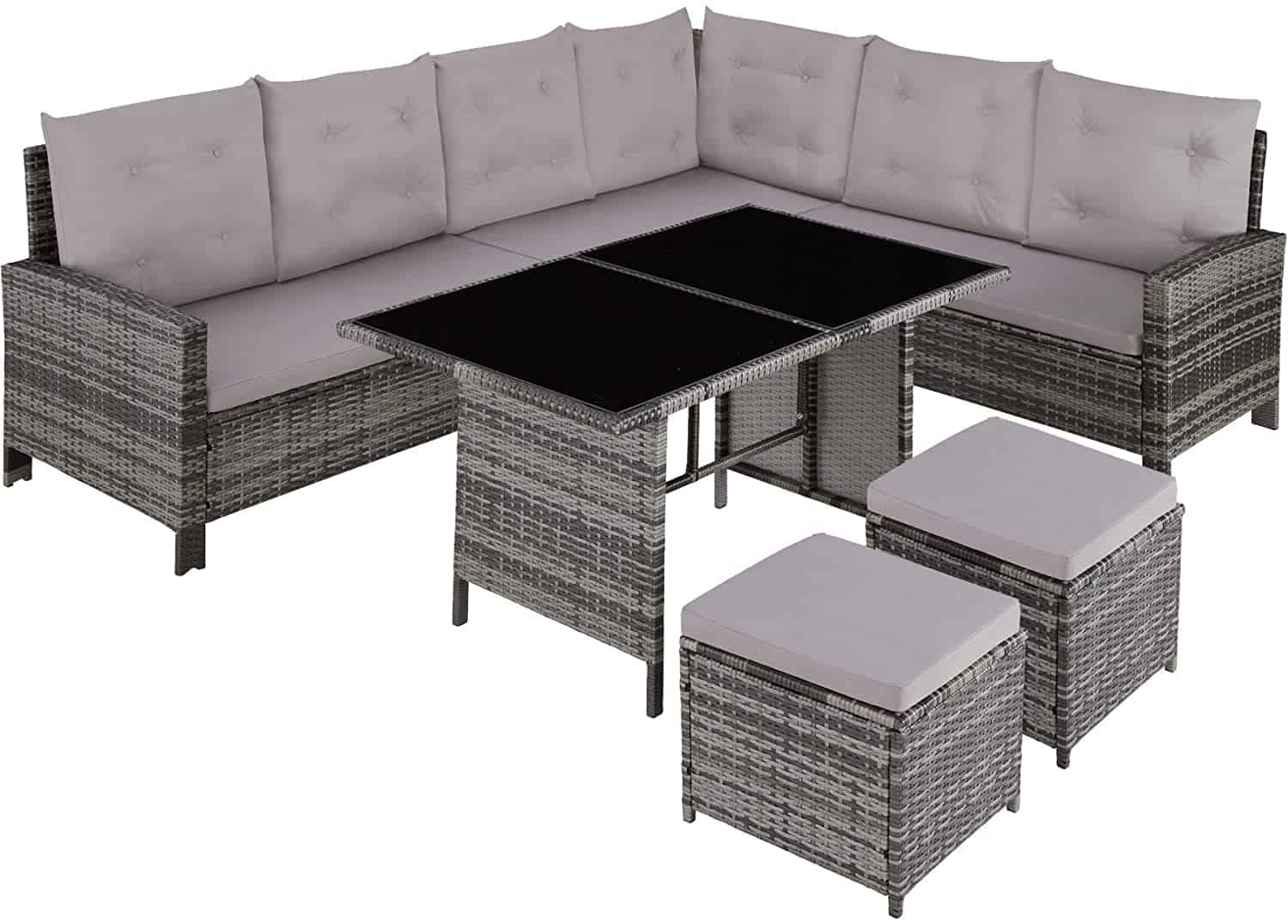 Bjarne 4 Seater Dining Set with Cushions (currently unavailable)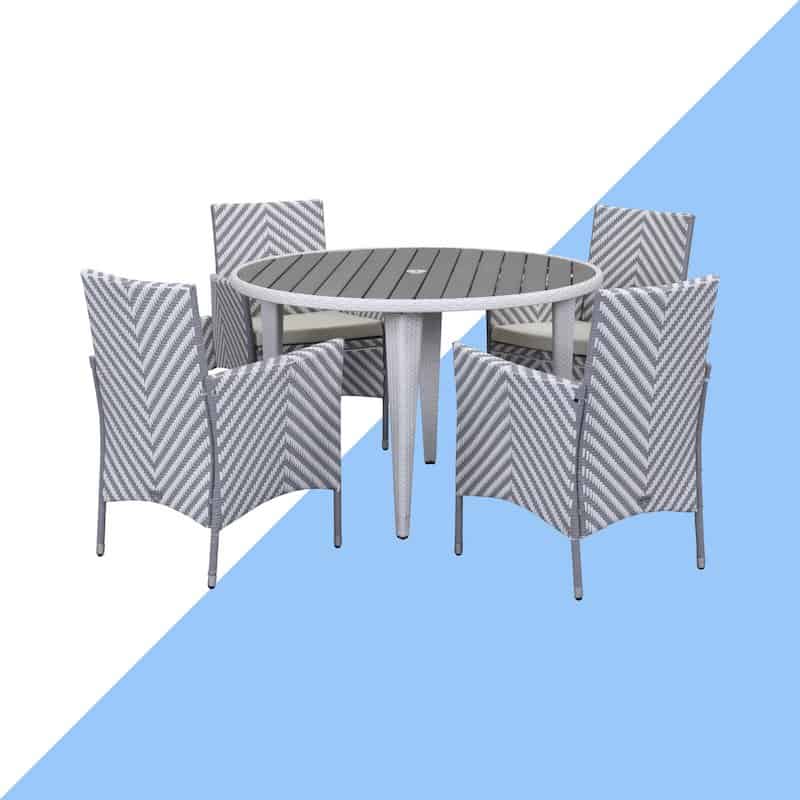 Contemporary four-seater outdoor dining set.
It includes four armchairs and one round dining table, each covered with stylishly textured and weather-resistant PE woven rattan.
With a removable plush foam seat pad for each chair.
The round tabletop is made from wood.
Available in colours; Grey & White, Black & White and Navy & White.
With excellent average 4.5* ratings based on 101 customer reviews.
Jessee 4 Seater Dining Set with Cushions (currently unavailable)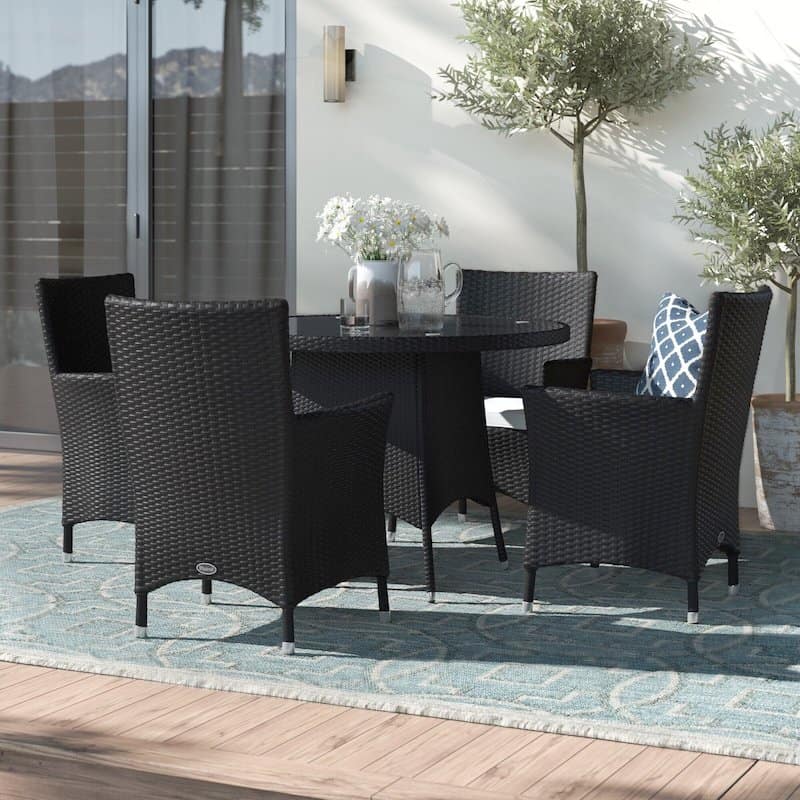 Rattan set which includes four chairs and a round table.
The string backs and woven seats look contemporary and stylish.
The chairs come with removable cushions and the table is topped with tempered glass and includes a parasol hole (parasol not included).
Available in Ebony Black and Mocha Brown.
With excellent average 4.7* ratings based on 520 customer reviews.
(currently unavailable)