For this post, I have put together a collection of the best rattan corner sofas currently available. Also see my buyer's guides to all types of rattan garden furniture.
Our Top Picks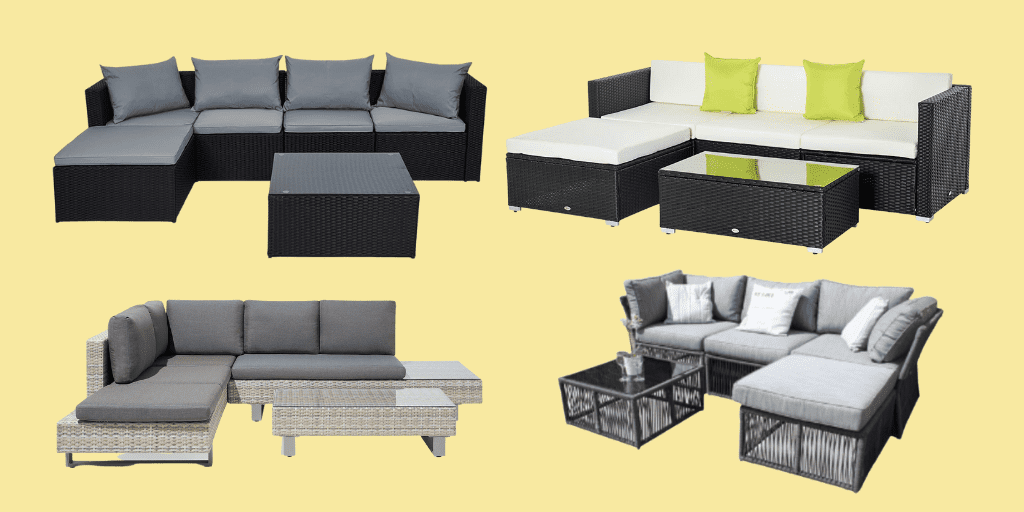 Rattan corner sofas make a modern and stylish addition to any garden or home. They are a great option for a conservatory or garden lounging. 
How We Selected
Rattan corner sofas come in all shapes and sizes and a variety of colours.
They can be left outside all year round and cushions can be removed for washing.
So if you want comfortable garden furniture which is easy to maintain a rattan corner sofa is a great option.
We've searched the market to find the best rattan corner sofas, all of which have excellent buyers reviews.
Also see our guides to the best Rattan Cube Garden Furniture, Rattan Dining Sets and Rattan Daybeds.
Lets get going!
Evre Rattan Outdoor Garden Furniture Set
Discount - Save £87.00
Modular designed furniture which can be laid out as a 4-Seater Sofa, Single Foot Stool & Coffee Table or 3-Seater Sofa, One Single Chair & Coffee Table.
The black and grey sets come with grey cushions and the brown set comes with beige cushions.
Removable and and washable cushion covers which are showerproof.
High Quality PE Rattan weave material.
Pros: Good price, available in a range of colours.
Cons: The cushions could be improved.
Consumer Score: Excellent 4.4/5 star ratings.
Also check out our guide to Rattan Bistro Sets.
Outsunny 5PC Rattan Furniture Set
Discount - Save £40.00
Modular design which can be rearranged to suit you.
Built from a PE rattan wicker over rust-resistant galvanized Metal frame for durability.
With washable cushion cover made from water-resistant polyester cloth for easy cleaning.
With extra-deep, low-seating and thick back-support cushions for a stylish and contemporary look.
Pros: Modular so you can set up how you like, extra-deep, low-seating for comfort.
Cons: The cushions let it down a bit as they are quite slippy.
Consumer Score: Very good 4.3/5 star ratings.
Club Rattan Lille Corner Sofa with Dining Table and 2 Stools
Compact corner sofa with dining table and 2 stools.
Grey rattan.
The dining table has a full weave underneath the 6mm tempered glass for a luxury look.
Easy to assemble.
Pros: Thick cushions, luxury, dining table and stools included.
Cons: Cushions are only showerproof.
Consumer Score: Excellent 4.4/5 star ratings.
5 Seater Rattan Garden Corner Sofa Set Grey Lanciano (Beliani)
Modular garden sofa set.
Made from light-coloured poly rattan with grey padded cushions.
The seat of the chaise part is fully adjustable so you can turn it into a lounger.
With rectangular coffee table and an additional table top on the sofa end.
Pros: Modular so can be set up how you like, plenty of table top space.
Cons: Pricey.
Consumer Score: Great 4.61/5 stars.
Edinburgh 5PC Full Rope Outdoor Garden Corner Sofa Set (Feature Deco)
Crafted with high quality PE rope for a contemporary twist.
Modular design.
Can be set up as a corner sofa or loungers.
Comes with good sized coffee table.
Pros: Lightweight, luxury, contemporary, unique.
Cons: The square coffee table is only available with polywood top.
Consumer Score: Excellent 5/5 ratings.
Why Buy Rattan Furniture?
Not only can rattan work indoors or outdoors, rattan is a really versatile, quirky and interesting piece of furniture.
Rattan chairs are really comfortable and perfect for relaxing in.
Rattan is stylish and incredibly durable too.
In terms of versatility and durability rattan furniture scores higher than wicker furniture.
Rattan features a solid core and is available in an array of natural colours.
Rattan works great in all rooms of the home but especially in conservatories or summer houses as it has that indoor/ outdoor vibe which works perfectly for making you feel like you are in the garden even when you are indoors.
Rattan is also great for outdoor living.
FAQ's Rattan Furniture
What's the best type of rattan furniture?
PE or HDPE Rattan are made in an eco-friendly way plus they are recyclable, weather-proof and durable.

PVC and PU rattan tend to be cheaper, but aren't as eco-friendly.
What is poly rattan made of?
It is made from a man-made material which is durable and the fibres are woven in the same way as real rattan but are usually coated to make it weatherproof.
Final Thoughts
My personal favourite is the Edinburgh 5PC Full Rope Outdoor Garden Corner Sofa Set (Feature Deco).
In fact, I decided to purchase this set myself. It is of excellent quality, super stylish and the cushions are so comfortable.
I hope this list of the best rattan corner sofas was helpful.
If you think I left out one that is important or have a suggestion for a future article, let me know in the comments below.
Nicola
Last Updated: April 2022
Added 'How We Selected.'
Added New Product.
Added Pros/Cons on all products.
Added Consumer Scores.
Added 'Why buy rattan?'.
Added FAQ's.
Added Final Thought.
Moved OOS.
Rattan Buying Guides & Best Buys
TecTake Rattan Garden Furniture Set (currently unavailable)
Rattan Garden Furniture Set with soft cushions and stools which can be used as extra seats or comfortable footrests.
The individual elements of this seating group are adjustable and can be arranged and rearranged how it suits you.
The strong steel base and polyrattan weave guarantee that this rattan set is very durable.
Excellent 4.4/5 star rating based on 107 customer reviews.
Harts Corner Rattan Sofa (currently unavailable)
Large rattan sofa which does not require any assembly.
Versatile Right or Left handed corner sofa – can be easily switched.
Made to a high standard.
Generous seating area with thick cushions for a premium feel.
Aluminium frame with weather proof rattan.
Excellent 4.5/5 star rating based on 71 customer reviews.