For this post, I have put together a collection of the best hot tub gazebos currently available. See all my top picks for the best garden furniture or hot tub accessories.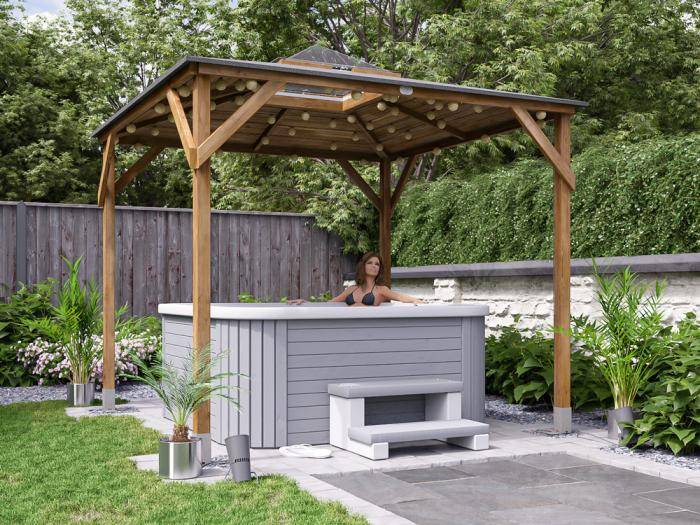 Show Today's Top Deals
These are today's top deals and bestsellers for hot tub gazebos.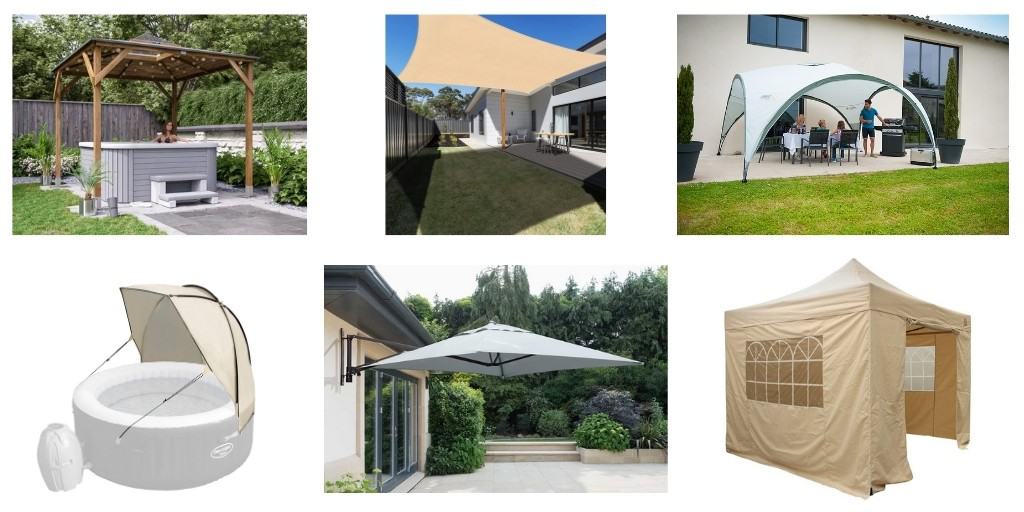 ---
So here is my list of the the best gazebos for your hot tub.
Dunster House Hot Tub Gazebo
Dunster House sell a range of excellent quality wooden hot tub gazebos. As well as providing shelter from the elements, they are also a fantastic visual addition to the garden.
Erin Gazebo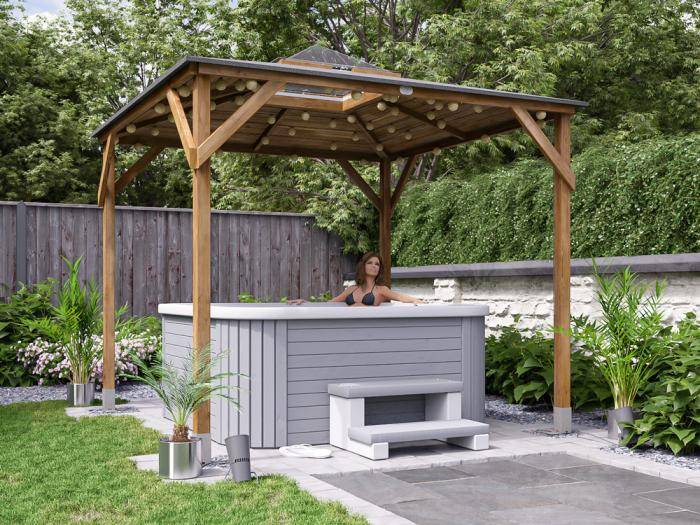 Unique design with perspex dome on the roof.
Clear dome provides sunlight during the day and star gazing at night.
Low maintenance as timber is pressure treated.
Lots of customisation – optional side panels including the 'Louvre' panel – which is a panel that provides ventilation, privacy and still enables light to come through.
Available in a range of sizes.

Atlas Gazebos
Utopia Gazebos
Coleman Event Shelter Medium
The base product is only the canopy but you can extend this with optional sunwalls (with or without a door). These are quick and easy to attach.
This gives you an excellent portable gazebo, very much suitable for a hot tub.
There are bigger sizes below.
This is a medium sized one measuring 3m x 3m.
Available in white/green or white/grey.
Exceptional reviews. Outstanding feedback, from 395 ratings a massive 86% gave this 5 stars.
Common feedback includes: easy to put up, well made, lasts many years.
Coleman Event Shelter Pro XL
Discount - Save £50.00
This is from the same Coleman product line as the one above.
This XL version is perfect for large groups.
It's a simple, solid and sturdy design.
This event shelter can be used as a main living space during camping trips.
Also great as a large porch for big tents, caravans and campervans.
Or ideal for a garden party tent.
Ground area is 4.5m 4.5m – also available in large size (3m x 3m)
Excellent reviews. Very popular large shelter – from 1,696 ratings, 75% of buyers gave this 5 out of 5 stars.
Common feedback includes: Put up in 15 minutes (Follow instructions), fantastic quality, windproof.
It is pricey but these are built to last.
Ankuka Rectangle Sun Shade Sail
Excellent budget option if you are happy with a sunshade that will protect you from the sun and light rain.
Does not offer protection from driving rain or wind.
The awning is secured with guy ropes to a mixture of wales, poles or any other stable structure.
Keeps cool when it's under a hot sun as it lets cool breeze through.
You'll need to purchase fasteners, if required, separately.
Sizes available: 2*3M | 3x3M | 3*4M | 3*5M | 4*5M | 4*6M
Colours available: Beige, Black, Dark Green, Navy Blue, Orange, Sand, Yellow, Light Orange and Rust Red.
Excellent buyer reviews. From 1,781 ratings, 83% gave this 5 stars.
Lay-Z-Spa Canopy Hot Tub
Discount - Save £15.00
Fits all Lay-Z-Spas and provides simple wind and sun protection.
Waterproof fabric with UPF 30+ protection.
Also good for privacy protection.
Includes two removable guy lines – providing extra stability on breezy days.
Good reviews. From 712 ratings, 78% of buyers give this 4 or 5 stars out of 5.
Handle the poles with care – some customers found these shatter easily.
Norfolk Leisure Mounted Parasol Canopy
Stylish, super sturdy parasol canopy that is adjustable through 180 degrees.
Excellent protection from strong sun and rain (as long as not wind driven).
Great, if pricey, canopy option but no lateral protection or shielding from high winds and extreme temperatures.
Needs a serious amount of DIY skills to get this securely attached.
Exceptional buyer reviews. From 80 ratings, 80% of buyer gave this 5 stars.
Customers love the lightweight nature, good fixings, flexibility to rotate, very simple to open and close.
All Seasons Gazebos 3m x 3m Waterproof Gazebo With Removable Sides
Discount - Save £10.00
Top 10 bestselling waterproof gazebo that is well suited as a hot tub gazebo shelter.
Able to be used on many surfaces including sand, decking or grass – anywhere you can pegs/guy ropes and / or heavyweight bags.
You can choose how many side walls you wish to put up.
Available colours: Beige, Black, Bright Green, Dark Green, Navy Blue, Red, Royal Blue or White.
Rust-proof steel powered-coated frame is both lightweight and durable.
Well reviewed. From 800 ratings, 82% of buyers give this 4 or 5 stars.
Today's Top Deals & Bestsellers
I hope this list of the best hot tub gazebos was helpful.
If you think I left any out that should be included or have a suggestion for a future article, let me know in the comments below.
Dominic
Garden Furniture Guides
Browse our top picks and in-depth buying guides for your next garden furniture piece.