For this post, I have put together a collection of the best hammock stands currently available. See all my top picks for the best garden furniture.
Our Top Pick
A personal choice but my favourite is the Vivere Double Cotton Hammock with Space-Saving Steel Stand because it is portable and comes with a handy carry case so you can take it anywhere.
---
What better way to relax and sway the day away, than in a hammock? If you haven't got two palm trees in your garden to tie the hammock between (and let's face it, who does?), then you may want to opt for a hammock stand, which will give you a sturdy base to hook your hammock to, so you can lie back and enjoy the relaxation.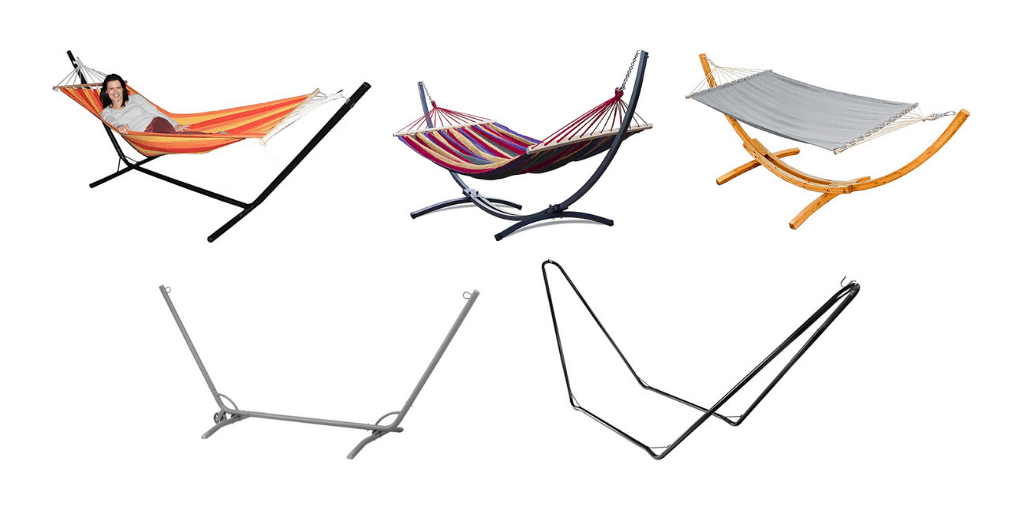 There are plenty of options on the market from wooden hammock stands to metal frame stands, to portable or even DIY hammock stands. We give you our top picks here!
Redstone Hammock with Metal Stand
This steel stand comes with a hammock.
Hammock size: 210 x 80cm – 6ft 10in. Steel stand size: 290 x 87 x 103cm
Easy assembly and 3 height options.
Steel hooks securely attach hammock to stand
Hammock made from natural woven cotton which is soft and breathable.
Incorporated wooden stabiliser bars to prevent tipping.
Excellent 4.7/5 star rating based on 470 customer reviews.
Please note this hammock is only suitable for people under 100kg.
AmazonBasics – Hammock Stand
Space-saving, portable, 2.74 m hammock stand for hanging a hammock of any size (not included); 181 kg payload
Sturdy tubular steel construction with an elegant black surface for strength and style.
Easy assembly (all parts included); can be dismantled for compact and easy transport.
Excellent 4.3/5 star rating based on 1,769 customer reviews.
Potenza® Premium Hammocks & Weatherproof Robust Steel Stand
Very large hammock. Maximum capacity: 220kgs. Length: 350cm. Height: 125cm. Width: 120cm. Weight of the hammock: 25kgs.
Get your hammock within 48-hours and enjoy cosy cocooning indoors – or outdoors with a blanket this winter!
Super easy to assemble.
Large hammock frames made from the highest quality steel making them extremely solid and stable. Coated paint making it more resistant to environmental damage.
24 Months warranty.
Excellent 4.7/5 star rating based on 142 customer reviews.
Sun To Go Folding Hammock & Stand
Hammock and stand which are completely foldable and portable.
360-degree ball bearings allow the hammock to swing effortlessly.
No tools required for assembly.
Heavy-duty foldable Steel frame.
Small hole mesh hammock.
3 adjustable height settings for comfort.
Comes with a carry bag for easy travel and storage, so ideal for camping or staycations.
Vivere Double Cotton Hammock with Solid Pine Arc Stand
Luxury Brazilian hammock and solid pine arc stand is roomy enough for two people.
Colourful or neutral patterned hammock available.
Easily adjustable hammock hooks allow you to decide how low or high you want to lay.
Accommodates two adults, up to 450 lbs.
Stylish tropical design which would look great in a garden.
Excellent 4.3/5 star rating based on 190 customer reviews.
Amanka XXL Hammock for Two with Wooden Designer Frame
Made of natural wood with a stylish curved design.
The outdoor hammock stand is approx. 325 cm long and 118 cm high. With a length of 120 cm the thick cross bars make the frame particularly robust and stable.
Includes a double hammock. Suitable for max. 150 kg.
Made of 100% Sustainable cotton which is extremely durable.
Stand is only oiled with organic wood oil.
Laminvale Ltd Amazonas Luna Rockstone
Metal hammock frame with one hook so hammock can be hooked up like a seat swing.
Beautifully crafted.
Easy to Assemble.
Load capacity: Approx. 120 kg.
Excellent 4.6/5 star rating based on 139 customer reviews.
Vivere Double Cotton Hammock with Space-Saving Steel Stand, Denim
This space-saving steel hammock stand includes a double hammock and carrying case.
Accommodates two adults 450lb capacity.
Easily adjustable hammock hooks allow you to decide how low or high you want hammock to be.
Rubber end caps allow you to safely assemble stand indoors as well as outdoors.
Excellent 4.9/5 star rating based on 4,273 customer reviews.
Harbour Housewares Hammock Metal Frame Stand
Sturdy metal frame that simply slots together.
Hammock hangs on hooks.
Max weight: 100kg.
Spring buttons ensure stand stays in place.
Excellent 4.5/5 star rating based on 676 customer reviews.
GÅRÖ Hammock stand (Ikea)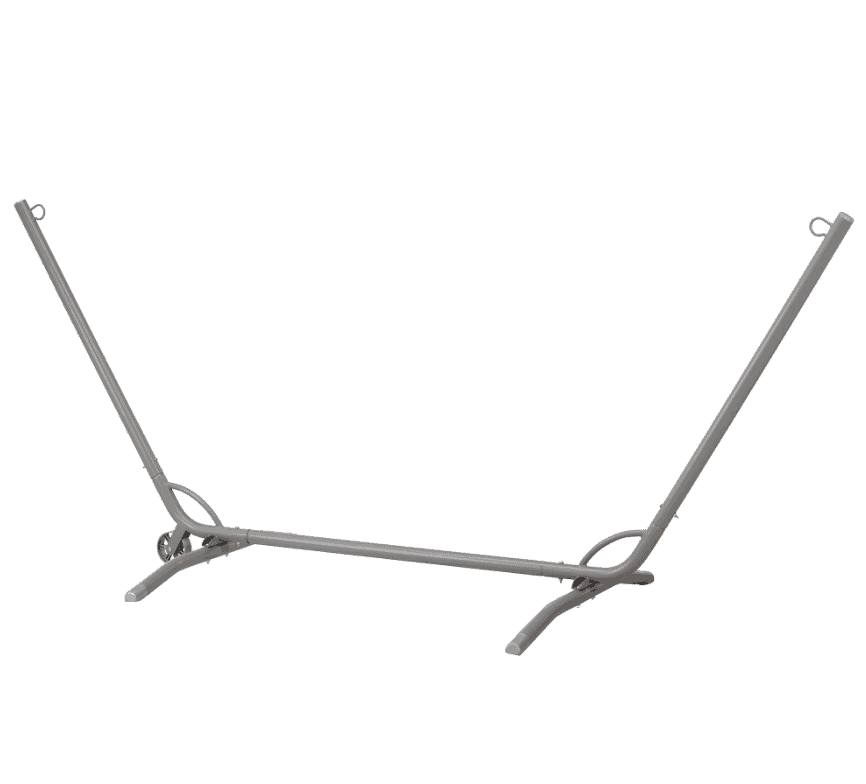 Galvanized steel hammock stand.
Easy to put together.
Strong and sturdy.
Good value for money.
DIY – How To Build An Outdoor Hammock Stand
What To Consider When Buying a Hammock Stand
Hammock stands vary in weight capacities so check it will be strong enough to hold person or people.
The ideal size of a hammock stand should measure longer than the full length of the hammock. Make sure you check your hammock measurements before purchasing, if buying separately.
Decide where your hammock will go. If it is going to stay in the garden you may want to consider investing in a sturdy, more stylish frame which will look good and will withstand the elements. If you want to use it indoors, make sure the stand has rubber floor grips to stop it slipping on carpets or indoor flooring. Alternatively, if you want to be able to take it to places such as camping or on holiday, you will want a portable hammock and stand, which folds up into a carry case.
I hope this list of the hammock stands was helpful.
If you think I left out one that is important or have a suggestion for a future article, let me know in the comments below.
Nicola
Garden Furniture Guides
Browse our top picks and in-depth buying guides for your next garden furniture piece.