For this post, I have put together a collection of the best camping showers currently available.
Don't forget anything! Ultimate guide on what to take camping.
Our Top Picks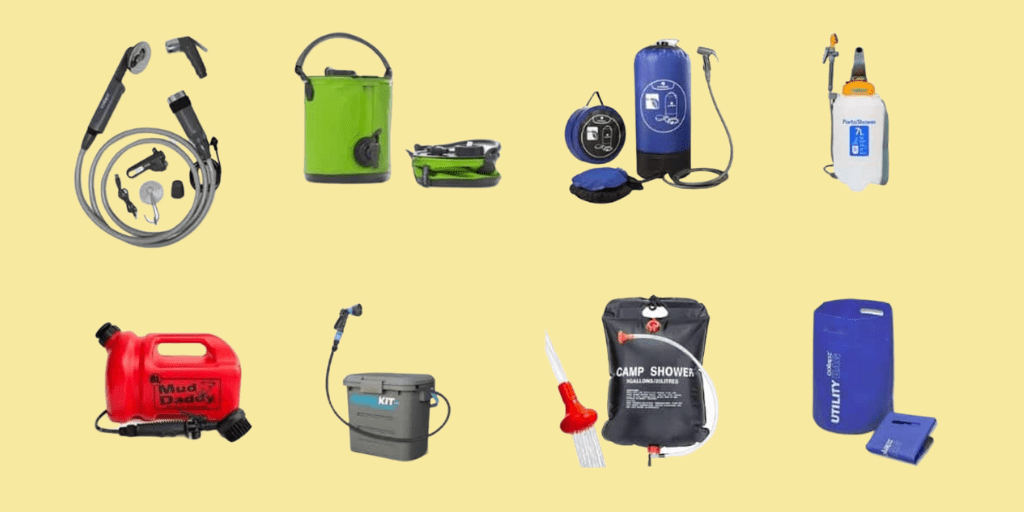 Camping is far more enjoyable with decent shower facilities.
How We Selected
In this article I'll show you the best portable showers to suit all budgets.
With the camping shower options now available there is no reason you can't have an excellent shower experience, wherever you are.
All of my suggestions have excellent buyers feedback and 4-5/5 star ratings.
Let's get cracking!
Also see my guides to the best toilet tent and camping toilet and camping water containers.
Colapz Portable Shower (Top Choice)

Colapz Rechargeable Camping Shower
Our top choice if you want a decent camping shower experience.
It's an outstanding bit of kit that I personally love. It has great power for what it is, versatility (think shower, cleaning dog, washing stuff after the beach) and the design. It even looks good!
Pros: It's extremely easy to use.
Cons: It's not the cheapest option on this page, but it's the best in our view.
Consumer Score: A popular camping shower with 76% of buyers giving it 5 stars out of 5.
Colapz 2-in-1 Collapsible Bucket / Container
Discount - Save £5.00
I strongly recommend getting the collapsible bucket as well. As well as for the shower it's an exceptional water carrier for use around the tent or camper van.
I'd avoid going for cheap containers or camping buckets. It's super sturdy, strong handle, saves loads of space as it collapses and there is a removable lid so you can clean and dry it thoroughly.
Colapz Collapsible Bag
Another option instead of the Colapz collapsible bucket is the Colapz collapsible bag.
For example, you could use this to store your camping equipment and laundry.
And then use it for the water storage when you are showering.
Again, not super cheap but it's worth it for it's long life and multi functional use.
DeLavo Portable Bidet and Camping Shower
A cheaper and overall less 'shower' like experience.
It's not as well made as the Colapz portable shower so I'm not sure how long it would last with a family on a long camping holiday taking lots of showers.
Pros: It's a very simple solution with a hand-pumped function that does deliver decent water pressure.
Cons: On the downside it does only hold 5 litres.
Consumer Score: Good reviews with 75% of buyers giving it 4-5 stars out of 5.
Mud Daddy Portable Washer
This is a very portable shower option.
Unlike the Colapz it requires no recharging.
It's a great bit of gear and you can use as a simple option as a camping shower.
It holds more water than the DeLavo with 8 litres and you can choose a red or blue option.
This seems to be the best option if you're looking to give your furry family member a good wash.
You simply fill with warm water (and bit of shampoo), pull the trigger on the brush handle and water comes out.
Pros: Each pump builds the pressure so frequent pumping will get things moving nicely!
Cons: A little pricey.
Consumer Score: A popular camping shower with 78% of buyers giving it 4-5 stars out of 5.
Foot Pump Camp Shower (Dr. Prepare)
If you're happy with a foot pump function then this is a good option.
It holds a good amount of water, 15 litres.
Pros: Very easy to use and folds down so it takes up hardly any room.
Cons: Unless you have a separate heat source then the only way you'll have a hot shower with this one is if there is sun – it heats up the water hanging in the bag.
Consumer Score: Good reviews with 62% of buyers giving it 4-5 stars out of 5.
Solar Camping Shower (Qdreclod)
A solid choice if you're looking for a solar camping shower.
The capacity is big! (20 litres) which means you can shower for approx 8 minutes.
This depends on the intensity of the sun but around 3 hours of sunshine can raise the water from 15 C to 45 C.
Or you can simply fill it with warm water. The black bag means the water will retain its temperature quite well.
Pros: It's super lightweight and easy to carry.
Cons: It's not the biggest shower head so the amount of water coming out isn't amazing but it's satisfactory for most camping needs.
Consumer Score: Good reviews with 63% of buyers giving it 5 stars out of 5.
Pocket Shower for Camping (Sea To Summit)
As far as hanging bag showers go this is another good choice.
It holds a decent amount of water at 10 litres.
The shower head is built in directly into the bag.
Pros: The main benefit of this option is its size – it's tiny!
Cons: The main task is finding a good place to hang it.
Consumer Score: Excellent reviews with 86% of buyers giving it 4-5 stars out of 5.
Outdoor Portable Shower (Laserbeak)
Another alternative to the Colapz it's very well reviewed.
If you use a 50 litre bucket you should be able to shower for over 10 minutes.
Pros: Decent pressure and powerful battery.
Cons: Can't turn off mid flow.
Consumer Score: A popular camping shower with 72% of buyers giving it 5 stars out of 5.
Hozelock PortaShower
You might recognise this brand from your garden hose purchases.
It's effectively a power option from your normal garden sprayer.
It holds 7 litres and delivers three minutes of spray.
The pressure is created through hand pressure.
Pros: It's a very good option if you're looking to wash the dog or clean off your shoes/surfboards etc after a trip to the beach.
Cons: It's not going to give you a real deep clean but should be perfectly fine for a freshen up.
Consumer Score: Great reviews with 74% of buyers giving it 5 stars out of 5.
What To Consider When Buying A Camping Shower
Where To Hang It
Is there anywhere to hang your shower from? Having something to hang it from makes it much easier than trying to shower, holding it with your hands.
Where To Set Up
If you are staying close to your car, then you have more options when choosing showers since you don't have to transport the equipment far.
You will want somewhere private where you can have a wash, without anyone seeing you. Check out our guide to the best pop-up toilet tents which can double up as shower tents.
Luxury
A warm shower is such a comforting luxury and you can buy a portable camping shower which has a built-in water heater, to make it all the more relaxing.
FAQ's Camping Showers
How do I choose a shower tent?
Look for something which is easy to pop-up. You will want good privacy, good air ventilation.

Somewhere to hang your clothes and towels is also a good idea.
Are camping showers worth it?
Although many campsites have shower blocks, having your own camping shower can be helpful when it comes to washing your pets or cleaning your cooking utensils too.
How many Litres of water do you need for a camp shower?
Most outdoor camping showers hold approx. 20 litres of water (5 gallons), but this may change according to which shower you opt for so always refer to manufacturers guidelines.
How long do portable showers last?
A 2.5 gallon bucket of water should give you about 7 or 8 minutes of showering time.
Camping Shower Sale & Today's Bestsellers
Final Thoughts
My top pick is the Colapz Rechargeable Camping Shower because it's a fantastic bit of kit – it has great power, versatility, is easy to use and looks good!
I hope this guide on camping showers was helpful.
If you think I left any out that should be included or have a suggestion for a future article, let me know in the comments below.
Nicola
Last Updated: March 2022
Added Top Picks.
Updated Image.
Added 'How We Selected.'
Added internal/external links.
Added Pros/Cons on all products.
Added 'Things To Consider'.
Added FAQ's.
Added Alternative Retailer.
Added Final Thought.
Moved OOS.
Camping Buyer's Guides
Help ease your shopping with our in-depth buying guides for your next camping purchase.
Camping Furniture (Chairs, Tables, Sofas)
Sleeping (Camp Beds, Sleeping Bags)
Cooking / Kitchen
Tents
Roof Racks & Bags
More Camping Products / Guides
Your Camping Checklist
There's something you always forget when packing for a camping trip. Use our handy camping checklist to make sure you don't forget anything important.
Get more out of your next adventure in the great outdoors with these 24 brilliant camping hacks.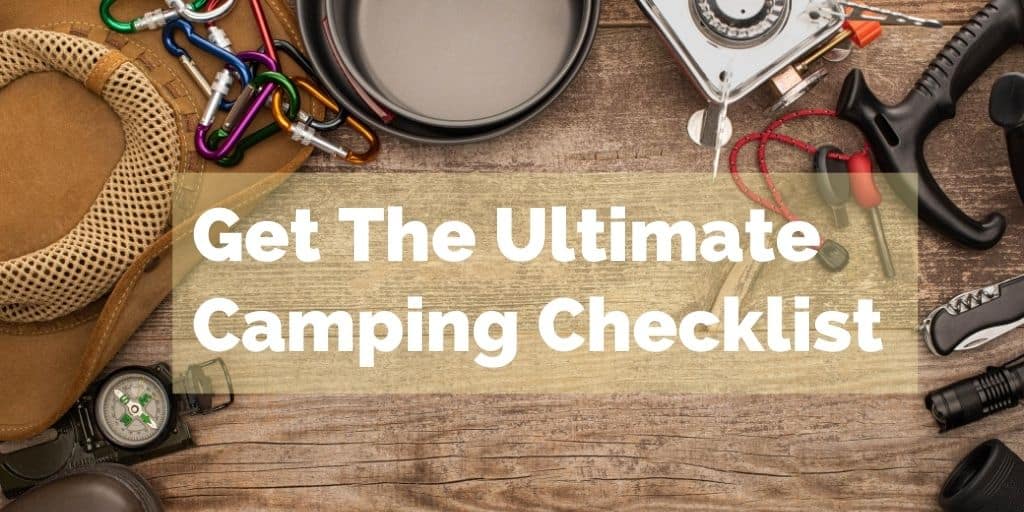 Get more out of your next adventure in the great outdoors with these 24 brilliant camping hacks.
RinseKit Plus (currently unavailable)
Really well built bit of kit that delivers fantastic water pressure without needing pumping or batteries.
The pressure goes up to 65psi and it will hold for up to a month.
We'd prefer to shower a little longer but you should be able to get 3-6 minutes.
It uses a standard shower hose head so it's straightforward to get a replacement if ever required.
This is the RinseKit Plus option which means you can get warm water.
It comes with a kitchen tap adapter and the box is insulated.
The box is the shape of a coolbox and holds nine litres.
Risepro Portable Camping Shower (currently unavailable)
Discount - Save £5.00
A decent alternative to the Colapz, cheaper but not quite as good.
Holds up 10 litres and around 5 minutes shower time.