For this post, I have put together a collection of the best camping cutlery sets currently available. Browse my ultimate camping checklist and don't forget anything!
Our Top Picks
Show Today's Top Deals
These are today's top deals and bestsellers for camping cutlery sets.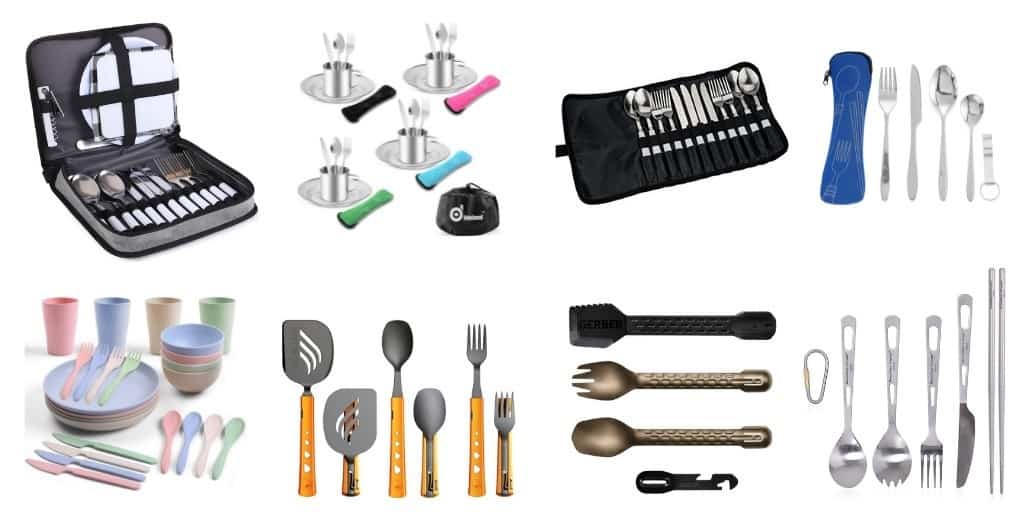 Getting yourself a set of utensils specifically for camping is a great idea for lots of reasons:
You won't be breaking up your silverware set designed for home use and potentially losing it when you're out in the wild.
You can avoid using non environmentally friendly single use plastic.
Camping utensils are generally compact and lightweight meaning they're super portable.
Camping utensils should be durable and tough so they'll stand up to the rigorous nature of outdoor cooking.
They are also multi-functional so you'll find one utensil will often provide many uses!
In this guide I've covered only those camping utensils and camping cutlery sets that receive the most positive and enthusiastic feedback from hundreds of campers.
As well as highly portable, lightweight camping utensils I've also included a number of cutlery sites that are designed for picnics and camping, not as portable but certainly a great option for many that want a dedicated camping set but not needing something super lightweight.
Looking for the perfect cooking set up? See my top picks for the best camping stove and portable bbq.
See my best buys for melamine plates to go with your new camping cutlery set.
So here is my list of the the best camping cutlery sets.
Vango Family Camping Cutlery Set
Brilliantly reviewed family set made from stainless steel by highly respected camping brand, Vango.
Includes 4 x knives, 4 x forks, 4 x spoons.
Exceptional reviews. From 184 ratings, 71% of campers gave this set 5 stars.
Common buyer feedback includes: Well made, sturdy, handy storage case, good value for money.
Regatta Camping Cutlery Set
Basic but good quality 4 person stainless steel set.
Includes four knives, forks and spoons.
Packs away into a hard wearing polyester wrap.
Fantastic reviews. From 146 ratings, 72% of buyers gave this 5 stars.
Common buyer feedback includes: good quality, decent size, lightweight but sturdy.
iBasingo Titanium Camping Cutlery Set
Super light, super strong titanium set available in a range of sizes.
Available in two types of handle – sandblasting handle or hollow handle.
Excellent reviews. From 111 ratings, 82% gave them 4 or 5 stars out of 5.
Common buyer comments include very lightweight, strong, good quality.
finessCity Titanium Camping Cutlery Set
5 Piece Set including straw, chopstick, knife, fork and spoon.
Super strong but lightweight.
Comes with a waterproof drawstring bag.
As well as camping also perfect for travel, work, picnic or everyday use.
Also available as 3-piece and 4-piece cutlery set.
Rave reviews! From 2,370 ratings, 76% give this set 5 stars.
Common buyer feedback includes sturdy, lightweight and strong.
Bramble Stainless Steel Camping Cutlery Set
Budget stainless steel set includes table spoon, tea spoon, fork, knife and bottle opener.
Fab reviews. From 323 ratings, 70% of buyers gave this 5 stars.
Camper comments include: good quality for price, lightweight and useful storage case.
TAIBID Camping Cutlery Set
4 person set with 24 pieces
Set includes; 4 forks, 4 Spoons, 4 knife's, 1 Cheese knives, 4 8″ ECO-Friendly PS dinner plates, 1 cutting board and 1 bottle opener with 4 checkered table napkin.
Comes in a handy canvas carry bag.
Also available in a two person set.
Very good reviews. From 147 ratings, these score an average 4.4 out of 5.
Odoland 24pc Camping Tableware Set
No products found.
Environmentally friendly set made from wheat stalk.
Each cutlery set includes 4 plates, 4 bowls, 4 cups, 4 forks, 4 spoons, 4 knives,bonus 4 bag for dinner cutlery.
Includes a mesh carry bag case.
BPA-free material

No products found.

. From 116 ratings, these score an average 4.3 out of 5.
Odoland Camping Cutlery Set
Set for 4 people includes 4 x cups, 4 x dinner cutlery (knife, spoon, fork) with case, 4 x plates and a storage bag.
Durable made from stainless steel.
Very good reviews. From 100 ratings this scores an average 4.4 out of 5.
Here's a selection of the best camping utensils – these tend to be individual items (as opposed to sets) but many with multiple functions.
Sea To Summit Alpha Light Spork
Made from anodized aluminium so it's extremely lightweight and very durable.
Looks the part with the stylish matte finish.
Comes with a carabiner so you can attach it to your backpack.
Weights only 12g!
This is the spork, also available: spoon,knife, fork, long spoon and long spork.

No products found.

. From over 300 ratings, a massive 86% gave this full marks, 5 out of 5.
Jetboil Jetset Utensil Set
Discount - Save £2.06
Very nifty collapsible spoon, fork, and spatula in lightweight, high-temperature nylon.
Telescopic handles means you can close them down so they don't take up much room but you can then extend them to reach the bottom of any bowl or packet!
The nylon material can withstand high heat.
The set only weighs 1.3 ounces.
Really good reviews! Very popular, from 583 ratings, 78% gave this 5 stars.
Gerber ComplEAT Tool
Clever, nested set of tools that includes a fork, spoon, spatula and tongs.
Provides a number of functions when nested or folded out.
Multi-tool function includes bottle opener, can opener, veggie peeler, and serrated package opener.
All 4 components together weigh less than 2.5 ounces.
Super slim when nested.
Excellent reviews. From 628 ratings, 80% give this 5 stars!
Camping Cutlery Set Deals & Today's Bestsellers
I hope this list of the best camping cutlery sets was helpful.
If you think I left any out that should be included or have a suggestion for a future article, let me know in the comments below.
Dominic
Camping Buyer's Guides
Help ease your shopping with our in-depth buying guides for your next camping purchase.
Your Camping Checklist
There's something you always forget when packing for a camping trip. Use our handy camping checklist to make sure you don't forget anything important.
Get more out of your next adventure in the great outdoors with these 24 brilliant camping hacks.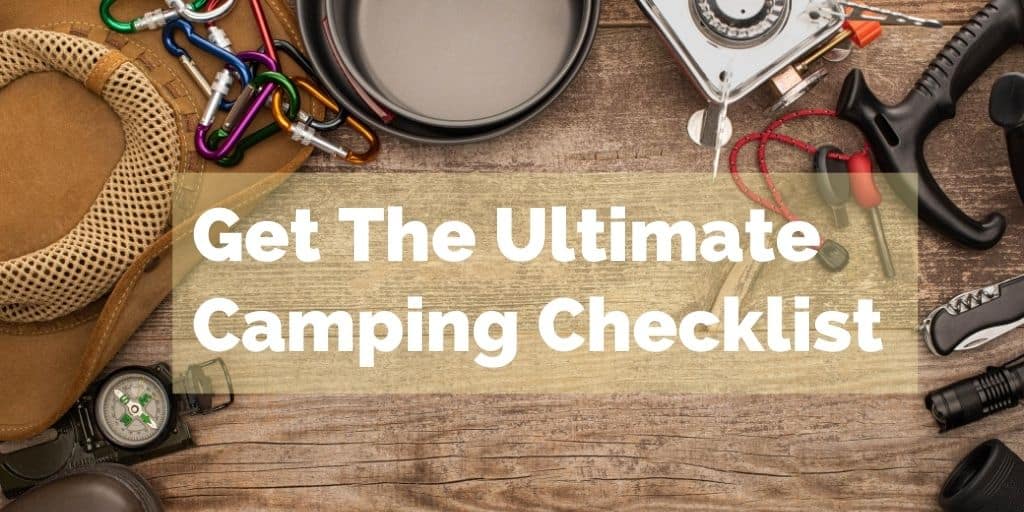 Get more out of your next adventure in the great outdoors with these 24 brilliant camping hacks.