Get my ultimate camping checklist and you won't forget anything!
Top Picks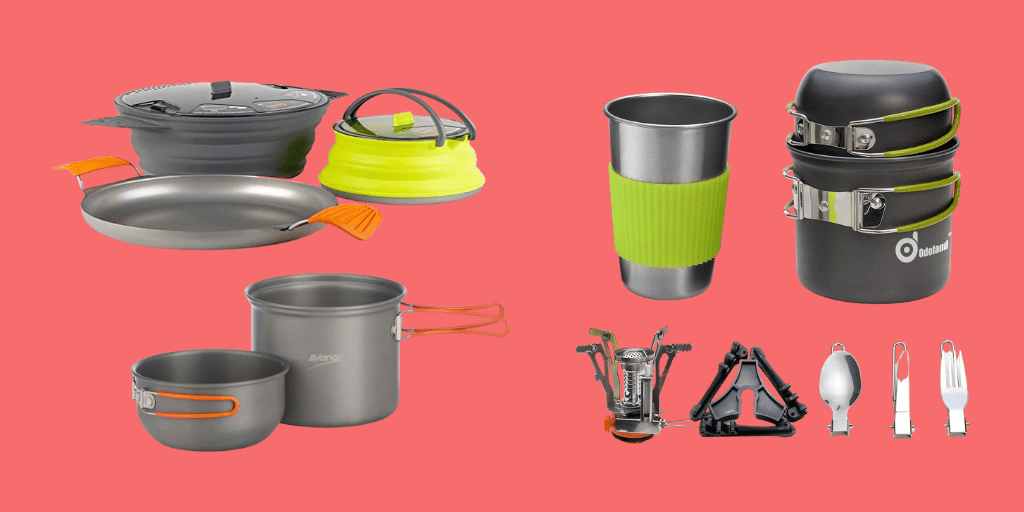 For this post, I have put together a collection of the best camping cooking sets currently available.
Whether you're a camper who will knock up a gourmet meal over an open fire or you simply need a few pots and pans to boil some water for noodles over a camping stove, there's the perfect camping cooking set for you.
How We Selected
In this round up I've looked at both budget and luxury camping sets for solo travellers, couples or families and friends going together.
All of my recommendations have excellent buyers reviews and 4-5/5 star ratings.
See my top picks for the best camping cutlery set, camping kitchen and melamine plates.
When you go camping it's important to choose the food you take carefully. See this article on Camping food safety at Gov.uk.
So here is my list of the the best camping cookware sets.
Camping Cooking Set (Tokmali) 2 To 3 People
Top bestselling camping set with excellent reviews.
14 piece cooking set including:

1 x non stick pan
1 x boiling pot
1 x kettle
1 x folding knife, fork, spoon
3 x FDA bowl
1 x serving ladle
1 x bamboo spoon
1 x cleaning sponge
1 x carabiner
1 x nylon travel bag.

Suitable for 2 to 3 people.
Pros: Includes lots for the price.
Cons: Kettle lid not a great fit.
Consumer Score: Campers love this camping cookware set. 85% of buyers give this 4 stars or more.
Vango Hard Anodised Cook Kit
Discount - Save £7.01
Excellent value camping pot and pan set for solo campers.
Simple, small pot doubles up a mug.
Anodised coating provides non-stick.
Aluminium provides lightweight and durability.
Pros: Rubber layer on handles to stop you burning yourself.
Cons: A little on small side. Okay for solo use.
Consumer Score: Brilliant reviews. 72% of camp cooks give this 5 stars out of 5.
Snow Peak Titanium Solo Combo
Supremely lightweight set (188g!) is pricey but the best choice for solo backpacking/camping and trekking.
You get a cup and pot that nest inside each other with room to hold small stove/gas canister.
Pros: Lightweight and durable.
Cons: Pricey, no coating so plenty of stirring needed.
Consumer Score: Outstanding reviews. 75% gave this 5 stars.
Sea to Summit X Set 32
Very popular 3 piece set that instead of stacking, these collapse and nest inside each other to form a portable, slim disc.
Includes 2.8 litre pot, 1. litre kettle and 8 inch pan.
Made from BPA free, food grade heat resistant silicone.
This set is designed for use with a camping stove (not directly over an open flame)
Pros: Strainer lid clips onto the pot which is super useful – safe and practical feature when straining hot water.
Cons: Too pricey.
Consumer Score: Excellent reviews. 72% of campers gave this 5 stars.
Primus Campfire Cooking Set
Looking for luxury camping cookware that is super durable and made from easy to clean stainless steel? This is it!
Neatly stacks together for good portability.
Integrated foldable handles
3 litre large pot is big enough for the whole family.
Pros: Pot lids have integrated colanders, leather tabs let you lift hot lids without burning yourself!
Cons: A little pricey.
Consumer Score: Fantastic reviews! 77% of campers give this 5 stars.
MSR Quick 2 System
Perfectly sized for two campers this smart camping set includes two pots, two plates, two mugs, and one interchangeable handle that can connect to either pot.
One pot is non-stick, the other is not.
Pros: Handy measurements inside the pots.
Cons: Expensive.
Consumer Score: Fab reviews. 87% gave it 4 stars or higher.
MSR are a fantastic camping cook brand. I travelled across South America in the 90s and used one of their lightweight camping stoves. I use it to this day!
Odoland Camping Cookware Set With Stove (2 To 3 People)
Discount - Save £10.00
Fantastic budget camping pots, pans and cutlery set with stove.
10 piece set includes:

1 x Mini Stove
1 x Pot (small)
1 x Pot (large)
3 x Stainless Steel Tableware ( 1 x Spoon, 1 x Fork, 1 x Knife)
1 x Tank Bracket
1 x Stainless Steel Cup (16oz)
1 x Cup Protector
2 x Carry Bag

Pros: Affordable, includes lots of items.
Cons: The cutlery could be improved.
Consumer Score: Amazing reviews! 75% give it 5 stars!
Comments include well made, easy to clean, everything you need.
---
Odoland Camping Cookware Set For 3 to 4 People
Discount - Save £10.00
Great value, complete set of pots, pans, plates and more.
Perfect for families or a group of friends.
22 pieces camping cookware kit is perfect for 4 people. It includes 1 large size aluminum hanging pot + 1 aluminum non-stick pan + 1 kettle + 4 stainless steel dishes + 4 stainless steel cups (9.6 oz) + 4 spoons + 4 forks + 2 small size bags + 1 large size carry bag.
Pros: Great value, family sized, lots of items included.
Cons: The foldable cutlery could be improved.
Consumer Score: Very good reviews. 90% give it 4 stars or more.
---
What To Consider When Buying Camping Cookware
Like all types of camping equipment, there's a lot to consider depending on your requirements and budget.
Weight
If you're going camping in your car then weight is not such an issue.
But you will need to make sure it's not heavy for any cooking set up you're using.
For example, you will struggle using a cast iron pan on a small backpacking stove!
If you are hiking then you'll want a camping cookware set that is both lightweight and takes up as little space as possible.
Nesting sets are ideal in this case.
Size
This will depend entirely on how many you are cooking for.
Here's a very simple reference to help you decide the volume of any containers when cooking:
1 person = 750 ml to 1 litre
2 people = 1 to 2 litres
3 to 4 people = 2 to 3 litres
More than 5 people = More than 4 litres
Material
Stainless Steel – Great all round option and what you'll find the most of. It's strong, scratch-resistant and durable. Good for use over a campfire and gas cookers. It's heavy though so not a good option for lightweight campers and backpackers.
Aluminium – Popular option among backpackers as its relatively lightweight and inexpensive. Good for keen chefs as it conducts heat well across the cooking area. Not as hard wearing as steel though and can dent easily.
Anodised Aluminium – A notch up on the durability levels compared to raw aluminium but it is pricier. It also doesn't react to food, unlike normal aluminium.
Titanium – Combines excellent durability along with being extremely lightweight. Is the priciest option but is most popular for those backpackers looking for the lightest option. Doesn't cook food as evenly as heat on an aluminium surface.
Silicone – Great option when you're looking to save space and reduce weight. Usually used in conjunction with metal to create pots, pans and kettles that are collapsible. Just be wary of any creeping naked flames towards the silicone.
Cast Iron – If weigh is not an issue and you're car camping then this is a great option because cast iron can be used on gas, charcoal or open fire. They are naturally non-stick, completely durable and will last a lifetime. You just need to re-season every so often. Can be pricey but you'll use them at home too!
Look out for non-stick coatings on your pans. Benefits include not needing as much cooking oil and they can be easier and quicker to clean up after! On the downside the coating can scratch off over time.
Now onto specific features.
Camping Cooking Set Features
Handles
These aren't really a feature as such.
Getting the right handles for cooking when camping it absolutely crucial.
A bad pot handle can render the whole pot useless.
You'll find the majority of the camping pots and pans sets have integrated folding handles.
The benefit of these is they improve portability but you need to find ones that lock into place securely when extended out.
Some sets don't have handles attached to the pot but rather a pot gripper.
It's a good idea to find handles with a heat proof coating to protect your hands whilst cooking. An example of these are foldable silicone handles.
Lids
Lids are essential to speed cup cooking time plus it saves you on camping gas/fuel!
Once you've finished cooking, keep the lid on it will also help with heat retention so your food stays nice and warm.
A handy feature on lids are ones that have a heat proof lifter on top along with strainer vents.
Nesting
You'll find many camping cookware sets nest nicely together and saves space.
Even if you're not backpacking where space is at a premium the nesting keeps everything neatly together so you don't leave anything behind!
Plus, inside the smallest pan being stored is room for some other items like a washing up cloth, seasoning pots or even a portable stove!
Integrated Measurements
Most campers do not pack a measuring jug – which is perfectly understandable.
Look out for camping pots and pans that have in-built measurements on the inside.
This stops you from boiling any excess water and keeps camping energy efficient!
Storage
Camping cooking sets should come with some sort of storage bag.
This has a number of benefits.
It keeps everything organised – important given all the bits you take camping and helps prevent anything getting lost.
It also protects the pots and pans from damage, and also from any soot that has collected on them from getting onto any of your other gear.
You may find with some sets that nest don't have a storage bag.
FAQ's Camping Cooking Sets
Do you need special pots and pans for camping?
It can be helpful to have lightweight cooking equipment, which can be collapsible or nestles together for compact storage and travel.

Where is the best place to store camping cooking sets?
A great place to put all of your cooking equipment is in a camping kitchen.

See our guide to the best camping kitchens.
Camping Cooking Set Deals & Today's Bestsellers
Final Thoughts
I hope this list of the best camping cookware was helpful.
If you think I left any out that should be included or have a suggestion for a future article, let me know in the comments below.
Dominic
Last Updated: March 2022
Added 'How We Selected.'
Updated image.
Added link to external website.
Added Pros/Cons on all products.
Added FAQ's.
Added Alternative Retailer.
Added Final Thought.
Camping Buyer's Guides
Help ease your shopping with our in-depth buying guides for your next camping purchase.
Camping Furniture (Chairs, Tables, Sofas)
Sleeping (Camp Beds, Sleeping Bags)
Cooking / Kitchen
Tents
Roof Racks & Bags
More Camping Products / Guides
Your Camping Checklist
There's something you always forget when packing for a camping trip. Use our handy camping checklist to make sure you don't forget anything important.
Get more out of your next adventure in the great outdoors with these 24 brilliant camping hacks.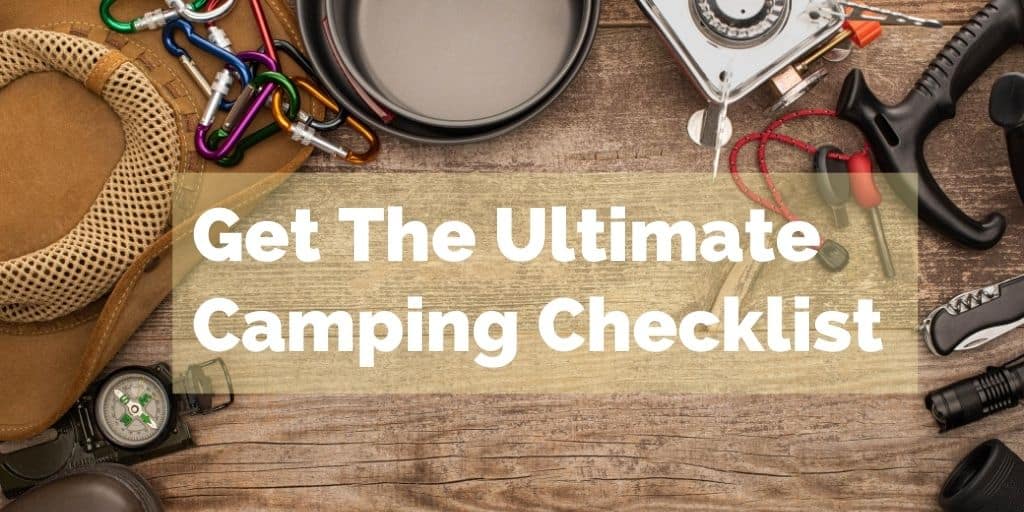 Get more out of your next adventure in the great outdoors with these 24 brilliant camping hacks.