For this post, I have put together a collection of the best camp beds currently available. For more top picks and buying guides, see my camping checklist. See my best buys for double airbeds and king size air beds.
Our Top Picks: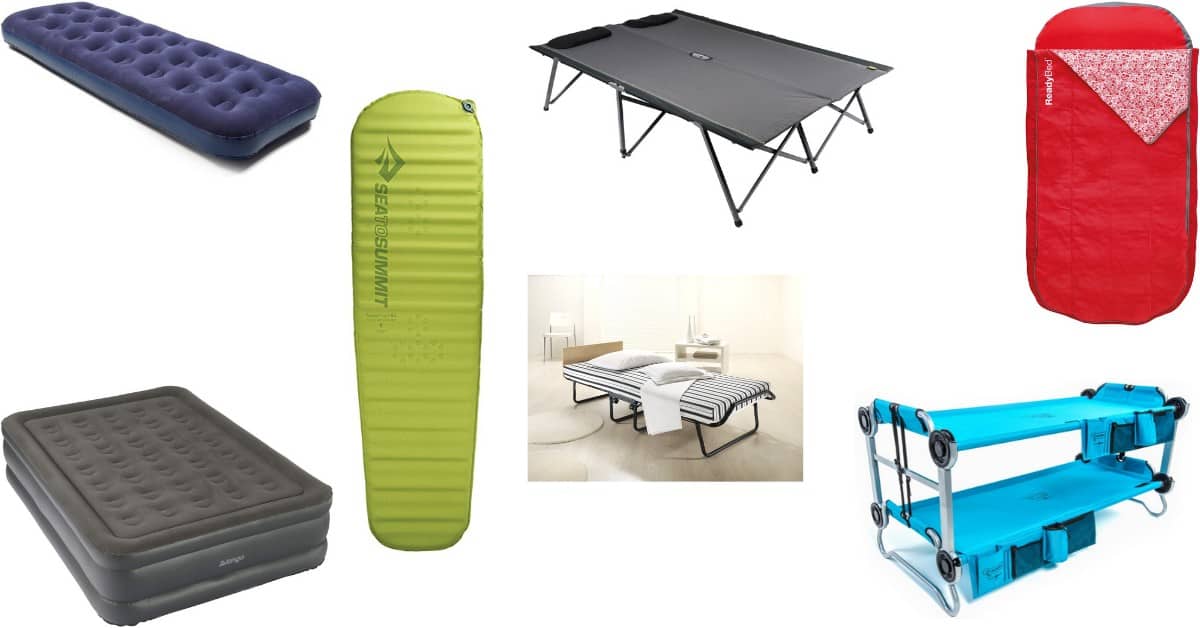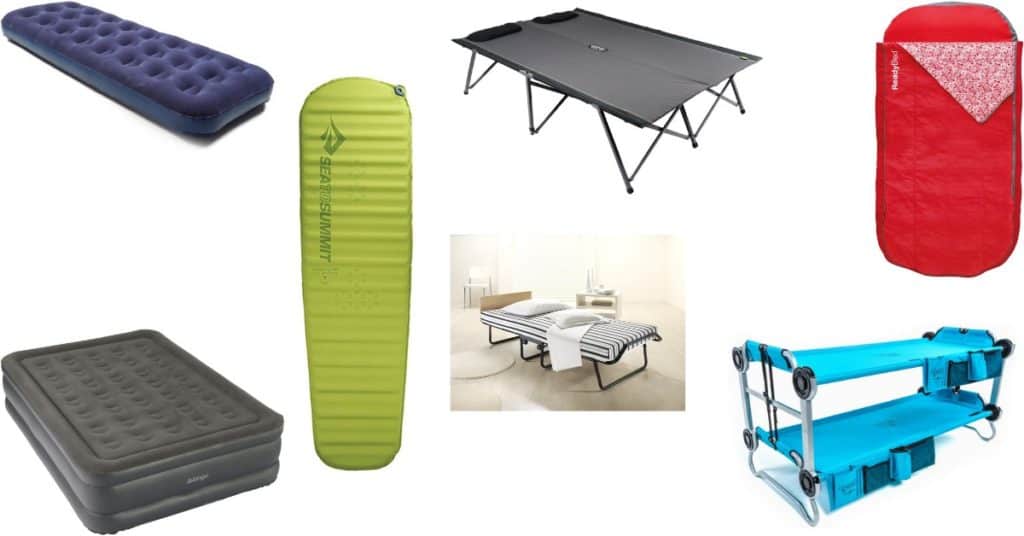 If you're not sure where to start when looking for a camping bed then you've come to the right place.
There are so many different styles and types to choose from.
We've broken it down into clear categories so that you can easily find the best camp bed for you.
A quality camping bed can make all the difference, from going on your next family camping trip, to entertaining guests or heading off to a festival, we've covered all options.
Related: You may also wish to see my top picks and buying guide for camping pillows and inflatable tents.
Let's get cracking!
Standard Air Beds
Eurohike Sleeping Flocked Airbed Single
Super affordable air bed for comfort and convenience.
Great for any camping trip, this single air bed has a flocked finish to prevent sleeping bag slippage for a cosy night's sleep.
Made from durable PVC material.
Coleman Airbed Maxi Comfort Bed
A single air bed which is ideal for both home and camping.
Its extra-long dimensions are suitable for taller campers and the light weight makes it easy to carry it around.
The top of the bed is flocked for comfort.
It is quick and easy to set up using manual or electric pumps.
AeroBed Active Bed
This single height air bed inflates in 60 seconds, so it's quick and easy to put up.
It has a built-in pillow and flocked mattress to ensure comfort.
The coil technology promises a stable even sleeping surface for an ideal night's sleep.
It comes with rechargeable cordless pump for inflation.
Double Air Beds
Coleman Airbed Comfort Bed
This inflatable double air mattress is perfect for tents, caravans or use as a spare guest bed at home.
It's easy to inflate and deflate with hand or electric pumps.
Made from robust PVC material, the single height airbed features an advanced coil construction which provides a stable and robust sleeping surface for enhanced comfort and support.
The dual chamber technology enables each sleeper to define their level of firmness.
Vango Blissful Double Airbed
This flocked double air mattress features the ability to adjust the stiffness of the bed to your liking with the help of the custom comfort settings.
The Silent Top Up system gives you peace of mind that the bed won't deflate over the night due to the system ingeniously sensing any loss in air pressure.
This bed features an incredibly soft surface combined with an elevated height replicating your home bed for that homelike feel.
PVC carry bag included.
Aerobed Comfort Raised King Size Air Bed with Flocked Surface and Pump
This king sized raised height air bed fully inflates in less than three minutes with its powerful mains operated pump.
It has a flocked surface for extra comfort. and its anti-roll technology promises a stable sleeping surface for the ideal nights sleep.
Its patented Whoosh(TM) Valve allows for super fast deflation in seconds.
Ready Beds
Single Adult Airbed- Pillow & Sleeping Bag in One 4 Piece Set With Carry Bag
This single airbed comes complete with bedding for your convenience.
The all-in-one bed offers a comfortable sleep with zips on both sides and a removable cover for easy washing.
It is easy to inflate with a pump (not included) and there is a pillow accessory included for added comfort.
Deluxe Junior ReadyBed – Inflatable Kids Air Bed & Sleeping Bag in One
This ready bed is the ultimate sleepover solution for little ones.
Perfect for holidays, camping or a night at granny's.
Great for parents it is an all-in-one solution comprising pillow, mattress and duvet.
It has an inflatable inner with a soft cosy cover.
There is also a handy pocket to keep your favourite stories safe while you sleep.
The cover can be easily removed for washing.
This inflatable bed comes with an easy-to-use pump so that it can be inflated in minutes, plus it has its own integral carry bag which makes transporting the bed easy.
Self Inflating Air Beds
Sea to Summit Comfort Deluxe Si Mat
This self-inflating sleeping pad series gives 4 inches of plush thickness to give you space to sprawl.
This is the mattress for the ultimate night's sleep when car camping, canoeing or hiking.
Sea to Summit Comfort Light Self-Inflating Lightweight Camping & Backpacking Sleeping Mat
This self inflating mat gives you minimal weight and packs away nicely.
It also offers great comfort.
At 2 inches, the mattress will protect you from just about any less-than-perfectly flat terrain.
Vango Shangri-La 15cm Grande Self Inflating Mat
A self inflating large sized mattress designed to provide home away from home comfort when camping, which comes in a compact and convenient pack size.
The soft touch elastic fabric is soft and strong.
The Cyclone Valve allows for fast and easy inflation and deflation.
The vertical wall design ensures the entire upper surface is usable, providing a bigger surface area to sleep on.
ECOTEK Outdoors Hybern8 Ultralight Inflatable Sleeping Pad
This product is engineered to keep you comfortable whether you're in a tent or lounging in a hammock.
It has been designed by outdoor enthusiasts and built for fellow off-grid adventurers. The patent-pending FlexCell construction provides support for all your pressure points while reducing convective heat loss. Ideal for hikers.
Fishing Beds (Camp Beds)
TF Gear Survivor 3 Leg Carp Fishing Bedchair
You will get comfort and total back support with this carp fishing bed.
Bed provides support and spinal alignment.
The luxury foam mattress features breathable panels to give you a fresh sleeping experience.
Built on a premium quality lightweight yet incredibly strong frame, the bed delivers the perfect combination of strength and extravagance.
Grand Canyon Camping Bed
An extra long, extra strong camping bed which is ideal for tall people, but not great for small tents.
The sleeping surface is fairly high off the ground, which will be a help for those who struggle with mobility.
This camping bed is light, comfortable and easy to put up.
Kampa Folding/Portable Together Double Camp Bed
Double camp bed which cleverly folds out just as easily as a single camp bed of similar design.
The clever structure has a bar running in-between the sleepers which splits the bed into two parts and helps to prevent sleepers disturbing each other.
Although slightly heavier than other models it's easy to put up and is fine for those travelling by car or using is as a guest bed at home.
Camping Bunk Beds
Kid-o-bunk cot, bunk bed, camping bed
This excellent product can be built as a bunk bed, a pair of single beds, or even a couch, so it's ideal for home or camping.
Although it takes longer to set up, it's worth the effort as kids will loved it, it's super practical and easy to clean.
Kampa Collapsible Folding Camping Steel Framed Bunk Beds
With an oversized strong steel frame, this set of bunk beds allows you to make great use of usable space in your tent.
It is exceptionally stable, has integral soft-touch pillows and comes complete with a carry bag.
Luxury Camping Beds
JAY-BE Venus Single Folding Guest Bed with Dual Density Airflow Mattress
This camping bed is as close to a proper bed you will get.
It's not really an ideal bed for camping but it is great for using as a guest bed as it folds up with the mattress onto a set of wheels so you can roll it away for easy storage. The 8 legs keep it balanced and it has a headboard to keep your pillow from sliding off.
TF Gear Carp Fishing Bedchair
This camping bed is perfect if you suffer from a bad back as its fully sprung padding makes it super comfortable.
It also has adjustable feet which makes it great for fishing.
It's suitable for putting into a tent or making a comfortable guest bed at home.
It is an excellent choice of camping bed for a bad back.
Which Camping Bed Should I Choose?
Choosing a camping bed mainly comes down to personal choice and the type of mattress you prefer.
A standard air bed would be perfect for car camping or luxury camping. It would also be handy as a quick solution if guests stay over.
If you are looking for a comfortable blow up bed for a couple, then a double air bed would be an excellent option.
It would also be a great choice for glamping as you can take your own sheets, duvet and pillows, to make it extra comfortable.
Just make sure it fits inside your tent!
Fishing beds are great if you're going proper camping or for sitting in the same position for ages, fishing.
They are usually lightweight, portable and not too bulky so they won't take up too much room in your tent.
There are also luxury padded options, which are better for those who suffer with a bad back.
Planning on hiking and camping out under the stars?
Self-inflating air beds or camping mats are ideal as they roll up fairly small and are suitable for long trips.
Taking the kids?
Camping bunk beds could be a great option for space saving in a tent as well as being desirable for kids.
Ready beds include an all-in-one mattress, sleeping bag and pillow, so they are great for sleepovers.
All the products we've covered in this article are suitable for use at home or in a tent.
Today's Top Deals & Bestsellers
Camping Buyer's Guides
Help ease your shopping with our in-depth buying guides for your next camping purchase.
Your Camping Checklist
There's something you always forget when packing for a camping trip. Use our handy camping checklist to make sure you don't forget anything important.
Get more out of your next adventure in the great outdoors with these 24 brilliant camping hacks.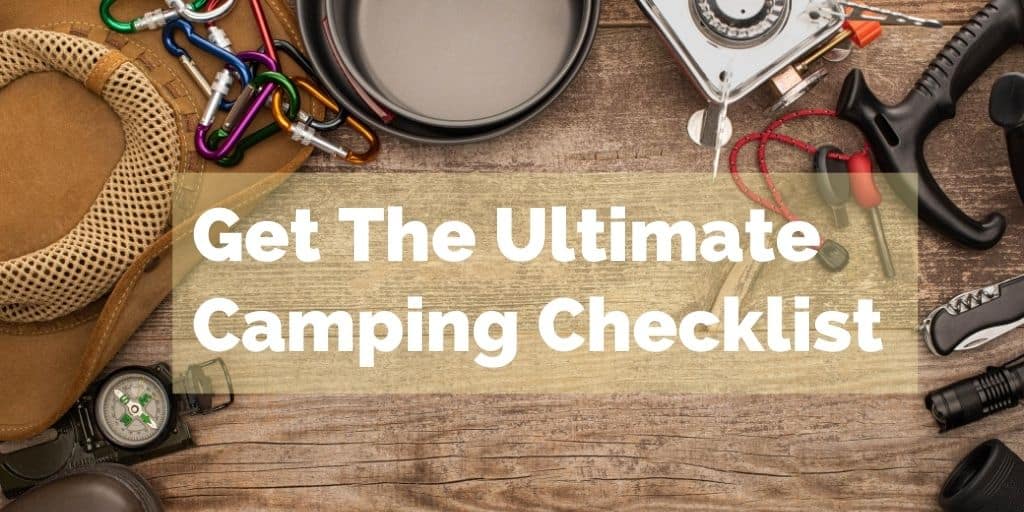 Get more out of your next adventure in the great outdoors with these 24 brilliant camping hacks.