For this post, I have put together a collection of the best charcoal BBQs currently available. Also see my guide to the best BBQS and BBQ tools.
Our Top Picks
Show Today's Top Deals
These are today's top deals and bestsellers for charcoal BBQs.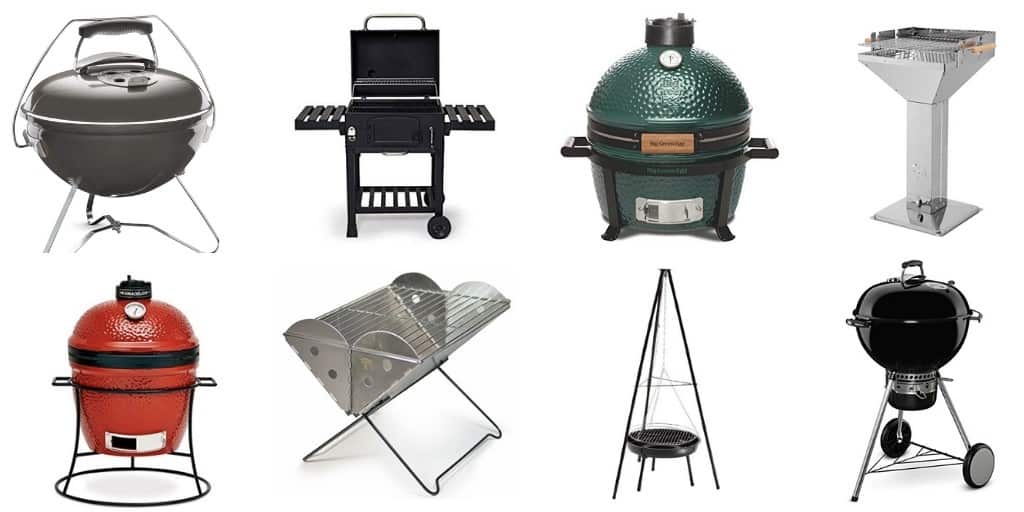 ---
If you're after that authentic fire-food-smoke experience then there is only one way to go: Charcoal Barbecues.
Sure, gas barbecues are quicker, cleaner and more convenient but you can't beat the taste of a charcoal one. The joy from cooking your food over fire has been with us since the beginning of time.
Like any barbecue type there are hundreds too choose from.
Our aim in this review is to look at those that only get the most enthusiastic feedback. I have broken the charcoal BBQs down into the various types from super portable ones that are perfect for camping or the beach, to simple drum styles and open grills through to the most professional (and largest) ones American-style.
Within each type I've included the best budget ones through to the most expensive and many middle of the road price options.
If you're interested in other type of bbq grills and camp fires see my top picks for camping stoves, camping firepits, portable bbqs and teppanyaki grills.
So here is my list of the the best charcoal BBQs.
Weber Master-Touch Charcoal BBQ
Discount - Save £9.01
Pricey but excellent option if you're looking for a large classic kettle barbecue from one of the best brands.
Built-in thermometer is handy for barbecuing with the lid down.
Easy to clean with smart feature to clean out ash.
This weber is extremely hardy and weatherproof.
Loads of accessories available including sear grates, steamers and even a pizza oven.
This Weber clocks in at 21 kg but is easy to move around with two good wheels.
Available in black and grey.
Super enthusiastic reviews. 84% of 228 reviews gave this 5 stars out of 5.
Weber Smokey Joe Premium Barbecue
Weber is an exceptional brand and this classic small grill is a handy option for campers and going to the beach. Or perfect for small gardens.
It's simply a deep bowl for the charcoal with a grill on top.
There is an adjustable vent so you can tweak that your preferred levels of delicious smoky flavour.
It's available in a number of colours to suit your preference.
Handy feature keeps lid in place when not in use and then when you're grilling the lids clips so it's not lying on the ground.
BBQ fans love this Weber! From 599 ratings a massive 78% give it 5 stars.
UCO Grilliput Flatpack Grill (Foldable Grill & Firepit)
This is my go to portable charcoal BBQ for camping and going to the beach.
Extremely versatile, highly portable grill and firepit.
Packs compact for easy transportation.
Stainless steel construction so it's durable and easy to maintain.
Folds out ready to go in less than a minute.
Folds to less than 1.5 inches and comes with handy canvas storage bag.
The design means the sides act as a wind break.
Very impressive firepit that holds a good amount of wood and creates a large blaze for its size.
Exceptional reviews. 79% of buyers give this 5 stars.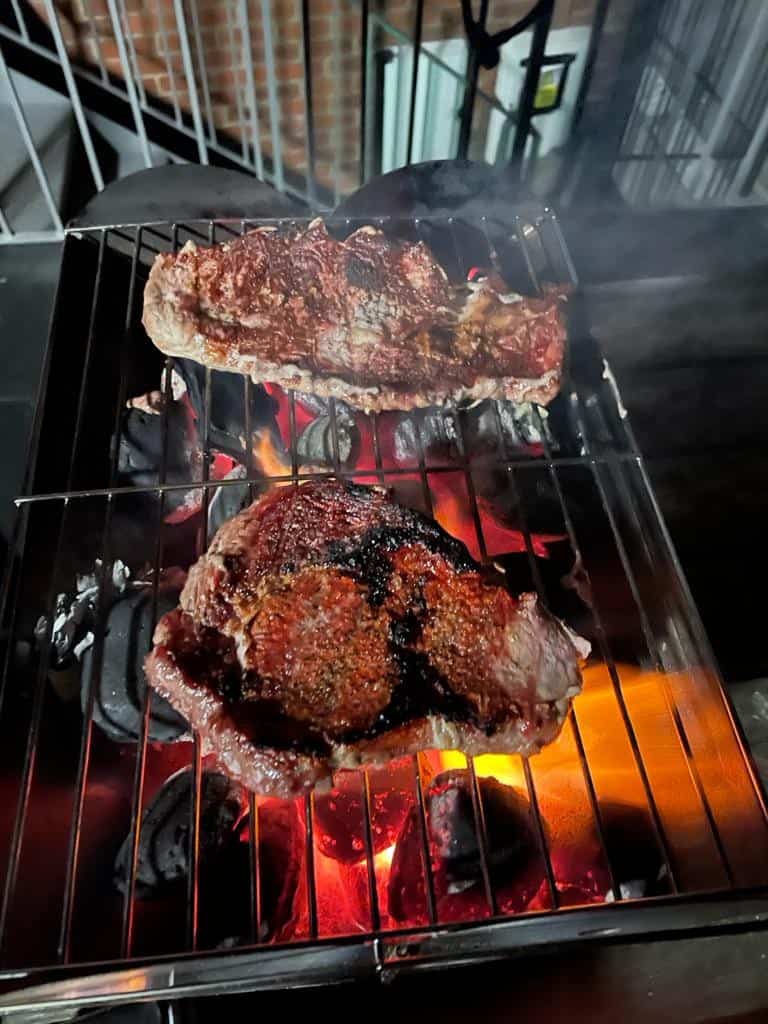 MiniMax Big Green Egg
This is a Kamado oven, a Japanese-style ceramic oven with fantastic heat retention.
They come in a variety of sizes and this is one of their smaller models.
It is expensive but the results are exceptional.
Super simple to light, temperature dial tells you when you're ready to cook.
You control the heat by adjusting the air vents top and bottom.
Where To Buy: John Lewis | BigGreenEgg.co.uk
CosmoGrill XL Charcoal BBQ Grill
No products found.
Excellent choice if you're looking for a well priced, large Charcoal BBQ
Large grill – easily fits a whole chicken with a cooking area of 58 x 43 cm.
Includes Warming Rack Inside.
Handy two side shelves for storage space.
Four hooks on the side shelf for utensils.
Be prepared it will take an hour or two to assemble.
Weights in at 27.8 kg but has two wheels to easily move around the garden.

No products found.

. From 204 ratings, this scores an average of 4.7 out 5.
81% of buyers give this 5 stars out of 5. Bestselling charcoal barbecue.
Kamado Joe Junior Grill
Discount - Save £108.00
Excellent option if you're looking for a ceramic charcoal grill. Similar but less expensive than the MiniMax Big Green Egg.
Unlike the Big Green Egg Mini max this one comes with a ceramic heat deflector which is excellent for slow cooking.
The best reviewed charcoal grill out there! 94% of buyers give this 5 stars out of 5.
Scores a huge 4.9 out of 5 from 759 ratings.
Weber Compact 47cm Charcoal BBQ Black
Discount - Save £24.83
Excellent medium sized option, well priced, great reviews.
Available in two sized 47 cm and 57 cm.
Weights 7 kg but very easy to move around with two wheels.
Handy one-touch cleaning system – simply flip the switch and the ash is collected in the no-rust aluminium bowl.
Fantastic reviews. 83% of buyers gave this 5 stars out of 5.
It scores an average of 4.7 out of 5 from 800 purchases.
George Foreman GFKTBBQ Charcoal BBQ
Excellent value for money if you're looking for a budget medium sized classic charcoal BBQ.
Not up to the quality of a Weber but far cheaper.
45cm diameter cooking area.
2 x integrated wheels for manoeuvrability
Integrated temperature gauge for precise cooking
Very well reviewed. From 149 ratings, 78% gave these 5 stars out 5.
Landmann Tripod Charcoal Barbecue
If you like a traditional option this is a portable campfire with grill.
Ideal for camping or beach days out.
You simply raise or lower the grill to vary the heat.
Not well suited to those with younger children in the party.
Great reviews. From 537 ratings this scores an average 4.6 out of 5.
77% of buyers give this 5 stars.
Tepro Vista Charcoal Pedestal BBQ
Sleek, stylish design if you're looking for something a little different – and it's a decent performer.
Chimney effect and adjustable air vent gives you control of the amount of air getting into the charcoal.
Easy to clean with ash container.
Good reviews. From 654 ratings this scores an average 4.4 out of 5.
Argos Home 43cm Kettle Charcoal BBQ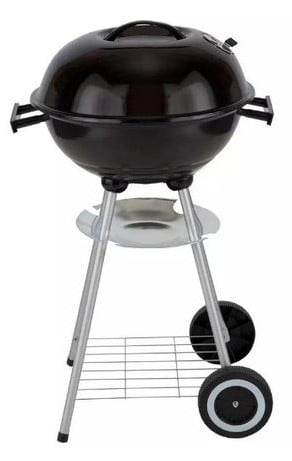 On a budget? This is the cheapest all round performer for a medium sized barbecue.
43 cm diameter cooking space and you can move it around the garden easily with the wheels.
Weighs 3.1 kg, simple ash try and handy shelf at bottom.
Outstanding reviews. From 2,616 reviews this receives an average of 4.4.
91% of buyers would recommend this to others.
Today's Top Deals & Bestsellers
What To Consider When Choosing The Best Charcoal Grill BBQ For You
Ultimately the first thing to decide is where you'll be using your charcoal grill and how many people you will be feeding.
You may decide to buy a highly portable, lightweight one for the camp site and beach – and then a less portable, classic BBQ grill for the garden that can cook for many more people.
Size
As you can see from above the sizes vary greatly!
Small grills are perfect for the beach and easier to manage as you're cooking less.
Medium sized grills have a cooking area of 40 – 50 cm and are sufficient for groups of 4 to 5 people.
Shape
The shape most commonly associated with the charcoal BBQ is the round shape with a hood. This shape encourages a circular stack of cool that provides heat around the outer edge.
You'll also see larger grills for gardens and highly portable ones have a rectangular shape. These maximise the cooking space – particularly important for portable charcoal BBQs.
Versatility & Funtionality
A charcoal grill in its simplest form is exactly that, some charcoal over a grill. Ultimately that's all you need! There is no requirement to invest in anything else, large enough for the party size.
Of course, there are numerous other features and bbq types that can give you more control over the cooking process or even cook your bbq in a different manner, such as the ceramic ovens.
Charcoal BBQ Frequently Asked Questions
How Do I Light A Charcoal BBQ?
Forget squirting endless amounts of lighter fluid to get started.
Watch this video from BBQ guru to show you how to light a grill the right way!
Why does charcoal BBQ taste better?
The characteristic smoky flavor is caused by the heat, rather than the smoke itself.

Charcoal is almost pure carbon and burns at a heat much higher than a gas grill.

On a charcoal BBQ, and especially so with meat, drippings pass through the cooking grill and are vaporised by the red hot coals underneath.

You'll know this is happening as you may see the odd flame flare up alongside a hissing sounds and some steam.

This drippings are composed of fats, sugars and proteins and as they vaporise on the coals, they pass back up into the food, filling it with flavour.

Depending how you like your BBQ, the longer you cook it, the more packed full of flavour it will be.

Of course, the taste is something very subjective. You may not be a fan of the flavour that a charcoal produces.

Just remember not to use lighter fluid, which can give an artificial flavour to the food. 
Are Charcoal BBQs eco friendly?
Charcoal is less environmentally friendly than electric or gas grills.

This is because a charcoal BBQ releases soot from the coals and a carbon monoxide by product.
How does a charcoal BBQ work?
Let's not complicate matters here. Leaving aside all new fandangled charcoal contraptions, the basic premise is a pit for the coals and a grill to hold the food.

Remember one of the most important aspects of a tasty bbq is to use good quality charcoal – it will burn at a higher temperature for longer and provides better flavour.
I hope this list of the best charcoal BBQs was helpful.
If you think I left any out that should be included or have a suggestion for a future article, let me know in the comments below.
Dominic
Barbecue Buyer's Guides