For this post, I have put together a collection of the best teppanyaki grills currently available. Also see my guide to the best BBQS and BBQ tools.
Our Top Picks
Show Today's Top Deals
These are today's top deals and bestsellers for teppanyaki grills.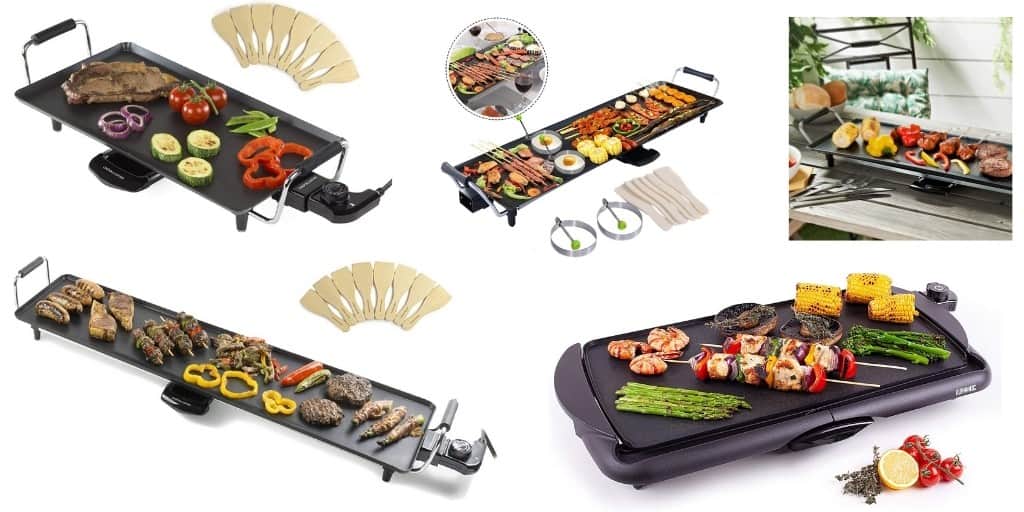 Teppanyaki grill literally translates as 'grilling on an iron plate'. Originating from Japan these grills allow for cooking and eating in the same place.
You can buy ones to use indoors and / or outdoors and they are used to cook multiple ingredients at the sane time.
They product absolutely delicious food and many use them as a replacement for a BBQ. They are super easy to use and even easier to clean.
With so many available to buy I've picked out the ones that only have the most positive and enthusiastic reviews.
So here is my list of the the best teppanyaki grills.
Andrew James Teppanyaki Grill (Large & XL)
Number one bestselling tabletop Teppanyaki grill
Available Sizes: Large (Featured) 46 cm x 24.5 cm, XL 68 cm x 23 cm
Good sized removable drip tray with well-designed groove for getting rid of surplus fat.
Includes eight wooden spatulas and recipe book.
6 individual heat settings.
The Andrew James Teppanyaki Table Grill is covered by a 2 year manufacturer's warranty.
Brilliant reviews. From 1,268 buyers this scores an average of 4.4 out of 5.
Andrew James Teppanyaki Grill (XXL)
As above but a lot bigger and suitable for larger gatherings.
Available Size: XXL 88 cm x 23 cm
Very good reviews. Scores 4.3 out of 5 from 217 ratings.
VonShef Teppanyaki Grill
Discount - Save £3.00
Cooking area 43cm x 22cm
Includes eight wooden spatulas and recipe book.
Detachable drip tray.
Manufacturer 2 Year Warranty Included.
Exceptional reviews. 76% gave these 5 stars out of 5 from 847 ratings.
Quest Teppanyaki Grill
Discount - Save £1.00
Cooking area: 47cm x 26cm
Available in three sizes: medium (featured), large and extra large.
Comes with a drip tray and 8 spatulas.
Complete control over grilling your food with the adjustable thermostat.
Fab reviews. From 2,397 reviews, 74% give this grill 5 stars out of 5.
COSTWAY Extra Large Teppanyaki Grill
The surface area of our grill measures 90 x 23cm.
Supplied with 8 free wooden spatulas and 2 egg rings.
5 temperature settings..
Outstanding reviews. From 114 ratings this scores an average of 4.7 out of 5.
81% of buyers give this 5 out of 5 stars.
Duronic Teppanyaki Grill
Cooking area: 52cm x 27cm
Select any temperature controlled by an adjustable thermostat dial.
Removable drip tray.
Excellent reviews. From 787 purchases this scores a brilliant 4.5 out of 5.
Livivo XXL Teppanyaki Grill
Cooking Area: 102cm x 23cm
Includes 8 wooden spatulas for cooking, scraping and serving.
Handy egg rings.
Very positive feedback. From 683 ratings 77% of buyers give this 5 stars.
Blackstone Gas Griddle Station
The ultimate teppanyaki style grill that has a huge grilling area of 720 sq inches.
If you're looking for something to replace your BBQ and include a grill then this is a good choice.
Includes two side shelves and a bottom shelf, which assists in food preparation and storage.
4 stainless steel burners that are independently controlled from low heat to high heat.
Easy-to-use push start button for ignition, which is battery powered.
. From 683 ratings 77% of buyers give this 5 stars.
Hugely popular and much loved. From 2,935 ratings, 87% of buyers give this 5 stars.
Today's Top Deals & Bestsellers
What Features To Consider When Buying a Teppanyaki Grill
In Japanese, Teppanyaki grill translates to 'grilling on an iron plate'.
These grills are great for family dining or having friends over – you cook and eat in the same place so it's a very social and collective form on dining.
Plate Size
What plate size you go for will depend on your use – will you be using for just a few of you or will you be grilling with a number of guests visiting.
A general rule of thumb is that for smaller groups you're looking at a grill size of maybe only 40 cm. For larger groups, a XXL grill may be up to 90 cm or even bigger.
If you are tempted with a super large one for entertaining and feeding many guests have a think about storage – as they can be up to 1 m in length!
Temperature Controls
This is a personal preference – you may be fine with the grills that have half a dozen temperature settings. Or you may wish for more granular control and a grill that will let you set a very specific temperature.
Grill Material
You can pick up Teppanyaki grills in any number of materials.
These can include iron, stainless steel, aluminium or even copper.
You can also find ones where the material surrounding the grill area is in a wooden effect.
Cleaning
The majority of teppanyaki grills have a non stick coating and this makes them easy to wipe clean, with a warm cloth after it's been used and cools down.
On the downside they are not dishwasher safe.
It's also preferable to pick up a grill with a built in drip tray. This keeps the fat away which is healthier and also makes them easier to clean.
Teppanyaki Grill FAQs
What is a Teppanyaki grill?
They are long, flat grills around which diners are seated. If you use them at home for entertaining family and friends they are a very sociable way of dining – where you cook and eat together.

They originate from Japan and are common in Oriental restaurants where the chefs grill the ordered food in front of you. It's an excellent up front and personal way to observe their culinary (and knife!) skills.
What can I cook on a Teppanyaki grill?
It's essentially anything that you grill – for example seafood, vegetables, chicken, vegetables, steak or even certain types of noodles.
I hope this list of the best teppanyaki grills was helpful.
If you think I left any out that should be included or have a suggestion for a future article, let me know in the comments below.
Dominic
Barbecue Buyer's Guides