For this post, I have put together a collection of the best dual fuel BBQs currently available. Also see my guide to the best BBQS and BBQ tools.
Our Top Picks
Show Today's Top Deals
These are today's top deals and bestsellers for dual fuel BBQs.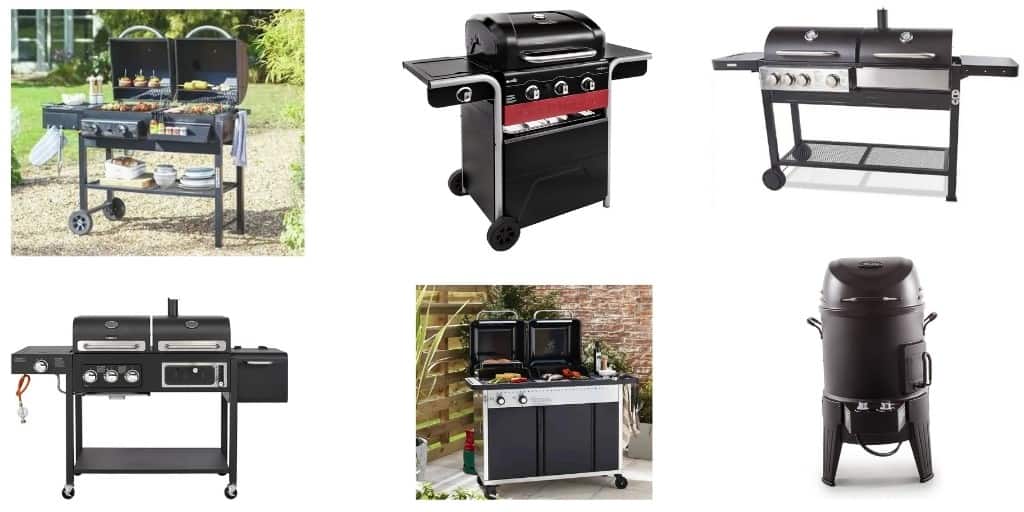 ---
The beauty of a dual fuel gas BBQ is they give you the convenience and speed of gas with the rich, smoky flavour of charcoal.
In this guide I'll walk you through the hybrid BBQs that only get the most positive and enthusiastic reviews, covering all budgets.
Prefer a non hybrid option? See my top picks for the best gas bbq and charcoal bbq.
Need charcoal fuel? Get today's deals on the finest charcoal briquettes and lumpwood charcoal.
So here is my list of the the best gas charcoal combo grills.
Aldi Dual Fuel BBQ – Gardenline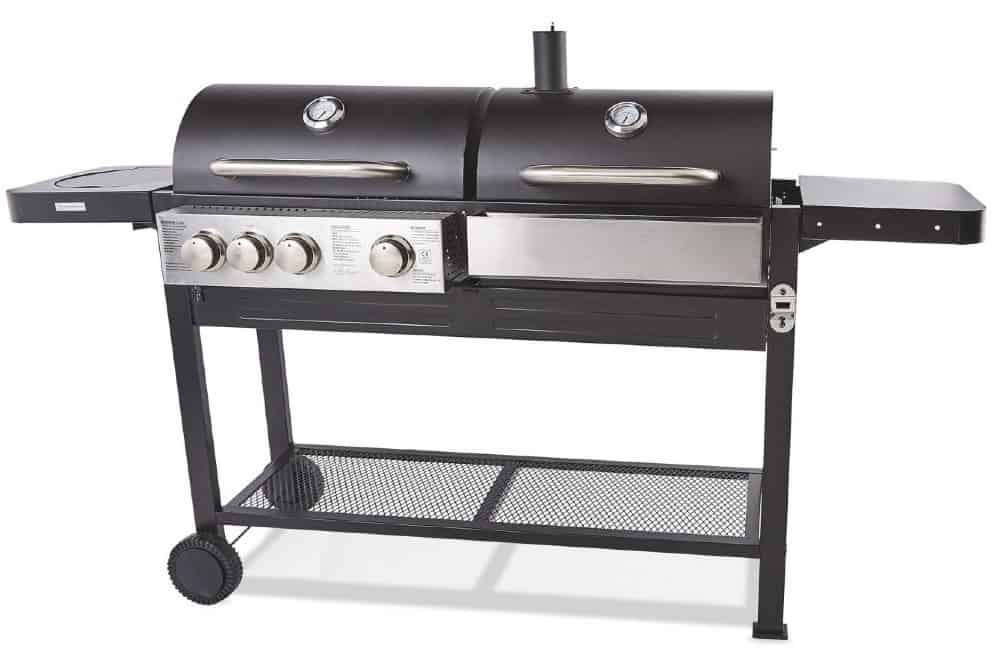 Extremely popular hybrid BBQ from Aldi (Please note this is difficult to get hold off – either out out of stock or not currently available). See their website.
Two cooking grids for charcoal, two for gas.
Lots of handy features – spice box, bottle opener, hooks for BBQ accessories.
Two foldable side shelves and thermometers in the hoods.
Takes a couple of hours to assemble, not difficult, just takes time.
Comes with a regulator and hose.
Excellent reviews. From 430 reviews, it scores an average of 4.4.
Char-Broil Gas2Coal Hybrid Grill
Excellent hybrid all rounder that does both well!
When you cook with charcoal it uses gas to heat up the coals.
Side burner included.
You can buy this hybrid in 2, 3 or 4 burner options.
Brilliant reviews. 79% of 225 buyers gave this 5 stars.
Argos Dual Fuel BBQ
Premium Dual Fuel Charcoal & Gas Combi BBQ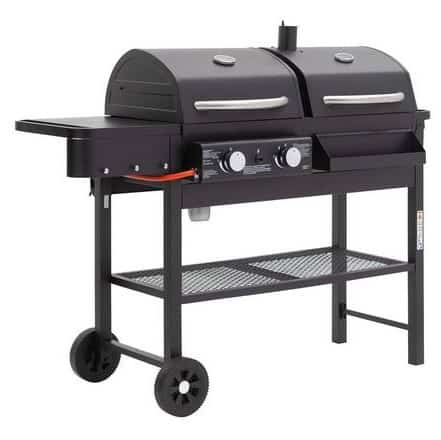 Argos' most popular and bestselling gas and charcoal combi.
Lots of handy features including two thermometers, storage shelf, side shelf, spice rack, hooks for tea towels and BBQ tools.
Suitable for both propane and butane gas, only the regulator for propane gas included.
Buyers love this BBQ. From 74 reviews it scores an average of 4.7 out of 5.
Recommended by 99% of customers.
Feedback is that it's easy to assemble, sturdy and great value.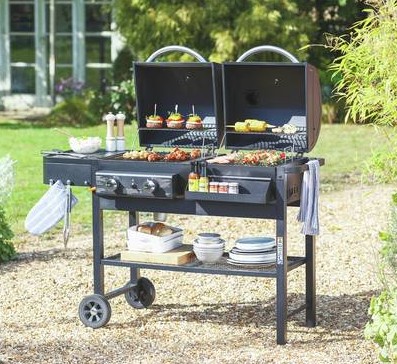 Char-Broil The Big Easy (Dual Fuel BBQ
With Smoker & Roaster)
Discount - Save £69.99
Fantastic trio of functions to feed large groups.
Impress your party with delicious smoked meats.
You can slow cook whole chickens and lamb joints (up to 11 kg) or hook (x4) racks of ribs to the basket.
Fab reviews. From 105 ratings, 77% of buyers give this 5 stars.
Common buyer comments are that it's super easy and convenient to smoke meats.
GoodHome Rockwell Black Hybrid Barbecue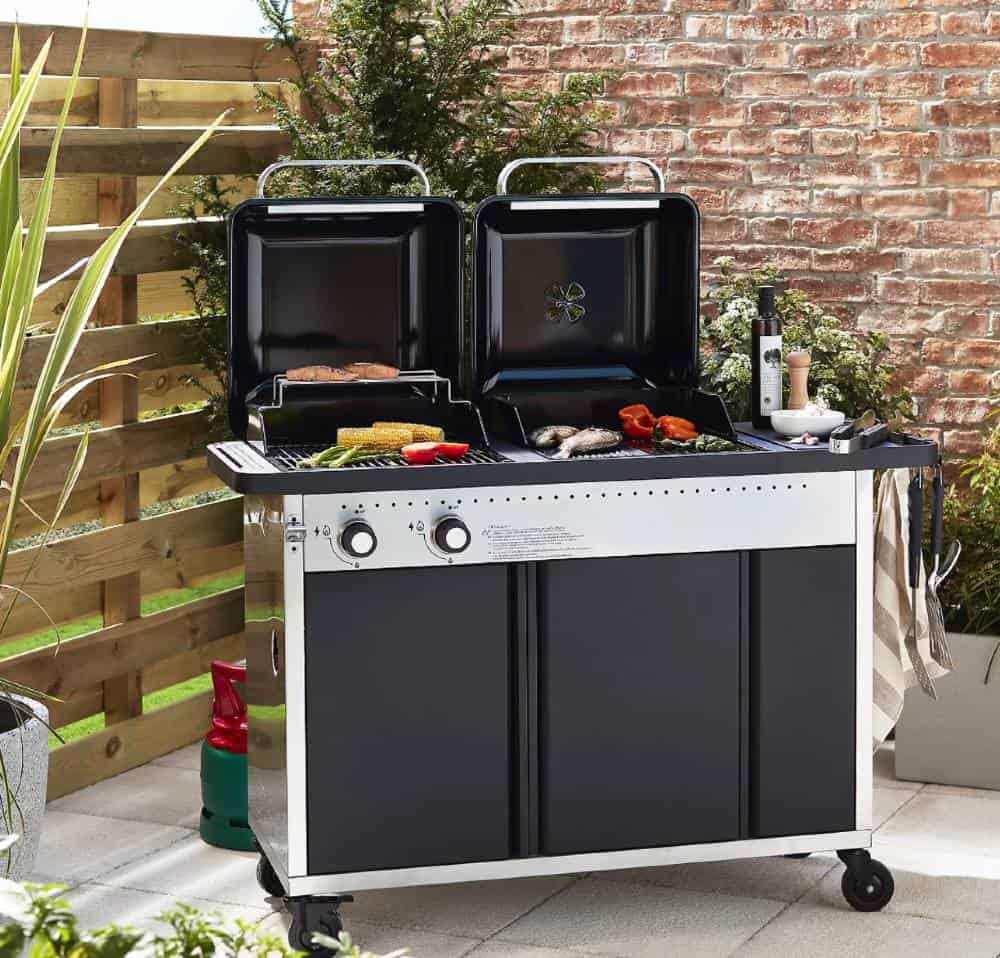 Need a big feed? This cracker lets you use charcoal and gas at the same time and you can feed up to 14 people.
Includes integrated warming rack, loads of room underneath, side table, three hooks and bottle opener.
Has 4 wheels (many have two) so it makes it simple to move around the garden.
Bonus points for the dishwasher safe grill.
Fantastic reviews. Only 5 but all are 5 stars!
Customers love the look of it, easy to assemble, very sturdy.
Takes a while to assemble and not the most sturdy.
CosmoGrill Barbecue DUO Gas Grill + Charcoal Smoker
If you have a big family or cooking for a large group this is a good option.
Cooks for up to 20 people with combined cooking area over 80cm.
Removable grease tray for easy clean up.
Fire chamber creates 'offset smoker' effect for you to cook ribs and briskets.
Also included is a propane gas 37 mbar regulator and hose.
Excellent reviews. From 17 ratings, 78% give it 5 stars.
Common buyer comments are that it looks good and cooks well.
Today's Top Deals & Bestsellers
Are Hybrid BBQs Any Good?
Yes they are! But it's good to be aware of their pros and cons. Because they cater to both gas and charcoal there are some concessions you have to make, compared to buying a specific one.
Advantages of a dual fuel BBQ
Multi-functional – with a hybrid you get the best of both worlds with the convenience of gas and the delicious smokey flavour of cooking with charcoal. There are lots of choices to add even more cooking methods – including smokers, roasters or cooking with wood chippings.

Money-saving – Buying one dual fuel BBQ is usually cheaper than buying two separate ones.

Space-saving – A charcoal gas combo can also save you space over the need for having two options.
Disadvantages of a dual fuel BBQ
Jack of all trades – as with other combination product, cooking or otherwise, the combination grill won't be as effective at gas (or charcoal) as a gas only cooker. So if you see yourself as mostly using gas for its convenience (or other benefit) you could invest in a specialist gas bbq and then get cheaper charcoal bbq or even a portable bbq.

Less Cooking space – Due to the hybrid bbqs usually having a grill split between gas and charcoal, unless you are using both, you are dividing your cooking space in two.

Bigger units – Again, as you have two cooking surfaces, dual fuel bbqs tend to be generally bigger overall than specialist BBQs.

Higher price – although there are cheap models, decent hybrid bbqs need to do both well and this does come at a price.
I hope this list of the best dual fuel BBQs was helpful.
If you think I left any out that should be included or have a suggestion for a future article, let me know in the comments below.
Dominic
Barbecue Buyer's Guides