For this post, I have put together a collection of the best large and portable gas barbecues currently available for gardens, picnics, patios, balconies and camp sites. Also see my guide to the best BBQS and BBQ tools.
Our Top Picks
Show Today's Top Deals
These are today's top deals and bestsellers for gas BBQ.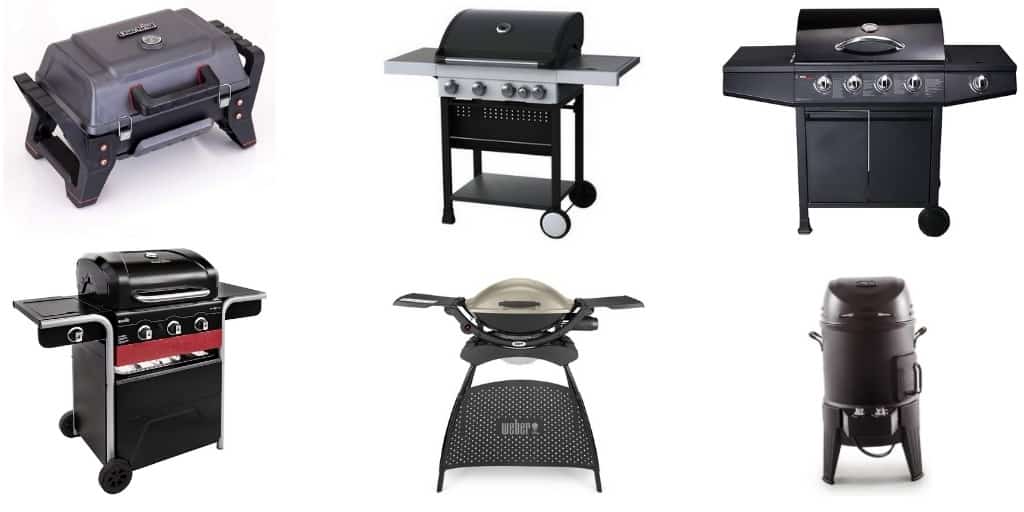 ---
Gas barbecues are versatile and easy-to-use compared to many charcoal options.
They combine gas hobs and grill bars to make a simple outdoor cooker.
I've only selected the gas barbecues with the most enthusiastic, positive reviews from 100s of purchases.
No matter your budget and whether you're looking for a light, portable gas bbq for the beach or a large gas grill for entertaining large numbers of family and friends.
I've also included budgets that go from the best value through to the most professional, high end barbecue.
So here is my list of the the best gas barbecues.
Best Portable Gas BBQ
Char Broil Gas BBQ – X200 Grill2Go
Discount - Save £94.99
Fantastic build quality this option is good where the use of charcoal is not permitted such as campsites.
It is weighty clocking in at 11kg and it does require regular cleaning.
Char-Broil are known for their grilling technology so you can be sure you get an even cook across the grill plate.
BBQ fits perfectly in a big blue IKEA bag.
Cools down in less than 20 minutes
Very well reviewed. From 288 ratings 68% of buyers gave this 5/5 stars.
Average review 4.3 out of 5
Weber Gas BBQ – Weber Q 1000 Gas Barbecue
Discount - Save £77.62
One of the best high performing portable BBQs perfect for trips to the beach or using at the campsite.
Features a stainless steel burner, heat resistant frame, push-button ignition and built-in carry handles.
Grills are in two pieces made from heavy duty cast iron, coated in a nonstick finish.
Removable drip tray collects fat and food residue for easier cleaning.
Amazing buyer reviews! From 108 ratings, a huge 92% gave this 5 stars.
Many buyers comment that it's as good as new after 10 years!
Like the Weber Q 1000 but want more space? Then check out the Q 2000 – same design but you get an additional 81 square inches to play with.
Best 4 Burner Gas BBQ
Argos Gas BBQ – Argos Home Premium 4 Burner Gas BBQ & Side Burner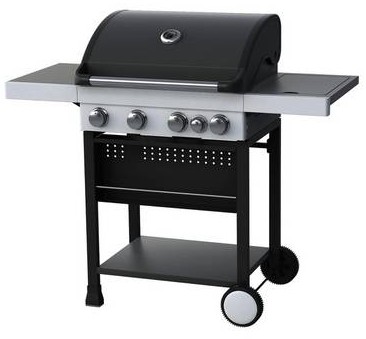 Easy-to-use, convenient, versatile, lots of great features and low price to boot!
Features porcelain cooking grill, side burner for smaller dishes, handy heat rack.
Useful condiment rack and bottom shelf for storage.
Barbecue dimensions: H107.5, W123.5, D56.7cm
Cooking area: 41 x 6 1cm
Outstanding reviews for a budget 4 burner gas bbq. From 1,357 reviews it receives an average of 4.6 out of 5.
CosmoGrill 4+1 Gas BBQ
Mid price range but still excellent value, good quality for large groups with big cooking area.
Four main gas hob burners and one side-burner for griddle options with thermometer.
Barbecue dimensions: 126 x 50 x 103 cm approx (LxWxH)
Cooking area: 61 x 32 cm (approx)
Takes around two hours to assemble.
Exceptional reviews. From 465 ratings, 70% give this 5 stars out of 5.
Best Hybrid BBQ
Char-Broil Gas2Coal Hybrid Grill
Discount - Save £52.09
If you're not ready to commit to either gas or charcoal then this is an excellent hybrid all rounder that does both well!
When you cook with charcoal it uses gas to heat up the coals.
Side burner included.
You can buy this hybrid in 2, 3 or 4 burner options.
Brilliant reviews. 79% of 225 buyers gave this 5 stars.
Char-Broil The Big Easy – Gas Grill, Smoker & Roaster
Fantastic trio of functions to feed large groups.
Impress your party with delicious smoked meats.
You can slow cook whole chickens and lamb joints (up to 11 kg) or hook (x4) racks of ribs to the basket.
Fab reviews. From 105 ratings, 77% of buyers give this 5 stars.
Common buyer comments are that it's super easy and convenient to smoke meats.
Today's Top Deals & Bestsellers
Benefits Of A Gas Barbecue
Very simple and quick to light and get going. You can get to cooking temperature within 10 minutes.
Easy to control temperature through simple gas flow dials.
Less mess and easier/quicker to clean. There is no coal and ash from wood or charcoal.
Cooking versatility with hoods, side burners and more.
Downsides Of A Gas Barbecue
You don't get the same classic chargrilled BBQ flavour.
Tend to be larger and take up more storage space.
Added weight and requirement to buy and storage gas canisters.
Gas is generally more expensive than buying charcoal or wood.
What To Consider When Buying A Gas Barbecue
In this article we've looked at three main types of gas bbq: portable gas bbqs, larger / 4 burner barbecues and hybrid bbqs.
Which one you choose will depend on how and where you plan to use it, your budget and your personal preference.
Size
If you're looking to add one to your garden or patio you'll need to check the dimensions of any potential grill, to make sure it will fit properly. You'll also need to think about storage areas, and particularly off season.
Depending how many you'll be cooking for will determine the dimensions of the grill that will best suit. I've picked some of the best 4 burner ones that will be perfect for large groups.
Gas Only Or Hybrid?
Are you happy with gas only bbq?
There are options to combine with a charcoal one so you can switch between the two. Or you may wish to choose a hybrid that can also smoke or roast meats.
Features
Keep an eye out for any features that you would like with your barbecue purchase?
Food Preparation Areas can include features like pull out side shelves or roasting baskets.
Slow cooking or smoking functions.
Ability to light a selection of hobs instead of them all – ideal if you're cooking for fewer people.
Integrated thermometers.
Built in carry handles.
Where To Buy a Gas Barbecue
Gas BBQs are in huge demand through spring and summer so if you're understandably looking at these times, you may find stock levels low. Here's a few places to try:
Gas BBQs – Frequently Asked Questions
What Gas do I use for a Gas BBQ?
Usually propane. It is well suited to use all year round (particularly during the cooler months) and most bbqs come with a propane regulator.

Butane may also be an option if you have the right gas regulator. Butane can be a little cheaper and sometimes more efficient in the warmer months.

I recommend checking with specialists. Anyone in a camping shop can advise or check with B&Q or gas specialists, Calor.
How To Clean a Gas BBQ?
Preferably you should clean a gas BBQ after every use, to prevent build up of fat and food.

Start things off by getting the grill going, closing the hood, and letting it come to full temperature.

Wait at least 20 minutes for the extreme temperature to singe any stuck-on food or grease.

IMPORTANT – Ensure the gas tank is disconnected

Then dip the wire brush into a bucket of warm, soapy water and scrub off all the carbon from the grates.

After cleaning it is advisable to store your gas barbecue away properly in a secure, dry place. A well fitted barbecue cover will also help to maintain your grill in excellent condition.
I hope this list of the best gas BBQs was helpful.
If you think I left any out that should be included or have a suggestion for a future article, let me know in the comments below.
Dominic
Barbecue Buyer's Guides