For this post, I have put together a collection of the best cast iron chimineas currently available. Also see my guide to the best BBQS and BBQ tools.
Our Top Picks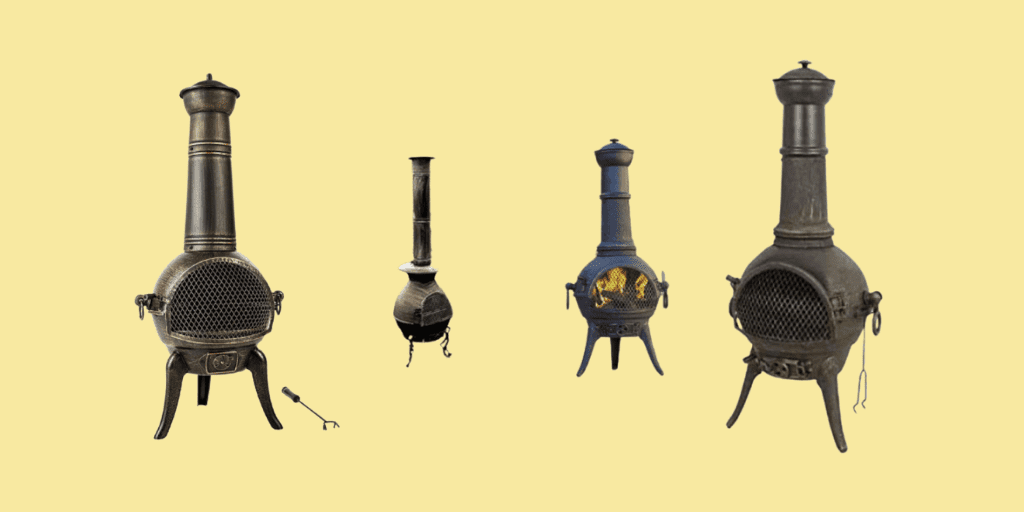 ---
A chiminea is essentially a little outdoor fireplace, so that you can enjoy your garden when the sun goes in (or doesn't come out!).
How We Selected
Chimineas come in lots of different shapes, sizes and materials including clay, steel or cast iron. They are ideal for any sized garden and there are styles to suit all tastes and budgets.
We have picked some of the best cast iron chimineas on the market, all of which have excellent customer reviews.
Or take a look at the Best Outdoor Pizza Ovens, Camping Fire Pits and 3 in 1 Fire Pits.
Warning: Cast iron chimineas get very hot so ensure children and pets are supervised at all times while in use. Outdoor use only.
Get your practical guide to open fires and wood burning stoves.
So here is my list of the the best cast iron chimineas.
Cuba La Hacienda Cast Iron Chiminea
No products found.
We particularly like the design of this cast iron chiminea.
It is made of durable cast iron and includes fire bowl & legs with a steel flue.
With a protective mesh door.
Pros: Metal tool and lid are included, nice design.
Cons: Quite small.
H112cm x D50cm.
Consumer Score: Very good reviews – 70% of buyers give it

No products found.

.
Retailers:

No products found.

and Trade Point.
---
Castmaster stoves® – Calico Cast Iron Chiminea
Traditional cast iron wood burning chiminea.
We love that the oven can be finished in a choice of Antique Bronze, Antique Copper or Antique Pewter.
The front steel grill is hinged to the body of the stove and fitted with a handle for safe operation.
Pros: The flue has as an adjustable air flow control to regulate the burn rate of the fire, you can choose choice of finish.
Cons: The most expensive of our picks.
115cms Tall / 50 cms Diameter
Consumer Score: Good reviews – 61% of buyers give it 4-5 stars.
---
Blumfeldt Titus Cast Iron Stove
This sturdy terrace stove is made entirely of cast iron

.
Its antique design will look stylish in any garden.
Pros: Watch the beautiful flames thanks to 360 degree fire view, the all-round grid prevents flying sparks, this one comes with a rain cover for protection.
Cons: Not a traditional looking chiminea.
55 x 120 cm.
Consumer Score: Great reviews – 100% of buyers give it 4-5 stars.
---
Outdoor Living Large Cast Iron Chiminea
6 ft extra tall cast iron chiminea for a statement look.
With decorative feet.
Pros: A strong and durable chiminea, with a door slider for easy ash removal, tall.
Cons: Assembly not straightforward.
18 x 5 x 1.5 cm
Consumer Score: Good reviews – 68% of buyers give it 4-5 stars.
---
TecTake Large Cast Iron Chiminea
Decorative cast iron chiminea.
Doors are lockable with flying sparks grille-guard for safety.
Includes a ventilation regulator.
Pros: Has a removable grille rack and detachable chimney cover, stylish antique look.
Cons: Not all cast iron.
Consumer Score: Excellent reviews – 71% of buyers give it 4-5 stars.
Looking for BBQ tools? See our guide to the best BBQ Tools.
---
Blooma Etinas Steel Chiminea
Decorative cast iron and steel chiminea.
Product height 112cm – Product diameter 50cm.
Pros: Sturdy and durable, with decorative detailing.
Cons: Fiddly to assemble.
Consumer Score: Great reviews – 71% of buyers give it 4-5 stars.
---
What To Consider When Buying A Cast Iron Chiminea
Weight
Cast iron chimineas are very heavy and should only be placed once and kept in the same position. They are not meant to be moved from place to place.
Maintenance
Resealing of the chiminea will be necessary to keep it in good working order and to avoid corrosion of the fire bowl and stack.
A good cast iron chiminea will last a lifetime.
Base
The correct base for a chiminea is either on a terracotta tile, concrete, or levelled sand.
Whichever base you decide to use you must make sure it is level.
FAQs Cast Iron Chimineas
Are Cast Iron Chimineas Better Than Clay?
Cast iron chimineas can withstand much more heat than clay, so you can therefore create more heat by burning either wood or coal in them.

Cast-iron is man-made and looks less natural than clay, but the traditional shaped designs or contemporary versions look great.

Clay chimineas are vulnerable to the elements but cast iron chimineas are much more durable and can withstand adverse weather.
Where should you place a chiminea?
Cast iron chimineas are to be used outside at all times.

Due to their high heat output, you need to make sure it is placed on a level, non-combustible base.

Don't sit on wooden surfaces and place away from wooden fences or other combustible materials.

If using on decking, it is important to place the chiminea on a paving slab first.
What can you burn in a chiminea?
Wood, coal, charcoal, fire briquettes (although charcoals and BBQ briquettes are only recommended for cooking).
Cheap Cast Iron Chimineas & Today's Bestsellers
Final Thoughts
My personal top pick is the TecTake Large cast iron chiminea as it is equipped with a grill rack and a fitting poker with a wooden handle, doors are lockable with flying sparks grille-guard and it is affordable and popular on Amazon.
I hope this list of the best cast iron chimineas was helpful.
If you think I left any out that should be included or have a suggestion for a future article, let me know in the comments below.
Nicola
Last Updated: April 2022
Added 'How We Selected.'
Added Top Picks.
Added link to safety website.
Added internal links.
Added Pros/Cons on all products.
Added 'Things To Consider'.
Added FAQ's.
Added Alternative Retailer.
Added Final Thought.
Barbecue Buyer's Guides