For this post, I have put together a collection of the best portable bbqs currently available. See my exhaustive camping packing list, best barbecues and bbq accessories.
Our Top Picks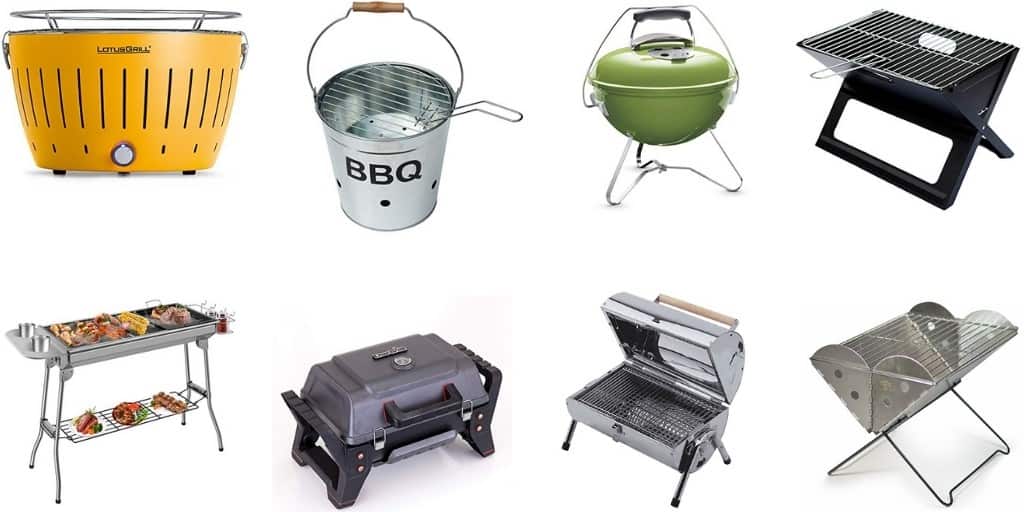 ---
Portable BBQs are ideal for all sorts of situations.
There are hundreds to choose from and all sorts of types.
In this article I'll show you what to look out for in a portable barbecue and give you a roundup of the best small barbecues around.
Related: See my ultimate camping checklist. And if you're not constrained on space, see my round up of the best camping stoves.
Let's get your grill on!
LotusGrill (Ultra-compact Charcoal)
This smokeless and simple highly portable BBQ is fantastic if you are serious about eating outdoors.
It has a built-in fan and temperature control and heats up rapidly, within four minutes.
As it's pretty much smokeless you can use on a table and there are loads of accessories available for frying, griddling, baking and more.
The built-in fan does require batteries to operate.
Available in many colours.
BBQ Barbeque Bucket (Simple Charcoal)
Extremely simple and convenient, and cheap BBQ option.
This one is well made and given it's shape very easy to clean and maintain.
It doesn't present a big grill area but is perfect for a small number of people to knock up a quick grill.
Lightweight so it's ideal for trips to the beach or picnics.
Made from galvanised steel and large air holes give good insulation.
Weber Smokey Joe Premium (Classic Charcoal)
Weber is an exceptional brand and this classic small grill is a hardy option for campers.
It's simply a deep bowl for the charcoal with a grill on top.
There is an adjustable vent so you can tweak that your preferred levels of delicious smoky flavour.
It's available in a number of colours to suit your preference.
Handy feature keeps lid in place when not in use and then when you're grilling the lids clips so it's not lying on the ground.
Notebook Grill (Folding Portable)
This fold up grill is extremely portable and easy to use.
It's super convenient for taking to the beach or on a picnic.
Bear in mind it's a small unit with a cooking area of 45cm x 30cm.
You'll need to ensure you have a sturdy, flat surface.
When you're done, it simply folds flat, takes up little space and is simple to clean.
You can put it straight into the dishwasher when you get home.
A carry bag would have been nice.
Femor BBQ (Big Family / Party Grill)
No products found.
Raised up barbecue means it's more comfortable to grill and it's up from the floor from the children may step.
Handy storage area below and to the side of the grill.
At around 5kg it's not hugely heavy given its size.
The foldable legs do make it fairly portable.
Highly durable and sturdy materials.
Char-Broil X200 Grill2Go (Durable Gas BBQ)
Discount - Save £94.99
Fantastic build quality this option is good where the use of charcoal is not permitted such as campsites.
It is weighty clocking in at 11kg and it does require regular cleaning.
Char-Broil are known for their grilling technology so you can be sure you get an even cook across the grill plate.
BBQ fits perfectly in a big blue IKEA bag.
Cools down in less than 20 minutes.
Lifestyle Explorer Stainless Steel Charcoal Barrel BBQ (Barrel BBQ)
Excellent option if you like a barrel BBQ setup.
Extremely simple setup and design.
Wooden handle allows you to move it when hot.
You can choose one or two cooking areas depending on the number of diners.
Very simple to assemble and light, should be more than sufficient for a group of four.
UCO Grilliput Flatpack Grill (Foldable Grill & Firepit)
Extremely versatile, highly portable grill and firepit.
Packs compact for easy transportation.
Stainless steel construction so it's durable and easy to maintain.
Folds out ready to go in less than a minute.
Folds to less than 1.5 inches and comes with handy canvas storage bag.
The design means the sides act as a wind break.
Very impressive firepit that holds a good amount of wood and creates a large blaze for its size.
Weber Q 1200 Black Line Barbecue (High End Premium Small Gas BBQ)
Beautiful looking gas portable BBQ cooks up to 18 hamburgers.
Can run on small disposable screw-thread canisters or adapted for larger patio gas cylinders.
Ideal for camping trips or in your garden.
Bear in mind it's 7.5kg if you've got to carry it far.
Comes with fold out legs so it's perfect for any surface.
Superior heat control so you'll be cooking to perfection.
Portable BBQ Deals & Today's Bestsellers
What to consider in a portable BBQ?
Gas, Charcoal or Wood Pellets
You need to decide if you'd like to use gas, charcoal or wood pellets.
A gas barbecue is the best option if you plan to cook a lot of meat or for many people.
The gas option does mean you lose some of the smokier, barbecue flavour that you get with charcoal or wood pellets.
Cooking with gas also means lugging around around a gas cylinder.
Gas does provide a benefit in terms of consistency and convenience when cooking outside.
If you're cooking up in the wild then gas is the safest option.
And if you're going to a campsite in the UK or on the continent then the use of charcoal is forbidden.
Portability
The whole idea of a portable BBQ in the first place.
If you're taking it to the park or beach how much room do you want it to take up?
A smaller barbecue also means shorter cooking time.
Grill Size
You want portability but you also need something that has a grill size that is a good fit for its needs.
How many will you be cooking for?
Do you go for something with a smaller grill but may mean cooking for longer if you have more people?
Weight
If you're on holiday and are then lugging the barbecue along a beach you don't really want something too weighty.
Type
We'll get into this with each individual barbecue but there are many types to consider. These range from bucket BBQs, folding BBQs, disposables, rocket stoves and much more. What you go for will often come down to personal preference.
Design
Are you going to be cooking on unstable surfaces? You may then prefer a BBQ with legs or perhaps you can do without.
You should also consider the lid – it creates convection, the air swirling around the chamber, and this can greatly improve the way the food is cooked, and improve flavour.
Cost
As with most purchases, there are huge variations in cost so it's best to have a budget in mind.
Although we do include some eco minded disposable barbecues, we strongly advise against the cheap options you can pick up from many shops.
The smoke is terrible, the charcoal quality is extremely poor and the burn time is not long. The experience all round is awful.
ALSO: If you're looking for a stand for your camping bbq along with places to store all your food, pots and pans see my guide to camping kitchens.
I hope this list of the best portable barbecues was helpful.
If you think I left any out that should be included or have a suggestion for a future article, let me know in the comments below.
Nicola
Camping Buyer's Guides
Help ease your shopping with our in-depth buying guides for your next camping purchase.
Camping Furniture (Chairs, Tables, Sofas)
Sleeping (Camp Beds, Sleeping Bags)
Cooking / Kitchen
Tents
Roof Racks & Bags
More Camping Products / Guides
Your Camping Checklist
There's something you always forget when packing for a camping trip. Use our handy camping checklist to make sure you don't forget anything important.
Get more out of your next adventure in the great outdoors with these 24 brilliant camping hacks.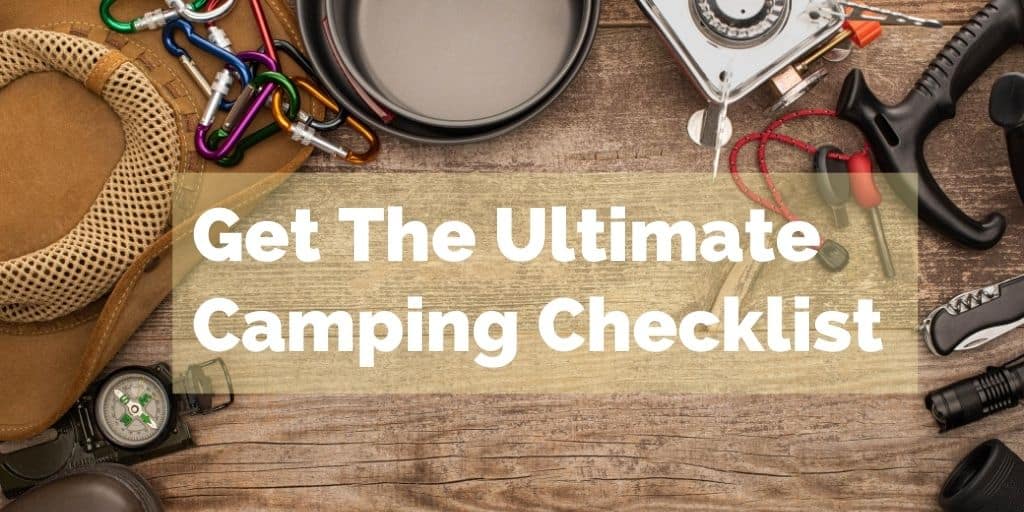 Get more out of your next adventure in the great outdoors with these 24 brilliant camping hacks.
Barbecue Buyer's Guides