For this post, I have put together a collection of the 10 best camping water containers currently available. Browse my ultimate camping checklist and you won't forget anything!
Our Top Picks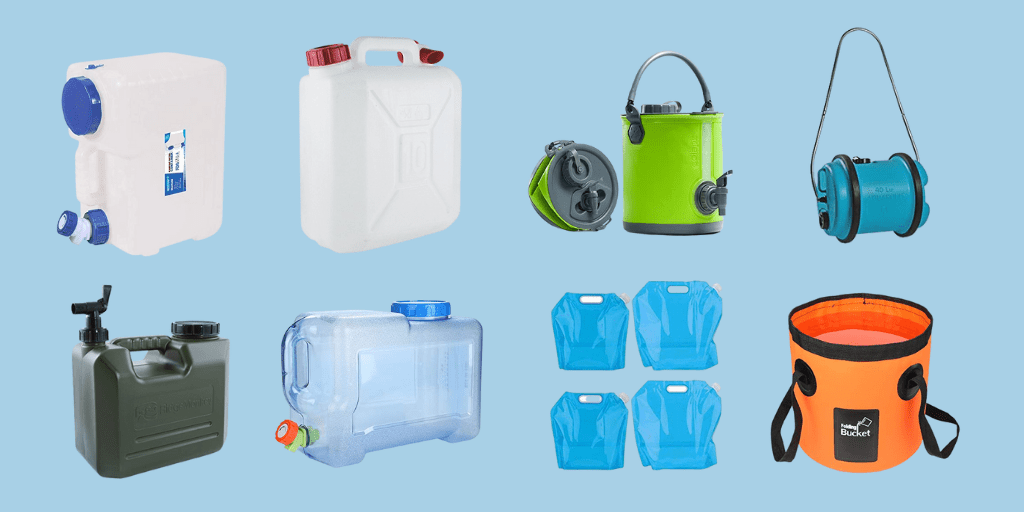 ---
Whether you're camping on a luxury site or back packing in the woods, transporting and storing large quantities of water is something you will need to consider.
It is important to ensure you have enough water for drinking, cleaning, and washing your dishes. However, this task doesn't need to be a struggle, so long as you have a good water storage container.
No matter where you're camping or what kind of water supply is available, having a trusty camping water container is crucial.
This guide will hopefully help make your camping life a little easier for the whole family, enabling them to cook, drink, wash up, and more.
More camping top buys? See my picks for the best camping kitchens and cupboards and best camping kettles
Not sure where you want to go for your holidays? Check out our 100 best glamping experiences.
How We Selected
I have carefully made my selection by searching the web for reviews on all camping water containers to find you the best ones available.
My aim is to look at those that only get the best feedback, with at least 4 star reviews. I have researched various containers with features such as collapsibility, taps and with a larger capacity.
I have also looked at containers for those on a budget to the more premium options.
My research is also based on family and friends testing and my own personal experience of many years camping!
So here is my list of the 10 best water containers for camping.
REDCAMP Water Container with Tap
A portable water container perfect for camping.
Leakproof Spigot and easy to clean.
Item Dimensions: 35x19x29cm
Capacity: 15L
Pros: Good size cap opening, with spigot tap. Thick plastic material making it durable.
Cons: Higher price than similar containers
Consumer Score: Brilliant reviews. From 200 ratings 75% gave this 5 stars out of 5.
---
Unibos 10 Litre Water Container
Top fill with removable cap
Built in carrying handle for easy transportation.
Item Dimensions: 35x14x28 cm
Capacity: 10L
Pros: I like that it includes a pouring spout making it easy to decant water. 
Cons: Some concerns about the cap leaking at times. Water can come out fast.
Consumer Score: Excellent reviews. From 206 ratings 72% gave this 5 stars out of 5.
---
Colapz 2-in-1 Collapsible Water Container
Discount - Save £5.00
2-in-1 Design – Water Carrier/collapsible bucket and water dispenser with tap.
Collapsible space saving design.
Item Dimensions: Full size: H25cm x W22cm x L22cm/Collapsed size: H6cm x W22cm x L22cm
Capacity: 8L
Pros: Available in 4 colours, lightweight and foldable but durable. Removable lid to store attachments when not in use.
Cons: Concerns about the tap being too high up, meaning it's difficult to get the last few litres out , resulting in having to tip the container up.
Consumer Score: Great reviews. From 579 ratings 71% gave this 5 stars out of 5.
---
Aquaroll Hitchman 40 Litre Roll Along Water Container
Rolls across the ground, making light work of fresh water transportation.
Comes with filler hose & tap connector
Complete with collapsible, removable handle
Item Dimensions: 49x39cm
Capacity: 40L
Pros: Extra large capacity. Comes with a 2 Year guarantee, Can also be used with a mains adapter with a mains water supply if available for continuous running water.
Cons: Premium price tag.
Consumer Score: Fantastic reviews. From 901 ratings 87% gave this 5 stars out of 5.
---
Ridgemonkey Heavy Duty Water Carrier 10 Litre
Discount - Save £1.04
Saeger brand
Constructed of heavy-duty material
Item Dimensions: 32x18x28cm
Capacity: 10L
Pros: Low shape so fits into a standard sink for filling. Can be used upright or sideways for various needs.
Cons: Flow of water quite fast as no air hole. Concerns about cap leakage
Consumer Score: Fab reviews. From 406 ratings 77% gave this 5 stars out of 5.
---
Coldshine 12L Camping Water Container
A portable water tank with handle and faucet, ideal for water storage and transportation.
Constructed of safe and non-toxic, durable plastic
Item Dimensions: 38x26x16cm
Capacity: 12L
Pros: Filling hole is large enough to fit in a hand, for cleaning. No drips and seems very reliable. Good flow of water from the tap, if the cap is unscrewed a little.
Cons: Higher price tag.
Consumer Score: Brilliant reviews. From 260 ratings 73% gave this 5 stars out of 5.
---
Collapsible Water Storage bag 2 Pack
Made of clear, non-toxic, food-Grade BPA free plastic.
Convenience storage and carrying.
Item Dimensions: 35x31x10cm/41x37x14cm
Capacity: 5L/10L
Pros: Can handle liquids from -20°C up to 60°C. Folds or rolls up small enough for your pocket- great for backpacking. Good value for money.
Cons: No tap or spigot, just a small cap.
Consumer Score: Amazing reviews. From 38 ratings 80% gave this 5 stars out of 5.
---
Tebery 4 Set Water Storage Bags
Collapsible and ultra light, can be rolled up for easy storage and carrying. 
Large screw cap closure with handle for easy carry.
Item Dimensions: 10L-38.5 x 41.5cm, unfolded without water and 5L- 30 x 33cm, unfolded without water
Capacity: 2 x 5L and 2 x 10L (30L)
Pros: Has a good temperature range, 0°C to 80°C. Ideal for backpacking
Cons: Maybe not as durable as some heavy duty containers.
Consumer Score: Super reviews. From 200 ratings 69% gave this 5 stars out of 5.
---
Folding Water Container Bucket
Multi-functional-foldable water container.
Made of mesh and PVC
Item Dimensions: 27.5x30cm (16x30cm when folded)
Capacity: 12L/20L
Pros: Available in 2 sizes and 3 colours. Very strong, and easy to clean. Great for space saving.
Cons: Not ideal for drinking water, as no lid and no tap.
Consumer Score: Incredible reviews. From 190 ratings 72% gave this 5 stars out of 5.
---
Outwell Collaps Water Carrier
Foldable, small pack size
Wide quarter-turn screw lid – for easy filling and cleaning
Sturdy carry handle 
Item Dimensions: 37 x 32 x 26.5 cm
Capacity: 12L
Pros: Very sturdy, no taint to the taste of the water.
Cons: Only comes in lime green. Quite pricey. Concerns over durability of the tap.
Consumer Score: Amazing reviews. From 43 ratings 74% gave this 5 stars out of 5.
Camping Water Container Sale & Today's Bestsellers
The Most Important Features To Consider
Having a reliable water container can be a game changer for your trip away, wherever you choose to go. But what should you think about before investing in one?
Design and Portability:
Collapsible or Non-Collapsible? If you have limited space in your car or tent or you are camping light, a collapsible camping water container will be the best option.
However, non-collapsible water containers do tend to be more sturdy but generally will take more storage space.
Collapsible containers are easier to store and transport simply because can fold them down when they're not in use. Small ones can even fit in your backpack when out hiking.
You may also want to think about the design, modern water containers will come with either a spigot or a cap.
Caps tend to be more durable, but they are harder to use when pouring water into smaller bottles ,cups or for handwashing. Spigots, on the other hand, are more convenient but are also more likely to break. (Not sure what a Spigot is? Scroll down to our FAQ's).
Transportation is something else to consider. Containers on wheels make it easier for any member of the group to go and collect water from the campsite tap or water source.
The beauty of a wheeled container is you can usually fill up a large 40L container without the struggle of having to lift it back to camp, however, these usually come with a premium price tag!
Capacity:
Make sure your water container for camping has enough capacity to meet your needs.
If you're using your water container as your main supply, you'll need to think about how much water you'll use for drinking, washing, cooking, and other tasks during the duration of your trip. It is an idea to then add a little more just in case.
However, also consider if multiple smaller containers, rather than one big one be better? Who will need to transport the container? If it is large, will everyone be able to use it?
Material and Durability:
When investing in a water container, you need to ensure that it's built with a sturdy material which will not spring a leak when used multiple times a day or packed in the back of a car.
Your container's likely going to take a beating from the elements, from overzealous campers, and from constant movement.
Plastic is the most common material used for water containers, it is relatively durable, inexpensive, and lightweight . However, some cheaper plastic containers can taint the taste of your drinks. If you buy plastic look out for BPA free.
Camping Water Containers FAQs
How much water do I need for camping?
Generally the amount of water for one person each day can range from 5- 10 litres

However, you also need to factor in how much water you'll need for cooking, cleaning dishes, and washing hands, and if you have a running supply of water or just your container.
 
To be on the safe side, 15 litres per person per day is likely sufficient for regular weather conditions, However, in very hot climates you may need to up that to 20 litres per person a day.
Do I need to bring a camping water container if there is drinking water at a campsite?
Generally, yes. Having your own personal water supply is convenient to have especially if you're at a busy campsite during peak season, but it also allows you to easily store water in your tent cutting down on the number of trips you need to make to the campsite source.

Water containers also reduces your need for disposable water bottles, which aren't as good for the environment.
How do you keep camping water containers clean?
To properly clean and care for your camping water containers, rinse your container thoroughly with a mixture of warm water and soap, or dishwashing liquid.

Sanitizing tablets can be used too, if needed. Ensure you clean the lid, handle, and any outer areas that may have picked up dirt on your last trip..

Make sure you leave it to dry properly!
What is a Spigot?
Basically, it's a device for controlling the flow of liquid in the container tap. A container with a spigot is ideal if you intend to use it for drinking from, as it is far easier to fill up a cup or bottle with a spigot tap than a a container with a plain cap.
If you think I left any out that should be included or have a suggestion for a future article, let me know in the comments below.
Jo
Camping Buyer's Guides
Help ease your shopping with our in-depth buying guides for your next camping purchase.
Camping Furniture (Chairs, Tables, Sofas)
Sleeping (Camp Beds, Sleeping Bags)
Cooking / Kitchen
Tents
Roof Racks & Bags
More Camping Products / Guides
Your Camping Checklist
There's something you always forget when packing for a camping trip. Use our handy camping checklist to make sure you don't forget anything important.
Get more out of your next adventure in the great outdoors with these 24 brilliant camping hacks.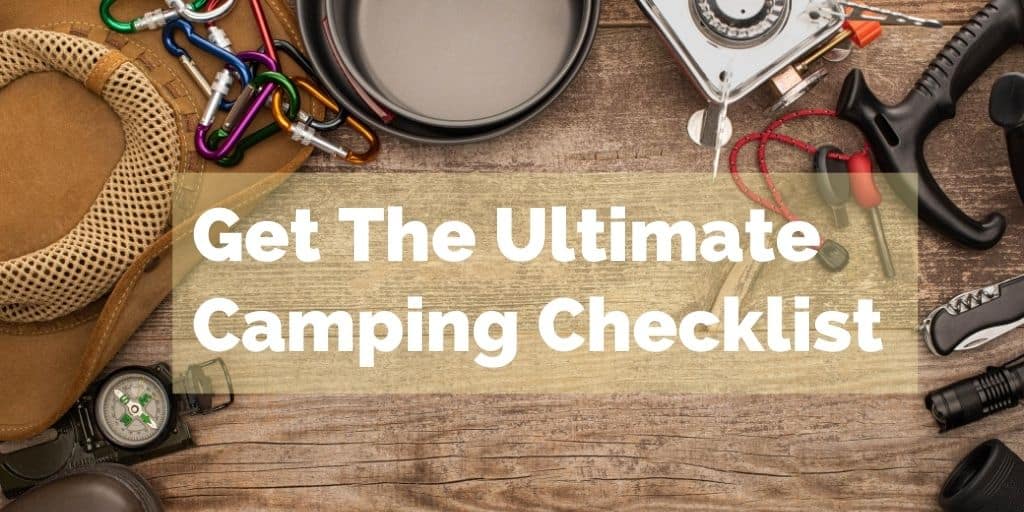 Get more out of your next adventure in the great outdoors with these 24 brilliant camping hacks.