For this post, I have put together a collection of the 10 best 4 man tents currently available. Browse my ultimate camping checklist and you won't forget anything!
Our Top Picks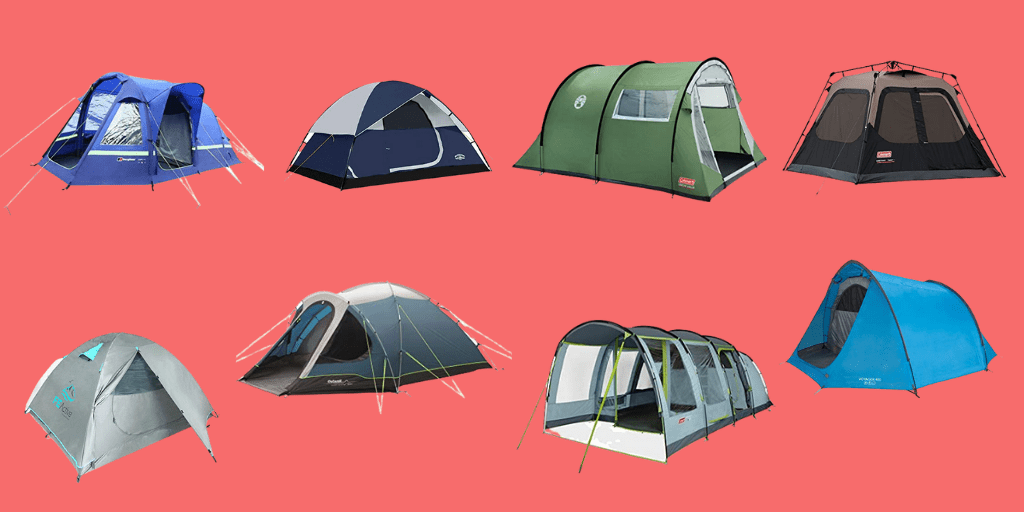 ---
A four-man tent is perhaps the best all-round tent for camping in.
Whether you're camping as a small group, a family, or are a couple wanting extra space, a four-man tent offers spacious accommodation but with the right balance of size and portability.
There are so many 4 man tents available on the market, from large spacious tents with extra living areas, to compact 1 room tents. Therefore it is important to consider all your needs when investing in a tent.
This guide will hopefully help your decision making a little easier and aid you in finding the ideal 4 man tent enabling you to have some memorable trips away.
A four-man tent can work well as a family tent but if you're looking for something with a bit more storage space, then see my picks for the 10 Best Family Tents In 2022
Related: Want to take the hassle out of putting up a tent? Check out the best inflatable tents or go glamping with one of these teepee tents.
How We Selected
I have carefully made my selection by searching the web for reviews on all 4 man tents to find you the best ones available.
My aim is to look at those that only get the best feedback, with at least 4 star reviews. I have researched various tents such as air and inflatable tents, pole tents and tents with different shape designs and weight.
I have also looked at 4 man tents for those on a budget to the more premium options.
My research is also based on family and friends testing and my own personal experience of many years camping as a couple, in a group and now as a family of 4!
So here is my list of the 10 best 4 Man Tents.
Berghaus Air 4 Inflatable 4 Person Family Tent
Four man tent with a spacious interior.
Inflatable beam design.
Tunnel construction with pre-attached bedrooms.
Storage pockets inside all bedrooms
Style: Hexagonal / Tunnel
Item Dimensions: 200cm (H) x 280cm (W) x 495cm (L) / 185cm headroom
Weight: N/A
Bedrooms: 2
Pros: Built-in sheltered porch area with windows, Fully sewn-in ground sheet, Excellent head room in living area and bedrooms. Comes with a wheeled carry bag for transporting.
Cons: Nothing other than a high price tag.
Consumer Score: Incredible reviews. From 41 ratings 80% gave this 5 stars out of 5.
Alternative Retailers: Go Outdoors
---
Pacific Pass 4 Person Family Dome Tent
Ideal family tent for camping.
Spacious and roomy
Style: Dome
Item Dimensions: 108.3 x 82.7 inches base size, 60″ Headroom
Weight: 7.92lbs
Bedrooms: 1
Pros: It only takes 2-3 people 5 minutes to set up, really easy pitching. Comes in 2 colours, Orange and Navy.
Cons: Concerns about the waterproofing on the doors in heavy rain. No extra porch area.
Consumer Score: Brilliant reviews. From 619 ratings 70% gave this 5 stars out of 5.
---
Coleman Coastline 4 Deluxe
Space for a family of 4
Comfortable living space
Style: Tunnel
Item Dimensions: 420cm (L) x 290cm (W) x 200 (H)
Weight: 13.33 kg
Bedrooms: 2
Pros: Removeable sleeping section for an enlarged living space. Good price.
Cons: Concerns on the quality of the material and weatherproofing.
Consumer Score: Super reviews. From 591 ratings 71% gave this 5 stars out of 5.
Alternative Retailers: OnBuy
---
Coleman Cabin Tent with Instant Setup
Discount - Save £11.83
Instant tent with pre-attached poles- Simple as unfolding, extending, and securing.
Style: Instant / rectangle
Item Dimensions: 8 x 7 feet with 4 feet 11 inch centre height
Weight: 4.45kg
Bedrooms: 1
Pros: Very quick pitching, comfortable and sturdy. Instructions are sewn into the carry bag which I think is a brilliant idea!
Cons: Concerns on the waterproofing of the seams.
Consumer Score: Excellent reviews. From 5,499 ratings 73% gave this 5 stars out of 5.
---
FE Active-The Grindavik
Aluminium poles & full cover rainfly
Waterproof and lightweight using minimal storage space.
Style: Dome
Item Dimensions: 239.7 cm (L), 209.8 cm (W), and 131.8 cm (H)
Weight: 3.7 Kg
Bedrooms: 1
Pros: Extremely easy to set up. Good reviews on the waterproofing.
Cons: A compact, small 4 man tent with limited living space. Thin material.
Consumer Score: Great reviews. From 190 ratings 69% gave this 5 stars out of 5.
Alternative Retailers: FE Active
---
Outwell Cloud Pole Tent
Storage area with a detachable groundsheet for protection.
Rear entrance allows easy access to and from the inner tent.
Item Dimensions: 340 x 260 x 135 cm,
Weight: 6.22 kg
Bedrooms: 1
Pros: This tent has a dark Interior which reduces light for better sleeping, fully sealed groundsheet to stop insects and drafts. Good storage pockets inside. Easy to pitch and pack up.
Cons: Not a lot, it's a great 4 man tent.
Consumer Score: Brilliant reviews. From 91 ratings 73% gave this 5 stars out of 5.
Alternative Retailers: Outwell
---
Vango Voyager 400
Fully sewn-in groundsheet in sleeping area with attached flat groundsheet in porch for easy cleaning.
Integrated eyelets allow optional king poles to prop open doors to create a canopy.
Style: Dome
Item Dimensions: 305cm (L) x 260 (W) x 150 (H)
Weight: 5.45kg
Bedrooms: 1
Pros: Seems to be excellent quality material. Sturdy.
Cons: Compact for 4 people and camping gear. Only comes in 1 colour.
Consumer Score: Superb reviews. From 64 ratings 76% gave this 5 stars out of 5.
---
Gonex Lightweight 2/4 Person Camping Tent
This 4-person tent comes with an inner mesh tent, double doors, and 2 vents for superior ventilation.
Perfect for camping, backpacking and mountaineering
Style: Dome
Item Dimensions: 2.5m (L) x 2.21m (W) x 1.33m(H)
Weight: 3.24kg
Bedrooms: 1
Pros: Very lightweight poles and carry bag so perfect for backpacking or light travelling. Very quick and easy to pitch. Sturdy.
Cons: Only 1 room, so no extra space for cooking or storage.
Consumer Score: Great reviews. From 160 ratings 75% gave this 5 stars out of 5.
---
Eurohike Air 400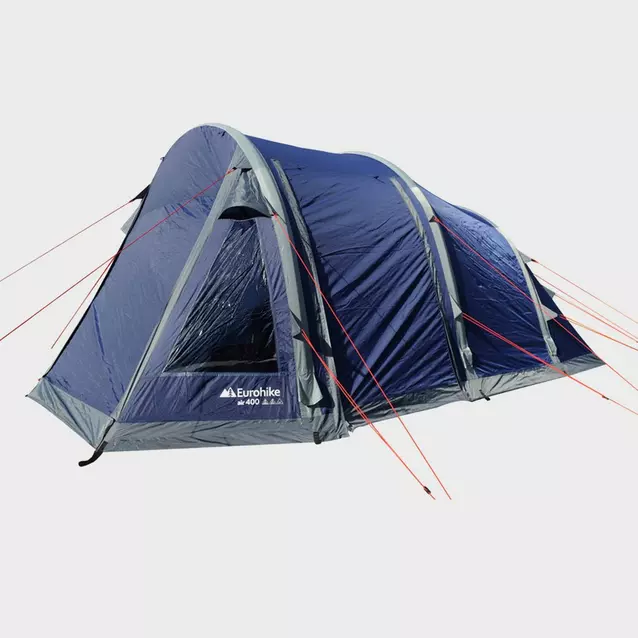 A versatile four-man tent that sets up in minutes.
Featuring an inflatable beam design
A removable darkened bedroom with a divider.
Style: Tunnel
Item Dimensions: L465cm x W265cm x H195cm
Weight: 14.7kg
Bedrooms: 1/2
Pros: High and low-level vents and meshed doors stop condensation in the tent. Lots of living space and storage space.
Cons: Heavy compared to other 4 man tents. Very expensive.
Consumer Score: Fantastic reviews. From 18 ratings 83% gave this 5 stars out of 5.
Alternative Retailers: Go Outdoors
---
Coleman Meadowood
Discount - Save £33.26
A large family 4 man tent
Extended open front porch
Style: Tunnel
Item Dimensions: 625cm (L) x 300 (W) x 210cm (H)
Weight: 22.5kg
Bedrooms: 2
Pros: There is 2 bedrooms which are large enough for double airbeds. Full head height throughout.
Cons: Very expensive for a 4 man tent. Very heavy and bulky when packed down.
Consumer Score: Excellent reviews. From 3 ratings 100% gave this 4 stars and above.
Alternative Retailers: Millets, Go Outdoors
---
4 Man Tent Sale & Today's Bestsellers
The Most Important Features To Consider
There are some essential features to look for when buying a new tent.
Material:
Make sure the model you choose is completely waterproof and comes with a groundsheet on the floor. You really don't want to wake up in the middle of the night in a puddle.
Size:
First think about where your camping. Some camp sites have rules on tent dimensions and pitch sizes, so read up on the maximum tent dimensions you are allowed.
Secondly, how big is your car boot or trailer? Air tents generally come in very large storage bags, compared to a pole tent, so make sure you measure your boot space to make sure it will fit.
How heavy is the tent? Will it be suitable for the car or trailer? If you want to walk any distance with your tent, It's best to choose a lightweight model.
Bedrooms:
Think about who is going to sleeping in the tent. For example, If you have children, a tent with two bedrooms will ensure you all get a better night's sleep.
Some tents come with a blackout material divide to help separate the bedroom space which can be very useful.
Design:
Tents with more bedrooms and more tunnels are obviously going to be harder to pitch that a simpler design, so think about who will be pitching it.
Bell tents usually require at least 2 people to erect it.
If you don't want the extra work of pitching a pole tent, look for an air tent, these use inflatable poles and are lightweight and easy to erect with a pump.
Also, look out for little design features such as pockets, storage compartments and a porch, these are really useful for storing cooking equipment and muddy boots.
4 Man Tent FAQs
What are the best shaped tents to choose?
There is an incredible number of tent makes, models and designs on the market today.

Tunnels come in a huge variety of sizes and styles and are perhaps the most common form of family tents found on campsites today.

However, it all really depends on where you are camping and who is camping.

Dome tents are vertical so overall headroom is good. Ridge tents are stable and range from tiny one-person tents right up to large marquees.

Geodesic are the most stable type of tent for extreme weather conditions.
Inflatable tents are quick to pitch but this does make them heavier and more costly.

How big is a 4 man tent?
The size of a tent is generally described by the maximum number of people that can sleep inside.
But remember you'll probably need space in your tent for living, not just for sleeping.
Four man tents often work really well for couples, or very small families.

Can you stand up in a 4 man tent?
As a rule, the smaller the tent, the less headroom you'll have. But yes, there are 4 man tents on the market with a good headroom.

If you get a chance, look at the tent erected so you can get a good feel for headroom.

What size tent do I need for 4 people?
A four man tent will be sufficient to sleep 4 people, so if it is just a one night stay or weekend away then this may be suitable, however, if you are planning on a longer stay then it's important to think about storage space for your belongings.

You may need a kitchen area for cooking and a place to chill and relax if the weather turns bad one evening. Will there be space for you to play cards or board games or eat a meal.

You may also want to think about privacy, If the 4 people are couples or a family then a 4 man tent may be fine, but if Its a group of 4 single people, is there space to hang a material divide for privacy or to separate the sleeping areas?
If you think I left any out that should be included or have a suggestion for a future article, let me know in the comments below.
Jo
Camping Buyer's Guides
Help ease your shopping with our in-depth buying guides for your next camping purchase.
Camping Furniture (Chairs, Tables, Sofas)
Sleeping (Camp Beds, Sleeping Bags)
Cooking / Kitchen
Tents
Roof Racks & Bags
More Camping Products / Guides
Your Camping Checklist
There's something you always forget when packing for a camping trip. Use our handy camping checklist to make sure you don't forget anything important.
Get more out of your next adventure in the great outdoors with these 24 brilliant camping hacks.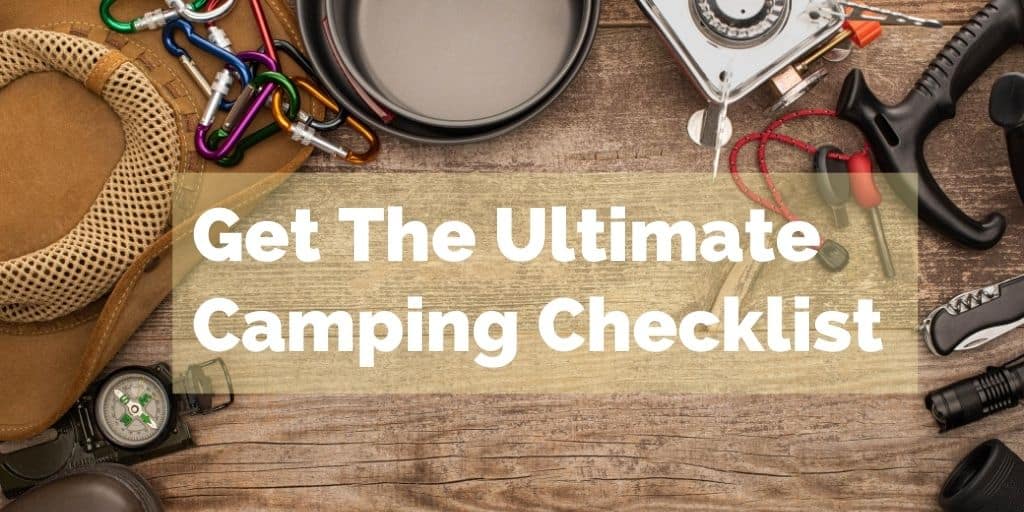 Get more out of your next adventure in the great outdoors with these 24 brilliant camping hacks.