For this post, I have put together a collection of the best inflatable tents currently available. For more top picks and buying guides, see my camping packing list.
Our Top Picks
Show Today's Top Deals
These are today's top deals and bestsellers for inflatable tents.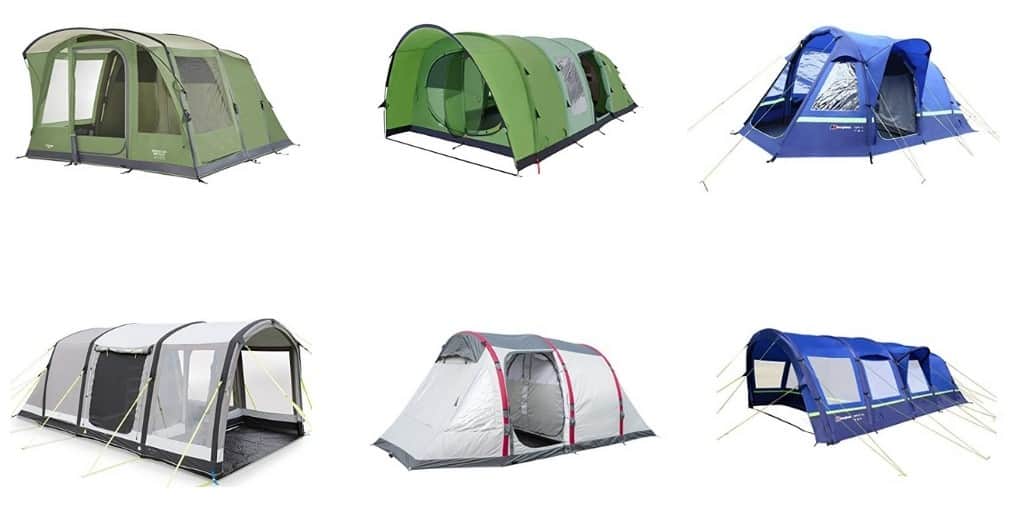 Tent innovation has come a long way in recent years and the inflatable variety is fast becoming a popular, easier and more efficient choice for campers.
Whether you're going on your next family camping trip or rocking up to a festival, an inflatable tent can make your life that much easier.
For one, they are simple to set up and you won't have to worry about missing poles.
They are also comfortable and usually quite spacious.
Inflatable tents are really durable and lightweight as they have no poles to weigh you down. This makes them a great choice for backpackers too.
Related: How about adding a layer of luxury with a tent carpet? Or some warmth with a safe tent heater?
What to consider when buying an inflatable tent
When choosing the right inflatable tent, it mainly comes down to how much space you will require. Will you be taking the family or is the tent solely for your own use?
Inflatable tents are really good in all weather situations so you can rely on them in wind and rain.
Always check tent has suitable air vent so there's enough air flow for everyone in the tent.
We've chosen some of the best inflatable tents on the market which are suitable for all types of camping.
Let's get going!
Best Family Inflatable Tents (Sleep 4)
Vango Airbeam Odyssey Air 500
Contemporary designed air tent with a distinctive flat front that optimises internal living space.
Tent has huge diamond clear windows to let light in and is protected by a wide shelter canopy that will help keep the rain out.
AirBeam structure allows pole free pitching, ensuring tent is erect in a matter of minutes (double action pump included).
62% of campers give this 5 stars out of 5.
Coleman FastPitch Air Valdes Inflatable Tent
Easy to inflate and dismantle in minutes.
Well designed tent to maximise living space and full head height.
Family tent is effortless to pitch and offers generous living quarters and amazing blackout bedrooms.
There is a convenient hinged door, making it the perfect option for any getaway.
Pump included.
Berghaus Air 4 Inflatable 4 Person Family Tent
Stable and strong tent with outstanding waterproof performance and ventilation system.
The robust inflatable beams take only a few minutes to blow up and are just as quick to deflate – making this the perfect family tent for camping in style.
Features tunnel design with 1x pre-attached bedroom and 1x spacious living room.
Dual action stirrup pump and pressure gauge included.
Kampa Hayling 4 Classic Air Pro Tent
No products found.
The generous bedrooms offer 75cm sleeping area per person, allowing for a comfortable nights sleep with plenty of space for your bedside table and more.
The Sleep-Tite darkened material blocks out early sunlight.
A zipped in divider also provides flexible sleeping options, allowing you to split the bedroom into two or create one large bedroom.
A deep front canopy provides vital outdoor living space and two extra side doors offer quick access into the living area.
The front and left side door is also backed by a mesh panel to offer insect-free ventilation.
Large windows provide clear views and feature zipped curtains.
Comes with a manual hand pump.
Pavillo Unisex's BW68078 Bestway Sierra Ridge Air Pro 4 Man Inflatable Camping Tent
The tent has two entrances and transparent PVC windows as well as four insect-proof windows made of mesh material.
The set also includes a carrying bag, pegs and a high-pressure pump, which inflates the tent in a very short time.
The inside pockets are used to store personal items.
Outwell Lakeville 5SA Air Tent
A tunnel tent that has three rooms for flexible camping and families.
Extra levels of comfort include mains cable entry points for power and darkened roof panel and sides to reduce light penetration and improve sleep quality.
New for 2020, this tent features Quick & Quiet inner doors to enable you to leave and enter the bedroom without fuss.
The silent magnetic strip closure down the centre can be parted easily to slip through and will close automatically without a sound.
A zipped in bedroom divider can be rolled away to create one large bedroom and for flexible access and privacy, one half of the door can be rolled away to the side or both doors can be fully opened to the middle to create an open, spacious bedroom.
Best Small Inflatable Tents (Sleep 2-3)
HEIMPLANET Original | The CAVE 2-3 Person Dome Tent
This space-age looking inflatable tent can be ready in less than a minute.
Thanks to its geodesic dome construction it's extremely strong and because it is made from high-quality materials it offers weatherproofness and durability too.
The gear loft under the inner tent roof offers added storage.
Inner and outer tent work as a unit and only need to be assembled on the very first setup.
From the second time on you just need to pump it up.
HEIMPLANET Original | FISTRAL 1-2 Person Tent
Tent is pumped up within few seconds.
Thanks to the geodesic frame structure this tent is extremely stable.
Can withstand windspeeds up to 110mph so great for hikers.
Lightweight and small packing size of the tent is great for trips where mobility is essential.
Best Large Inflatable Tents (Sleep 6)
Berghaus Air 6XL Inflatable Luxurious 6-Person Family Tent
Designed to be pitched in minutes, this spacious large family tent has an interior which can be tailored to suit you and your family's needs.
Partition walls are in the sleeping area to provide privacy and versatility.
Zipped electrical access points are available on both sides of the tent while the darkened fabric used in the bedrooms reduce early morning light coming in.
High-performance beams give superior strength and quality.
Features high and low vents for enhanced airflow.
Two side doors and one main front door with integrated sheltered porch area.
Kampa (Dometic) Wittering 6 AIR Tent Package – 2020 Model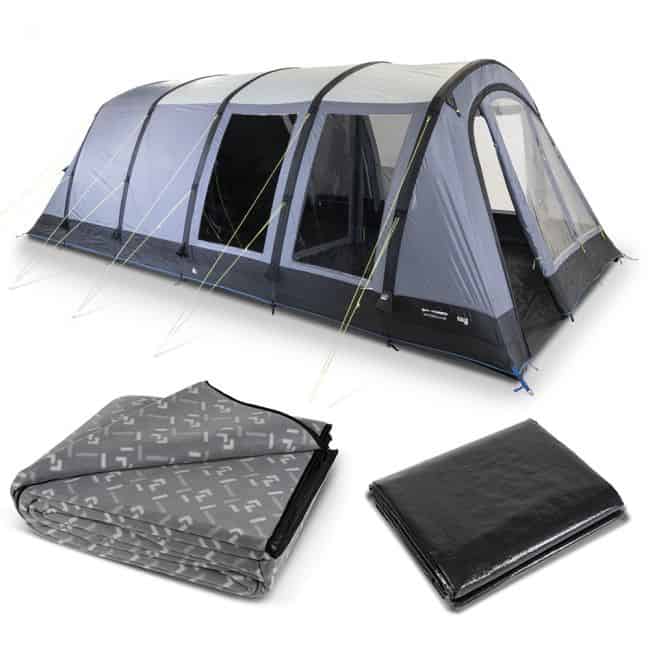 Large tent with generous bedrooms.
The darker material helps to block out sunlight and the toggle in divider provides flexible sleeping options, allowing you to split the bedroom into one, two or three.
The built in front awning provides extra enclosed space which is perfect for socialising.
An additional side door allow for direct access into the main living area and features a wet weather canopy for sheltered access and to prevent rain running into the tent.
Backed by mesh, this additional door also offers insect-free ventilation.
The three zone living areas makes this tent ideal for active families or for those who require a separate storage/ kitchen/ socialising, living and bedroom areas.
Comes with a manual hand pump.
What are inflatable tents?
Also known as air tents, inflatable tents use inflatable beams – which are usually traditional poles made from plastic, metal or fibreglass on 'normal' tents.
How do inflatable tents work?
You simply inflate them with a pump! No more worries about fiddling in poles inside a sleeve or them snapping.

See the video below to get an idea how straightforward it is!
Today's Top Deals & Bestsellers
Camping Buyer's Guides
Help ease your shopping with our in-depth buying guides for your next camping purchase.
Your Camping Checklist
There's something you always forget when packing for a camping trip. Use our handy camping checklist to make sure you don't forget anything important.
Get more out of your next adventure in the great outdoors with these 24 brilliant camping hacks.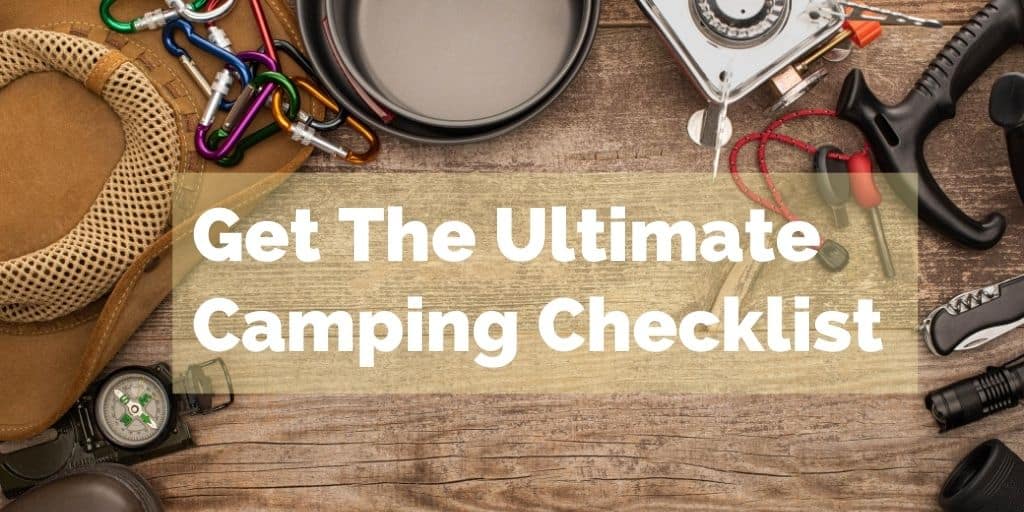 Get more out of your next adventure in the great outdoors with these 24 brilliant camping hacks.