For this post, I have put together a collection of the best camping toilets currently available. For more buyer guides and top picks, see my ultimate list of camping supplies.
Top Picks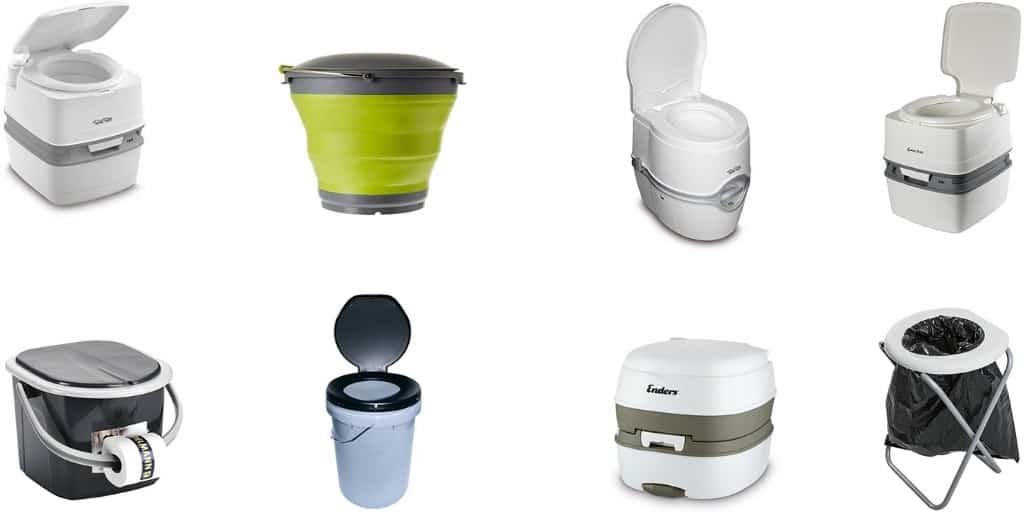 Heading to the great outdoors? It's important to be prepared.
In this article I'll show you the pros and cons for the best camping toilets and compare product options. You may also want to see my guide to the best toilet tent and camping shower.
You'll also get the lowdown on any accessories to make the camping life that bit easier.
And if you do wish to toilet the natural way I have plenty of of tips to share.
Let's get down to business.
Why Use a Portable Toilet anyway?
You might be at a camp site with no toilet facilities
Toilet facilities might be closed (Covid 19)
Your pitch might be a long way away from the toilet facilites.
Busy toilets during peak season.
Toilets in a disgusting state.
Portable Camping Toilets
The following are portable toilets for camping and best suited for caravans, campervans and motorhomes.
Thetford Pota Potti 165
Pros: Very stable and comfortable considering.
It's almost as high as a normal loo.
Generously sized waste tank.
Thetford Porta Potti Qube
Pros: Simple to operate with pump flush and large waste collection tank you can dispose of into a toilet.
Same height as a normal toilet.
Lots of models – 365 is suitable for most campers and motorhomes.
335 good for smaller vehicles and spaces.
Cons: Bulky for some. Toilet chemicals required.
Thetford Porta Potti Excellence
Pros: High quality, comfortable toilet with piston pump for flush.
Cons: Pricey, in excess of £100.
Dometic Sanipottie Portable Toilet
Pros: Dometic are a high quality brand producing great toilets and camping fridges.
You choose from two different sizes.
Good price around the £50 mark.
Compact design and simple bellows for flushing.
The Dometic 966 is the budget option in this brand's range.
Enders Deluxe Camping Toilet
Pros: Good price and value with excellent reviews.
Space saving option.
Outwell 10 Litre Portable Toilet
Pros: Not such a popular unit as the others but very reliable with excellent reviews.
Cons: Smaller capacity with a 10l capacity.
Camping Toilet Fluid
Why buy a particular toilet fluid or brand?
Why buy a particular toilet fluid?
Keep your portable toilet smelling good.
Helps keep them easier to clean out.
Kinder to the environment than a strong chemical.
Many campsites don't allow certain strong chemicals to be flushed down their systems.
I've picked out three options that can be used and environmentally friendly.
Thetford's Aqua Kem Green
Thetford also sell decent toilet fluid.
This one is eco friendly and safe to use for septic tanks.
Comes in 1.5 litre bottles and a single dose lasts for four days.
Elsan Organic
A little cheaper (as you get 2 litres) the Elsan Organic toilet fluid is biodegradable and like the Thetford brand, the liquid is free of harsh chemicals.
Whenever we've used this one there is no chemical smell or sewage.
Cleenly Blue / Pink
A third option are these blue or pink variations from Cleenly.
They are similarly priced and you get two litres.
Both are eco-friendly and each bottle provides 20 treatments.
Camping Toilet Bucket
If you're happy enough with the toilet bucket option or want to save some money over flushable portable toilet then here's three recommended options. You can use these with biodegradable bags – I have included some suggested options below.
Branq 16L Portable Camping Toilet
16 litre bucket and seat in one.
Little bit on the short side but is a sturdy option.
Streetwize Bucket Style Toilet
Quite tall so you don't need to squat down too low.
We have used this one in the past and it's fairly comfortable for what it is.
There are even simpler options when it comes to camping toilet buckets. The following two are good options. If you go for one make sure you choose to line it with biodegradable bags – eco friendly ones recommended below.
Outwell Collapsible Bowl
Good space saving option but that does come at a cost – you'll need to hover! 15 litres.
Whitefurze Bucket with Lid
Good budget option with excellent reviews, 14 litres.
Folding Toilets
Bog in a bag
Andes Portable Folding Toilet
Carplife Bivvy Portable Toilet
Popaloo – Portable Camping Toilet
Biodegradable Bags for Folding Camping Toilets
Depending on the type of camping loo you go for, you may well need some toilet bags.
Green Elephant Portable Toilet Bags
Heavy duty bags that are earth friendly.
Plant-derived design made from vegetable oils and compostable polymers.
Each bag can hold up to 30 litres.
Each roll contains 15 bags.
Bivvy Loo Portable Toilet Bags
Well reviewed biodegradable bags.
Portable Urinals & Camping Toilet Bags
Here's a couple of bag options that you can pee directly into without the need for a toilet structure around it. It's hard to find biodegradable options so please only use these for emergencies.
Peebol
An option for men, women and children to pee anytime, anyplace.
Well reviewed, non-odour – turns wee into gel through absorbent powder and can hold up to 1 litre.
Travel Johns & Janes
Another bag option that is similar to the Peebol.
Marketed to female and males and family packs and they are very samey.
Camping Buyer's Guides
Help ease your shopping with our in-depth buying guides for your next camping purchase.
Camping Furniture (Chairs, Tables, Sofas)
Sleeping (Camp Beds, Sleeping Bags)
Cooking / Kitchen
Tents
Roof Racks & Bags
More Camping Products / Guides
Your Camping Checklist
There's something you always forget when packing for a camping trip. Use our handy camping checklist to make sure you don't forget anything important.
Get more out of your next adventure in the great outdoors with these 24 brilliant camping hacks.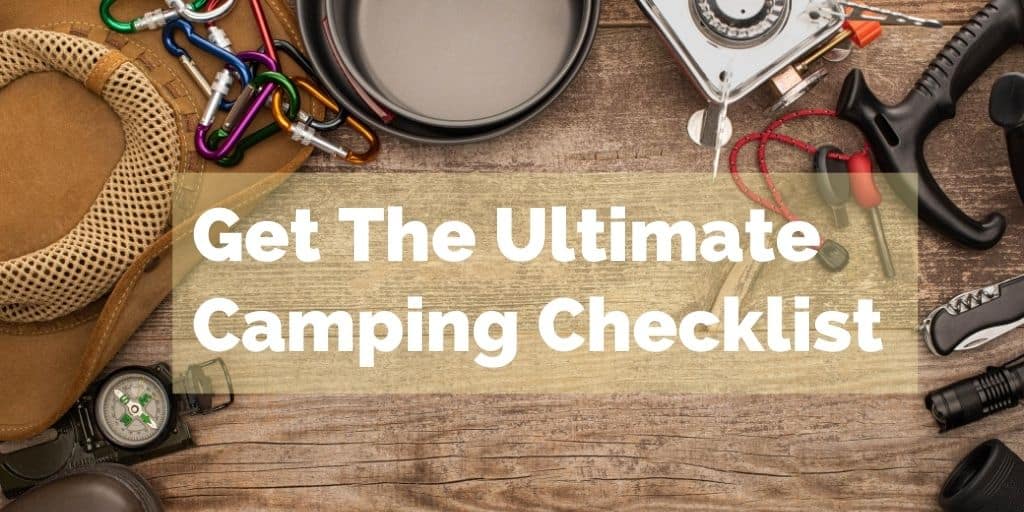 Get more out of your next adventure in the great outdoors with these 24 brilliant camping hacks.