For this post, I have put together a collection of the best teepee tents currently available. For more top picks, see my list of camping essentials.
Our Top Picks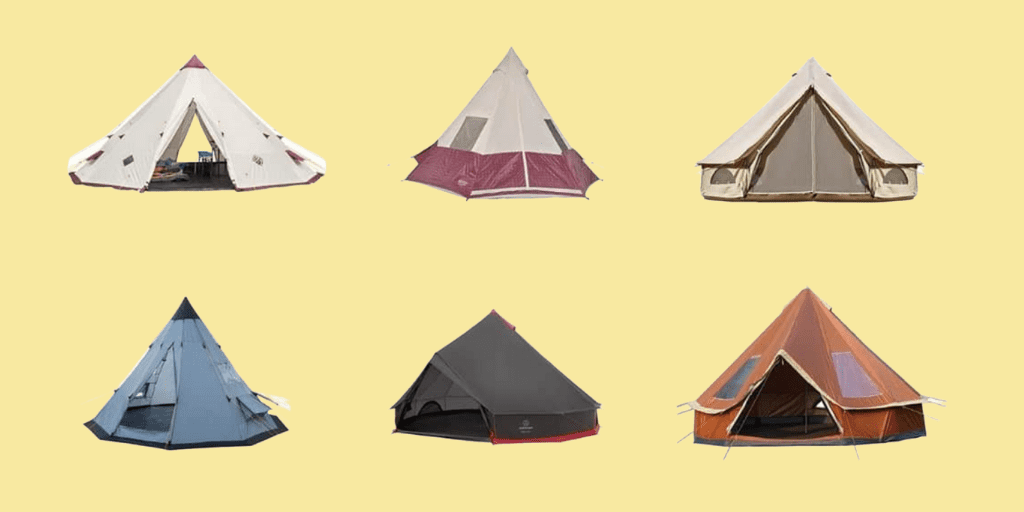 Teepee tents (or tipis) are a popular style of tent for festivals, parties or events and they can also be taken on camping trips for small or large groups.
How We Selected
We've scoured the internet, looking for the best teepee tents available. We've picked popular tents with excellent buyers feedback and 4-5/5 star reviews.
We've also looked at various sized tents to suit all budgets, so there is something in there for all.
See our top picks and buying guide to inflatable tents, family tents and kids sleeping bags.
Let's get started!
Best Teepee Tents
OneTigris Iron Wall Stove Tent (Sleep 2)
A heptagon-shaped (7-sided) single tent with a chimney opening for the lone camper who knows how to immerse in nature and enjoy it to the max.
Featuring a classic tipi/ pyramid shape so that it's extra lightweight and easy to setup, requiring only a single trekking pole without the complicated tent-frame
Solid build via its shape to stand against windy and rainy weather.
Pros: Lightweight and durable, single inner mesh tent to keep bugs out, front chamber for the fireplace, waterproof and strong wind resistant, good ventilation.
Cons: No stove jack.
Consumer Score: This teepee tent has very good reviews with 73% of buyers giving it 5 stars out of 5.
Latourreg Pyramid Tipi Tent (Sleep 3)
Square based and shaped like a pyramid, this tipi can comfortably accommodate 3 people with sleeping bags.
Made of cotton canvas with waterproof PU 3000mm coating.
There are four ventilation holes on the top of the tent to circulate air.
Two doors for easy access and both with mesh screens.
Just insert all the poles into the sleeves and fix the pole ends.
It is advisable to use this tent in dry weather.
The seams at the top intersection can't be sealed totally with waterproof PU coating due to structural design.
Pros: Traditional teepee look with poles, stylish, both sides of tent can be opened wide.
Cons: Not heavy rain proof.
Consumer Score: This teepee tent has great reviews with 73% of buyers giving it 5 stars out of 5.
BuoQua Bell Tent (Sleep 5)
This bell tent is made for use with a camping stove.
Made of cotton canvas with waterproof treatment and taped the stitch seam. It is more durable to the elements.
The tent for stove features high quality mesh screen door and windows with zipper to let you open the tent for a breeze or a view without worrying about bugs.
Strong steel centre poles, galvanized frame tubes, tight nylon rope and wind rope nails are all provided for installation.
Firm and stable enough to resist strong wind, rain or even snow.
Pros: Waterproof, large, windproof, breathable, stove jack.
Cons: Expensive.
Consumer Score: This teepee tent has good reviews with 68% of buyers giving it 5 stars out of 5.
Danchel Lightweight Family Teepee (Sleep 9)
A wide doored large teepee tent with easy-access windows.
Good ventilation system.
Tapered bell-tent design.
Made of light weight waterproof material.
With two transparent windows and a 60 inch high door so that you can soak in the outdoors from your tent.
Pros: Waterproof, large windows and door, good ventilation.
Cons: Pricey.
Consumer Score: This teepee tent has positive reviews with 82% of buyers giving it 4-5 stars out of 5.
OmniCore Designs 18′ Teepee Camping Tent (Sleep 12)
18′ footprint with a huge 9′ centre height gives you and all of your friends and family plenty of room to stand and move around and store gear.
The steep cone shape is designed to effectively shed wind, snow and rain.
The guy lines and tensioners work to ensure the structure stays up and stable in high winds.
The sewn-in polyethylene tub floor adds that extra level of protection from the the elements and bugs.
Centre-zip mesh door with multiple ground vents innovative vented peak roof all combine to give good air flow.
Pros: Large, waterproof, sewn-in floor.
Cons: Expensive.
Consumer Score: This teepee tent has fair reviews with 63% of buyers giving it 4-5 stars out of 5.
How To Erect A Teepee Tent
All teepee tents will have different instructions for setting up, but this video will give you an idea on how to erect one.
What To Consider When Buying A Teepee Tent
Size
Teepee tents come in a variety of sizes to a single person tent to ones for large groups.
They have good head space and big floor areas, so it all depends on how many people will be sleeping in the tent.
Ventilation
Ventilation is important, especially in the summer, so make sure there are plenty of vents for good air flow.
Hooded vents in the roof and lower vents near base are all important.
Plus a mesh window that can be closed and opened is also good.
Setting Up
Depending on size, teepee tents can be fairly straightforward to slightly more tricky at setting up.
It may be worth having a trial run before you actually take the tent camping if possible.
Design
There are plenty of options and styles of teepee tents.
As well as the more traditional shape you can also get bell tipi tents and yurts, which have the sloping sides but have more of a circus tent shape with flat sides.
We have focused on all styles in this article.
FAQ's Teepee Tents
What Is A Teepee Tent?
They have a unique shape and most have a single-pole structure, to give them that high centre peak, which makes them spacious and perfect for standing up in.

Teepee tents are usually fully floored which gives you protection from the ground underneath you and any creepy crawlies that may be lurking around.

Most teepees have a single-layer design although some have more than one layer.

Although teepee tents can be quite compact, due to their high sloping sides and circular base, they feel extremely roomy inside.
What's The Difference Between A Bell Tent And A Teepee?
A teepee is a cone shaped tent which has poles crossing in the middle and a bell tent uses a centre pole to hold it in place.
Today's Top Deals & Bestsellers
Final Thoughts
My top pick is the Latourreg 2M Pyramid Tent which is ideal for 2-3 people.
Its traditional teepee style with crossed poles and open sides, makes it perfect for summer camping fun.
73% of buyers rate this teepee tent 5/5.
I hope this guide on teepee tents was helpful.
If you think I left any out that should be included or have a suggestion for a future article, let me know in the comments below.
Nicola
Last Updated: February 2022
Added 'How We Selected.'
Updated Top Picks.
Updated Image.
Added Internal links.
Added Pros/Cons on all products.
Added Consumer Scores.
Added Video.
Added A New Product.
Added FAQ's.
Added Alternative Retailer.
Added Final Thought.
Moved OOS to bottom of page.
Camping Buyer's Guides
Help ease your shopping with our in-depth buying guides for your next camping purchase.
Camping Furniture (Chairs, Tables, Sofas)
Sleeping (Camp Beds, Sleeping Bags)
Cooking / Kitchen
Tents
Roof Racks & Bags
More Camping Products / Guides
Your Camping Checklist
There's something you always forget when packing for a camping trip. Use our handy camping checklist to make sure you don't forget anything important.
Get more out of your next adventure in the great outdoors with these 24 brilliant camping hacks.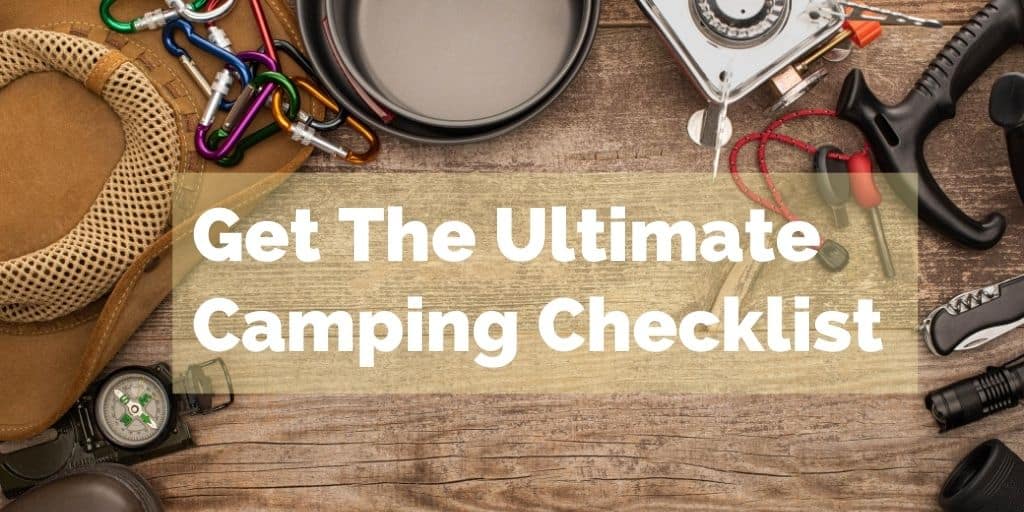 Get more out of your next adventure in the great outdoors with these 24 brilliant camping hacks.
Skandika Tepee Tent (Sleep 12) (currently unavailable)
Giant 12 person tent which features an impressive peak height of 9,84 feet.
In the summer the ventilation apertures let the air circulate and therefore, significantly reduce the inside temperature.
Due to the distinctive design it braves the strongest winds.
Weatherproof tent and a sewn-in groundsheet for maximum comfort.
Quick and easy to set up with a sturdy steel pole.
Plenty of windows and air vents, all equipped with mosquito mesh.
Comes complete with a sturdy carrying bag, ground sheet, guy ropes, tent pegs, instructions and a repair kit.
Wenzel Shenanigan Teepee Tent (Sleep 5) (currently unavailable)
Cool pattern teepee tent with easy 1 pole setup.
Features 3 roll back window flaps and a hi-low ventilation system with roof vents, which will keep you cool.
Well designed tent to maximise living space and full head height.
Blackout bedrooms.
There is a convenient hinged door and pump included to inflate and deflate.
CampFeuer® – Tipi Teepee (Sleep 4) (currently unavailable)
Family tent with sewn-in groundsheet and taped seams.
Easy one pole set up and tent features windows and air vents.
JUSTCAMP Bell tipi tent (Sleep 6-12) (currently unavailable)
Spacious family tipi tent with a large sleeping cabin and headroom.
Taped seams, fly screen, and clear windows with curtains.
Waterproof due to sewn-in PE base and an outer layer with a 3.000 mm water column.
Dual flow ventilation (vents at top and bottom) for good ventilation in this teepee-style tent. Includes pack sack and robust tent pegs.
GRAND CANYON Indiana 400 (Sleep 8) (currently unavailable)
Sturdy all weather tent with space for up to 8 people with luggage.
100% waterproof fabric – water column 3000, taped and reinforced seams, stable steel poles, steel tent pegs, mosquito nets.
Individual packing bags for tent pegs, tent poles and the entire tent.
DANCHEL 13ft Light Weight Tipi Family Tent 4000 Pro (Sleep 8) (currently unavailable)
Yurt tipi tent has more space than same size tipi tent, it can fit 5-8 people, is waterproof and no zip on the bottom.
5 ventilation windows, 3 ventilation holes, 2 transparent windows and a 60″ high door.
Includes the metal pole and wind ropes.