For this post, I have put together a collection of the best beach chairs currently available. You can also see my top picks for all things to take to the beach.
Our Top Picks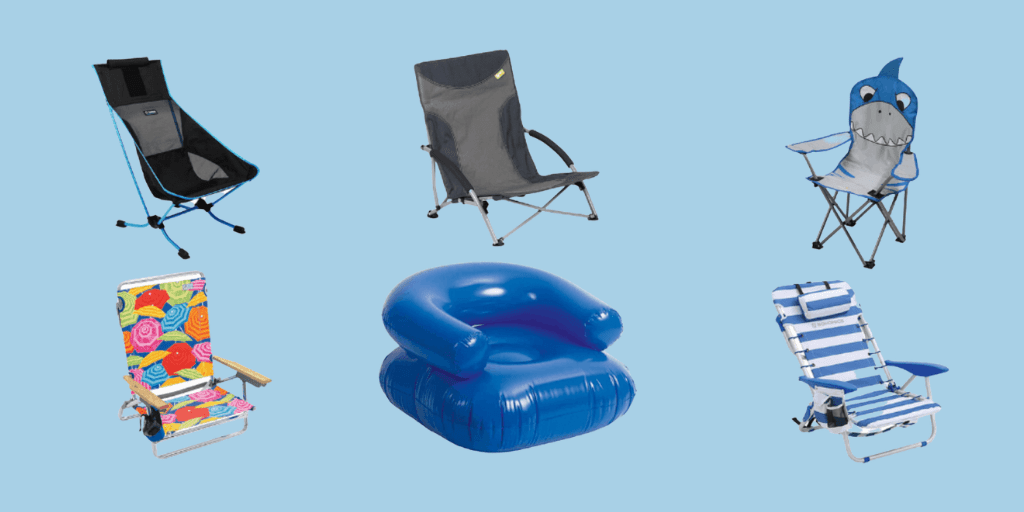 Taking a beach chair to the beach can really make your whole experience all the more comfortable.
The best beach chairs are portable and easy to carry from place to place and comfortable enough to enjoy a day on the beach.
Whether you're hitting the beach during the summer holidays with the family or heading off on a romantic couples getaway, we've got a beach chair for you.
How We Selected
We've scoured the internet, looking for beach chairs which tick all of the boxes.
All of our recommendations have great buyers reviews and 4-5/5 star ratings.
We've selected beach chairs to suit all tastes and budgets.
Get protected from the sun and wind and check out my top picks for the best windbreak, beach umbrella and beach tent.
See the NHS website for advice and information on sun safety.
Let's get going!
Best Beach Chairs
TECNOVOZ Tommy Bahamas Folding Beach Chair
The ultimate beach chair features an adjustable neck pillow and an adjustable aluminium frame with five positions for added comfort.
Adjustable padded straps make it easy to transport from the car to the beach.
It is also equipped with a folding towel rail.
There are 4 pockets in total, 2 larger pockets on the back and 2 small pockets on one arm.
Each chair has a weight capacity of 136 kg.
Pros: The neck pillow, fully adjustable chair, pockets and folding towel rail for convenience.
Cons: Quite pricey, very low seat so not suitable for some people.
Consumer Score: Very good reviews with 76% of buyers giving it 5 stars out of 5.
Helinox Beach Chair
This beach chair has splayed legs made for sand and its lower profile means you can lay back and relax.
It packs down to a super portable size and weighs just 1.4 kg.
The removable chair seat and zippered carrying case (which doubles as a pillow) are made from ultra-durable, UV-resistant polyester.
It's well-ventilated for hot summer days and holds up to harsh weather and the sun's rays.
Pros: Breathable with mesh sides, lightweight.
Cons: Expensive, no lay-flat position or other recline positions.
Consumer Score: Excellent reviews with 83% of buyers giving it 5 stars out of 5.
Kampa Sandy High Back Low Chair
This low chair has a high supportive back with a low profile height so you can stretch out comfortably.
Particularly useful for festivals, concerts, and sporting events as it is easy to carry and less of an obstruction for people behind you!
Opens and folds in seconds, strong frame, folds to a compact size for easy transport and storage.
Pros: Affordable, easy to open and close, durable.
Cons: No reclining positions.
Consumer Score: Excellent reviews with 86% of buyers giving it 5 stars out of 5.
ALCO – Beach Chair
Waterproof beach chair which is easy to clean, lightweight and foldable and lies back into a flat position.
Pros: Easy to clean, breathable, lies back flat, towel rail.
Cons: When flat you can feel the bar slightly.
Consumer Score: Good reviews with 61% of buyers giving it 5 stars out of 5.
SONGMICS Beach Chair Portable
Portable and versatile foldable beach chair.
With high backrest to keep your neck from getting tired, and the ability to recline and lie down entirely while resting your head on the comfortable cushion.
It takes up little space when closed, has shoulder straps, and weighs only 3.1 kg so you can carry it comfortably on the shoulders like a backpack.
Pros: Adjustable backrest, side pockets to keep your essentials, portable and you can carry it like a backpack.
Cons: Quite a small frame.
Consumer Score: Good reviews with 69% of buyers giving it 5 stars out of 5.
Rio Beach Classic 5 Position Lay Flat Folding Beach Chair
Fully reclining, lay flat beach chair.
The lightweight beach chair features 5 different reclining positions.
Easily recline the beach chair without getting your fingers or hands pinched.
Easily get to where you are going with the padded, adjustable shoulder strap and compact fold.
Includes a build-in towel bar to hang your beach towel to dry.
Pros: 5 reclining positions, the shoulder strap, towel rail.
Cons: Quite pricey.
Consumer Score: Very good reviews with 75% of buyers giving it 5 stars out of 5.
Best Beach Chairs For Kids
Regatta Kids' Animal Chair
Cute shark design perfect for a trip to the beach.
Kids folding lightweight chair.
Features safety leg locking mechanism.
Pros: Cheap, lightweight, appealing design for kids.
Cons: The arms are material.
Consumer Score: Popular kids chair with 73% of buyers giving it 5 stars out of 5.
Best Inflatable Beach Chairs
eBuyGB Inflatable Beach Lounge Chair
Discount - Save £3.00
Soft and comfortable inflatable chair which is suitable for kids from three years of age.
Lightweight and easy to move around. Made from 100% PVC.
Can be used indoors or outdoors.
An alternative to a foldable beach chair if you're looking for something more like an armchair.
Pros: Comfortable, cheap.
Cons: Not breathable, need to inflate.
Consumer Score: Good reviews with 54% of buyers giving it 4-5 stars out of 5.
What To Consider When Buying A Beach Chair
Is It Reclining?
Some beach chairs have reclining options and can adjust to varying slopes. Some even lie completely flat. This is perfect for sunbathing or napping.
What Is Its Weight Capacity?
Check what weight your beach chair will support so that you can be assured it will last the test of time.
What Height Is It?
Would you prefer a low folding beach chair which sits closer to the sand or would you rather sit up higher. There are different options available.
FAQ's Beach Chairs
Should a beach chair come with sun protection?
No, this is not necessary as you can use a beach chair with your own form of sun protection, whether that's a beach umbrella or a shady spot.
Are pillows necessary for a beach chair?
Pillows will add that comfort that will make your experience all the more relaxing.

It's important to keep the pillows clean, so removable options are good.

Cheap Beach Chairs & Today's Bestsellers
Final Thoughts
My overall top pick is the TECNOVOZ Tommy Bahamas Folding Beach Chair which features an adjustable neck pillow, five reclining positions, pockets, towel rail and more.
I hope this list of the best beach chairs was helpful.
If you think I left any out or have a suggestion for a future article, let me know in the comments below.
Nicola
Last Updated: March 2022
Added 'How We Selected.'
Updated image.
Added link to NHS website.
Added internal links.
Added Pros/Cons on all products.
Added FAQ's.
Added Alternative Retailer.
Added Final Thought.
Moved OOS to bottom of page.
Beach Buyer Guides
Heading to the beach? Get the low down on our detailed product round ups!
Chairs & Tents & Storage
Food & Drink
Beach Clothing & Shoes
Water Fun & Beach Games
Baby At The Beach
Volkswagen VW Low Beach Chair (currently unavailable)
No products found.
Retro style, stylish VW Low Folding Chair inspired by the 1960's Volkswagen T2 campervan.
Made from durable 600D Oxford polyester material with a waterproof PVC coating to quickly dry when wet, perfect for sitting down after a dip in the sea!
Coleman M293501 – 5 positions reclining beach chair (currently unavailable)
Mesh backrest is breathable and encourages airflow.
Folding with shoulder strap for transportation.
Cushion for the head and neck.
Pocket to store your personal items.
Swimways Kids Canopy Chair (currently unavailable)
No products found.
This chair can be folded down and closed and the factor 50+ UPF canopy keeps kids in the shade.
With carry bag and durable snap-lock buckles and two shoulder straps for hands-free portability.
Suitable for kids age 3+.