In a hurry? Here's my best dryrobe alternatives or read on for product round ups with pros and cons to help you choose. See top picks for all beach accessories.
Our Top Picks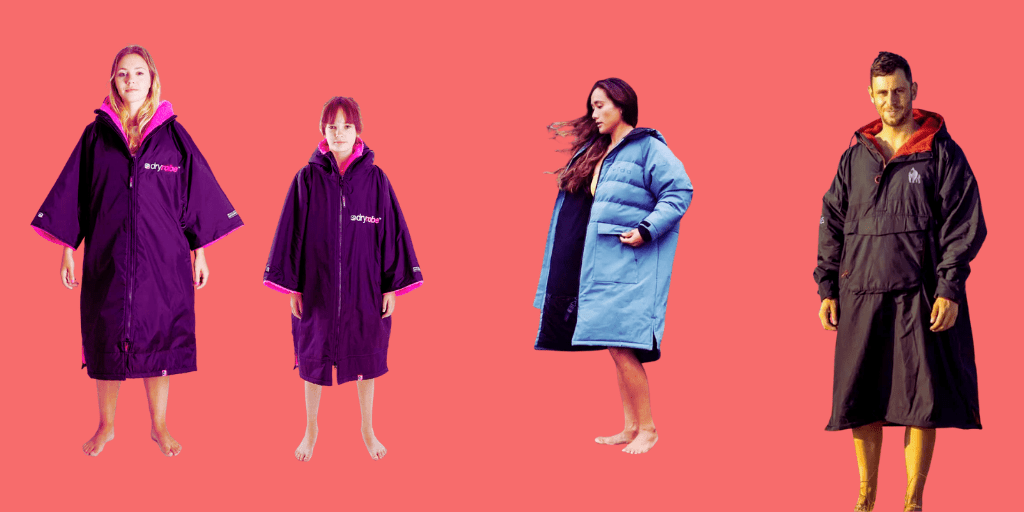 For this post, I have reviewed the Dryrobe along with eight Dryrobe alternatives.
If you're thinking of buying a dry robe or changing robe for yourself or a someone else I'll walk you through how to choose the best one for your needs and budget.
How We Selected
I'm a keen sea swimmer and go all year round. I don't wear a wetsuit and rely heavily on a changing robe, whether it's to get changed in quickly, warmly and privately or to keep warm after a swim for an extended period.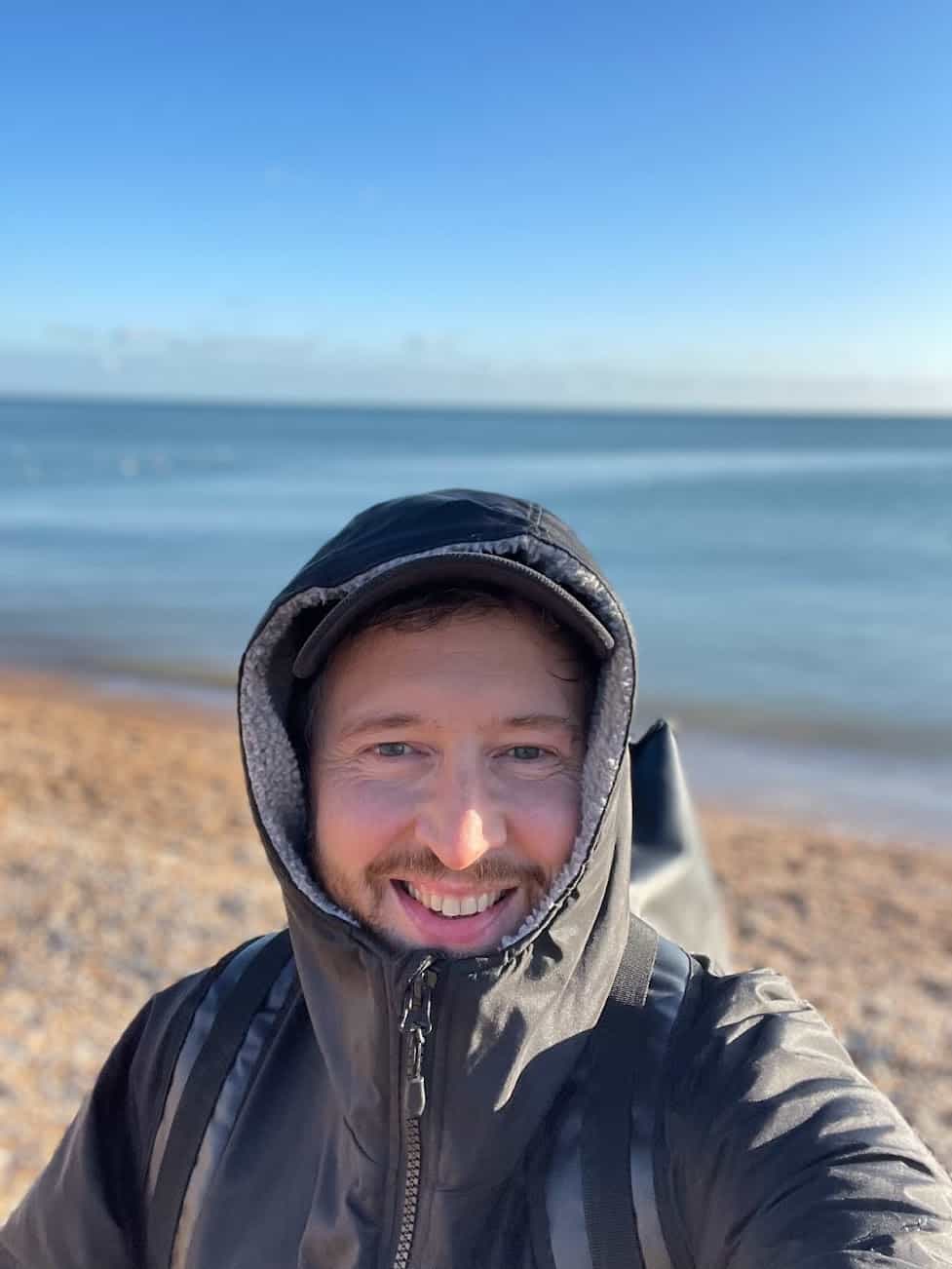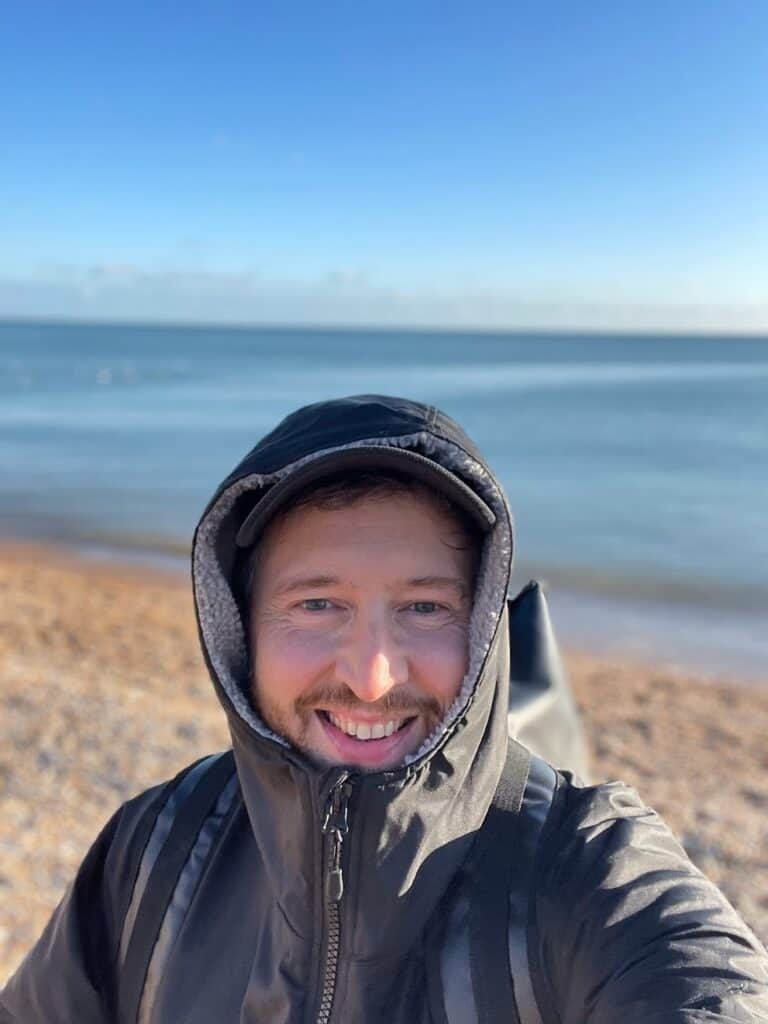 I've owned both a DryRobe and a Moonwrap along with various poncho towels so I have plenty of hands on experience.
In addition to my own personal thoughts, I've scoured the web for reviews so I give a balanced view – after all, a feature I'm keen on may be a negative for someone else.
Where reviews are available I've only included ones with scores of 4 or above. I'm also a member of the Outdoor Swimming Society Group and have included feedback from the 1000s of robe owners there.
Changing robes can be really expensive and not just the Dry Robe brand – so I've tried to select ones that fit all budgets, including towelling robes.
Related: Protect yourself from the elements with the best beach tents and beach umbrellas.
I've also shortlisted ones with particular features or styles – tall people, harsh weather, colours or lightweight.
Dry robes are fantastic – I can't entertain the thought of getting out of the water without a warm, waterproof and windproof tent to change and warm up in!
The DryRobe brand is much loved but they are expensive and there are fantastic alternatives. Let's find out!
In this article I'll give you a overall run down on the brand Dry Robe, what characteristics it has and then specific reviews of each of their dryrobes. I'll then go through all the best alternatives!
At the bare minimum a proper changing robe should have a high quality waterproof and windproof outer layer with a warm insulated high wicking inner fabric.
Related: Looking for more protection from the elements? See my top picks for the best windbreak and beach tent.
So here is my list of the best Dry Robe reviews and best alternatives.
Dryrobe Adults
Where it all began!
Dryrobe Long Sleeve
Numerous large, lined zippered interior and exterior pockets.
Inside lining is composed of synthetic lambswool. This should soak up (some) moisture so you dry faster!
Pros: Two way zippers are one of many useful features, trusted brand. Depends on size you choose but compares so same sizes of other brands, tends to be more space in the Dryrobes so you have lots of wiggle room when changing.
Cons: Too pricey for many budgets. Some features may be overkill.
Consumer Score: Dryrobe is a trusted brand and the scores reflect this clearly. From 1,267 buyers a whopping 86% gave the long sleeve a 5 star review.
Retailers:
Dryrobe Short Sleeve
Shares most of the features of the long sleeve model but the arm length is shorter, just below the elbow.
Pros: The short sleeves aren't short short but some will prefer their hands feeling more 'free'.
Cons: On the downside for some you will not have the fitted sleeve with fasteners, this can help keep you warmer and the wind out.
Consumer Score: Almost as highly rated as the long sleeve but not quite. From far fewer buyer reviews (56), 80% give it 5 stars. Still very good!
Dryrobe Towelling Robe
Dryrobe Short Sleeve
Available in a range of colours including red, slate grey, pink and royal blue.
Dry robe also sell towelling robes if you don't need the full waterproof and windproof protection that the full changing robes offer.
May be more suitable for the British summer or holidaying abroad in warmer climes.
Pros: Towel is thicker and more absorbent than (cheaper) products. Lots of colour choices and they maintain vibrancy after washes.
Cons: More expensive than other towel robes. Some don't like the v-shaped neck which can come to neck when hood is down.
Consumer Score: Outstanding! From 1,429 buyers, 83% give it 5 starse-review-21.
---
Dryrobe Kids
The same pros and cons also apply to the kids versions – they're just smaller. Be sure to check out the sizing diagrams below to help you choose for the best fit.
Dryrobe Kids Long Sleeve
Dryrobe Kids Short Sleeve
Dryrobe Kids Towelling Robe
---
Dryrobe Alternatives (Top Changing Robes)
Frostfire Moonwrap – Adults
Discount - Save £20.00
An excellent lower priced alternative to the Dryrobe and very similar. (It's the one I currently use)
I'm 6′ 2″ and the large is perfect with lots of room.
Fleece-lined hood keeps your head protected from the wind.
Two good sized external fleece lined pockets.
Pros: Many of the comments are that the Moonwrap is every bit as good and for a lower price. Big zips which make it easy to do up when your hands are cold! Internal zip pocket which I tend to use for my phone.
Cons: Not available in as many colours as the Dryrobe, Doesn't come with a carry bag.
Consumer Score: The Moonwrap receives as enthusiastic and positive reviews as the Dryrobe brand.
78% of buyers give it 5 stars out of 5.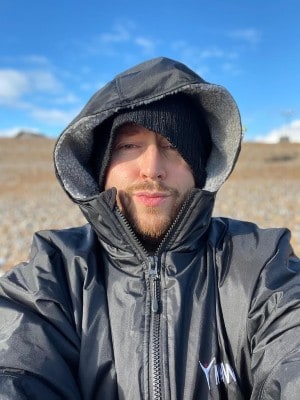 Frostfire Moonwrap – Kids
Same solid features as the adult versions.
Sizes available: 5-8 Years & 9-15 Years
Colours: Black, red, blue, navy & camp.
Consumer Scores: Not quite as many 5 star reviews but still excellent feedback. 87% of buyers give this 4 stars or above.
---
Charlie McLeod
Charlie McLeod Eco Sports Cloak – Long Sleeve
Excellent eco friendly option – this changing robe is composed from over 1,000 plastic bottles.
Useful pockets inside for items and a mesh google pocket.
Sizes available: Small/Medium and Medium/Large.
Pros: FREE Charlie Mcleod 40 Litre dry bag comes with every cloak. Worth £19.95 and handy for carrying your changing robe.
Cons: Some don't find this as warm as a Moonwrap or Dryrobe.
Consumer Score: Brilliant reviews. 30 ratings but 70% give this 5 stars out of 5.
---
Charlie McLeod Eco Sports Cloak – Short Sleeve
Same as long sleeve but short sleeve options.
Sizes available: Small/Medium and Medium/Large for adults. For children ages 7-10 and 10-13.
Pros: Some on the shorter size prefer short sleeves as find the ones on long sleeves way too long.
Cons: Some don't find this as warm as a Moonwrap or Dryrobe.
Excellent reviews. From 21 buyers 79% gave this 5 stars.
---
Vivida Lifestyle Changing Robes
Vivida is a fairly new entry to the world of changing robes but are a successful brand in their own right, particularly with their poncho towel robes.
They offer two types of changing robes: the All Weather Sherpa changing robe and the All Weather Puffer Changing Robe.
If you're after muted colours and no logos emblazoned all over it then this is (if your budget allows) a fantastic option.
Vivida Sherpa Changing Robe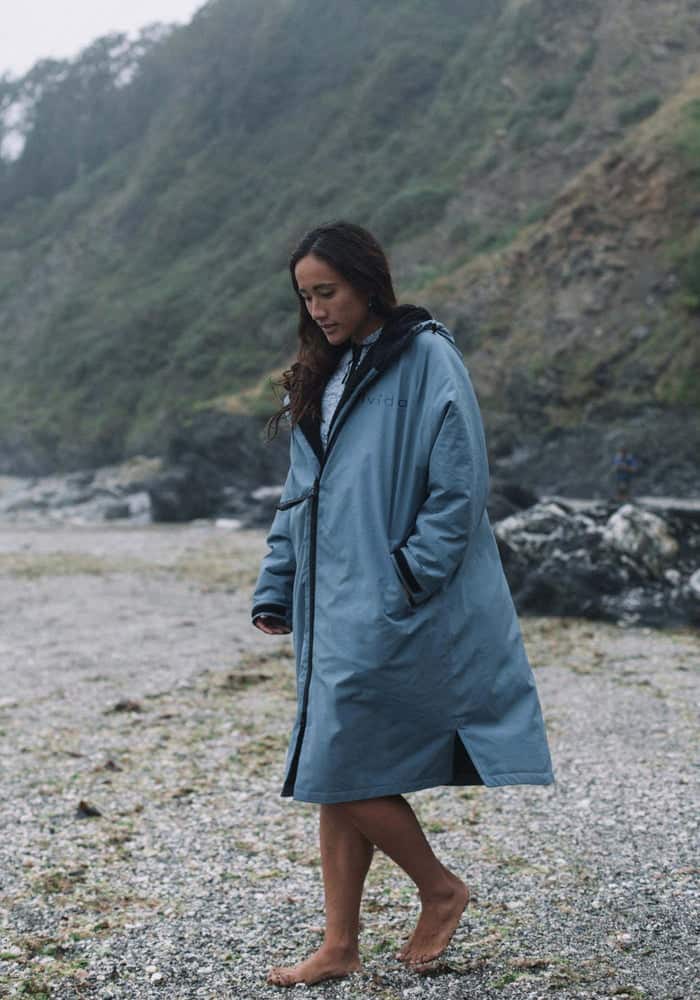 Very stylish, well made changing robe with strong sustainability practices.
This is a high end robe with excellent features and lined with sherpa fleece for keeping warm and soaking up moisture.
Pros: Attention to detail on features – too many to mention but faves include large internal stash pocked with bungee clip with provided pack-away back. Like the anti-chafe chin guard. Bag is handy for carrying wet clothing or even doubles up as a small pillow!
Cons: It's pricey. Not sure if super popular or low stock but can pre-order now (Mid Jan 2022)
Colours: Super stylish options include mineral blue, fossil grey or aventurine green.
Sizes: Small, medium, large or extra large.
Retailers: Can only buy direct at Vivida Lifestyle
Consumer Score: Only 1 review on their own site. Feedback from members on the Open Swimming Society is very good!
Vivida Puffer Changing Robe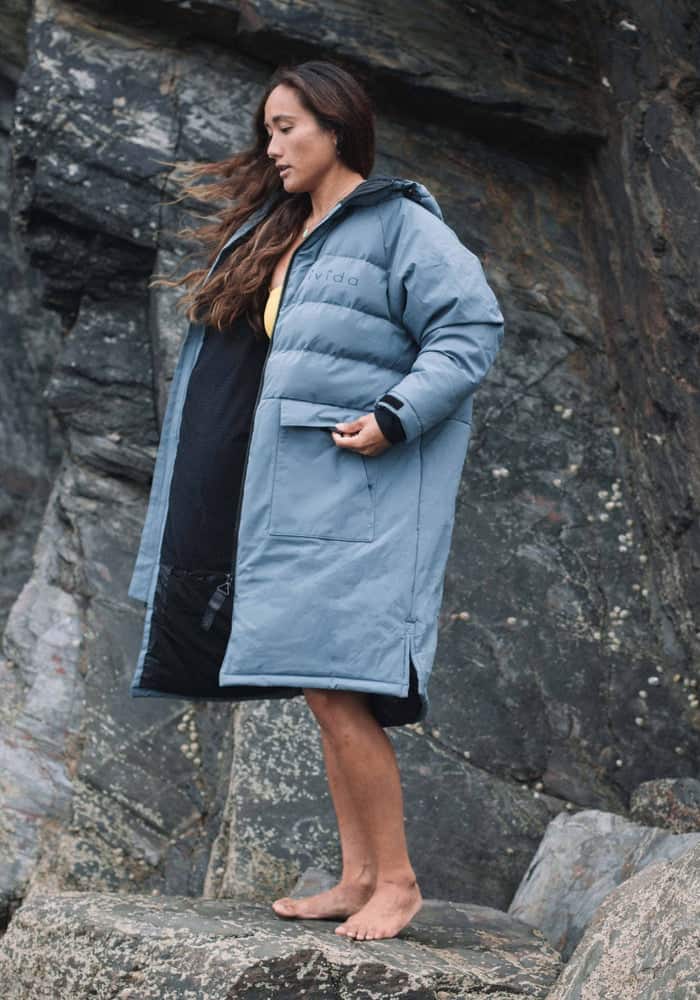 Stands out from the other options in that it resembles more of a jacket (hence puffer) with the properties and features of a changing robe.
Versatility: I love the look of this so personally would use it outside of the beach/sea swims. Due it's warmness you can also use in lots of other environments like camping, sporting events, marathons.
Pros: Extremely high quality, strong eco credentials, VERY warm, all sorts of pockets. Light for it's size/warmth.
Cons: At the high end of the cost range.
Colours: Lovely muted options include mineral blue, fossil grey or aventurine green.
Sizes: Small, medium, large or extra large.
Retailers: Can only buy direct at Vivida Lifestyle
Consumer Score: 5 reviews on their own site. Feedback from members on the Open Swimming Society is very good! Owners love the luxurious tactile zip puller.
---
Gorilla Robes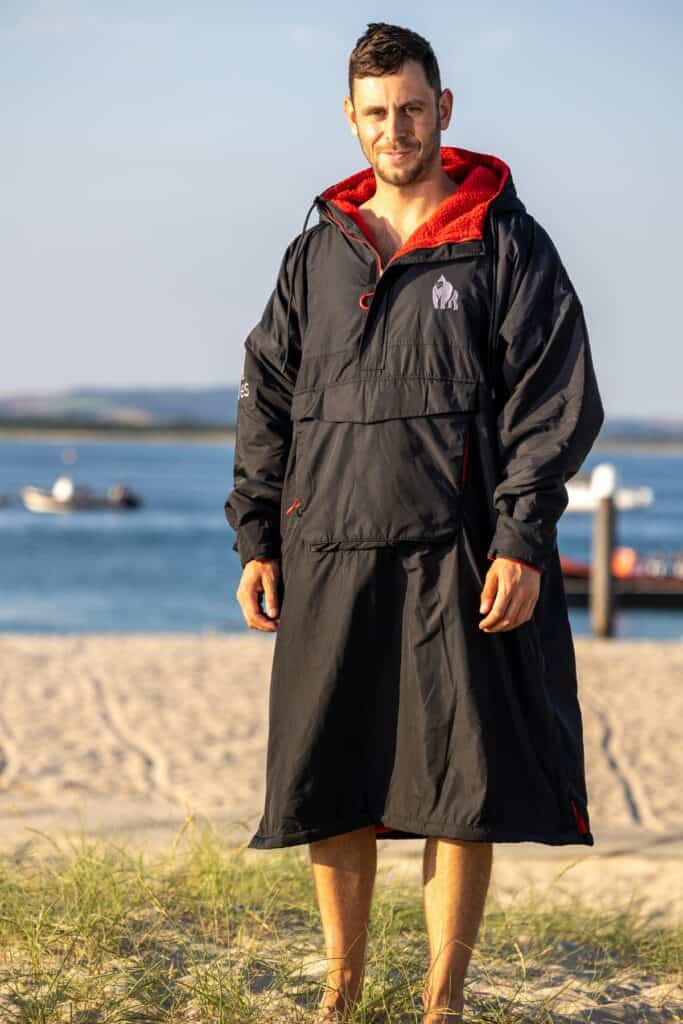 Gorilla Robes are another excellent quality and cheaper alternative to the Dryrobe.
Stand out feature are side zippers on either side of the robe. This means you have all the room you need to get changed in – can be super handy when you are wet and freezing cold! This extends all the way from the armpit to the ankle.
Pros: double front pocket, lined with thick polyester Sherpa wool fleece lining, very wide robes, large shoulder holes and combined with matching side zippers this is the easiest robe to get changed into. Lots of sizes.
Cons: Very popular at the moment (Jan 2022) so may find out of stock. Only two colours.
Sizes: Extra small, Small, medium, large or extra large.
Colours: Black & Blue.
Consumer Score: They have reviews on their website and they are glowing. From 664 ratings, 96% are 5 out of 5.
Retailers: Best bet is to buy direct at Gorilla Robes. You can also save with robe bundles.
Palm Poncho Grande Changing Robe
No products found.
Good basic option if you're looking for something lightweight and that will take up as little space as possible in your luggage.
Good if you're looking at something which offers more waterproof protection than a towelling robe but not as big as a full size changing robe like the Dryrbe or Moonwrap.
On the inside there is a microfleece towel lining.
One kangaroo pocket at the front.
Pros: Very little sleeve so there is loads of movement to make changing uninhibited!
Cons: It's not full length so it won't keep your bottom half warm or protected if you're after that. Good for 12-20C. Only one size option. Not much privacy when changing.
Consumer Score:

No products found.

. So I wouldn't weigh too much on consumer feedback.
---
Smoc Smoc Weatherproof Change Smoc
No products found.
Smoc Smoc's are lined with bamboo, a natural highly-absorbent, insulating, hypo-allergenic fibre.
Large hood, long sleeves, strong 3/4 zipper, loose design, kangaroo pouch, internal pocket for keys/money.
Pros: Bamboo lining is sofy and cosy. Each robe comes in a bag made from fabric off-cuts and can be used for standing on while you get dry and change.
Cons: I'm a bit put off by not having a zip that goes all the way down.

No products found.

From 19 ratings this scored 4.1 out of 5.
Dryrobe Sale & Changing Robe Deals
If there are any discounts on Amazon they will be listed below. There are never really any deals on the Dryrobe brand but you will find them with other brands.
Benefits Of Dryrobe
Dryrobe purports to have the following benefits. Let's go through each one.
Warmth
Dryrobes will keep you warm but no more so than many other competing products, many at a far lower price.
How warm is dependent what sort of activity you are doing. I sea swim all year around so as soon I'm out of the water I give myself a towel down, crawl into the dryrobe to change, putting on a bunch of layers.
Dryrobes are available (along with other brands) in long and short sleeve options.
Unless you prefer the freedom of movement from short sleeves, I'd opt for a long sleeve one for warmth.
The Smoc Smoc's are lined with bamboo which is a natural highy-absorbent, insulating hypo-allergenic fibre.
I tend to find this warmer, and certainly cosier/softer than the inside of Dryrobe and other changing robes – that tend to be a synthetic lambswool lining (51% acrylic, 49% recycled polyester). My Moonwrap is a synthetic lining and I would prefer the bamboo one.
100% Waterproof outer shell fabric
The dryrobe's outer shell is totally waterproof. They do this through using one huge sheet of fabric, rather than multiple pieces which need to be sewn together, creating areas where water can get in.
The result is 100% windproof and waterproof. Dryrobe are not alone in this and most of the others on this article benefit from the same approach. I've also included towelling robes on here from Dryrobe which are different.
Bear in mind that with short sleeved robes you will get gusts of winds up your arms!
Full length zip front
When you emerge from the water or any cold activity you don't want to be fumbling around with a zip.
The dryrobe has a two way reversible zip so you can operate it from the inside of outside.
The zip teeth are large and the big pull tag makes it a breeze to use.
Thermoregulation
The inner lining of the dryrobe is a synthetic lambswool lining which draws water away, without absorbing the moisture. It dries your skin by wicking the water away from the skins surface.
It warms you by pulling water away from the skin into the heat insulating pile of the lining and removes the moisture through the natural venting, engineered into the garment.
Design
The dryrobe is available in short sleeve (3/4 length) and long sleeve.
dryrobe moved away from old school square designs. These led to bits of skin being exposed to the wind (or rain) when changing. As well as letting the chill in, they were also particularly problematic for women, with unwanted chest flashes.
Value for money
Although my go to robe is a Moonwrap these days and it is very comparable and less cost than a dryrobe I would not say the dryrobes are not good value for money.
You only need to look at 100s of hundreds of reviews of delighted dryrobe customers who have had them for many years.
If a dryrobe encourages you to get out and about more than otherwise (and then keeps you dry and protected from the wind) then I would say that is excellent value.
Dryrobe Size Guide
Adults between 5′ 8″ and 6′ 2″ (173 cm – 188 cm) will most likely be good with the medium size. In my experience they're a little on the large size.
Here is the guide to Dryrobe sizes.
Dryrobe Size Guide – Adult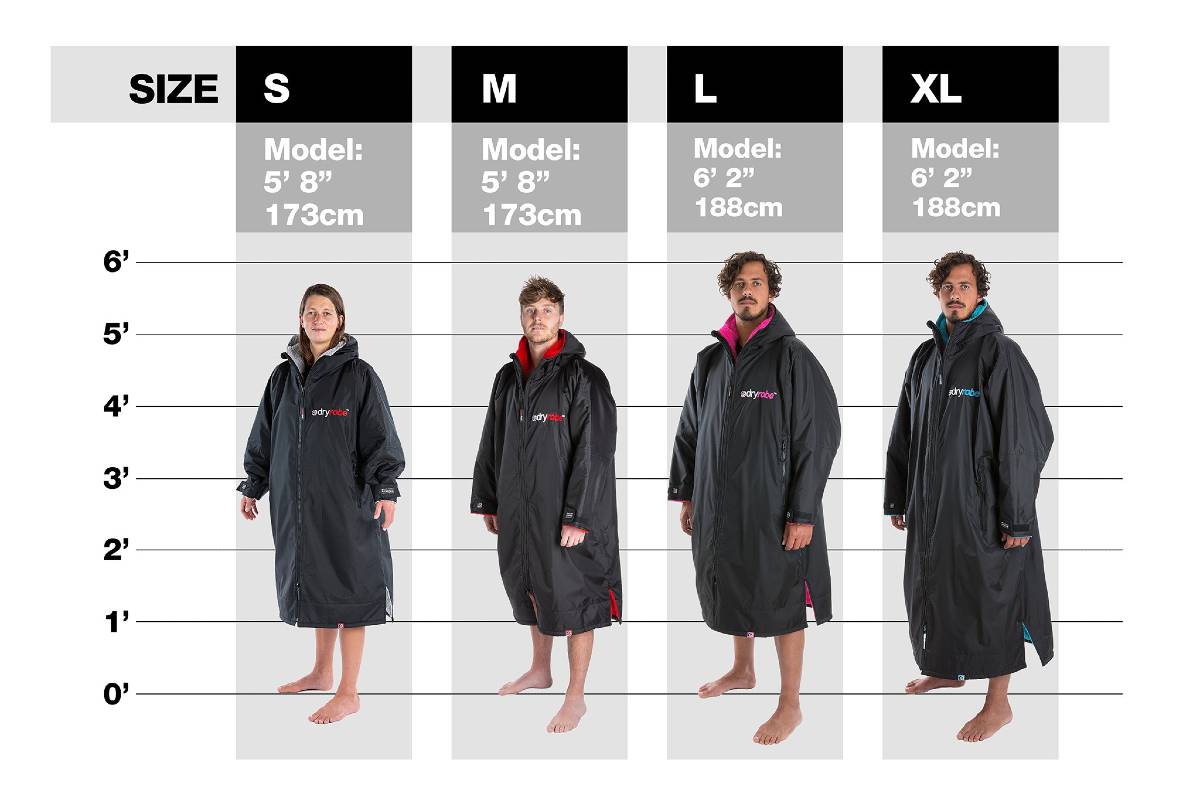 Dryrobe Size Guide – Kids
What To Consider Before Buying A Changing Robe
In this section I outline all the different factors to consider when choose the perfect dry robe or dry robe alternative changing robe for you.
You'll also find comparisons with how these vary across the different changing robes mentioned in this article.
Sleeve Length
Changing robes are either short or long sleeved.
What you go for is very much a personal preference. Some prefer the shorter sleeves giving them more freedom of movement, this can be useful when you're getting in and out of kit.
Others like the full length to keep you warmer and protected from the elements.
Some sleeves on full length robes can be tightened whilst an issue with some short ones is that wind whistles up your arms!
The Charlie McLeod robe does benefit from a push-button fastening on the sleeve so you can plug any gaps and stop the wind draught!
Zip
Having a well made zip (that will last for years) and a handy pull cord makes doing your changing robe up as painless as possible – all the more important when your hands might be freezing cold and you want to keep your zip faffing time to a minimum.
Look out also for a reversible zip – this means you can also do the zip up from the inside, which again can be preferable keeping your hands dry and warm while you get zipped up!
Shape
The changing robes are a little different in shape – and this is also true between long and short sleeve ones.
I've found the Charlie McLeod to be the most comfortable but this could be as much body shape (i'm fairly tall and wiry!) than the Dryrobe or Moonwrap.
Weatherproof and Warmth
These products all perform well from a warmth and dryness perspective. As the Palm Poncho is a less extensive garment it does provide less general protection against the elements.
The SmocSmoc and Dryrobe have taped seams which keep you totally drive in particularly foul weather.
Storage
Other than the Palm Poncho the others come with a range of handy pockets.
The Moonwrap and Dryrobe have two external zipped pockets, whilst the Charlie McLeod and Moonwrap has zipped mesh internal pockets.
I hope this review of the Dryrobes and alternative changing robes was helpful.
If you think I left any out that should be included or have a suggestion for a future article, let me know in the comments below.
Dominic
Last Updated: January 2022
Added more dry robe alternatives including Vivida Sherpa, Vivida Puffer, Gorilla.
Added Pros and Cons for all products.
Updated review scores.
Added Changing Robe Deals.
Added alternative buying options at eBay where relevant.
Beach Buyer Guides
Heading to the beach? Get the low down on our detailed product round ups!
Chairs & Tents & Storage
Food & Drink
Beach Clothing & Shoes
Water Fun & Beach Games
Baby At The Beach