In a hurry? Here's my best changing robe buys, or read on for the full review. See my top picks for all beach accessories.
MY TOP PICKS: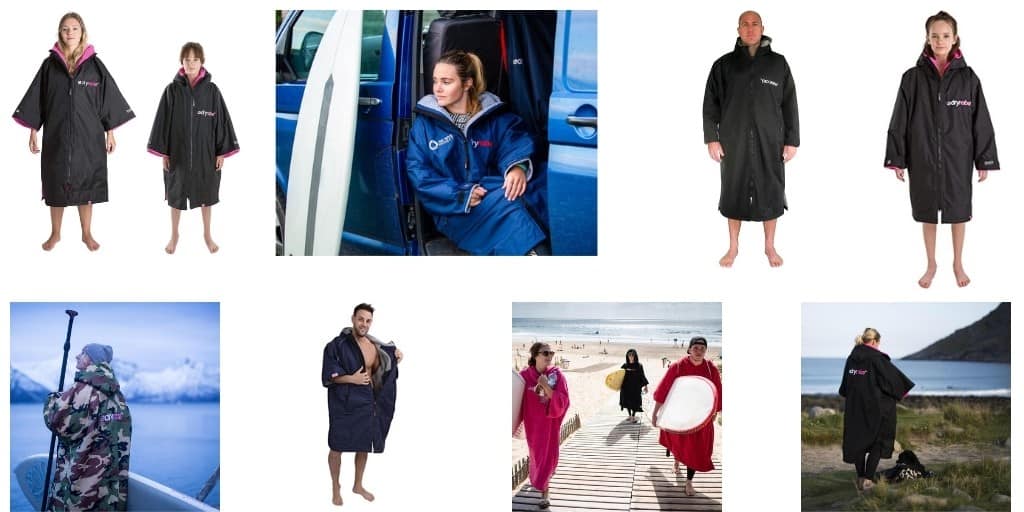 For this post, I have reviewed the Dry Robe along with five Dryrobe alternatives.
If you're thinking of buying a dry robe or changing robe for yourself or a someone else I'll walk you through how to choose the best one for your needs and budget.
Dryrobes are fantastic – as a keen sea swimmer all year round, I can't entertain the thought of getting out of the water without a warm, waterproof and windproof tent to change and warm up in!
Related: Protect yourself from the elements with the best beach tents and beach umbrellas.
The dryrobe brand is much loved but they are expensive and there are fantastic alternatives. Let's find out!
Show Today's Top Deals
These are today's top deals and bestsellers for changing robes.

Looking for more protection from the elements? See my top picks for the best windbreak and beach tent.
In this article I'll give you a overall run down on the brand Dry Robe, what characteristics it has and then specific reviews of each of their dryrobes.
At the bare minimum are a high quality waterproof and windproof outer layer with a warm insulated high wicking inner fabric.
So here is my list of the best Dry Robe reviews and best alternatives.
Dryrobe Adults
Dryrobe Long Sleeve
Dryrobe Short Sleeve
Dryrobe Towelling Robe
Dry robe also sell towelling robes if you don't need the full waterproof and windproof protection that the full changing robes offer. Or these may be more suitable for the British summer or holidaying abroad in warmer climes.
Dryrobe Short Sleeve
Available in a range of colours including red, slate grey, pink and royal blue.
---
Dryrobe Kids
Dryrobe Kids Long Sleeve
Dryrobe Kids Short Sleeve
Dryrobe Kids Towelling Robe
---
Dryrobe Alternatives – Top Changing Robes
Charlie McLeod
Charlie McLeod Eco Sports Cloak – Long Sleeve
Excellent eco friendly option – this changing robe is composed from over 1,000 plastic bottles.
FREE Charlie Mcleod 40 Litre dry bag comes with every cloak. Worth £19.95 and handy for carrying your changing robe.
Useful pockets inside for items and a mesh google pocket.
Sizes available: Small/Medium and Medium/Large.
Brilliant reviews. Only 6 ratings but 74% give this 5 stars out of 5.
---
Charlie McLeod Eco Sports Cloak – Short Sleeve
Same as long sleeve but short sleeve options.
Sizes available: Small/Medium and Medium/Large for adults. For children ages 7-10 and 10-13.
Excellent reviews. From 14 buyers 71% gave this 5 stars.
---
Smoc Smoc Weatherproof Change Smoc
Smoc Smoc's are lined with bamboo, a natural highly-absorbent, insulating, hypo-allergenic fibre.
Each robe comes in a bag made from fabric off-cuts and can be used for standing on while you get dry and change.
Large hood, long sleeves, strong 3/4 zipper, loose design, kangaroo pouch, internal pocket for keys/money.
Good reviews From 18 ratings this scored 4.1 out of 5.
---
Frostfire Moonwrap Waterproof Changing Robes
Frostfire Moonwrap Adult Waterproof Changing Robe
Discount - Save £10.00
An excellent lower priced alternative to the Dryrobe and very similar. (It's the one I have!)
I'm 6′ 2″ and the large is perfect with lots of room.
Fleece-lined hood keeps your head protected from the wind.
Two good sized external fleece lined pockets.
Big zips which make it easy to do up when your hands are cold!
Internal zip pocket which I tend to use for my phone.
The Moonwrap receives as enthusiastic and positive reviews as the Dryrobe brand.
86% of buyers give it 5 stars out of 5.
Many of the comments are that the Moonwrap is every bit as good and for a lower price.
Not available in as many colours as the Dryrobe.
Doesn't come with a carry bag.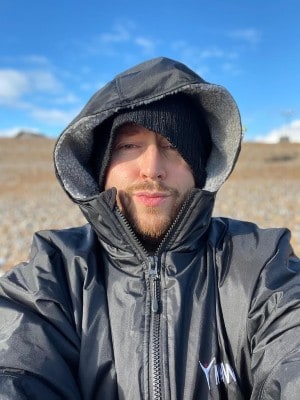 ---
Palm Poncho Grande Changing Robe
Good option if you're looking for something lightweight and that will take up as little space as possible in your luggage.
Also good if you're looking at something which offers more waterproof protection than a towelling robe but not as big as a full size changing robe like the Dryrbe or Moonwrap.
It's not full length so it won't keep your bottom half warm or protected!
On the inside there is a microfleece towel lining.
Very little sleeve so there is loads of movement to make changing uninibited!
One kangaroo pocket at the front.
---
Dryrobe Sale & Changing Robe Deals
Benefits Of Dryrobe
Dryrobe purports to have the following benefits. Let's go through each one.
Warmth
Dryrobes will keep you warm but no more so than many other competing products, many at a far lower price.
How warm is dependent what sort of activity you are doing. I sea swim all year around so as soon I'm out of the water I give myself a towel down, crawl into the dryrobe to change, putting on a bunch of layers.
Dryrobes are available (along with other brands) in long and short sleeve options.
Unless you prefer the freedom of movement from short sleeves, I'd opt for a long sleeve one for warmth.
The Smoc Smoc's are lined with bamboo which is a natural highy-absorbent, insulating hypo-allergenic fibre.
I tend to find this warmer, and certainly cosier/softer than the inside of Dryrobe and other changing robes – that tend to be a synthetic lambswool lining (51% acrylic, 49% recycled polyester). My Moonwrap is a synthetic lining and I would prefer the bamboo one.
100% Waterproof outer shell fabric
The dryrobe's outer shell is totally waterproof. They do this through using one huge sheet of fabric, rather than multiple pieces which need to be sewn together, creating areas where water can get in.
The result is 100% windproof and waterproof. Dryrobe are not alone in this and most of the others on this article benefit from the same approach. I've also included towelling robes on here from Dryrobe which are different.
Bear in mind that with short sleeved robes you will get gusts of winds up your arms!
Full length zip front
When you emerge from the water or any cold activity you don't want to be fumbling around with a zip.
The dryrobe has a two way reversible zip so you can operate it from the inside of outside.
The zip teeth are large and the big pull tag makes it a breeze to use.
Thermoregulation
The inner lining of the dryrobe is a synthetic lambswool lining which draws water away, without absorbing the moisture. It dries your skin by wicking the water away from the skins surface.
It warms you by pulling water away from the skin into the heat insulating pile of the lining and removes the moisture through the natural venting, engineered into the garment.
Design
The dryrobe is available in short sleeve (3/4 length) and long sleeve.
dryrobe moved away from old school square designs. These led to bits of skin being exposed to the wind (or rain) when changing. As well as letting the chill in, they were also particularly problematic for women, with unwanted chest flashes.
Value for money
Although my go to robe is a Moonwrap these days and it is very comparable and less cost than a dryrobe I would not say the dryrobes are not good value for money.
You only need to look at 100s of hundreds of reviews of delighted dryrobe customers who have had them for many years.
If a dryrobe encourages you to get out and about more than otherwise (and then keeps you dry and protected from the wind) then I would say that is excellent value.
Dryrobe Size Guide
Adults between 5′ 8″ and 6′ 2″ (173 cm – 188 cm) will most likely be good with the medium size. In my experience they're a little on the large size.
Here is the guide to Dryrobe sizes.
Dryrobe Size Guide – Adult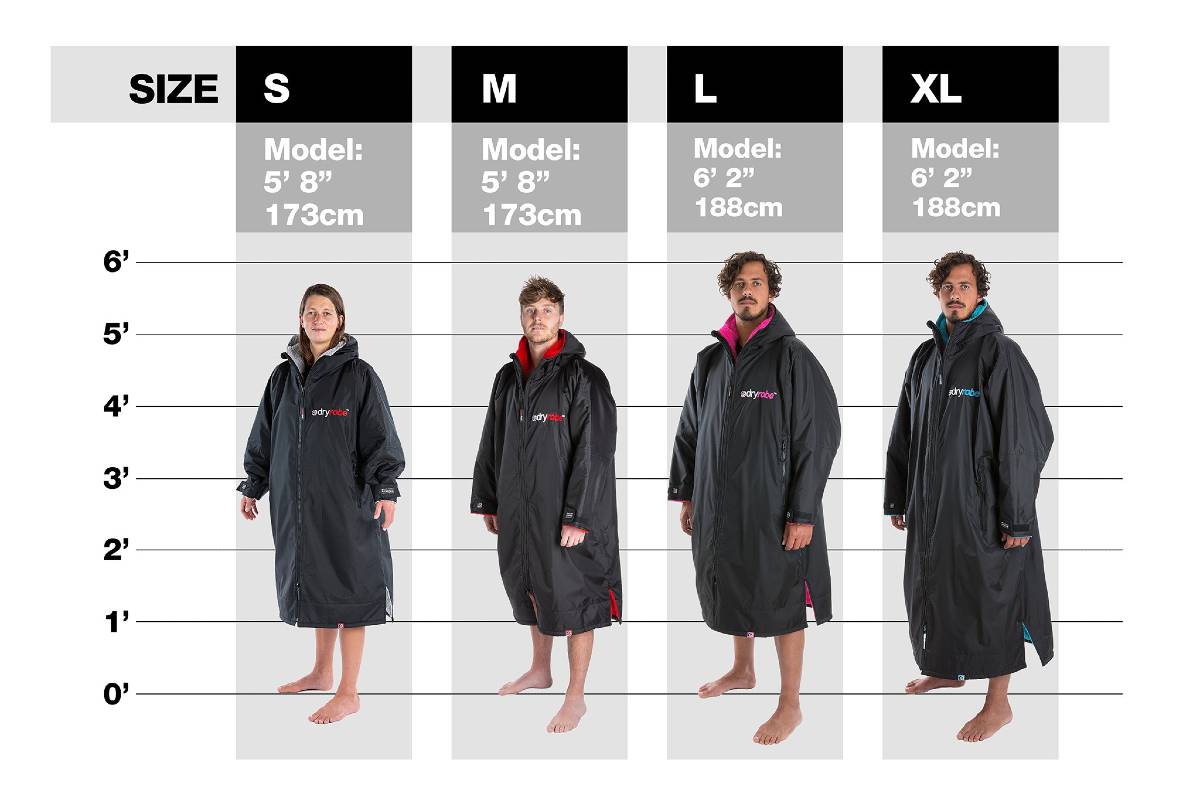 Dryrobe Size Guide – Kids
What To Consider Before Buying A Changing Robe
In this section I outline all the different factors to consider when choose the perfect dry robe or dry robe alternative changing robe for you.
You'll also find comparisons with how these vary across the different changing robes mentioned in this article.
Sleeve Length
Changing robes are either short or long sleeved.
What you go for is very much a personal preference. Some prefer the shorter sleeves giving them more freedom of movement, this can be useful when you're getting in and out of kit. Others like the full length to keep you warmer and protected from the elements.
Some sleeves on full length robes can be tightened whilst an issue with some short ones is that wind whistles up your arms!
The Charlie McLeod robe does benefit from a push-button fastening on the sleeve so you can plug any gaps and stop the wind draught!
Zip
Having a well made zip (that will last for years) and a handy pull cord makes doing your changing robe up as painless as possible – all the more important when your hands might be freezing cold and you want to keep your zip faffing time to a minimum.
Look out also for a reversible zip – this means you can also do the zip up from the inside, which again can be preferable keeping your hands dry and warm while you get zipped up!
Shape
The changing robes are a little different in shape – and this is also true between long and short sleeve ones.
I've found the Charlie McLeod to be the most comfortable but this could be as much body shape (i'm fairly tall and wiry!) than the Dryrobe or Moonwrap.
Weatherproof and Warmth
These products all perform well from a warmth and dryness perspective. As the Palm Poncho is a less extensive garment it does provide less general protection against the elements.
The SmocSmoc and Dryrobe have taped seams which keep you totally drive in particularly foul weather.
Storage
Other than the Palm Poncho the others come with a range of handy pockets.
The Moonwrap and Dryrobe have two external zipped pockets, whilst the Charlie McLeod and Moonwrap has zipped mesh internal pockets.
Depending how important the number
Pricing
I hope this review of the Dryrobes and alternative changing robes was helpful.
If you think I left any out that should be included or have a suggestion for a future article, let me know in the comments below.
Dominic
Beach Buyer Guides & Best Buys