For this post, I have put together a collection of the best kids poncho towels currently available. You can also see my top picks for all beach accessories.
Our Top Picks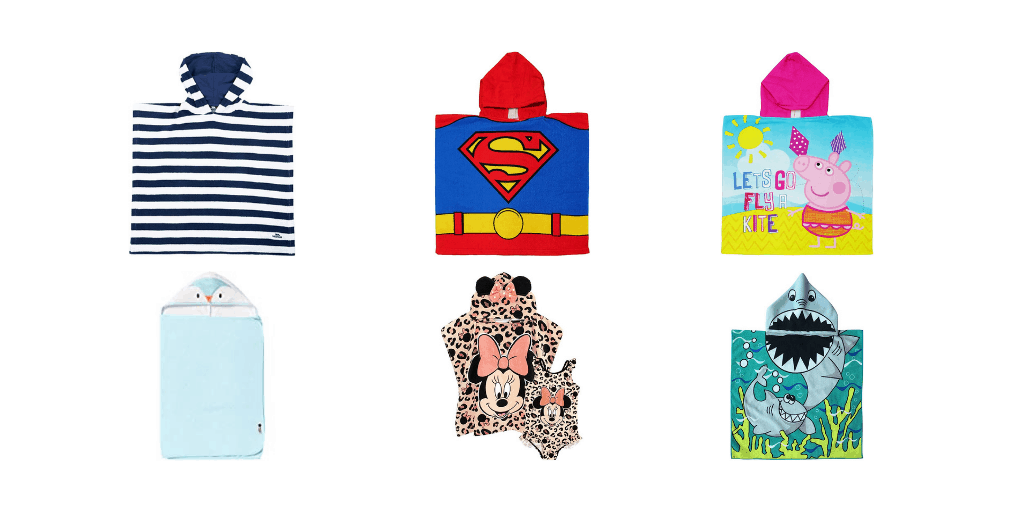 ---
Whether it's a trip to the beach, drying off after a swim in the pool or bath time, a kids poncho towel is great for throwing on.
From mermaids to dinosaurs and Minnie Mouse to Superman, we've picked some of the best kids poncho towels available
All of our picks have excellent feedback from customers and 4-5/5 star reviews.
Get your guides to the best beach towels, beach cover ups and baby towels here.
Let's get going!
SINBLUE Children Hooded Poncho
Shark fans will enjoy wearing this anti-crease microfibre hooded poncho towel which is perfect for the beach, pool or bathroom.
24″X48″ full length.
Great reviews. From 127 ratings 81% of buyers gave this 4-5 stars.
---
Trespass Girls Oarfish Hooded Poncho Beach Towelling Robe
This smart, navy and white striped poncho towel has a lined hood for a luxury feel and is perfect for swimming or beach time.
Made of 80% Cotton, 20% Polyester it is a nice quality towel.
Very good reviews. From 14 ratings 90% of buyers gave this 4-5 stars.
---
Disney Minnie Mouse Girl's Swimsuit & Hooded Towel Poncho Set
An adorable Disney Minnie Mouse set with swimsuit and poncho towel which is ideal for swimming lessons or beach and pool days.
Swimming costume in sizes; 18-24 months, 2-3 years, 3-4 years, 4-5 years, 5-6 years, 6-7 years and 7-8 years.
The towel is 100% cotton so its nice and absorbent for drying off.
Good reviews. From 32 ratings 73% of buyers gave this 4-5 stars.
---
CityComfort Kids Hooded Towel Poncho
We love this dinosaur hooded poncho towel with spikes, dinosaur face on hood and pocket.
Made of 100% cotton and available in sizes from 3-13 years.
Also available in other colours and patterns.
Excellent reviews. From 1,455 ratings 77% of buyers gave this 5/5 stars.
---
Kato Tirrinia Kids Mermaid Poncho Towel
Little ones will love pretending to play mermaids in this 100% soft cotton mermaid cartoon towel, which is super absorbent and machine washable.
Towel measures 24″x 52″ with 12″ x 9.5″ hood.
Very good reviews. From 63 ratings 89% of buyers gave this 4-5 stars.
---
Tommee Tippee Splashtime Hooded Poncho Towel
Discount - Save £2.13
A super soft, cute poncho towel for toddlers, which is highly absorbent for quick drying.
It's made from super soft, hypoallergenic microfibre towelling so its kind to their delicate skin.
SPF 50 and chlorine resistant, this is great to take to the beach or pool.
Fabulous reviews. From 276 ratings 81% of buyers gave this 5/5 stars.
---
Superman Boys Hooded Poncho Towel
Any little superhero fan will love wearing this Superman poncho towel.
Made of 100% Microfibre it is lightweight and quick drying so perfect for the beach or pool.
Good reviews. From 3 ratings 100% of buyers gave this 4/5 stars.
---
Peppa Pig Official Character Girls Hooded Poncho Towel
Official Peppa Pig licensed character towel in bright, bold colours this will brighten up bath time with your toddler.
55×110 CM. Suitable for kids of age 2 to 7 years.
Very good reviews. From 10 ratings 75% of buyers gave this 5/5 stars.
---
What to consider when buying kids poncho towels
Material
Towels made from 100% cotton are an excellent option as they are soft and more absorbent than man-made materials.
Cotton-blend towels are a more affordable alternative and still have good absorbency.
Microfibre towels are also a good choice for the beach as they are lightweight, highly absorbent and quick drying, plus they can be rolled up so that they are compact for packing in a suitcase.
Size
If you are buying for a toddler you want to opt for a shorter length poncho so that it doesn't drag along the floor when they are wearing it. Alternatively you don't want anything too short for an older kid, so check size before purchasing.
Absorbency
If you are planning on kids using the beach towel at the pool or after a swim opt for a more absorbent option so they can dry off quicker.
Stitching
Have a look at how the towel is stitched before buying. If it has short loops the towel will dry off faster.
Today's Top Deals & Bestsellers
Beach Buyer Guides & Best Buys