For this post, I have put together a collection of the best kids wetsuits currently available. See my top picks for all beach accessories and kids swimming accessories.
Show Today's Top Deals
These are today's top deals and bestsellers for kids wetsuits.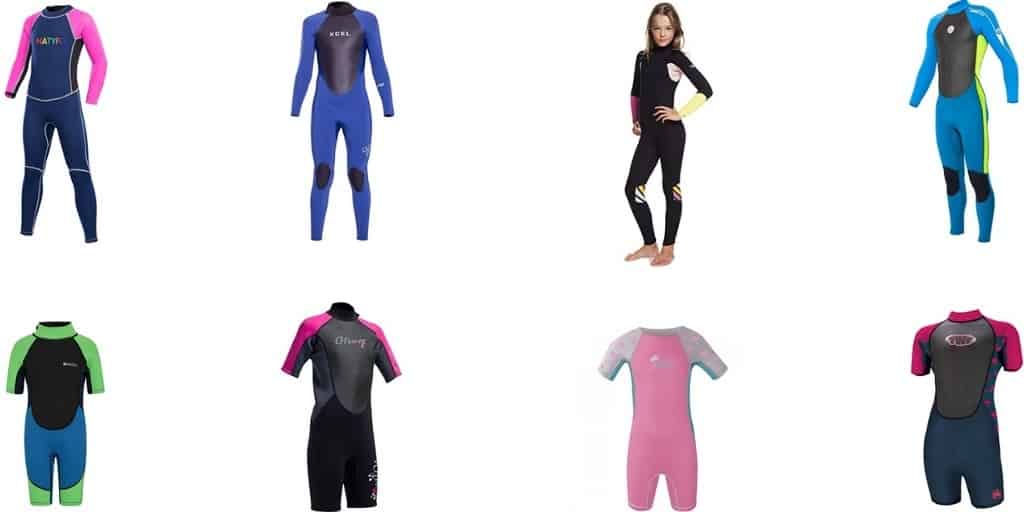 Related: See my top picks for arm bands and kids swimming goggles.
If you've decided to take a beach staycation this year you may be wondering how cold the sea will be for the kids? Maybe your child spends a lot of time in the water or will be taking part in watersports such as surfing or paddle boarding. Whether your child will be swimming in the sea, rivers or sailing on a lake a wetsuit is a great choice for keeping them warm.
Wetsuits are specially designed to keep your body protected from cold waters and hot or cold weather. They also provide more buoyancy which means it takes less effort to swim and they can prevent sunburn and protect against some cuts and bruises children can get in the water.
We've sourced 10 of the best kids wetsuits on the market.
Let's get going!
NATYFLY Kids Wetsuit
2mm neoprene kids wetsuit designed to keep your children warm in cold conditions during diving, surfing, swimming, snorkelling ,scuba diving and other water sports.
Designed to offer a warm and free body movement and made of the softest high quality neoprene fabric.
Convenient back zipper to pull on easily.
Provides UPF50+ protection and it helps block 97.5% of the sun UV radiation.
XCEL Kids Full Length Wetsuit
Full length 4mm wetsuit made from super soft and lightweight material 'Superprene Japanese Limestone.
Incorporates a Plush Thermo Lite Lining on the upper body providing 100% stretch, comfort, and performance.
The seams are triple glued and blind stitched for durability.
Fits like a secondary skin.
Roxy Girls 3/2mm Pop Surf Chest Zip Wetsuit Black
No products found.
3/2mm front zip wetsuit made with air cell-rich limestone for lightweight warmth.
With thermal fleece lining to keep body heat in.
Eye-catching design for girls.
Good fit around neck, wrists and ankles to prevent flushing.
Alder Impact Junior 3/2mm Kids Full Wetsuit
3/2mm Kids Full Wetsuit 2020 provides top quality warmth while still maintaining maximum movement and flexibility.
It also has a single lined torso that will not allow any wind chill while helping your kids maintain their inner core body temperature.
With glideskin adjustable collar for additional comfort and seal.
Zone 3 Adventure Junior Triathlon Wetsuit
Professional quality wetsuit with a super stretch 2mm shoulder and arm panels for comfortable and energy efficient swimming, you can compete at your highest level.
Trademark silicone coated Pro-Speed Cuffs on the arm and legs cuffs to help increase speed of removal.
Bright coloured arm and leg cuffs for improved visibility in the water – 3mm front body and leg panels.
Low and comfortable neckline.
Fully stitched and glue bonded for increased flexibility and comfort.
Mountain Warehouse Junior Shorty Wetsuit
2.5mm thick neoprene wetsuit,
The suit is contour sculpted and had an easy glide zip, making it easier for them to dress and undress themselves.
With an internal key pocket, their locker keys for the beach hut will be secure, enabling the Shorty Wetsuit to provide them with warmth and comfort whilst you relax.
This wetsuit is suitable for bodyboarding & surfing, however should not be used for long distance swimming or triathlons
Gul G-Force Kids Youth Junior Shorty Wetsuit
3/2mm affordable entry-level wetsuit designed to get kids in the water for the first time.
100% D-Flex panels for durability Flatlock durable seam construction Velcro adjustable neck.
Perfect for taking on holiday.
O'Neill Youth Kids Junior Reactor Ii 2MM Back Zip Shorty Wetsuit
Discount - Save £5.95
Another great entry-level 2mm wetsuit with fully adjustable super seal neck.
Hidden key pocket and back zip system.
Perfect for summer beach play with good fit around neck arms and legs.
Comfortable wetsuit which is good value for money.
TWF Unisex-Youth Xt3 Short Wetsuit
A great durable all-rounder.
The 3mm thickness and mesh panels make this wetsuit suitable for use from Spring to Autumn.
The super-stretch shoulders and sleeves enable freedom of movement in all water-based activities while providing warmth and maximum UV protection.
Xcel Toddlers Shorty Wetsuit
This 1mm neoprene toddlers shorty wetsuit is perfect for protection on the beach from sun and for also splashing around in the waves.
Pretty pink design and thin material for maximum comfort.
Kids Wetsuit Deals & Today's Bestsellers
What to consider when buying a wetsuit for kids
Material
Wetsuits are usually made of neoprene.
They can come in various thicknesses which suit different seasons.
The thicker the neoprene, the more effective the wetsuit will be at keeping the child warm.
Comfort
Good wetsuits should be comfortable for kids to wear.
They wont want to feel restricted, so the flexibility of the neoprene should be good so that they can easily move around and play in them.
Ease Of Use
So think about how easy the wetsuit is to put on and take off.
Your child will only get frustrated if the wetsuit is really hard to pull on so its worth checking that they can easily get into and out of the wetsuit.
Beach Buyer Guides
Heading to the beach? Get the low down on our detailed product round ups!
Chairs & Tents & Storage
Food & Drink
Beach Clothing & Shoes
Water Fun & Beach Games
Baby At The Beach