For this post, I have put together a collection of the best baby wetsuits currently available. For more recommendations and buying tips, see my list of what to buy for a newborn baby.
Our Top Picks
Show Today's Top Deals
These are today's top deals and bestsellers for baby wetsuits.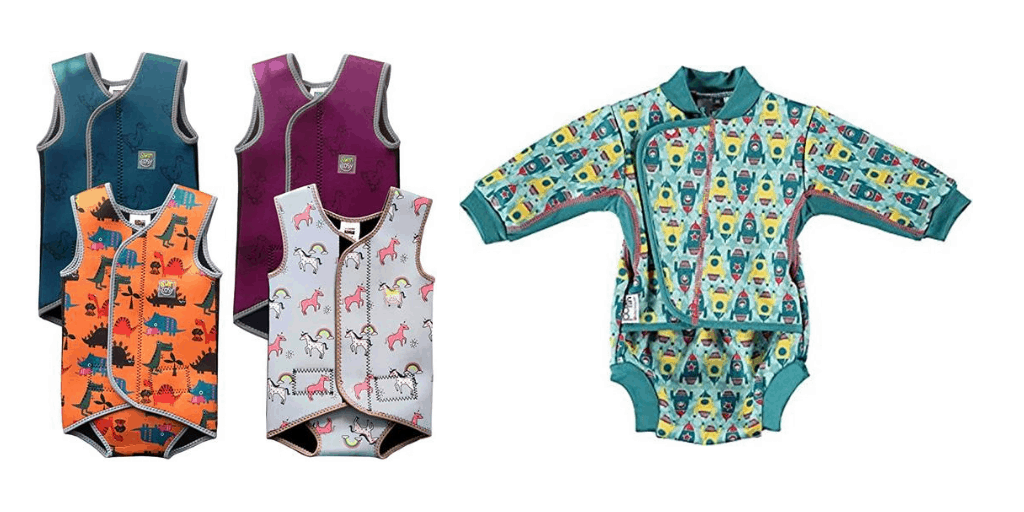 If you're heading off on your holidays at home or abroad you may be wondering how to keep your baby snug and protected from the sun whilst in the pool or at the beach.
Young babies can get cold in the water as they are unable to regulate their temperature, so a baby wetsuit will help to keep them warm plus protected from the sun's harmful rays at the same time.
Most wetsuits are made from neoprene which is a quick-drying, insulating fabric. Baby wetsuits sometimes contain fleece for extra warmth and some will also have great UPF protection.
Is your little one a bit older? Check our top picks for the best kids wetsuits.
Also see my best buys for baby swimsuits and baby sun hats.
We've sourced 9 of the best baby wetsuits on the market.
Let's get going!
Splash About Children's Warm in One Baby Wetsuit
A soft, fleece-lined wetsuit which will keep your baby snug in the pool.
With UPF protection of 50+, they'll also be protected from the sun.
Perfect for babies with sensitive skin and conditions such as eczema.
Splash About Baby Wrap Wetsuit
This wrap wetsuit is available in a variety of funky prints.
Made from 3mm thick neoprene to keep baby warm whilst in the pool plus it has UPF 50+ sun protection.
The wrap design means it is simple to put on and take off.
Swim Cosy Baby/Toddler Wetsuit Vest with UPF50
This wetsuit vest opens up flat and has a snug fit which will make baby feel cosy and secure.
With anti-snag velcro and 3mm neoprene.
UPF rating of 50+ sun protection.
Available in sizes of up to 3 years.
Ultimate Newborn Baby Neoprene Wetsuit
This wetsuit has stretchy lycra arm and leg openings making getting your little ones in and out of the suit a breeze.
Flat stitched seams and a sturdy front zipper make this a comfy suit for your little ones as they take to the water.
2mm neoprene material which means this suit is not UV certified, due to the thickness, it will still help protect your little ones against harmful UV sun rays.
Pop-In Cosy Suit, Rockets
This suit is made of UPF50+ 3 ply laminate material which will keep little one protected in and out of the water, whilst the soft fleecy layer inside helps keep them snug and warm.
With full front opening and flexible closing.
It has an integrated award winning pop-in swim nappy with its unique 'seal to skin bind, meaning any little accidents that happen will stay in the nappy!
Swimbubs Baby Swimming Wrap
Another good baby wrap wetsuit in cute design with the benefit of open arms and legs, so it doesn't restrict your babies movements in the pool.
Made from soft neoprene the suit opens out completely flat helping to easily dress your baby, with adjustable velcro fastenings this ensures the wetsuit is a snug fit.
UPF 50+ sun protection.
Aquajoy Warmsy – Premium Reversible Baby Wetsuit
Lovely 2-in-1 reversible design.
With UPF 50+ sun protection.
Can be used over barrier or skin creams to ensure they don't rinse off in the pool water helping to protect against chlorine irritation.
Designed with highest quality neoprene a durable and highly insulating material used by professional divers and surfers.
Comes packaged in high quality printed box making it a perfect give for new parents or baby showers.
Splash About Warm in One Baby Wetsuit and Matching New Improved Happy Nappy
No products found.
A soft, fleece-lined wetsuit which will keep your baby snug in the pool.
With UPF protection of 50+, they'll also be protected from the sun.
Perfect for babies with sensitive skin and conditions such as eczema.
With matching nappy which will prevent any leaks and accidents in the water.
Swimbest Warmsuit Wetsuit
Discount - Save £5.00
Offers 100% sun protection on the area of baby covered.
Soft fleece lined baby wetsuit.
Fantastic to use with barrier cream for babies with eczema or sensitive skin.
Made from Technoflex with a fleece lining with long arms and legs.
There is a zip and a popper at the back of the suit to aid getting it on and off.
Splash About Kids Single Nappy Wrap
This nappy wrap is suitable for use under wetsuits.
Reusable, 100% cotton under nappy to help make changing at the pool or the beach easier.
Soft Velcro fastenings make the nappy wrap easy to put on and take off and help to contain solids within the nappy.
Machine washable.
Today's Top Deals & Bestsellers
What to consider when buying a wetsuit for your baby
Material
Wetsuits are usually made of neoprene.
They can come in various thicknesses which suit different seasons.
The thicker the neoprene, the more effective the wetsuit will be at keeping baby warm.
Also look for fleece lining as extra insulation.
Comfort
Good wetsuits should be comfortable for baby to wear.
They wont want to feel restricted, so the flexibility of the neoprene should be good so that they can easily move around and play in them.
Ease Of Use
So think about how easy the wetsuit is to put on and take off.
Your baby will only get frustrated if the wetsuit is really hard to get on and off.
Sun Protection
Look for a wetsuit with UPF protection of 50+, as baby will also be protected from the sun.
A wetsuit can also help babies with sensitive skin conditions such as eczema as the wetsuit can act as a shield over barrier cream.
Beach Buyer Guides & Best Buys