For this post, I have put together a collection of the best baby swimwear currently available. You can also see my top picks for all beach accessories or check out our comprehensive buyer's guides for baby essentials.
Our Top Picks
Show Today's Top Deals
These are today's top deals and bestsellers for baby swimwear.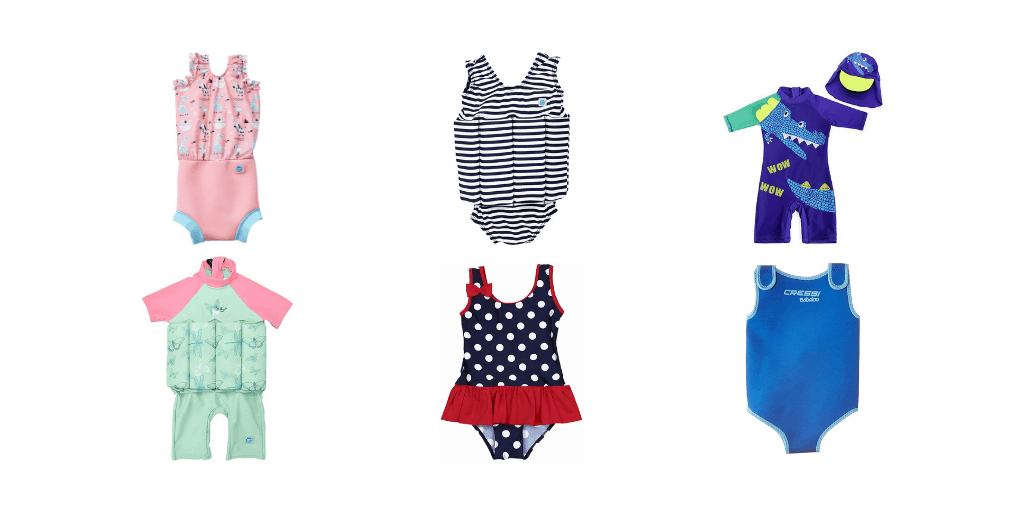 ---
Whether you're going on your first family holiday or splashing around in the back garden paddling pool, it's essential you have the right swimwear for your baby.
Babies skin needs more protection than adults, not only from the cold but also the sun. Babies can get cold in the sea or pool so it's important to keep them warm and also protect their delicate skin from harmful UV rays.
We've scoured the internet to find the best swimwear for babies, from swimsuits with floats to swimsuits with nappies, we've got it covered.
All of our choices have excellent customer feedback and reviews.
Looking for more beach and pool essentials for your little one? See our top picks for the best baby sun hat, best baby wetsuit and best baby swim nappies.
Let's get going!
Baby Swimsuit With Nappy
Splash About Baby Happy Nappy Costume
This baby girls swimsuit incorporates the award winning Happy Nappy into a pretty swimsuit.
It provides faecal leak protection whilst your baby swims.
There is no need to wear any other swim nappy underneath, this costume is practical and convenient.
It is manufactured with premium quality neoprene and a super soft Nylon-Lycra top which is chlorine resistant.
Special ribs around the thighs and legs provide a snug seal to stop any solid leaks into the pool.
Available in styles; Dragonfly/ Hidden Treasure/ Nina's Ark/ Little Ducks/ Nautical/ Navy/White Stripe/ Owl & The Pussycat/ Into the Woods/ Pink Geranium.
Available in sizes 0-3 months – 3 years.
Excellent reviews so far. From 14 ratings 100% of buyers gave this 5/5 stars.
---
Splash About Baby Kid's New Improved Happy Nappy
This excellent swim nappy is for boys and girls. It can be worn alone or under swimwear.
Proven to be the most effective swim nappy for preventing solid leaks into the pool.
It is made from 1 mm thick neoprene, with a unique patented 3D design, for protection against faecal leaks.
Available in sizes Newborn – 24 months.
Available in 20 different colours and prints for boys and girls.
Plenty of fabulous reviews. From 7,030 ratings 82% of buyers gave this 5/5 stars.
Also a bestseller on Amazon.
Looking for alternative options? Also see our guide to the best baby swim nappies.
---
Baby Swimsuit With Float
Splash About Kids Floatsuit with Adjustable Buoyancy
This adjustable 16 pieces float swimsuit can help to promote the correct learn to swim position and helps little ones gain water confidence.
It's still very important for an adult to always be at arms reach with a little one in the pool.
Made from high quality, chlorine resistant fabric.
With UPF50+ sun protection to protect your little ones sensitive skin from the sun.
Available in sizes 1 year – 6 years.
Available in styles; Dragonfly/ Navy/White Stripe/ Owl and the Pussycat/ Tutti Frutti/ Garden Birds/ Into The Woods.
Very well reviewed. From 754 ratings 73% of buyers gave this 5/5 stars.
---
Splash About Kids' Sun Protection Float Suit
This UV float suit features an adjustable buoyancy system of 16 removable floats, which will help to hold your child in the correct learn to swim position.
It offers extra coverage around the neck, back, chest, shoulders and thighs in a high quality, chlorine resistant fabric which offers UPF50+ sun protection.
With a zip down the back for easy changing.
Available in sizes from 1-6 years.
Available in 15 cute prints for both boys and girls.
Very good reviews. From 215 ratings 74% of buyers gave this 5/5 stars.
A bestseller on Amazon.
---
Baby Neoprene Swimsuit
Cressi Infant Baby Warmer Thermal Neoprene Wetsuit
Made of neoprene this infant/baby warmer will help to keep little one warm in the water and also protected against the sun (covered parts).
Buoyant which assists with back flotation.
With easy access for any swim nappy changes.
Available in colours; Blue/ Green/ Purple/ Orange/ Yellow/ Pink.
Available in sizes 6 months- 24 months.
Very positive reviews. From 289 ratings 85% of buyers gave this 4-5/5 stars.
Customers love the fab quality.
Looking for alternative baby wetsuit options? See our guide.
---
Baby Boy Swimsuit
AmzBarley Boys & Girls All In One UV Protection Swimwear
These all in one swimsuits with matching sun hats are ideal for toddlers.
Made of silky smooth, stretchy, skin-friendly and quick dry material, which is incredibly comfortable for your little one.
The hat has sun protection flaps for the neck and can be kept on in the water as made of the same quick drying material.
Rated UPF 50+ for over 98% protection from the sun.
Highly chlorine and salt water resistant so the colours stay vibrant.
Available in 8 different designs for boys and girls including; Watermelon Red+blue/ Yellow+black/ Blue Crocodile/ Blue Shark/ Dark Blue/ Pink/ Blue Dinosaur/ Pink Unicorn.
Available in 1 – 8 years.
Good reviews. From 238 ratings 85% of buyers gave this 4-5/5 stars.
Customers like the nice quality of the material.
---
Splash About Boys' Toddler Jammers
Made for toddlers and are a great solution for children who are not yet fully toilet trained, but that are too grown up for a swim nappy.
Made from soft neoprene, with specialist fabric at the waist and medical grade silicone around the thighs, these work in the same way as the Happy Nappy.
They offer full faecal leak protection and ensure there are no leaks into the pool should an accident occur.
They are made from soft, comfortable 1 mm thick neoprene for warmth.
Matching rash tops are available.
Available in sizes 2 years to 4 years.
Available in styles for boys and girls; Crocodile Swamp/ Hidden Treasure/ Pink Blossom/ Shark Orange/ Under the Sea.
Brilliant customer reviews. From 553 ratings 86% of buyers gave this 5/5 stars.
Another Amazon bestseller.
---
Baby Girl Swimsuit
Baby Girl iiniim Polka Dot Swimsuit
If you're looking for a cute swimming costume for your little one to wear to the swimming baths or for splashing around in the paddling pool this is perfect.
With a round neckline, wide shoulder straps and an irremovable bowknot details.
With ruffles at waist for a pretty finish.
Available in sizes; 0-3 months – 3 years.
Available in colours; Dark Navy/ Lake Green/ Purple/ Rose_red.
Great reviews. From 113 ratings 76% of buyers gave this 5/5 stars.
---
What to consider when buying swimwear for your baby
Material
Depending on where you are planning on using the swimsuit you may want to have more than one option for your baby.
Some swimsuits and wetsuits are made of neoprene. They can come in various thicknesses which suit different seasons. The thicker the neoprene, the more effective the wetsuit will be at keeping baby warm. Also look for fleece lining as extra insulation.
Other swimsuits will be made of lighter materials which are stretchy and less restrictive than neoprene.
Comfort
Good swimwear should be comfortable for baby to wear. They won't want to feel restricted so finding something which is both comfortable and practical is key.
Ease Of Use
If you are going to be changing swim nappies, you want swimwear which isn't too difficult to put on and off or has access for changing.
Sun Protection
Look for swimwear with UPF protection of 50+, as baby will also be protected from the sun.
Today's Top Deals & Bestsellers
Baby Products – Buyer Guides
Sleeping & Nursery
Feeding
Toiletries & Nappy Changing
Clothing
Travel
Playtime
Baby Extras
Beach Buyer Guides
Heading to the beach? Get the low down on our detailed product round ups!
Chairs & Tents & Storage
Food & Drink
Beach Clothing & Shoes
Water Fun & Beach Games
Baby At The Beach