For this post, I have put together a collection of the best baby monitors currently available. For all my recommended baby product guides, with top picks, see my list of newborn essentials.
Our Top Pick
My top pick is the BT Digital Audio Baby Monitor 400 as it is packed with great features so you can listen to your baby from anywhere in your home. It also features sound level lights to alert you even when you turn the audio down.
Show Today's Top Deals
These are today's top deals and bestsellers for baby monitors.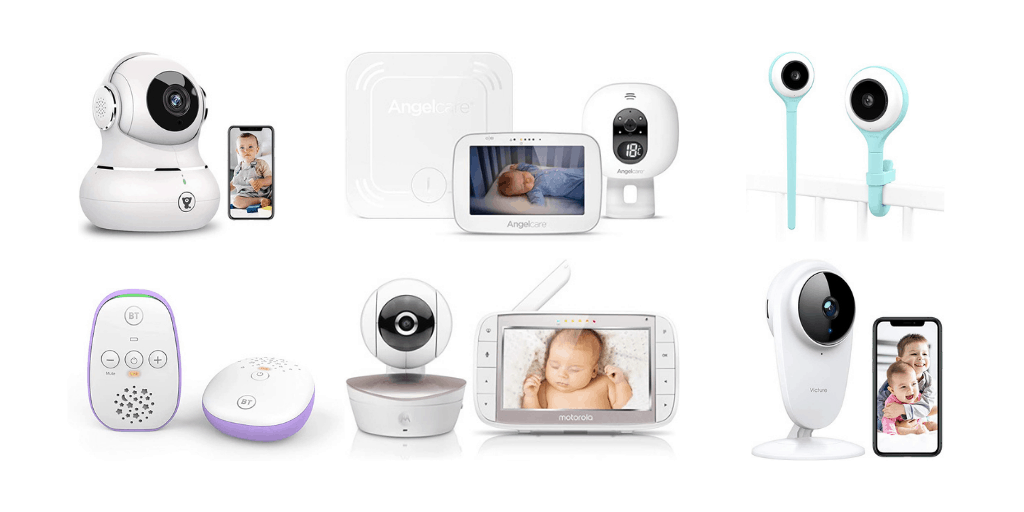 ---
A baby monitor is a great option for giving you the freedom to be in another room from your infant but still keep an eye on them. It's the perfect tool to put your mind at ease so you can make sure your baby is safe and secure.
A baby monitor will give you the ability to either listen to or watch your baby or even track their pulse. There are plenty of different baby monitors available, all with various features, from video to audio or smartphone and Wi-fi.
We've put together our top 8 picks of the best baby monitors on the market, which all have excellent customer reviews with a majority of 5/5 star ratings.
You may also wish to check out my top picks for white noise machines for babies. Or see my best buys for night lights.
Mums-to-be or new parents will also find our guide to the Top 100 Baby Products super useful.
So here is my list of the the best baby monitors.
Best Video Baby Monitors
Motorola MBP49 Video Baby Monitor
This video monitor can be used around the home and garden, allowing you to keep a close eye on your little one.
It has a wide 5″" colour LCD screen with high quality video output and a handheld parent unit.
There is a room temperature display so that you can ensure the room stays at the right temperature for your baby.
With remote pan, tilt and zoom so you can get a 270-degree view of your baby's room in real time.
There is a two-way communication feature so you can hear your little one clearly, and soothe them with your voice from another room.
The highly sensitive microphone allows you to pick up on even the slightest sounds.
The 5″ colour screen is capable of viewing up to four cameras – ideal for monitoring multiple children and rooms.
Parents love this baby monitor – 71% of 201 buyers gave it 5 stars.
Babymoov Yoo-Moov
Discount - Save £20.99
360 degree silent motorised video monitor.
The image quality, screen size and zoom options enable you to see the smallest details.
The base of the camera houses a multi-coloured night light which diffuses soft light.
It also features lullabies to soothe your little one to sleep, as well as a temperature sensor enabling you to check the temperature in your baby's nursery.
Includes voice activated screen and a microphone to speak to your child.
Parents love this baby monitor – 73% of 429 buyers gave it 4/5 stars..
Lollipop Baby Monitor with True Crying Detection
A Wi-Fi and video-based monitor with audio and sleep tracking.
Compatible with both iOS and Android systems. Simply connect your baby camera to your phone using the app Lollipop.
Advanced infrared night vision!
If you want to keep an eye on more than one room there is a multi-streaming feature! You can add as many cameras as want (Additional cameras sold separately).
Get notifications when your baby cries, climbs out of the cot or makes loud noises.
Parents absolutely love this baby monitor – 79% of 2,989 buyers gave it 5 stars..
Best Audio Baby Monitor
BT Digital Audio Baby Monitor 400
Discount - Save £3.00
Crystal clear interference free Audio Baby Monitor.
Sound level LED's alert you visually to any sounds coming from your baby's room.
The wireless range keeps you connected to your baby up to 50 metres indoors and up to 300 metres outdoors.
Sound level lights are for when you don't want to hear every snuffle but want to be alerted if they need you.
Parents love this baby monitor – 73% of 2,508 buyers gave it 5 stars..
Best Baby Breathing Monitor
Owlet New Smart Sock 3 Baby Monitor with Oxygen & Heart Rate
Track your baby's heart rate, oxygen levels and sleep.
The Smart Sock is the first ever baby monitor to track your baby's well-being while they sleep.
Be notified from anywhere when your baby needs you by lights and sound through the base station and app notifications on your phone.
It uses established pulse-oximetry technology that has been proven both safe and accurate.
Smart Sock fits most infants from 0-18 months.
Parents love this baby monitor – 84% of 547 buyers gave it 5 stars..
Snuza Hero MD (Medically Certified) Portable Baby Breathing Monitor
Wearable clip-on baby monitor that safely and conveniently monitors your baby's breathing movement while sleeping.
Clips onto your baby's nappy for total portability and requires no cords, wires, sensor pads, or external power source.
It will alert you if breathing is weak or less than eight breaths per minute.
Parents report this monitor gives them "peace of mind".
Parents love this baby monitor – 80% of 549 buyers gave it 5 stars..
Best Wi-fi Baby Monitor
Littlelf Wifi Camera
No products found.
With this security camera you can keep an eye on your home from anywhere.
It has crystal-like HD quality and night vision feature.
When a moving object is detected, wifi security camera will follow the moving object.
Built-in microphone and speaker so you can keep in touch with your baby/pet/nanny anywhere.
Works with Alexa. Add voice control by combining with a screen Alexa device
With USB cable for charging.
Parents love this security monitor –

No products found.

.
Victure Baby Monitor Pet WiFi Camera
No products found.
This Wi-fi baby monitor helps you keep an eye on your house, baby, pets even when you are out.
While movements and sounds are monitored, this baby wifi camera will send notifications to your mobile phone.
You can do anything with this monitor from comfort your kids if they wake up through audio to scare off a thief if you are away from home.
This wifi baby monitor can only support 2.4ghz wifi.
Parents love this baby monitor –

No products found.

.
Today's Top Deals & Bestsellers
Which baby monitor should I go for?
Video Monitor
Video monitors have two parts to them. The camera and the parent unit. They can be quite expensive but you will be able to watch your baby and in most cases, communicate with them through audio from another room or garden.
Some parent units have big screens so you can get a large picture of your baby, while others are much smaller, which limits what you can see. Which one you opt for will depend on how much you want to spend or which one you prefer.
Audio Monitor
Audio monitors come in 2 parts and are similar to walkie talkies. One part stays in your baby's room and there is a parent unit to keep on you. They can include light or sound alerts and 2-way talkback and lullabies to soothe your baby. These are often the most affordable option when it comes to baby monitors.
Wi-fi Monitor
You can use as security camera in your home and you can also keep an eye on things while you are away from home at work or on holiday.
You can use your existing internet connection at home with a smartphone app. While a traditional video baby monitor will only work at home a smart wi-fi monitor isn't constrained by signal range so you can use it wherever you have Wi-fi signal.
Breathing/ Pulse Monitor
If your baby's breathing was to become abnormal, your baby breathing monitor would alert you with a loud alarm that lifesaving action is needed. Some parents find these types of monitors very reassuring, but they can be expensive.
---
I hope this list of the best baby monitors was helpful.
If you think I left any out that should be included or have a suggestion for a future article, let me know in the comments below.
Nicola
Baby Products – Buyer Guides
Sleeping & Nursery
Feeding
Toiletries & Nappy Changing
Clothing
Travel
Playtime
Baby Extras