For this post, I have put together a collection of the best baby wellies currently available. Looking for more top picks and buying guides? See my complete baby checklist.
Our Top Pick
My personal favourite are the Crocs Unisex Kid's Handle It Rain Boot as the oversized handles make them easy for little ones to put on and take off.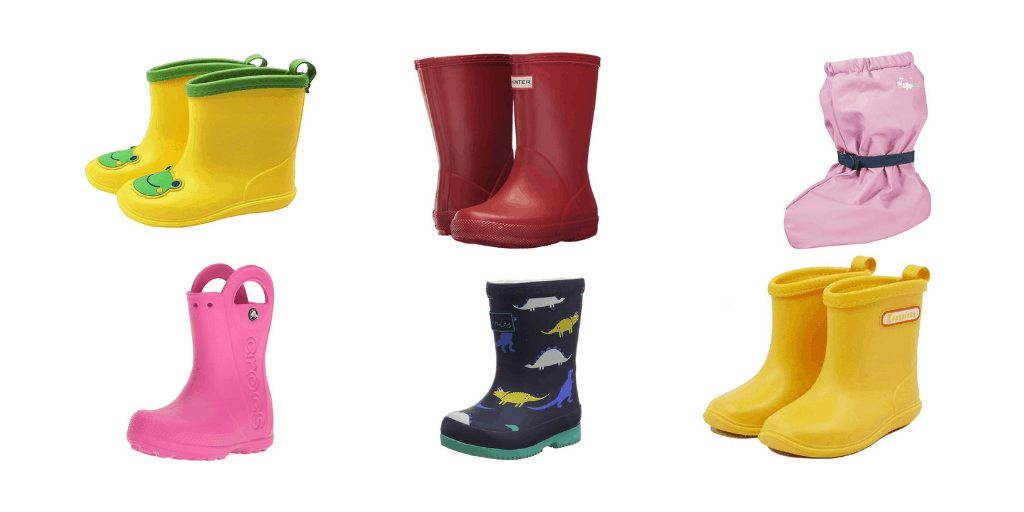 Every baby (of walking age!) needs a good pair of wellies for splashing around in!
Whether you're out in the rain and stomping in muddy puddles or heading out into the snow, waterproof wellies are the perfect option for keeping little feet dry.
We've rounded up the best wellies on the market for babies! From classic wellington boots to waterproof rain footies, we've got it covered. I've also recommended some of the best online retailers.
If you are looking for a pair of wellies for bigger kids then check out our article 17 Best Kids Wellies 2020.
Let's get started!
So here's my list of the 10 best baby wellies.
10 Of The Best Baby Wellies
Vine Babys Wellies
The lightweight design is perfect for babies.
100% waterproof and easy to clean.
Durable non-slip design.
Made of soft material. The soft cotton lining and breathable insole keep little feet dry and comfortable.
Available in many bright colours and patterns.
Available in UK child sizes 3.5-6.
Excellent 4.3/5 star rating based on 156 customer reviews.
Hunter Original Kids First Classic Wellington Boots
Toddler wellies finished in a red matte.
A flatter sole and rounder toe gives little feet room to move.
Soft cotton lining for comfort.
Fully handcrafted, they feature a specially developed tread to reduce slipping.
Regular fit. Sizing suitable for 18 months to 8 years old (size 4-1).
Playshoes Baby Waterproof Rain Footies
Overshoes for babies which are ideal for babies who can't stand or walk yet, but who enjoy crawling.
You can easily and quickly pull them over baby's normal shoes.
They allow freedom of movement.
The elasticated top and press studs allow you to adjust to your child's size.
Machine washable.
Excellent 4.6/5 star rating based on 2,306 customer reviews.
Little Joules Junior Dinosaur Wellington Boots, Navy
Water-dispersing, super-grippy sole for little feet.
Graded leg heights for maximum comfort.
Cute dinosaur design.
With fleece lining for comfort.
Crocs Unisex Kid's Handle It Rain Boot
Rain boots available in bright colours.
Oversized handles make them easy for kids to put on and take off.
Reflective heel logos.
Incredibly light and fun to wear.
Available in UK Child sizes 6-3.
Excellent 4.4/5 star rating based on 11,764 customer reviews.
Peppa Pig Thick Rubber Wellies
No products found.
Know a little one who loves Peppa Pig? They will love these wellies.
Official Peppa Pig licensed merchandise.
Thick rubber turquoise and pink waterproof welly boots.
Durable firm grip soles.
Star design with image of Peppa on the boots.
Available in UK Child sizes 5-10
Joules Baby Girl's Wellies
Water-dispersing, super-grippy sole for little feet.
Graded leg heights for maximum comfort.
Cute dinosaur design.
With fleece lining for comfort.
Haili Toddler Rubber Rain Shoes
Soft wellies made of high quality environmentally friendly PVC material.
Anti-slip and sturdy outsoles with deep grooves makes it easy for little ones to play.
Waterproof and rainproof; keeps your kids feet completely dry playing in rain, streams, puddles and garden.
Spacious toe cap to protect your child's healthy foot growth.
Excellent 4.5/5 star rating based on 381 customer reviews.
Frogs & Stripes Kids Wellies (Polarn O. Pyret)
Rubber boots in classic stripes.
With 3M reflectors at the back.
Reinforced rear section and toe for better durability.
Sturdy soles for little feet.
With matching lining on the inside shaft and a place to write your child's name, so they can take them to nursery for rainy days.
Puddlestomper Wellies (Muddy Puddles)
Wellies crafted from high-quality rubber which makes them super durable.
With chunky, grippy soles to stop little feet slipping.
With soft padded insoles for extra comfort.
Reflective strips at the back of wellies for improved visibility on darker days.
Eye-catching unisex print.
Where To Buy Online (Best Retailers)
In our product reviews above I've mainly linked to Amazon because they tend to have good stock levels at competitive process. I do strongly checking these recommended retailers below.
Bestsellers on Amazon
Baby Products – Buyer Guides
Sleeping & Nursery
Feeding
Toiletries & Nappy Changing
Clothing
Travel
Playtime
Baby Extras