For this post, I have put together a collection of the best baby car mirrors currently available. For more top picks and buying guides, see my newborn essentials checklist.
Our Top Picks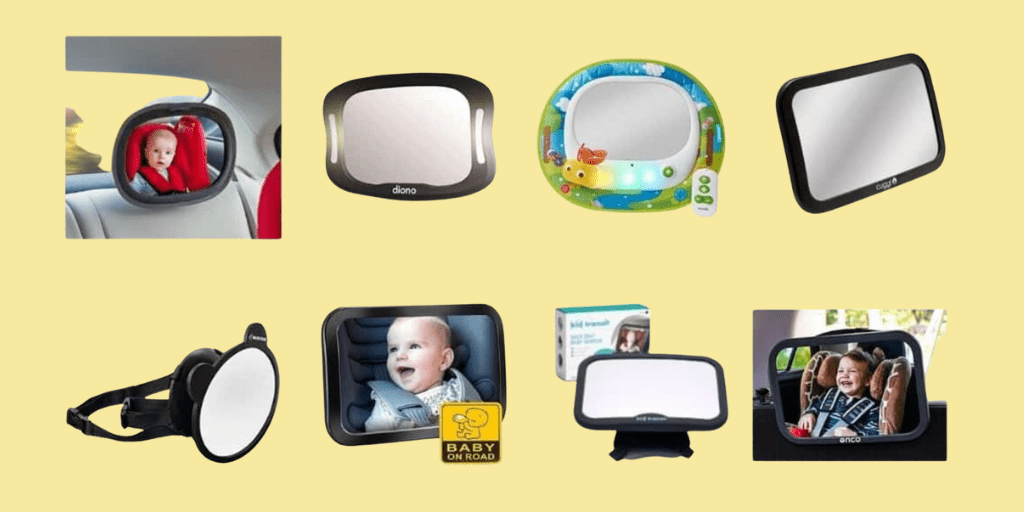 ---
Heading out in the car with your baby can be a worrying experience.
It's not helped that when your child is in their rear-facing seat you can't see their face and how they are feeling.
A baby car seat mirror solves this issue. You can also make all important eye contact with them at various stages of your journey.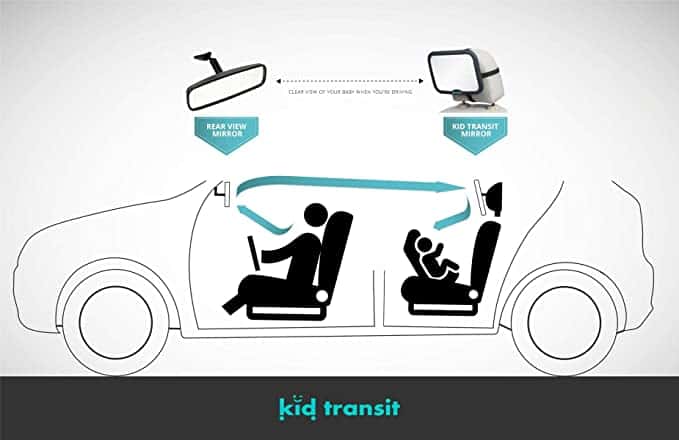 Image: Kid Transit are a UK family run business that make excellent baby car mirrors and other transit products.
How We Selected
We've spent the time researching the market, looking online at the best baby car mirrors available.
All of our recommended products have great buyers feedback and 4-5/5 star ratings.
Also see our top picks for car sun shades, baby travel cots and travel strollers.
So here is my list of the the best baby car mirrors.
Royal Rascals Baby Car Mirror
Discount - Save £1.99
Simple to install
Flexible enough to move into the desired correct position and stays there when going over any bumps in the road.
Also available in yellow – some parents say this helps grab their attention, others say it's not necessary.
Pros: Very good value compared to many, bestseller with fantastic reviews.
Cons: None to mention.
Consumer Score: 82% of parents gave this 5 stars.
ONCO Baby Car Mirror
Award winning rear seat mirror.
Designed to fit all car headsets and contains three different attachments for all types of car.
Available in black, blue, red and yellow.
Pros: #1 bestselling car mirror and well reviewed by parents, large, easy to use and shatterproof.
Cons: A little fiddly to install.
Consumer Score: 4.7 out of 5 is the average score from 5,314 reviews.
Brica by Munchkin Baby In-Sight Firefly Car Mirror
An option for longer drives and your little one prefers entertainment.
The Remote control lets you control the music, lights and volume from the driver's seat.
Completely safe and crash tested.
Brica also make a number of similar models without the entertainment system.
Pros: Music includes 4 entertaining tunes and 4 soothing melodies that are synced with the LED light show.
Cons: Unfortunately if your headrests are fixed you will not be able to attach it.
Consumer Score: Very good reviews with an average score of 4.5 out of 5.
Maxi-Cosi Back Seat Car Mirror for Babies
Discount - Save £2.54
Sometimes simplest is best and this one from Maxi-Cosi is super to set up and adjust.
The simple design helps its reliability – The mount stays where you lock it and the mirror doesn't wobble.
The little ears are super cute too!
Pros: Versatile – the simple pivoting hinge makes it a doddle to adjust and gives a wide angle view, will strap to any seat.
Cons: None to mention.
Consumer Score: Highly rated by parents with an average of 4.5 out of 5 stars.
LittleLife Car Mirror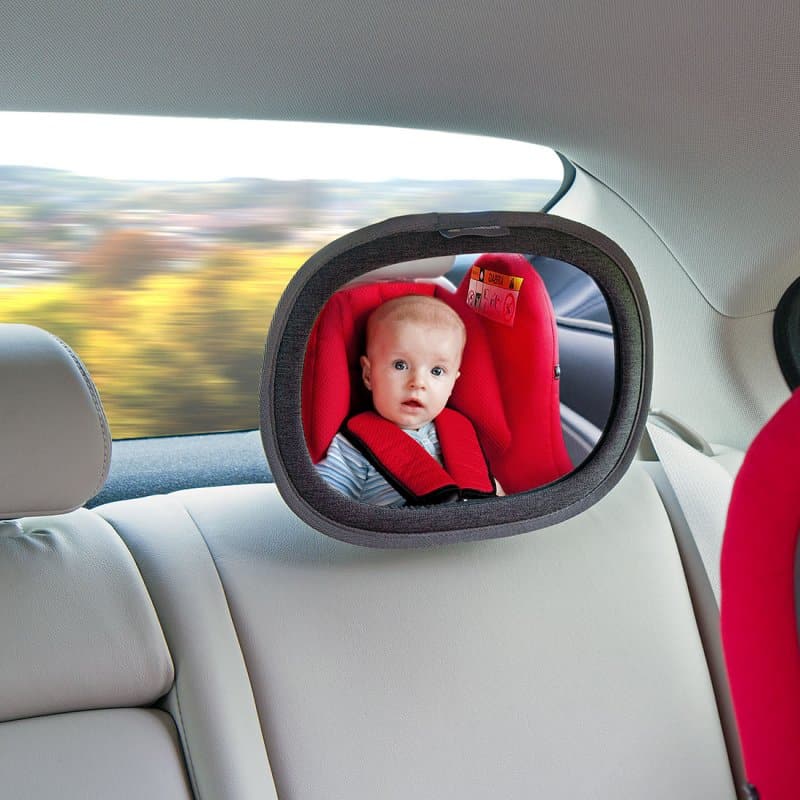 If you'd prefer a more minimal mirror to suit the interior of any car then this one from Littlelife is a good option.
Large convex mirror with simple tilt-angle adjustment.
Pros: Simple to fit and attaches to most vehicle headrests.
Cons: None to mention.
Consumer Score: Well reviewed by parents scoring 4.3 out of 5.
Diono Easy View XXL Mirror with Remote and LED
The stand out features are a remote controlled LED nightlight which can be very useful when driving at night.
Pros: The mirror is very large so you can see your whole child, the remote can clip onto the sun visor so it's always handy.
Cons: The LED battery life isn't great apparently according to some buyers.
Consumer Score: link="B07WJZF553″ title="Very good reviews from parents" tracking_id="best-baby-car-mirrors-21″ /]. This mirror scores an average of 4.5 out of 5 from 142 ratings.
Kid Transit Baby Car Mirror
Kid Transit are a small UK brand that specialise in transport products for families.
Easy to install, shatterproof mirror.
Large viewing range – convex 24.5cm x 17.5cm (9.65″ x 6.9″) mirror that enlarges your viewing angle.
This is one of the most positively reviewed mirrors we have ever seen.
Pros: Common feedback is that it's a sturdy, adaptable, tilt-able, good quality mirror.
Cons: A couple of buyers mention the strap needs tightening regularly as it does loosen.
Consumer Score: A convincing 75% of buyers gave this 5 stars.
Cuggl Basic Back Seat Mirror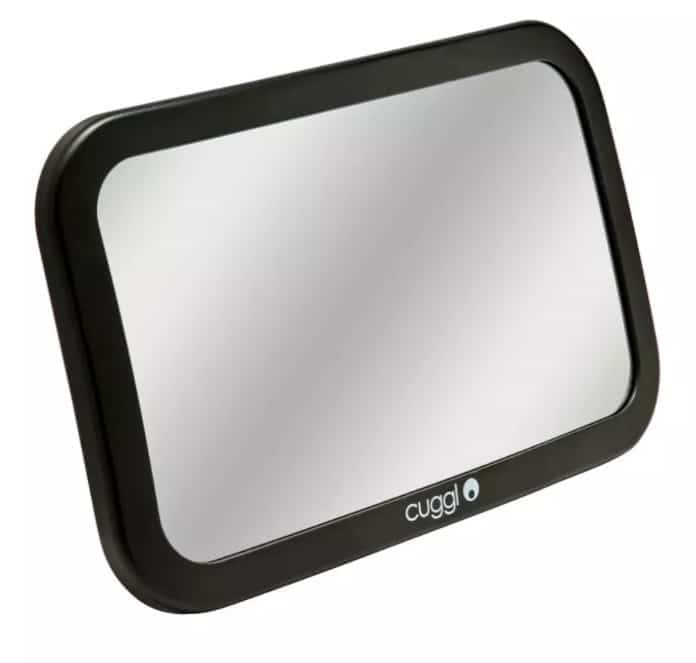 You can swivel to any angle and have either landscape or portrait.
Wide sized adjustable mirror.
Pros: Very simple and quick to install with two straps.
Cons: A little fiddly to attach.
Consumer Score: 96% of Argos buyers would recommend this to other parents.
It scores an excellent 4.8 out of 5 from 71 reviews.
Cheap Baby Car Mirrors & Today's Bestsellers
Top Tips When Choosing A Mirror
Curved Mirror
You may wish to choose a convex mirror – this is one that is a little curved and not flat.
This means your mirror can show you a wider area,
Clear Mirror
Avoid cheap supermarket models. These often use substandard glass that soon lose their clarity and attract smudge.
Security
Ensure you get a mirror that will tighten securely. It will also help to get one that is simple to set up and adjust.
The last thing you want is to hit a road bump or have to quickly stop only for the mirror to fall off.
Headrests
Most baby car mirrors need a headrest to attach to.
Double check that your potential baby car mirror will work with your headrests.
Shatterproof
The most important part of the baby car mirror is that they are shatterproof in the event of an accident.
FAQ's Baby Car Mirrors
What is a baby car mirror for?
It enables easy viewing of your baby in their car seat when you are in the front seat of a car.
How do you install a baby car mirror?
Usually it can be secured onto the headrest in front of your baby's car seat, so it offers a wide angle view of your baby.

Most come with ties or straps that wrap tightly around the headrest.
What types of baby car mirror are there?
There are two types, one which can be used with rear-view carseats and the other which is suitable for front-facing seats.

Car mirrors come in various shapes and sizes, so you just need to choose one that works best for your carseat and your baby.

If you have a front-facing carseat, you can get baby car mirrors that attach to your rear-view mirror or visor so that you can have a better line of sight.
---
Final Thoughts
My overall top pick is the baby car mirror from Royal Rascals because it's good value, simple to install, flexible and stable and has thousands and thousands of 5 star reviews from parents.
I hope this list of the best baby car mirrors was helpful.
If you think I left any out that should be included or have a suggestion for a future article, let me know in the comments below.
Nicola
Last Updated: May 2022
Added 'How We Selected.'
Updated Image.
Added Pros/Cons on all products.
Added 'Things To Consider'.
Added FAQ's.
Added Alternative Retailer.
Added Final Thought.
Moved OOS.
Baby Products – Buyer Guides
Sleeping & Nursery
Feeding
Toiletries & Nappy Changing
Clothing
Travel
Playtime
Baby Extras
OMORC Baby Car Mirror (currently unavailable)
No products found.
Another bestselling mirror with the key characteristics of being a good size, easy to fit and adjust.
360° Flexible Rotations.
Consumer Score: Parents love this mirror and it scores an average of

No products found.

.
A massive 81% give this 5 out of 5.