For this page, I have put together a collection of the best baby booties currently available. For more great baby products see my list of newborn essentials.
Our Top Picks
Show Today's Top Deals
These are today's top deals and bestsellers for baby booties.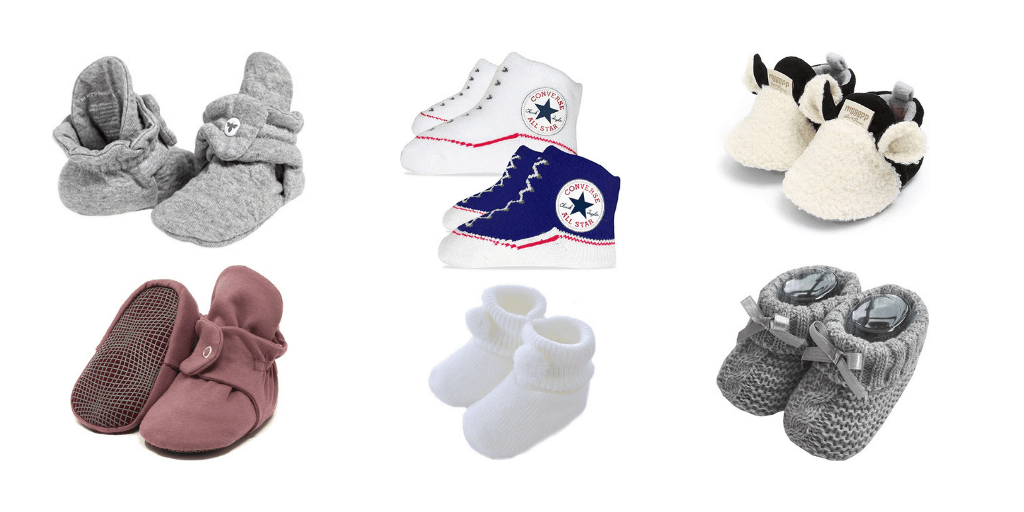 ---
Babies don't necessarily need to wear shoes until learning how to walk but a pair of baby booties are great for keeping little feet warm, especially outdoors and they also look super cute too!
Baby booties are soft soled and they come in many different designs.
We've picked 10 of the best pairs of baby booties, from knitted and crochet to leather booties, all of which have excellent customer reviews.
Also take a look at our buyer's guides to baby sun hats and baby dressing gowns.
Let's get going!
10 Best Baby Booties
Best crochet baby booties
Woolly Budgie Crochet baby booties
Crochet booties made from a soft premium acrylic yarn.
Silver grey colour with a white fluffy trim to make them extra cosy for winter.
They have a wrap around section that is secured with a wooden button to help keep them on baby's feet. 
They come in a luxury white gift box so ideal for baby shower gift.
Sizes; 0-3 months 8-9cm (3.5inches) 3-6 months 9-10cm (4 inches) 6-12 months 10-11 cm (4.5 inches). 
Great reviews. From 11 ratings 81% of buyers gave these 5/5 stars.
---
Best knitted baby booties
Nursery Time Knitted Baby Booties
Beautiful knitted booties with bow.
Slip-On.
Available in pink/ blue/ grey/ white.
Size Newborn to 3 Months.
Very good reviews. From 1,305 ratings 73% of buyers gave these 4-5 stars.
---
Mansuri Soft Touch Pom Pom Baby Booties
Soft pom pom booties.
Size Newborn To 3 Months.
Slip on like socks.
Material 100% acrylic.
Available in blue/ grey/ pink/ white/ cream / navy.
Good reviews from parents. From 220 ratings 77% of buyers gave these 5/5 stars.
---
Converse Baby 2 Pairs Booties in Blue & White
Cute slip on Converse booties, which look like the classic trainers.
Two pairs in a pack.
White and blue.
82% Cotton, 16% Polyester, 2% Elastane.
One size.
Fab reviews. From 257 ratings 80% of buyers gave these 5/5 stars.
---
Best winter baby booties
Edoton Newborn Winter Boots
Booties with non-skid bottoms. Ideal for first walkers.
Premium cotton and fleece provide comfort, warmth & protection for baby's feet.
With adjustable hook and loop closure and elastic ankle, prevents shoes from falling off.
Available in 28 colours and prints.
Available in sizes 0-6M/ 6-12M/ 12-18M.
Good reviews. From 1,630 ratings 70% of buyers gave these 5/5 stars.
---
LACOFIA Winter Warm Booties
Booties which feature a warm cashmere upper and soft cotton lining.
With non-slip soft soles. perfect for gripping on wooden and tiled floors.
Available in 9 cute designs including pink owl and white panda.
Available in sizes 3-6M/ 6-12M/ 12-18M.
Good reviews. From 756 ratings 76% of buyers gave these 5/5 stars.
---
Best organic baby booties
Burt's Bees Baby Girls' Quilted Bee Booties
Quilted booties.
Snap ankle secure fit booties with 2 adjustment options.
100% organic cotton.
Available in sizes 0-3M/ 3-6M/ 6-9M.
Available in grey and pink.
Great reviews. From 2,665 ratings 86% of buyers gave these 5/5 stars.
---
Ella Bonna Organic Cotton Baby Booties
Discount - Save £8.00
100% organic cotton booties.
The fleece fabric keeps toddler's toes warm.
Available in sizes 0-6M/6-12M/ 12-18M/ 18-24M.
Available in colours; beige, black, dusty rose, burgundy, grey, khaki, star grey, white, yellow, dark grey.
Very good reviews. From 170 ratings 78% of buyers gave these 5/5 stars.
---
Best leather baby booties
Dotty Fish Soft Leather Baby Shoes
These flexible and lightweight shoes feature a non-slip suede sole, which are ideal for wearing indoors.
Soft, baby safe leather.
Available in sizes from 0M- 5Y.
Available in the following colours; Grey Rainbow Star/ Grey and Pink Starry/ Navy and White Starry/ Pink Stars/ Blue Stars/ White Rainbow Star/ White Stars.
With plenty of wriggle room.
Lots of fabulous reviews. From 1,590 ratings 85% of buyers gave these 5/5 stars.
---
Juicy Bumbles Baby Shoes with Soft Sole
These baby shoes are made of beautiful flexible soft leather which will allow your baby's feet to naturally move and grow.
Allow your child's feet and toes to grip the floor as if they were barefoot but with the protection of soft suede non slip sole.
Available in sizes from 0M- 24M.
Available in a wide variety of colours and designs including butterflies, kites, flowers, animals and more.
Good reviews. From 8,678 ratings 74% of buyers gave this 5/5 stars.
---
Today's Top Deals & Bestsellers
---
What to consider when buying baby booties
Size Most baby booties will be sized according to age. So 0-3 months etc.
Fit Baby booties are soft and comfortable but make sure they aren't too tight and baby has room to wiggle their toes around. Also opt for booties with adjustable
Material Most baby booties are made of soft fabric, but think about when your baby will be wearing them. If you are buying them for the winter you may want to opt for fleece or knitted fabrics.
Baby Products – Buyer Guides
Sleeping & Nursery
Feeding
Toiletries & Nappy Changing
Clothing
Travel
Playtime
Baby Extras