For this post, I have put together a collection of the best baby reins currently available. For more top picks and buying guides, see my essential baby checklist.
Our Top Picks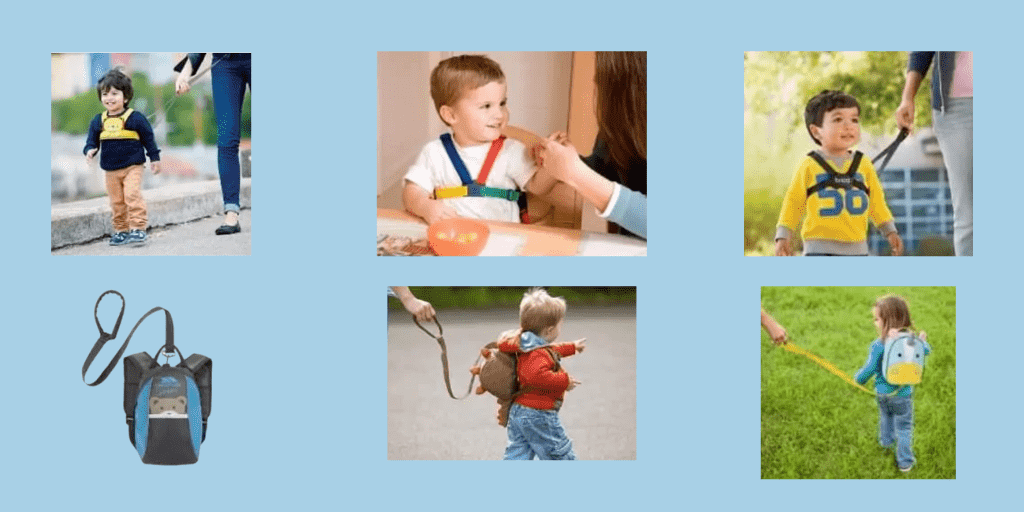 If you have a toddler who wants to walk everywhere and explore the world, then a pair of baby reins can come in extremely handy when you are out and about.
How We Selected
We've scoured the internet, looking for the best baby reins, all of which have excellent buyers feedback and 4-5/5 star ratings.
We've selected reins to suit all tastes and budgets.
Also see our top picks for travel strollers, baby carriers and baby slings.
For information on baby and toddler safety, see the NHS website.
So here is my list of the the best baby reins.
Trunki Toddlepak
These fun, bright and highly rated toddlers reins come in a variety of designs from Trunki.
Cute animal designs include Yellow Leroy Lion, Turquoise, Red Felix Fox, Purple Ollie Owl, Pink Betsy, Orange Mylo Monkey, Green Dudley Dinosaur and Blue Bert.
Can be used in two different ways depending on their walking stage and age.
Chest harness.
Suitable from baby 6 months to child 4 years
Pros: Easy to use, adjust and have good control.
Cons: Not a subtle design.
Consumer score: Parents love these toddler reins with an average of 4.8/5. 81% of buyers gave them 5 stars out of 5.
Clippasafe Harness Easy Wash (Multicolour)
Discount - Save £0.30
Bestselling simple rein system that is multi-use, colourful and easy to wash.
Fits from birth up to 4 years.
Available in a range of attractive colours with a plain but functional breast plate.
You can use as a simple set of walking toddler reins for your little one or use the anchor straps to attach it to pushchairs.
Pros: Fully adjustable, 'press to release' fittings, machine washable.
Cons: Some buyers mention the clips are stiff to unfasten.
Consumer score: From over 1,656 ratings it scores an average of 4.5/5 from parents.
Brica By Munchkin Stay Close Harness and Reins
Strong straps and a durable buckle this harness adjusts to a growing child.
There are two further designs to choose from, a giraffe and owl.
Suitable for children from 6 months to 4 years.
Can also be used to keep your child secured in a high chair or trolley when out shopping.
Pros: Supportive and durable, adjustable with age.
Cons: Only available in black.
Consumer score: Excellent reviews from 1,168 ratings these baby reins scores an average of 4.4/5.
Trespass Kid's Mini Me Backpack Harness & Reins
This highly rated hybrid combines a safety rein with a toddlers' backpack.
3 litre backpack is perfect for any toys or books they want to carry with them.
The bag has a simple to use zipped pocket and a front mesh pocket.
The little rucksack is made a comfy wear with padded straps and easy adjusters.
There's a top handle for hanging up or providing another way to keep them from wandering off.
Suitable for 1 to 3 years.
Pros: The little rucksack is made a comfy wear with padded straps and easy adjusters, there's a top handle for hanging up or providing another way to keep them from wandering off.
Cons: Backpack is very small.
Consumer score: Parents love this backpack rein combo with 1,7076 ratings scoring 4.6 out of 5. 78% of buyers give it 5 stars out of 5.
Skip Hop Mini Rucksack
Discount - Save £1.00
Fun and practical series of animal backpacks with reins.
Available in a whole host of animal designs including Bee, Ladybug, Monkey, Butterfly, Dino, Fox, Giraffe, Owl and Unicorn.
You can detach the reins if you wish to use solely as a mini backpack.
Mesh pocket on the side to hold a juice carton or bottle.
Useful Write-on name tag inside.
Pros: Excellent durability and quality, big grab handle at the top for hanging up or carrying if your little one tires!
Cons: Backpack is small.
Consumer score: One of the best reviewed reins we've come across – from 1,369 ratings this scores an average of 4.8. A huge 86% give this backpack a maximum 5 out of 5.
LittleLife Toddler Daysack and Rein – Dinosaur
Super cute mini rucksack and detachable rein is a sure fire hit with little ones.
Removable rein that complies with safety standards for children's harness and reins.
Suitable for children aged between one and four years.
Inside each bag is a handy and colourful name / address label to personalise each bag.
Shoulder straps are easily adjustable and fit a wide range of children's sizes.
Top grab handle for when you need to keep them close.
Features adjustable padded shoulder straps. Chest strap is also padded to prevent slipping.
Available designs include Bee, Butterfly, Clownfish, Dinosaur, Dragon, Dragonfly, Elmer the Elephant, Giraffe, Ladybird, Mermaid, Rabbit, Rory the Dinosaur, Shelby the Turtle, Stingray, Turtle and Unicorn. Lots of choice!
Pros: Adjustable, padded shoulder straps for comfort, cute bag designs, top grab handle for when you need to keep them close.
Cons: Bag quite small.
Consumer score: Parents rate this product extremely highly. From 428 ratings this scored an average of 4.8 out of 5. 82% of buyers gave this 5 stars.
What To Consider When Buying Baby Reins
When it comes to baby related products, many divide opinion.
And the use of baby reins is one of these!
Personally, I used them with one of my girls as she was always into everything and trying to wander off. I didn't with her older sister.
Whether you decide to use children's reins is very much a personal preference. In some respects it actually gives your child more freedom as you don't need to keep a tight hand on them at all times.
Others will of course degree and feel they are too restricting for their child and / or are uncomfortable. They would simply prefer to hold their hands and have this physical contact.
If you're on the fence it's also worth saying there are a range of types of baby reins. You may prefer ones that double up as mini backpacks with detachable reins. This then gives you the option to use the reins aspect if and when required.
There's a vast selection of colours, designs and straps so you can find something that you are both happy with. There are many animal designs that they will surely love!
FAQ's Baby Reins
What Are Baby Reins?
Baby Reins are a type of safety harness for toddlers or babies to wear when they are out and about with their parents.

The idea is to give the parent control of the child at all times, so that if they wander off into potential danger they can be reined back.

At the toddler age they will have no awareness of danger, so baby reins provides them with the freedom to explore but within a safe range from you.

Are Baby Reins Safe?
They can be safer than holding just onto your hand because there is more chance of losing grasp of one another.

Or you could unwillingly pull them sharply causing pain.

This could happy for example when they see something and suddenly rush towards it. Or you can pull them quickly for example if you spot imminent danger.

They are designed to be comfortable to wear for an active child scampering or running about.

It will take some time to work out how tight or loose to adjust the straps.
What Are The Best Baby And Toddler Reins?
There's a great selection of baby harnesses and reins to choose from.

At their simplest they are comprise of a safety harness attaching to your toddler around their chest or waist.

Or you can get ones where they wear a backpack with a strap that is attached to them or an adult.

Many children love the ones that include a mini backpack they can pack away their toys and books.

They come in all sorts of fun animal designs. They tend to see these less as a leash!

Cheap Baby Reins & Today's Bestsellers
Final Thoughts
My top pick for best value is the Clippasafe Harness because it's multi-use, colourful, easy to wash and has fantastic reviews from parents.
For a mini backpack with harness I recommend the LittleLife Dinosaur Daysack and Reins. It is super cute with lots of little features to adjust it and make it comfy such as padded shoulder and chest straps. It's available in loads of different designs and you can remove the rein for pure rucksack use.
I hope this list of the best baby reins was helpful.
If you think I left any out that should be included or have a suggestion for a future article, let me know in the comments below.
Nicola
Last Updated: March 2022
Added Introduction.
Added 'How We Selected.'
Updated Top Picks.
Updated Image.
Added link to NHS website.
Added Internal links.
Added Pros/Cons on all products.
Updated consumer score.
Added 'Things To Consider'.
Added FAQ's.
Added Alternative Retailer.
Added Final Thought.
Baby Products – Buyer Guides
Sleeping & Nursery
Feeding
Toiletries & Nappy Changing
Clothing
Travel
Playtime
Baby Extras