For this post, I have put together a collection of the best swim nappies currently available. For more buying guides, see my list of essentials for a new baby.
Taking your baby or toddler swimming is fun and will help build their confidence in the water. To save on any accidents whilst splashing around it is essential for them to wear a swim nappy.
We've handpicked the best reusable and disposable swim nappies which will help avoid any messy situations or the embarrassment of your child having an accident in the water.
Let's get going!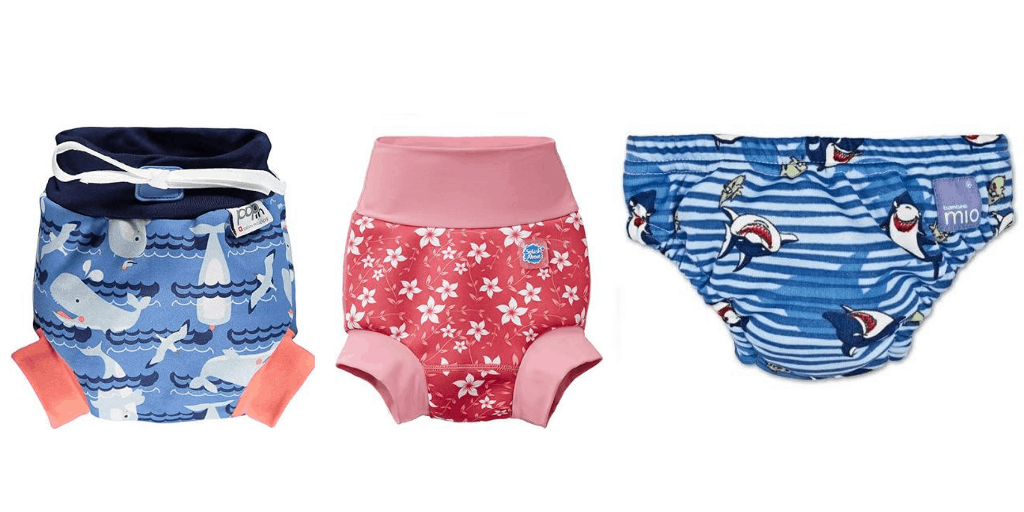 Best Reusable Swim Nappies
A reusable swim nappy looks like a normal pair of swimming shorts or forms part of a swimming costume and can be worn multiple times. Great for taking on holiday.
Splash About Baby Kid's New Improved Happy Nappy
Multi award-winning neoprene swim nappy for preventing solid leaks into the pool.
Reliable and available in lots of bright deigns.
Can be worn alone, or with a nappy wrap and liners for easier cleaning and changing.
Quick-drying and comfortable and available from newborn to 36 months.
Bambino Mio Swim Nappy
These cotton lined swim nappies are soft and gentle on babies skin.
With waist and leg cuffs which help contain any leaks so there is no need to use additional nappy.
They are also machine washable so great to re-use again and again.
Pop-in Swim Nappy
This nappy is made of a soft, flexible material with a stain resistant outer layer and fleece lining for extra warmth in the water.
The nappy has a seal-to-skin binding at the legs and waist to keep accidents contained.
Splash About Children's Jammers (For Older Kids)
Some older kids may require swim nappies for various reasons, so these swim shorts are designed to fit children up to the age of 9 and if a faecal accident happens, it won't leak into the pool.
They look just like swimming shorts and can be worn on their own or worn with other swimwear.
Best Disposable Swim Nappies
A disposable swim nappy looks like a regular nappy and is worn once and then thrown away. Great for swimming lessons. Can also be worn underneath a reusable nappy for double protection.
Huggies Little Swimmers
Discount - Save £4.50
Made of absorbent material which doesn't swell like a normal nappy or fall apart in the water.
With special leak guards and easy open and close sides for a quick change.
Disney characters on the nappies make them look like swimwear.
Pampers Splasher Swim Pants
Made of absorbent material which doesn't swell like a normal nappy or fall apart in the water.
With special double leg cuffs to protect against leaks and easy tear away sides for a quick change.
Today's Top Deals & Bestsellers
Beach Buyer Guides & Best Buys