For this post, I have put together a collection of the best swimming goggles for kids currently available. You can also see my top picks for all beach accessories and kids swimming accessories.
Top Picks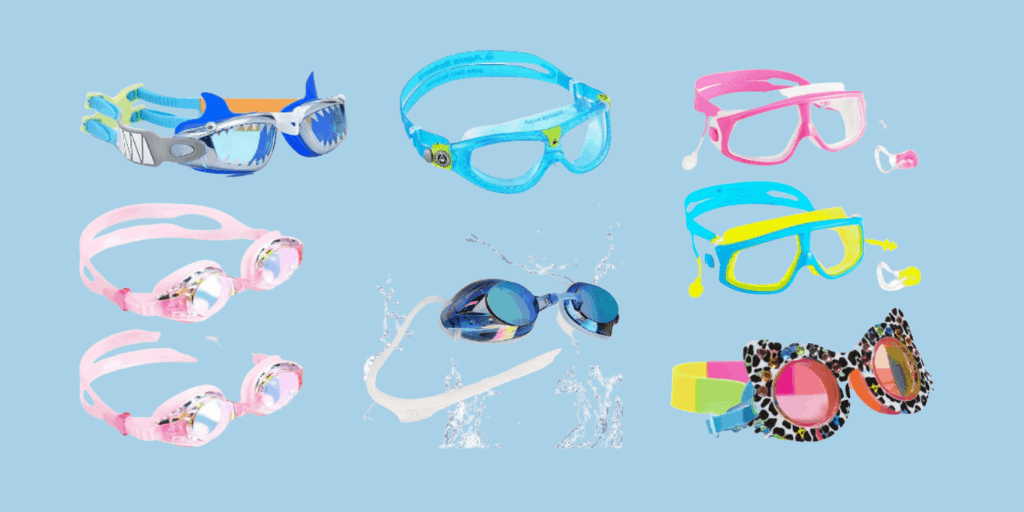 Swimming is great exercise for kids and protecting their eyes in the water can help to stop any stinging from chlorine and salt. They are also a great idea for kids when they venture underwater as they can keep their eyes open and see where they're going.
How We Selected
There are plenty of swimming goggles on the market and we've selected pairs which will help improve your kids swimming experience altogether.
They may seem a little pricier than some, but will be re-usable year after year.
We selected ones which will are comfortable for your child to wear and ones which have a good seals so don't let water in when the kids are in the sea or the pool, especially when they are jumping and splashing around.
All of our picks have excellent buyers feedback and 4-5/5 star reviews.
See my top picks for girls swimwear, arm bands and kids wetsuits.
See these swimming safety tips at Safe Kids website.
We take a look at the best kids swimming goggles on the market.
Aqua Sphere Kid's Seal 2 Swimming Goggles
Discount - Save £0.56
Leak-free fit swim mask for children from 3+.
With curved lenses for a wide field of vision in the water.
Pros: The curved lenses offer the clearest possible visibility without distortion, the adjust buckle can be pulled to desired level of tension for a leak free fit.
Cons: Some buyers have mentioned hair can get tangled at edges.
Consumer Score: These goggles are a popular choice with with 76% of buyers giving them 5 stars out of 5.
COOLOO Kids Swimming Goggles
Made from high quality silicone, these goggles are latex and PVC free, which is especially recommended for your children.
With impact-resistant lenses, which offer anti-fog and UV protection.
The quick-fit buttons make the straps easily adjustable.
Try the various size nose bridges supplied for comfort.
Pros: Anti-fog, UV protection, quick-fit buttons for easy adjusting, value two-pack.
Cons: Not as stylish as some.
Consumer Score: Buyers like these goggles with 67% giving them 5 stars out of 5.
Speedo Kids Mariner Supreme Mirror Goggles
These goggle features a wide seal and strap for a comfortable and secure fit.
The adjustable nose bridge fits a range of face shapes and the new lens design provides excellent underwater vision.
The mirrored lens reduce brightness and glare.
Suitable for juniors aged 6-14.
Pros: Anti-fog, 100% UV protection, mirrored lens reduces brightness and glare.
Cons: Only available in two colours.
Consumer Score: These goggles are a popular choice with with 67% of buyers giving them 5 stars out of 5.
Frogglez Swim Goggles
Unique design goggles with a soft fabric-covered neoprene strap which slides over long and curly hair without tangling.
Recommended for kids 3-6 years old with a head circumference of 15 – 18 inches.
Kids can see clearly underwater for hours of swimming pool fun.
Patented split strap keeps the silicone seal on the goggles secure and attaches to almost any kid swim goggles.
No leaking or fogging.
Pros: The soft fabric-covered strap which makes it easy to wear with long hair, anti-fog, anti-leak.
Cons: More expensive than some.
Consumer Score: Really popular choice with with 78% of buyers giving them 5 stars out of 5.
VETOKY Swimming Goggles
With polycarbonate lenses which are anti-fog and scratch resistant.
They offer UV Protection reduce glare.
With 3 interchangeable nose bridges for precise fit.
For kids from 8+.
Pros: Anti-fog, UV protection, mirrored lens reduces brightness and glare.
Cons: Not for younger kids.
Consumer Score: These goggles are a popular choice with with 64% of buyers giving them 5 stars out of 5.
Zoggs Sea Demon Hologram Swimming Goggles
Fun hologram lenses with reptile eyes which provide exceptional clarity and don't distort vision.
Fast and secure quick adjust system.
Split yoke silicone strap ensures a secure fit and reduces pressure around the eyes.
UV protection and anti-fog for a safer, clearer swim and longevity.
Suitable for children aged 6-14 years.
Pros: Fun design with hologram lenses, anti-fog, UV protection.
Cons: Quite expensive.
Consumer Score: Buyers love these goggles with 81% giving them 5 stars out of 5.
Things To Consider When Buying Kids Goggles
When will they be used?
Depending on the activity, there are different lenses, colours and fits. If your child is swimming indoors, then they may not want lenses with a darker shade.
Are they easy to put on and take off?
Choose goggles which are easy for you or your child to put on, without too much hair tugging or fiddly straps. The easier they are to put on and take off, the happier your child will be about wearing them over and over again.
How do they fit around the eyes?
It is important you choose a pair of goggles for your child that are neither too big nor too small. If their eyelashes are touching the inside of your goggles when they blink, it is a sign that they might need a larger pair.
What are the seals made of?
The seals create pressure around the eye sockets and keep water out. Silicone or rubber are popular options for these seals. If your child has an allergy to latex, check that the goggles you are purchasing are latex-free.
FAQ's Kids Swimming Goggles
What age are junior swim goggles for?
Most junior swim goggles are for children aged between 6-14 years old.
Can 10 year old wear adult goggles?
Many adult goggles will become suitable in size when a child reaches around 10-12 years old.
Do babies need goggles?
Don't put goggles on children under two years old as they are still unsteady on their feet and could fall and hurt face with them on. Encourage head down and underwater swimming without goggles first.
Should kids wear goggles swimming?
While they are not a necessity, goggles can make swimming more comfortable for children who don't enjoy the sensation of water in their eyes.
Kids Swimming Goggles Deals & Today's Bestsellers
Final Thoughts
My overall favourites are the Frogglez Swim Goggles as the unique design allows kids to put them on independently, plus they are comfortable for kids to wear.
They are also a really popular choice with 78% of buyers giving them 5/5 stars.
I hope this guide on kids swimming goggles was helpful.
If you think I left any out that should be included or have a suggestion for a future article, let me know in the comments below.
Nicola
Last Updated: February 2022
Added Top Picks.
Added 'How We Selected.'
Added link to swim safety website.
Added consumer scores.
Added Pros/Cons on all products.
Added 'Things To Consider'.
Added FAQ's.
Added Alternative Retailer.
Added Final Thought.
Beach Buyer Guides
Heading to the beach? Get the low down on our detailed product round ups!
Chairs & Tents & Storage
Food & Drink
Beach Clothing & Shoes
Water Fun & Beach Games
Baby At The Beach
Bling2o Kids Swimming Goggles – Small Bite Jawsome JR8B (currently unavailable)
Kids will love these cool shark design goggles.
They come with x2 additional adjustable nose pieces for comfortable fit.
100% silicone (latex free).
They provide UV protection & anti fog too.
Suitable from age 3+.
Goggles come with a hard protective case.
Spinosaurus Kids Swim Goggles (currently unavailable)
No products found.
Made with a high-tech polycarbonate HD lens that is surprisingly strong and almost invisible underwater.
Really comfortable to wear and kids will be able to see underwater really well.
Anti-fog and anti-UV and double-layer lens is designed to protect against everything in the water.
aegend Kids Goggles (currently unavailable)
180° wide clear vision and anti-fog lenses.
These goggles block harmful uv rays and protect kid's eyes.
Easily adjustable straps.
Made from safe and odourless soft silicone, which can relieves the pressure on the skin and also create waterproof seal to safeguard children.
Designed for children aged 4-16 years old.
Cat Shaped Swimming Goggles For Kids by Bling2O (currently unavailable)
Discount - Save £3.14
These cool cat shaped goggles have polarized lenses that pass stringent UV protection and safety standards.
Latex and lead-free.
Soft, flexible frame and wide non-slip head strap make these swimming goggles super comfy.
Kids will love the funky design.
UV protection and anti-fog.