For this post, I have put together a collection of the best beach shoes currently available. You can also see my top picks for all beach accessories.
Our Top Picks
How about a dryrobe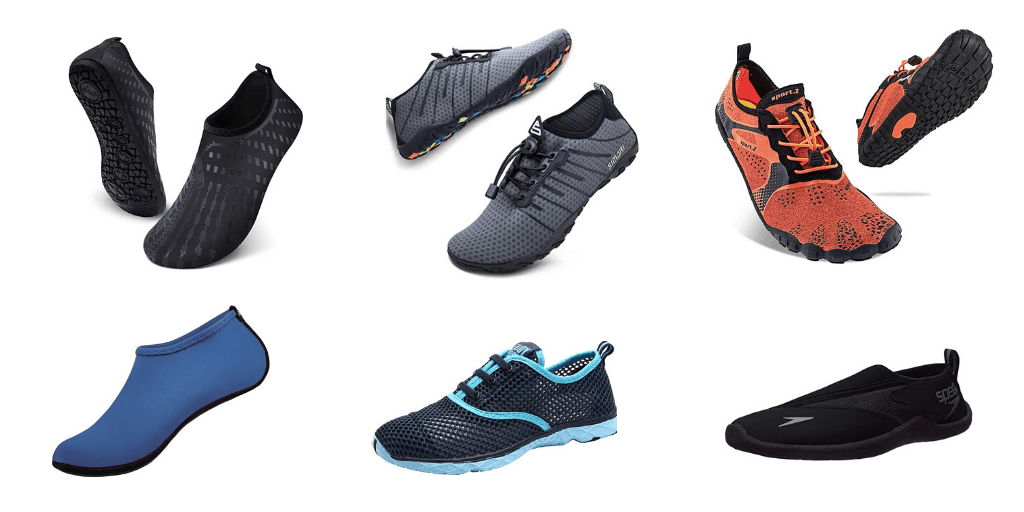 ---
When it comes to the beach and summer, how many of us have experienced cutting our toes on sharp rocks or shells or struggling to walk on hot sand?
We take a look at the best beach shoes, water shoes and flip-flops that dry quickly, have UV protection and will make those beach days all the more easy for men and women.
If you're looking for a pair for the little ones, see my buying guide to the best kids beach shoes. And if you want to be protected from the elements see my top picks for a beach umbrella.
We've selected shoes that are durable, easily washable, waterproof and comfortable.
Let's get going!
Best Beach Shoes For Women
Aleader Women's Quick Drying Water Shoes
All purpose lightweight and comfortable water shoes which are flexible and sturdy.
Wear them while on the beach, in the sea, paddle boarding, on boats or walking over rocks.
With excellent grip capabilities they won't slip.
Lakeland Active Women's & Girl's Eden Aqua Shoes
Non-slip lightweight sole, keeps your feet safe from cuts and stings on the beach and in the sea.
They have mesh panels for water drainage and breathability.
Four-way stretch fabric for a comfortable fit and an adjustable toggle to ensure they stay on your feet in the water.
Lakeland Active Women's Solway Barefoot Aqua Shoes
Lightweight shoes or water socks with thin, flexible sole and fast drying upper, so you can transition straight from swimming to beach activities.
Their ultra-sleek design means they can even be worn underneath flippers for swimming.
Kenswalk Women's Aqua Water Shoes
Although they look and feel a bit like trainers, these water shoes feature a lightweight sole, fast-draining mesh design and provide comfort and support.
Easy to slip on, elasticated shoe with laces.
Sea Star Beachwear Women's Espadrille Water Shoes
Elegant espadrilles which are actually water shoes but look stylish enough to wear to a restaurant or pool party.
While it looks they could be canvas the shoe's upper is actually made from breathable, quick-drying neoprene.
Non-marking and non-skid and you can even keep on when swimming.
Completely dry after 15 minutes in the sun.
Best Beach Shoes For Men
Crocs Men's Swiftwater Mesh Wave Closed Toe Sandals
Lightweight, all-purpose sandal for men with mesh upper and ports to shed water and debris.
Outsole has herringbone pattern which provides great traction.
Croslite foam construction won't absorb water.
Flexible. 360-Degree comfort.
Speedo Mens Surfwalker Pro 3.0
Stretchy pull-on shoes with upper mesh and insets for quick-dry breathability and a secure fit.
Inside, a cushioned insole provides great impact protection; outside, speedo's s-trac™ outsole streams water away from the shoe, enhancing direct surface contact for even better traction and slip resistance.
Dreamcity Men's Water Shoes
With durable rubber sole which is flexible, lightweight and has exceptional traction with sand.
It also provide exceptional traction with wet and slippery muddy ground.
Upper is mesh material which makes shoes breathable.
Mesh does not become heavy in or out of water.
Sand resistant outsole.
Keen Men's Newport H2 Sandal
A hybrid sandal which is perfect for holidays.
Open design means they're great for warm weather and sandy beaches but equally can tackle streams and pebble beaches.
The hydrophobic lining repels water to increase the speed of drying in the upper materials.
The lace capture system offers a secure and customisable fit.
Although they're heavier than your average sandal, they are durable and survive all sorts of activities.
Swims Lace, Men's Loafers
If you're looking for style these loafers are the ideal casual shoe for relaxed days.
Molded TPU and finely woven thread upper provides breathable, waterproof comfort.
Ventilation gills allows for breathability and drainage if in water.
The soft and flexible upper fabric makes the product adaptable and comfortable.
These shoes features non-marking, natural rubber outsole with anti-slip drip and are machine washable at 30 degree celsius.
Best Unisex Adults Beach Shoes
JIASUQI Water Shoes For Men & Women
No products found.
Lightweight and portable.
Easy to slip on and off with pull tap at the heel.
Quick dry and stretchy upper material in ultra light weight fabric for fast draining and cross ventilation which gives excellent flexible and comfort.
The soles are made of rubber with excellent air permeability and also non-slip.
DigiHero Water Shoes for Women and Men
No products found.
Breathable lightweight fabric shoes which stretch and are flexible and comfortable.
Easy slip-on design make it convenient to wear and take off.
The soles are made of TPR materials with excellent breathability and non-slip resistance.
Will protect feet from hot beach.
SIMARI Water Shoes for Women and Men
These shoes protect from sharp edges like glass objects in the sand and keep our feet safe from hot, cold and rocky surfaces.
Out-sole can also provide exceptional traction on a wet surface.
Upper material is fast drying and breathable.
Easy to take off and put on and ideal for walking in the sand.
Mabove Water Shoes For Mens and Women
The five toes design is considerably wider to provide more space for the toes and they slightly resemble the shape of ducks feet for ease in water.
The insole is made of latex which is the most advanced in all water shoes.
Excellent shock absorption provides great arch support and honeycomb upper design for breathability.
Havaianas Unisex Adults' Top Flip Flops
Our favourite flip flops, these come in so many colours, designs and sizes and are perfect for chucking on to go to anywhere.
100% rubber, hardwearing, long lasting and comfortable, the Brazilian flip flop designed for everyday wear from the city to the beach.
What to consider when buying beach shoes
Material
Consider a material which will dry quickly. Mesh is lightweight and it has tiny holes which let water out.
Rocks and hot sand can be hazardous so thick soles are a good option.
Breathable ultra light fabrics are perfect as they fit like a glove and give that extra protection to your feet.
Comfort
Avoid rubbers and plastics on soft part of shoes as they can rub and cause blisters.
If you are planning on clambering over rocks you may want a thicker sole than say if you are just walking on a sandy beach, but a thick sole will also make the shoe heavier so think about what will work best for you.
It's always good if it's easy to take shoes on and off, so velcro or slip ons are a good option.
Waterproof
Rubber soles are best to keep water out. It's also a good idea for the rest of the shoe to be made of quick drying material so your feet are dry later in the day.
There are plenty of waterproof/ quick drying beach shoes on the market.
Today's Top Deals & Bestsellers
Beach Buyer Guides
Heading to the beach? Get the low down on our detailed product round ups!
Chairs & Tents & Storage
Food & Drink
Beach Clothing & Shoes
Water Fun & Beach Games
Baby At The Beach