For this post, I have put together a collection of the best beach bags currently available. You can also see my top picks for all beach accessories.
Our Top Picks
Show Today's Top Deals
These are today's top deals and bestsellers for beach bags.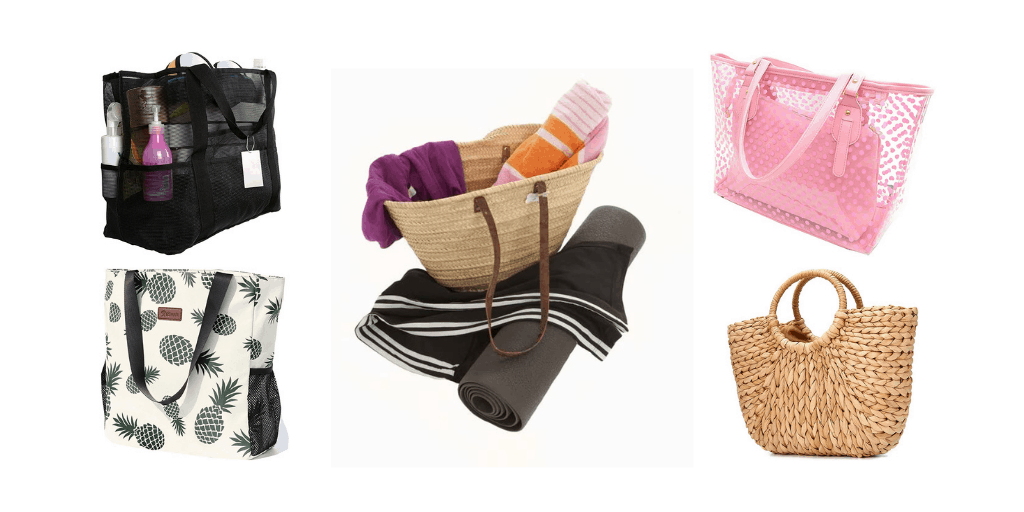 ---
Planning your next holiday or trip to the beach? Your summer essentials list wouldn't be complete without a beach bag to store everything in for your beach or pool days.
We've picked some of the best beach bags available from mesh to straw styles and extra large to waterproof options. All of our picks have excellent feedback from customers.
What other beach essentials do you need? See our top picks for the best beach chair and beach umbrella.
Let's get going!
Extsud Mesh Beach Bag
The pockets on this tote will come in super handy when packing all those beach essentials like water bottles, sunglasses, suncream and towels.
The portable mesh bag can be folded into a small zipper purse.
With extra strong durable quick drying mesh with quick drainage and ventilation.
Size: 70 x 18 x 37 cm (L*W*H).
---
Joseko Straw Beach Bag
Straw handbag hand-crafted by Artisans which is perfect for any occasion including the beach or an evening out on holiday.
Stylish bag with a drawstring closure.
This bag is nice as a beach accessory to hold your small essentials but probably not big enough for towels.
Size:41cm x 5cm x 36cm (L x W x H).
---
Don Don Large Beach Bag with Zipper
Discount - Save £0.87
This beach bag is made of 50% cotton and 50% polyester on the outside, and the inner lining is made of plastic which is waterproof.
The perfect beach bag that's versatile enough for other occasions.
Available in a range of pretty designs.
With room to store all of your beach bits including towels.
22.83 in (58 cm) x height 14.96 in (38 cm) x width 7.09 in (18 cm).
---
Esvan Large Tote Bag
This large tote bag is ideal for the beach, pool, gym.
Waterproof fabric.
With handy side mesh pockets to hold drinks or other essentials.
Available in lots of funky patterns.
14.6 x 15.4 x 4.7 inches (W x H x D).
---
Neevas Jelly Beach Bag
Transparent clear jelly shoulder bag with an inside bag.
Waterproof fabric ideal for the beach.
Transparent outer bag has a zipped closure.
Inside bag also has zipped closure.
Available in five ice-cream colours including pink/ blue/ beige/ purple and green.
Dimensions: 44 x 28 x 26cm.
---
Arteesol Waterproof Dry Bag
Perfect backpack pouch bag for any adventurer, which is completely waterproof.
Ideal for beach, swimming, boating, kayaking.
Protect your iPhone, Cellphone, camera, Cash, MP3, Passport, Document From water, sand, snow, dust and dirt.
This dry bag can be used as your backpack, so you can adjust the strap length according to your needs.
Available in a choice of nine colours.
Available in a choice of sizes including 5l, 10l, 20l, 30l.
---
ISKYBOB String Beach Bag x 2
Lightweight rainbow string bags made of fine cotton of mesh knitting.
Easily packed in your pocket when not in use.
Easy to wash and dry fast.
Perfect for throwing your beach stuff in.
Also great for shopping, picnics, school, home, grocery.
32 x 38cm / 12.6 x 15in.
---
Le Papillon Vert French Style Basket Bag
A long leather handled basket bag.
A traditional and chic French Basket which is medium-large sized.
Great for shopping, the gym, and as a beach basket!
W58 x D13 x H33 cm (approx).
---
What to consider when buying beach bag
Size
Think about what you are going to be taking to the beach. When it comes to size, you need to think about space for your towel/s, lotions, toys, purse, keys etc.
Material
Canvas is the most traditional beach bag material and straw bags always look classic and are functional. Waterproof bags are ideal if you head to the beach alone and want to be able to take it with you for a dip in the sea.
Think about what the handles are made of too. You want smooth materials which aren't going to rub your bare shoulders.
Compartments
Compartments are a great feature in a beach bag. External pockets can be handy for drinks and lotions which you want to keep upright.
Inside pockets can help hide your valuables while keeping them accessible.
What should I pack in my beach bag?
Sunscreen
Sunglasses
Sun Hat
Spare Clothing
Drink
Snacks
Plastic bag to put any wet clothing in
Keys
Phone
Bank Card/ Cash
Today's Top Deals & Bestsellers
Beach Buyer Guides
Heading to the beach? Get the low down on our detailed product round ups!
Chairs & Tents & Storage
Food & Drink
Beach Clothing & Shoes
Water Fun & Beach Games
Baby At The Beach